Shantell Design have been seen on every canine from the dog next door to Tika the Iggy.
By Charlotte Pottier-Bonneville
Eight years ago, Chantal Goupil was heading out to get the puppy of her dreams. But the reunion she had been eagerly anticipating ever since the first time they met would never take place. The puppy she had her eye on, a shy black and white fawn chihuahua and corgi mix puppy, with beautiful big brown teary eyes and perky ears, had been purchased by another family.
Her partner, Daniel Campeau, was convinced they would find another puppy from the same litter in a different pet store in Quebec City. With no time to waste, Goupil and Campeau ran out the door and into their car and drove to every pet store in the city. "He was right, and it turned out for the better," Goupil tells me while laughing as we both sit down at the table in her cozy photo studio.
That day, they welcomed into their lives Diego, a chihuahua and corgi mix from the same litter as their first puppy.
Little did Goupil know that this dog would completely change her career path. Goupil had been designing baby clothes as a hobby, but felt very restricted in terms of creativity and had been pushing it aside. Until one day, inspired by Diego's big brown eyes, Goupil got her wool out and crocheted him a grey, white, and red turtleneck. When she finished, she realized she couldn't stop thinking about other design ideas.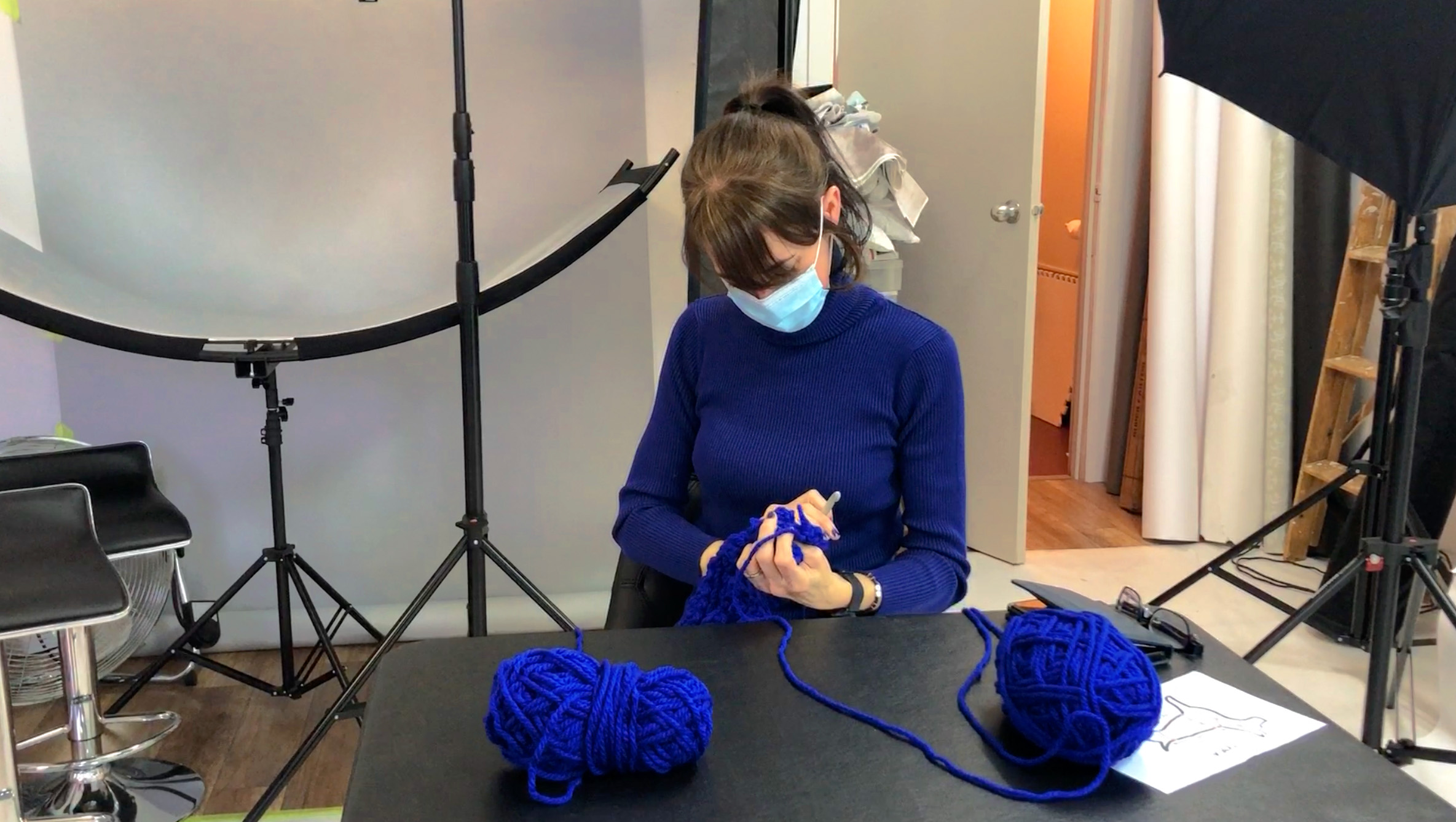 Today, Goupil is now a star seller on Etsy with over 854 sales. Her designs are worn by some of the most influential dogs on social media, such as Tika The Iggy, Martini the Chi and Loulou the Pug.
Tika The Iggy, the Italian greyhound and fashion icon with over two million followers on TikTok and over a million on Instagram, started working with Goupil in 2019. The designer offered to make custom creations for Tika, long before she became a viral sensation.
"I found Tika had a strong character, and I loved her face, with her little crooked mouth," Goupil tells me.
For Goupil, inspiration is all about the dog and enjoying the opportunity, whether a client gives her a blank canvas or has a special request. No matter how famous the client she works with is, anxiety does not get the better of her when it comes to visibility or likes on social media. "The stress I get is mostly surprise and excitement from people's reactions to my designs," she tells me, her face lighting up with excitement.
Tika's owner, Thomas Shapiro, says the dog has over 20 outfits from Shantell Design. These collaborations generated huge publicity for Goupil; her name also gets mentioned in interviews and attracts clients on both Instagram and Etsy.
"Her creativity is outstanding and she always makes sure Tika is feeling as comfortable as she's looking good," said Shapiro.
Famous Dogs Goupil has dressed all over the world on Google Maps
When I arranged to meet with Goupil, she asked if I could bring my dog Lola, whom she remembered from an order I placed a year ago.When we both arrived at Goupil's photo studio in Quebec City on a cold and dry February Sunday, a table with two chairs had been set up with a small white mohair carpet for Lola in the quaint white photo studio. (Warm socks had been set aside for myself.)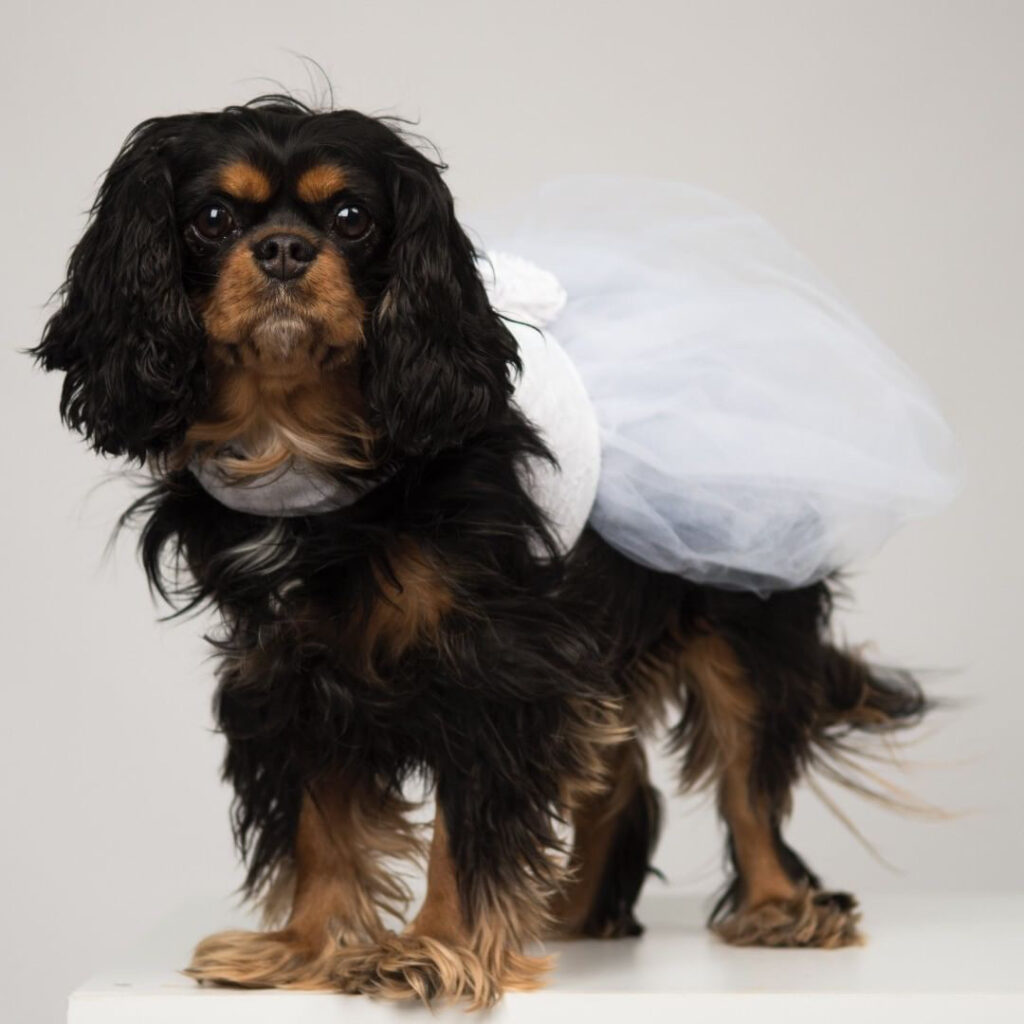 Yan Deschenes and Anne-Marie Villeneuve, the owners of Martini the Chi, a 16 year-old chihuahua with over 64,000 followers on Instagram and 128,000 on TikTok, have known and supported Goupil since the very beginning of Shantell Design.
Goupil's eyes fill with tears when talking about Martini's fragile health, and the critical situation she was in just a few months ago. "We almost lost her," Goupil tells me.
When I met Deschenes over Zoom, he proudly showed me his office decorated with fan art of Martini. In most of the colourful portraits, Martini is wearing a rainbow fleece, a signature Shantell Design creation.
The first time Goupil had messaged Deschenes and Villeneuve, she offered to send them custom made outfits and to take pictures of Martini. (Goupil is also a professional photographer.)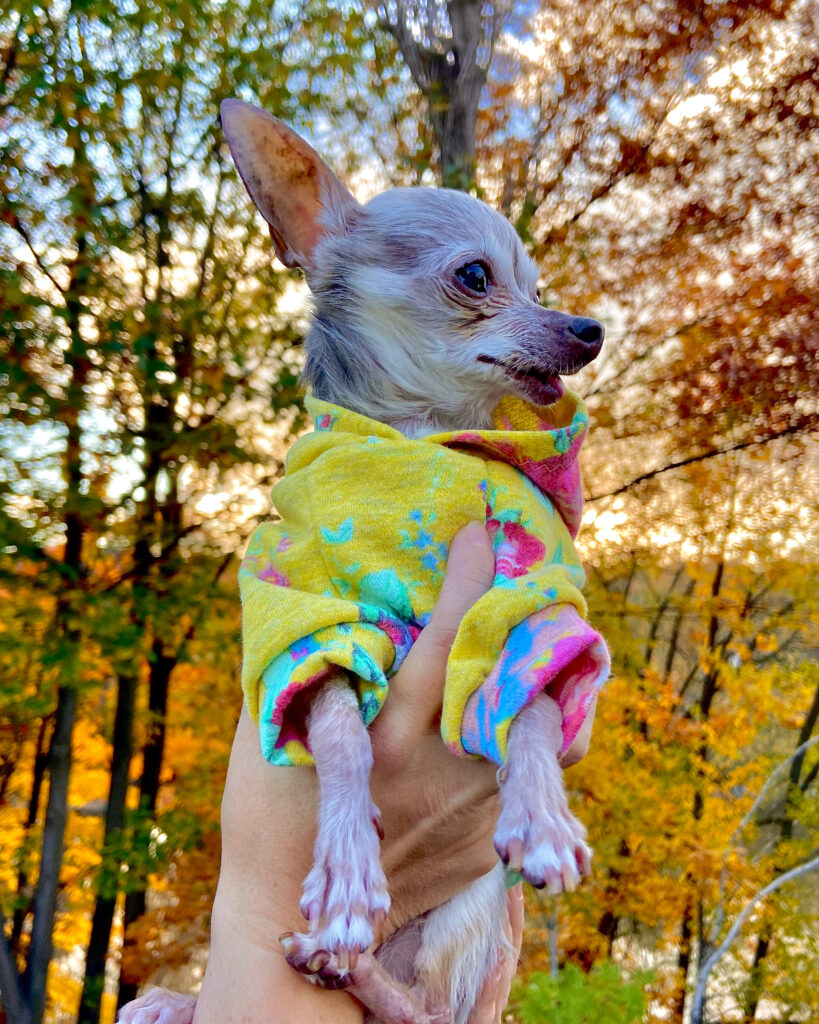 "Her designs for Martini are out of this world," Deschenes tells me while showing me a picture of Martini's custom Shantell design pink tulle birthday harness dress.
Timeline of Goupil's designs and what's to come. (Charlotte Pottier-Bonneville/T•))

On top of being a successful designer, Goupil works full-time for the federal government. Having only a limited time to devote to her creations can lead to stressful periods.
To meet deadlines for her creations when she would collaborate with pet stores, she used to knit in her car during lunch breaks, and would carpool with her partner on her way back, to continue her work in the passenger seat.
A dress can take up to five hours to complete or more. But Goupil always manages to fill all her orders, and even made a Halloween costume for Tika — Padmé from Star Wars — in a day.
Goupil reaches for her tote bag to show me the knit she is currently working on: a custom cobalt blue knit with matching pompoms. "I love dressing these little creatures," she adds.
Watching Goupil walk around her studio adjusting her camera to take pictures of Lola, she fully takes control of the room from behind her camera. The dog is hypnotized by her, and Goupil alternates from clicking away on her camera to petting Lola and congratulating her for being a good model.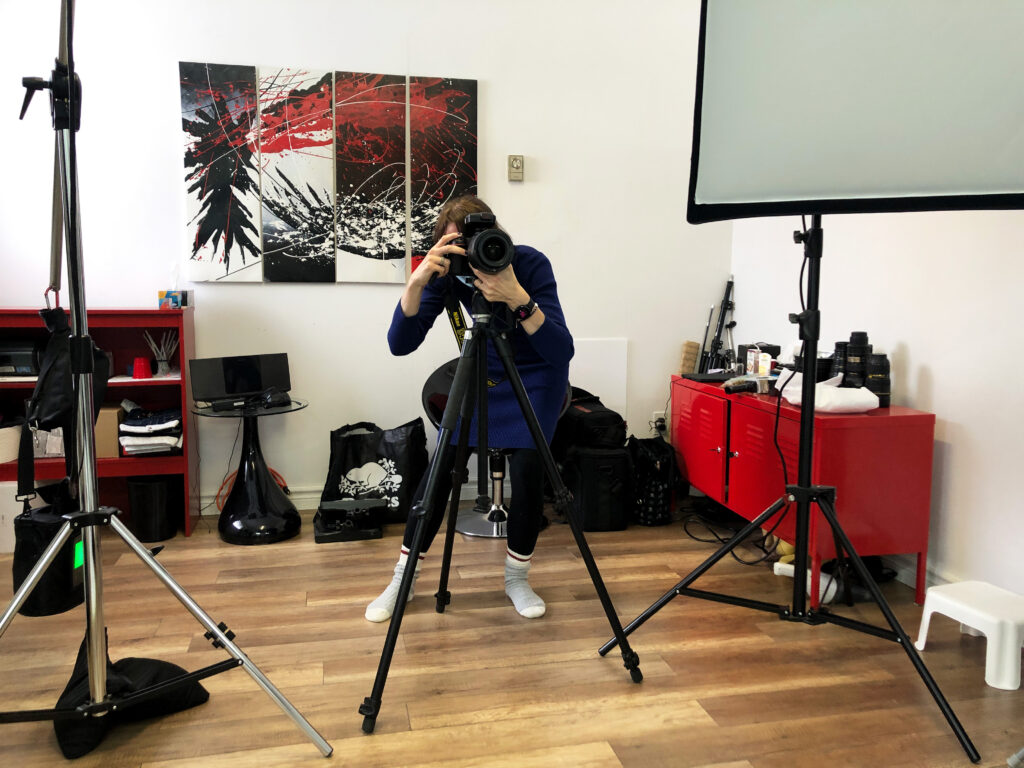 Working alone is what Goupil likes best. Only her mom would be trusted to help her with the production of her designs, as she is the one who taught her everything she knows about sewing, crochet, and knitting.
"I am too much of a perfectionist to trust someone else with my work," Goupil tells me.
Once Goupil retires from her job in the public service sector of the federal government in 2029, her designs will become her new full-time job. "We cannot predict the future, but I will continue to have fun and be excited to wake up in the morning to start a new project," she tells me with a smile.