By Johnny Lin
On a bright January afternoon, as her plane slowly descends into a landing, fourth year University of Toronto student Xiaomeng Liu looks down upon the ground below covered in snow – something the southern China native grew familiar with during the two years she spent in Toronto. As the exit door opens, a rush of cold air runs through the aircraft and she steps foot on Canadian soil for the first time in two years. Liu was getting used to life at home again, despite the initial setbacks, but the school's decision to reopen its campus sent her on a reluctant journey back across the globe.
International students like Liu, having spent the bulk of the pandemic in their home countries, are now returning to Toronto. Studying offshore was no easy task: physical fatigue, mental exhaustion, and nonexistent social lives were but some of the side effects of flipping their days and nights to attend classes virtually in Eastern Standard Time. But being back in the proximity of the campus has its own challenges. The city they once knew has been completely transformed by the pandemic.
For Liruoshi Meng, another fourth year University of Toronto student, the beginning of the pandemic was nothing short of miserable. "I was quarantined with barely any support, and I fell very ill right before an important exam," Meng recalled in a Zoom interview. She did not want to visit a clinic for a doctor's note due to the ongoing threat of the pandemic and was refused accommodations for the exam. "That felt like the first red flag, when the school I spent two years of my life at could not consider my very realistic fears," Meng said.
Meng's sentiments were not just an individual case. According to Statistics Canada, international student enrollment fell by nearly 17 per cent from 638,960 in 2019 to 530,540 in 2020. The same report suggests international tuition fees are often priced at four to five times that of local students, which is likely a contributing factor in dissuading potential students considering the limited to non-existent on-campus experience offered during 2020 and 2021.
For Liu, the first few months of her time were spent adjusting to the new upside-down schedule, and the complete lack of social activities because of it. In September of 2021, she started an internship in her home city of Fuzhou, at a tech startup named Pupu Technologies. Intimidated at first, she soon found herself in what she described as a "youthful, vibrant" workspace, surrounded by like-minded people around her age. She found herself no longer consumed with the inconveniences of being away from school, but rather fighting her way through them so she could be at work. She said the new environment gave her a sense of direction and excitement that her life had been missing.
The rumors of in-person classes resuming started circling in November 2021. Liu would check social media several times a day for updates, praying she could graduate without having to leave her internship. "I did not want to leave the job, but at the end of the day, it was just an internship. I had to choose my degree," she said. The return to the University of Toronto kept getting pushed back and forth, but a date was eventually finalized in January 2022. She handed in her resignation letter and packed up her desk not long after. Her workstation did not have much, just the essentials, but her box was packed with memorabilia gifted from her co-workers, mostly in the bright green color theme of the company.
"I did not cry, I think there was more uncertainty than sadness in that moment," said Liu.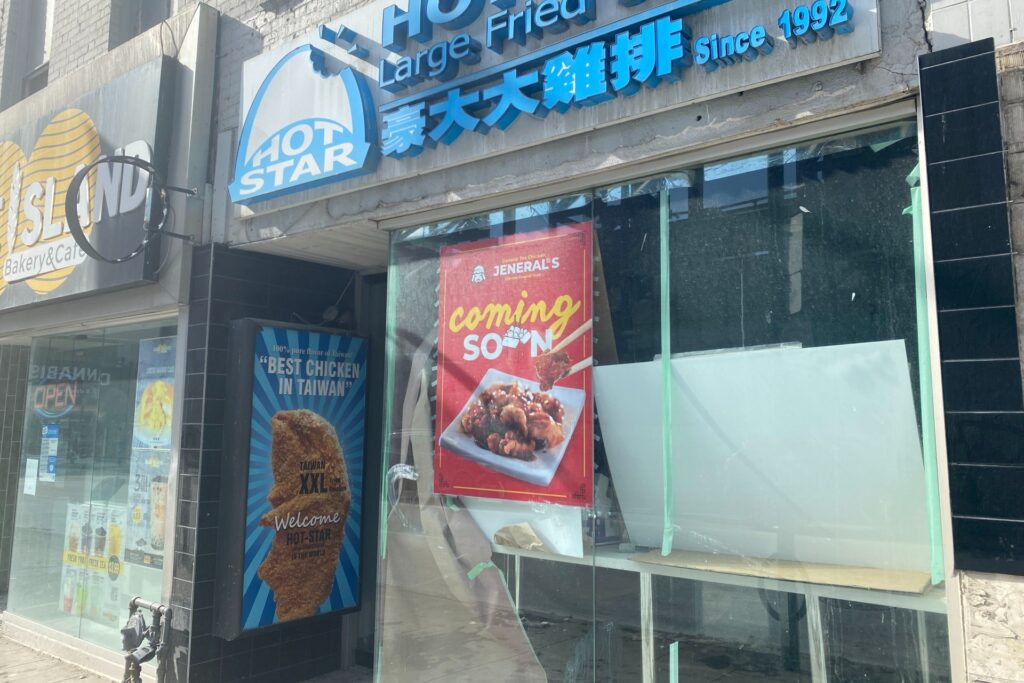 Toronto was a changed city by the time students made their return. The streets they once knew had been transformed by the pandemic. One thing they did not anticipate, however, was how hard the various Asian restaurants they used to frequent had been impacted. On her first trip to Chinatown after coming back, Meng was greeted with an unfamiliar sight: some of the places that used to be filled with students like her were taped over with closure signs and abandoned furniture thrown about. To her, these restaurants were more than just a place for food, they were also where she and her friends would gather on the weekends to unwind. According to a study by Statistics Canada, the pandemic has disproportionately affected small businesses, but those frequented by Asian students also had to worry about the racist attacks that were on the rise.
The Chinese New Year came two months after Meng landed in Toronto. She woke up to several messages from her family – pictures of their New Year's dinner, of the hometown dishes they used to spoil her with. She felt overwhelmed. The sight of a plate of pickled mustard greens was enough to make her reminisce about the things that carried her through the dark times back home: the familiarity of her comfort food, comfort home, and the proximity of her family.
"They were my support system when the school was doing nothing about our collectively dwindling mental health," said Meng. "Every time there is a story of someone quitting from the pressure, every time there is news of a fellow student committing suicide, I wish I had them by my side to assure me things will be okay."
About a month after her return to Toronto, Liu learned that the company she worked for has relocated its base of operations to a bigger city, and her hopes of going back for a formal job with them were now gone. "I definitely am disappointed, but this is not the first curveball life has thrown me in the last couple of months," she said over Zoom with a dimmed look in her eyes. "The best I can do now is just to take the challenges one at a time, because just thinking about all that lies ahead overwhelms me."