---
Hello out there, we're on the air, it's 'Hockey Night' tonight.
Tension grows, the whistle blows, and the puck goes down the ice.
---
By Nicole Fernandes
It may be Saturday night in other countries, but not in Canada.
Saturday nights are Hockey Night here. At 7 p.m., people across the nation flock to their televisions for Hockey Night in Canada to watch their favourite teams, agree or disagree with analysts, and wonder what funky suit animated commentator Don Cherry will be rocking.
In Toronto's Liberty Village, Hockey Night starts in the late afternoon. The Toronto Marlies are in action at Coca-Cola Coliseum, on the southern border of the neighbourhood by the lake.
Forward Jeremy Bracco sports black headphones, a navy Marlies hoodie, shorts and Adidas slides with an hour until puck drop. He's on the bench in the dim rink, wrapping white tape around the blade of his CCM stick while jamming to a tune. He nods his head as he mouths lyrics, stick blade twisting left to right as he purposefully winds the tape.
He's unfazed by the lingering gazes of the fans behind the bench. When the blade of his stick dons a sleeve of white tape, he jogs back to the dressing room to join the gang.
It's the same routine for every home game.
With the success of Marlies-turned-Leafs like Kasperi Kapanen, Andreas Johnsson and Travis Dermott, over 6,000 fans file into the rink, hoping to see future Toronto Maple Leafs in action. Marlies alumni make up nearly half of the 2018-19 Leafs roster.
Baby-faced Bracco leads the Marlies in points and is battling for first place in AHL scoring. In March, he set new single-season franchise records for assists and points. He's praised for his playmaking ability, similar to his childhood friend and Leafs magician Mitch Marner (another right winger who doesn't look his age).
No. 27 has Leafs fans wondering when he'll be in the NHL. Marlies faithful just bask in his talent while they still can.
"You have to enjoy them while they're there," says season ticket holder Connor Hatziyannis. He believes Bracco will probably make the Leafs roster for next years pre-season games and season opener.
"I hope he does," says Hatziyannis, a big fan of the winger.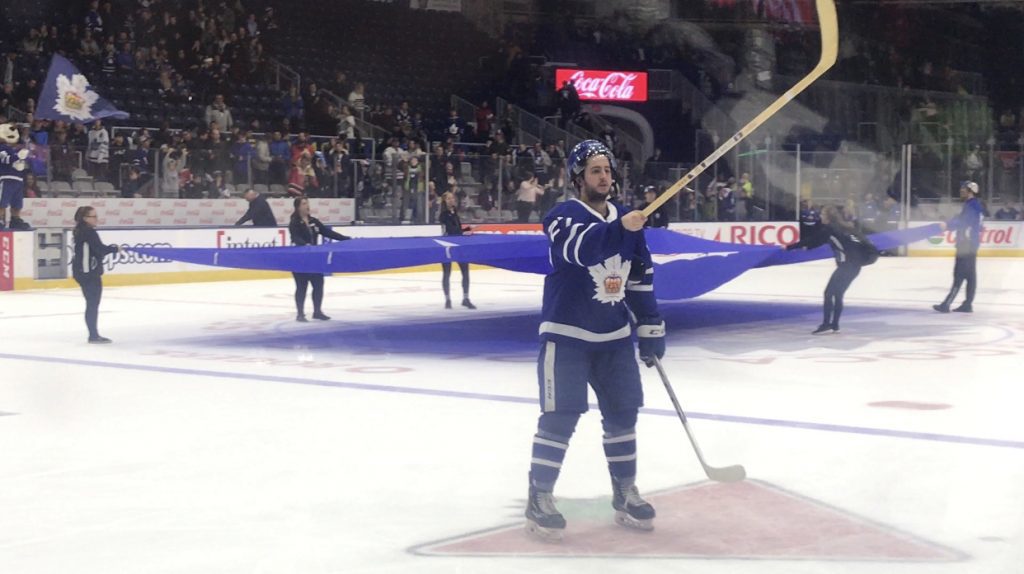 Trevor Moore was going back and forth between the Leafs and Marlies this season. He last got called up in February and cemented himself on the Leafs fourth line.
Moore was a crowd favourite at the coliseum. Hatziyannis says fans were always taking his picture or getting his signature. "A lot of people knew he was going to be in the NHL fairly soon."
"When he got called up a lot of fans were like, 'I miss him already.'"
But watching future Leafs and seeing them make it to the NHL calls for anything but mourning, especially with Johnsson's and Kapanen's contracts expiring. "You don't feel as hopeless," Hatziyannis says. "If we lose (Johnsson or Kapanen), we've got Jeremy Bracco in the system."
Amid the cuddly canines, colossal condos and costly coffee of Liberty Village lives the future of the Leafs. And those who bleed blue and white could not be more hyped.
---
The goalie jumps, and the players bump, and the fans all go insane.
Someone roars, "Bobby scores!", at the good ol' Hockey Game.
---
Inside the arena, a sea of blue and white jerseys, hats and scarves flood the concourse. There may be a lot of tall bodies, but don't be fooled: the young fans run the show here. They chant
"Let's go Marlies,"
carry signs, and cry for overpriced cotton candy.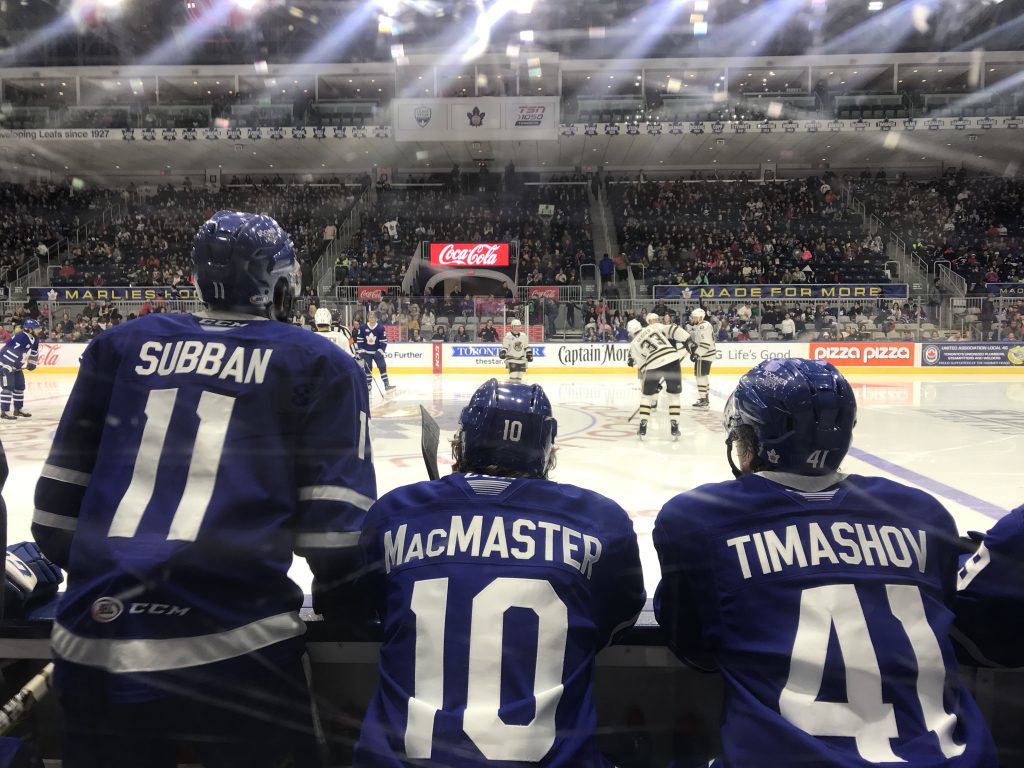 The crowds are younger than the ones at Scotiabank Arena, the Leafs' barn. Businessmen in their swanky suits speaking finance lingo are replaced with kids in blue attire hollering for pucks. The Marlies embrace their youthful fan base with
young anthem singers,
plus Timbits Hockey and choir performances at intermission.
Sarah Dias, 10, is a big Marlies fan and frequents games with her family. "I love coming to the Marlies games. I really like seeing all the players."
Minutes before warmups, Dias and other eager children pile into section 100, behind the Marlies bench. To the left is a staircase that leads down to the bench. Kids dangle their hands over the silver metal railing, awaiting high fives from their idols.
The boys in blue step into view, welcomed by a symphony of whistles, claps and cheers.
Small hands are met with a flurry of larger blue and white gloves, kids yelling "Let's go!" or "Good luck!"
Moments with players create unforgettable memories for kids. It gives them a deeper connection to hockey. Dias says Moore, her favourite player, tossed her a puck once. "It was really cool," she grins.
Hatziyannis says player are more available to kids and make it enjoyable for them. "It helps (kids) live their dreams."
Hatziyannis, 18, just moved to Toronto in 2018 to attend Ryerson University, but he's already established himself as a regular at games. He's also got a nifty secret.
"I know one of the goalies," he reveals. "He streams on Twitch. So, because of that, we're friends now."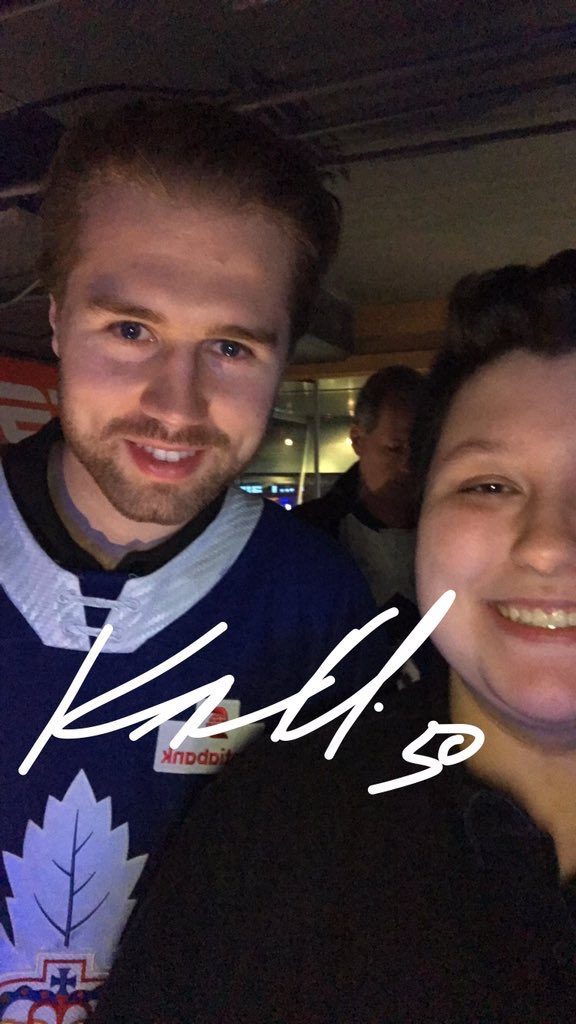 In January, Hatziyannis was scrolling through the Leafs subreddit. Someone mentioned that Marlies netminder Kasimir Kaskisuo was on Twitch, a live-streaming video platform. Curious to see if it was legit, he checked it out.
It was Kaskisuo and a whopping seven other people were watching the goalie play Fortnite and NHL 19. Kaskisuo chatted with Hatziyannis and the other viewers, so he and the seven faithful came back for Kaskisuo's next stream. And the next one. And the one after that.
Hatziyannis and "Kaz" are now friends and Instagram mutuals. "I was at (a game) and he tossed me a puck," Hatziyannis says. "Without a sign. He just remembered me."
Kaskisuo promised Hatziyannis a stick if he bought a shirt. He spent $50 on the customized shirt-jersey and DM'd a picture of it to Kaskisuo on Instagram.
He's still waiting on that stick.
---
Oh! The good ol' Hockey Game, is the best game you can name.
---
Although he's from Washington, D.C., home of the 2018 Stanley Cup champions, Hatziyannis says the hockey market there doesn't compare to the boisterous one in Toronto.
Toronto lives, breathes and eats hockey, and the Marlies have created a hub that embraces that.
Hatziyannis says it feels like a small-town community centre rink. "You feel closer to people. It reverberates around the arena."
Dias was at game 7 of the Calder Cup finals when the Marlies lifted the cup. "Everyone was really excited, the building was super loud. It was so cool seeing the players lift the trophy."
"I hope they can win it again this year," she beams.
The coliseum is home to the Marlies and everything that comes along with that. This is where prospects excel at hockey. Where fans proclaim their love for hockey. Where Toronto celebrates hockey.
"The environment that the Marlies staff has created, plus (enthusiastic fans), creates a really good environment to foster the same love for hockey," Hatziyannis says.
"This is what hockey is supposed to do."
For Canada and Toronto's Liberty Village alike, the best game you can name is the good ol' hockey game.