By Jennifer Nguyen
HANOI — Outside a tiny alley tucked away from bulkier storefronts on Nguyen Huu Huan street, two women sit and chat over paper cups that fit just right in their palm, filled almost to the brim with a thick golden foam. A sweet aroma fills the air, growing stronger as one travels further down the passageway.
"Welcome to Cafe Giang. Only take-outs for now, please and sorry!"
Nguyen Tri Hoa, the owner, paces forward from the cashier booth at the back in a matching denim vest and newsboy cap ensemble, extending a weathered paper menu. The first line reads in bold "egg coffee, hot/iced" next to a price tag of 30,000 dong, or C$1.6.
At the age of 65, Hoa sports a remarkable shoulder-length, salt-and-pepper mane. The Vietnamese traditionally associate long hairdos in men, a defiance of norms, with the artist community and their yearning for freedom of expression. And Hoa lives up to that, as a natural in the art of coffee.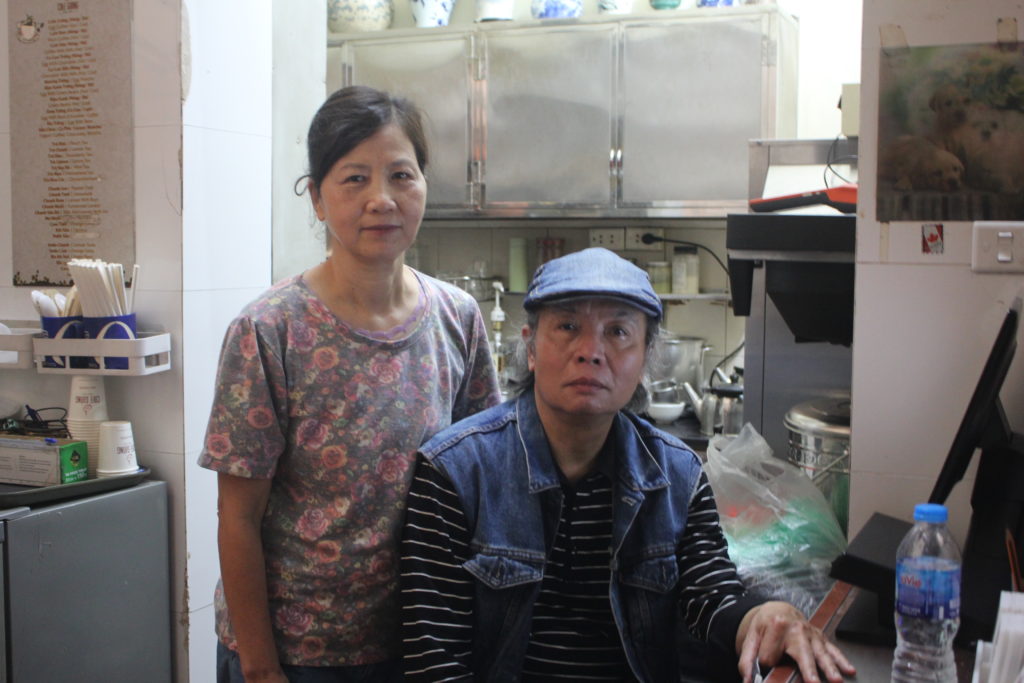 Nearly a century ago in the 1940s, when Vietnam was still under French colonial rule, Hoa's father Nguyen Van Giang was working as a barista at the capital city's first five-star hotel, the Sofitel Metropole Hanoi. Here he mastered the making of a fancy Italian cappuccino.
But there wasn't a way to serve this drink beyond the rich man's world. Outside of the Metropole's glass windows and beaming halls, Hanoi was a battlefield deep in poverty.
"Milk was a luxury then and yet you need about 200ml of it for a dozen cups of cappuccino. But if you take eggs instead, which could also be whipped into a froth and was accessible to every household – since we all raised chicken, you can make something 95 per cent similar while 10 times cheaper," Hoa said. "So my dad thought 'why not?'"
It wasn't long until Mr. Giang and his family made a name for themselves in the city's beverage scene. The concoction prospered with time into a made-in-Hanoi trademark. Exquisite coffee lovers in the city, across the country and internationally proclaim that Cafe Giang is the place to be for anyone who wants to try an authentic, creamy Vietnamese egg coffee: with assorted beans, yolks and sugar, although their modern version also adds condensed milk.
Like his seven older siblings, Hoa grew up helping out at the family store. While three of them went on to have their own shops, himself included, Hoa takes pride in being the only one to take the "proper" route of going to culinary school for bartending and landing a job at a state-run food and beverage company, where he met his wife, a chef. The couple left to open their cafe shortly after their father passed away in the late 80s, adamant about keeping the name Giang.
"This is all his legacy. Keeping the name helps with branding, sure, but it's also the least I can do to pay my respect."
Peach blossom petals scatter on the brick tiles floor. It's springtime in Hanoi, or Cafe Giang's peak season in a pre-pandemic period, as people gather in celebration of the Lunar New Year. In the absence of patrons' chatters, the tireless grinding of an egg mixer is the only sound echoing the decades-old coffeehouse's gallery walls. Hoa gazes out to the entrance, following the footsteps of a departing customer. Perhaps he has fond memories of busier days on his mind.