By Carolyn Bridgeman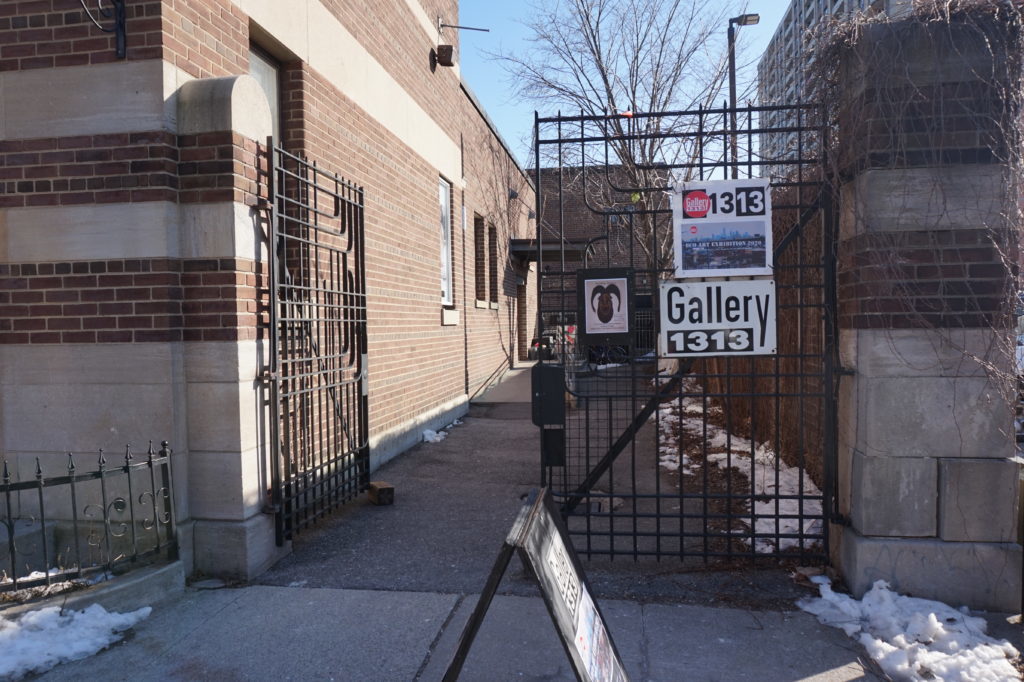 On a gloomy February day, the streets of Parkdale roared with life. Piercing car horns and clamorous chatter filled the air. At 1313 Queen St. W., red and white posters nailed to an open black gate exposed an entrance and wooden frontier between Gallery1313 and the chaos of Queen Street.
In the early afternoon, the door swung open and a burst of sunlight flooded the room, revealing a 14-foot high space composed of all-white interior. A middle-aged man strolled in and a young boy that looked to be about the age of four followed behind him, holding his hand.
Step-by-step, the room echoed the noise of rubber soles smacking against the silver concrete floors. The only other sound was a faint humming from a glowing TV screen that flowed throughout the gallery.
But the gallery's near-silence was contrasted by life-size penis sculptures dressed in colourful costumes. Framed images of blue superman capes, rainbow propeller hats and forest green two-piece set outfits in use hung on the wall alongside the models.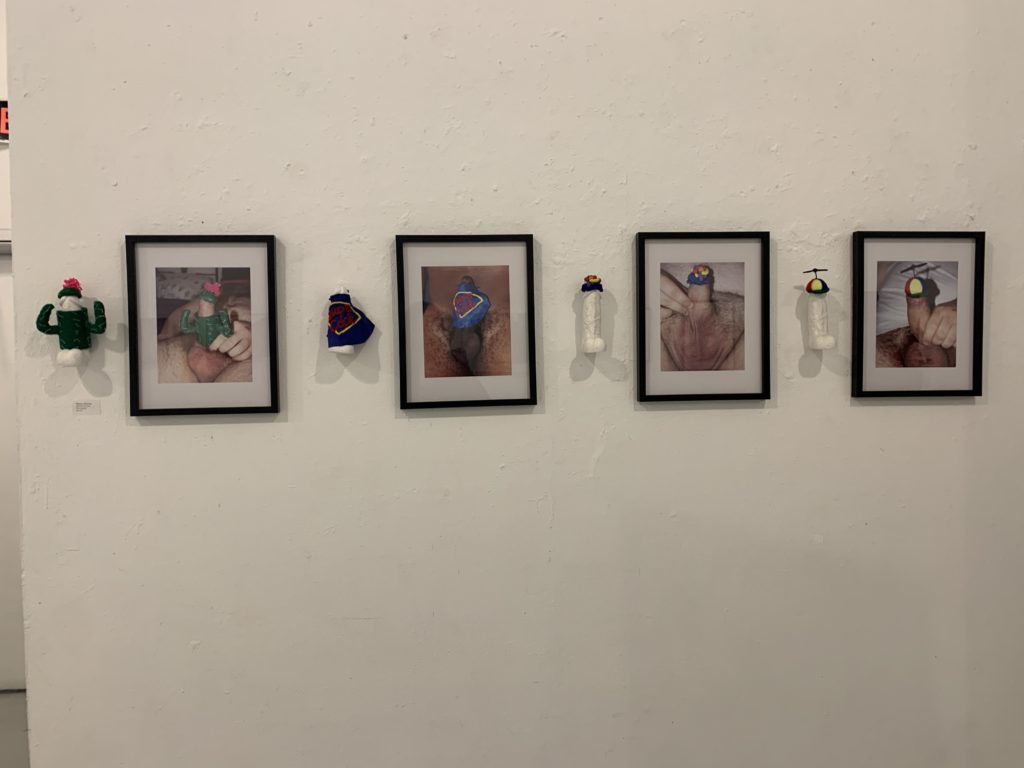 Stepping out from behind the gallery walls where his office hides tucked away, a slender middle-aged man with white tousled hair and a beard to match, poked his head out. Sporting a black blazer, dark-washed jeans, and tarnished black sneakers, his hipster-like fashion reflected his environment.
As his pale blue eyes peered out into the room, he called out to the other man, "Sir, the show might not be appropriate for young children."
"Oh he won't remember," the man called back, shrugging his shoulders while continuing to tour the exhibit.
After 20 years as Executive Director, Phil Anderson has seen it all.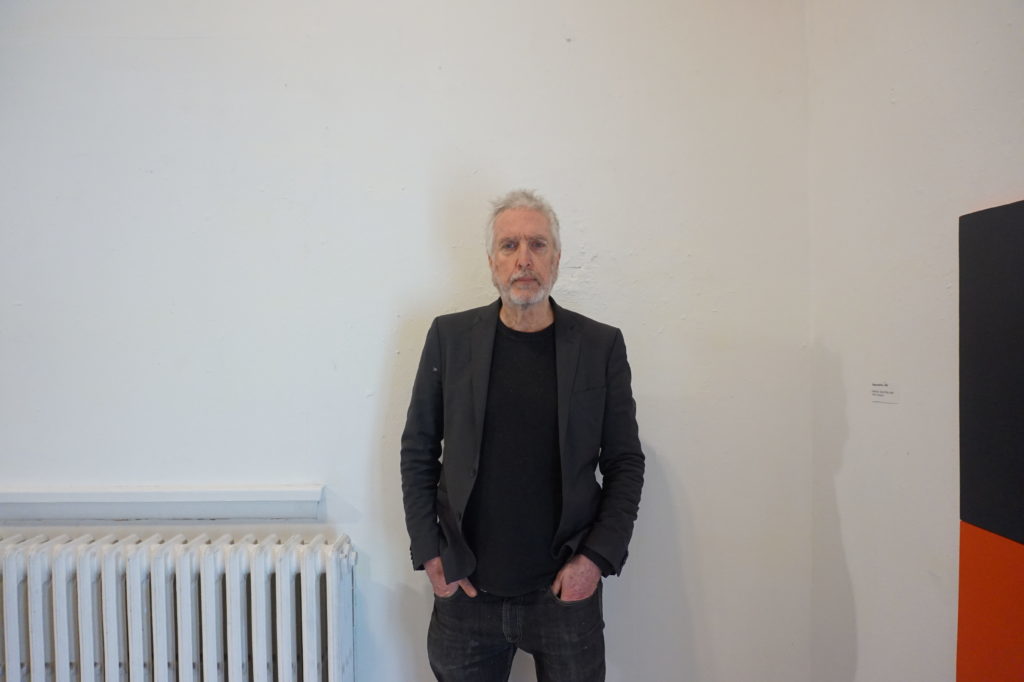 On that day, Mishka Peachka's Misster Dress-Up—a show dedicated to the evolution of the typical "dick pic" as part of the modern dating—was just one of the works displayed for the gallery's annual The Sex Show.
From environmental-themed work to interpretations of the human body, the gallery has been a stage to all-things art. With over 70 exhibitions per year, the focus in Gallery1313's vibrant arena is on creating community engagement. "My idea is to make it as accessible as possible and not to be one of those places where somebody sits behind a desk and looks you up and down," said Phil.
"It's not that kind of space, right."
Staging is storytelling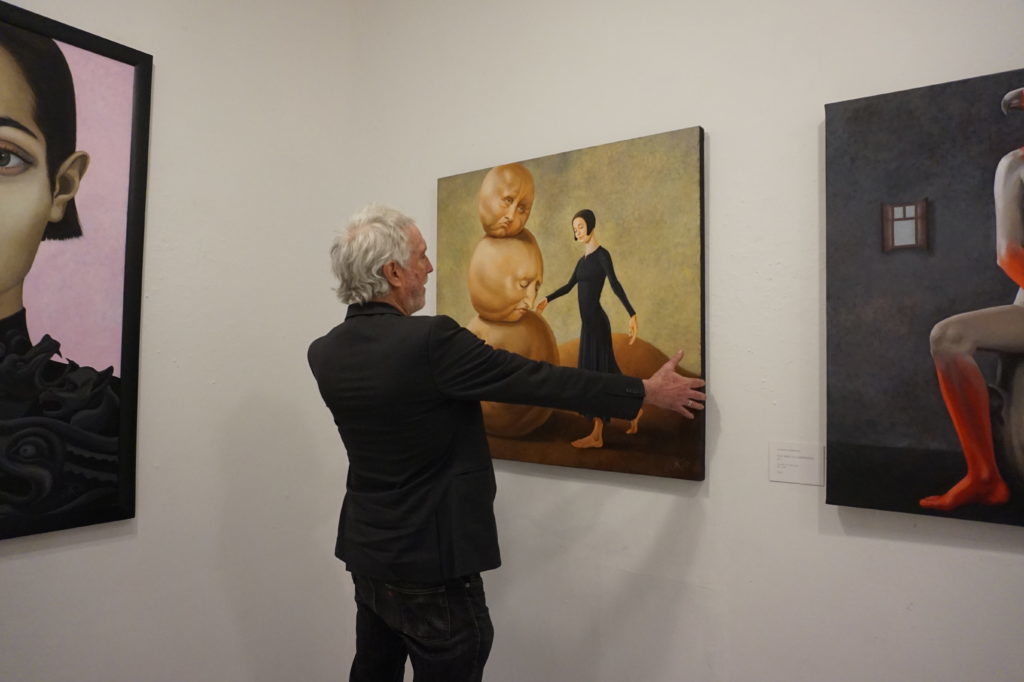 Located in the heart of Parkdale, the artist-run centre aims at supporting art accessibility for the community. From installations to performances, the gallery encourages contemporary visual art in all media.
Aside from completing rental contracts and managing the business side of the not-for-profit gallery, Phil spends the majority of his time assembling exhibitions.
"It is kind of like directing actors, and it's like storytelling," said Phil. "You put all of these different pieces together and it comes up in a different way every time because you're working with different artists."
"Something like The Sex Show is a little different right? I don't want people freaking out so I put up a warning sign outside," said Phil. "Even without kids, some of the adults are sensitive about some subject matter and I just want to make sure they know what they're walking into."
From jail cells to gallery walls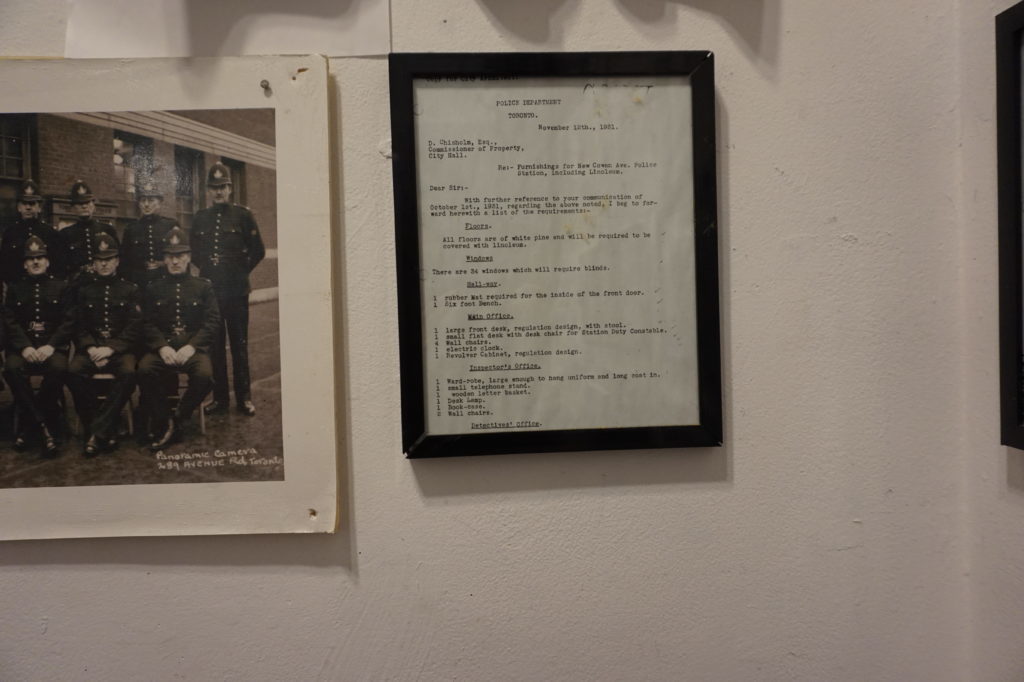 Above the doorway to the gallery, the peeling white paint reveals a much more dated cement foundation from its time served as Parkdale's former police station.
In the years leading up to the Queen Street gallery, Parkdale had a reputation for poverty and crime, which made it all the "grittier," according to Phil. "You know, it was like a little bit of a small town on the edge of the city kind of thing."
With hopes of bringing about positive changes within the neighbourhood while promoting Parkdale-based artists, the local Business Improvement Area (BIA) sent out a call out for artists.
they'll support us and we will help make the neighbourhood a little cooler or whatever.
A place to call home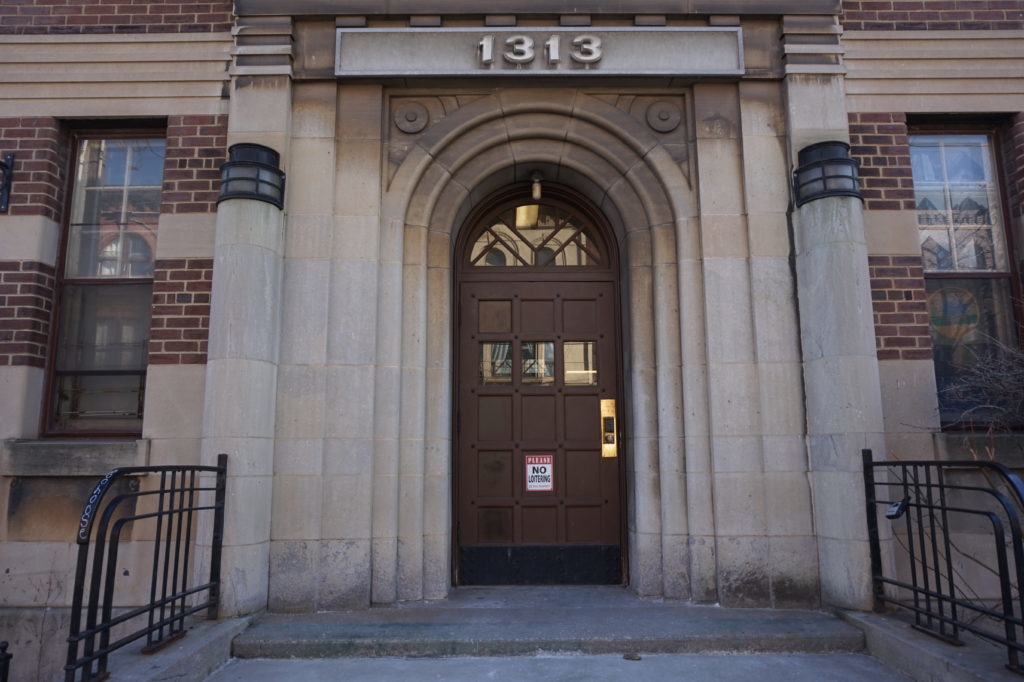 From holding cells to gallery walls, the community awakened and saw a surge of coffee shops, flea markets, restaurants, and artists. Over the years, Parkdale has become somewhat of a hipster neighborhood and popular tourist destination.
"I had a guy in the gallery, he taught Urban Studies in Korea and I asked what had brought him to Parkdale. He said people were telling me that this was a new Brooklyn," said Phil. "Now that was kind of funny."
Phil explained that Gallery1313 works to reflect the neighbourhood through its diverse range of exhibits from local artists. The gallery's two-week turnover period calls for a constant rotation of new art pieces to meet public desire.
"One thing people say about this gallery is that they never know what they're walking into," said Phil. "There's a good chance they are going to find something they like, especially with all the different spaces with all the different things going on."
Gallery Guru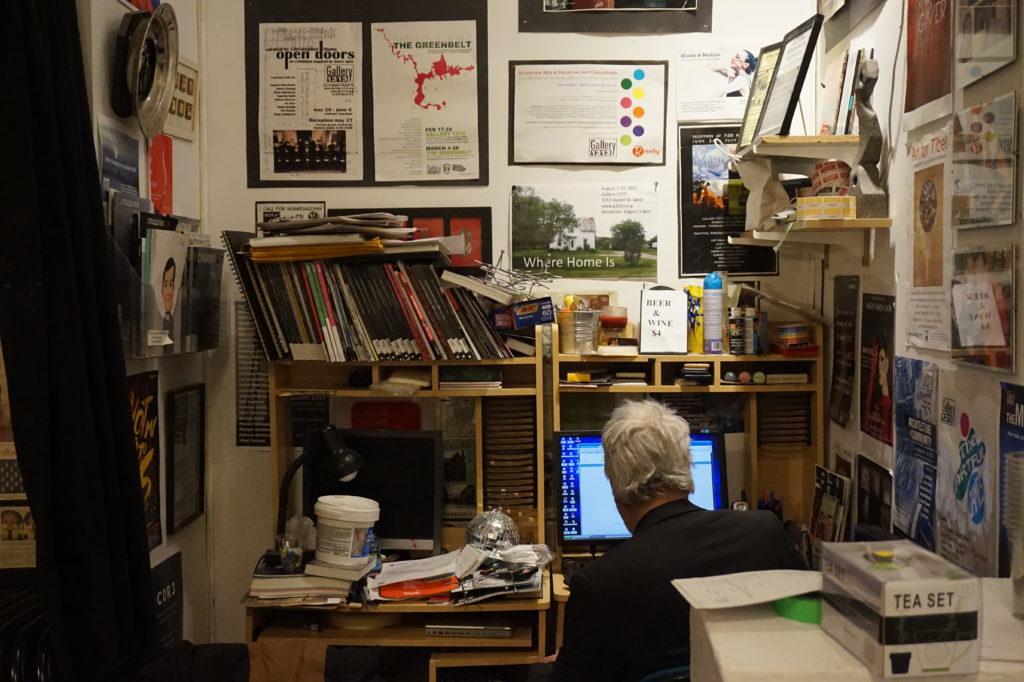 Ten days later on another blustery day, it was a little after lunch time and tucked away in his cluttered office space, Phil sat bound to a black computer chair, fingers pounding on his keyboard. With the click of an arrow, the email was sent. On to the next one.
It was that kind of pace that has made Phil an integral part of Gallery1313. For over two decades Phil has helped foster the gallery as well as many local and international interning students. From advice on how to promote an exhibit to assisting with physical installations, Phil has acted as the gallery guru for hosting exhibitions.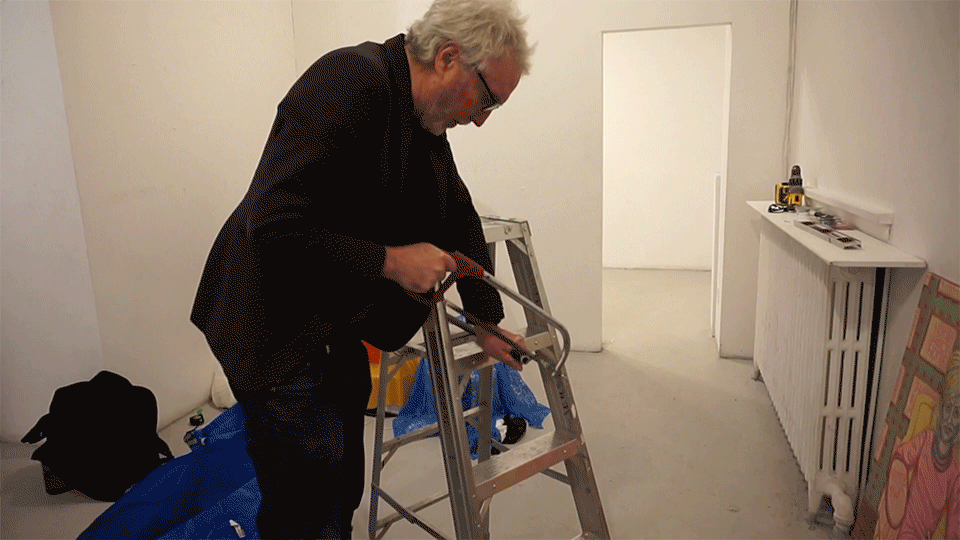 Phil Anderson helps a York University student saw part of her display for an upcoming show, on March 5, 2020. (Carolyn Bridgeman/T•)
From phone calls, to emails, he works to showcase the gallery and attract an audience. After 20 years, the traffic inside Gallery1313 hasn't slowed and Phil has continued to keep the spark alive.
A real niche
Back at The Sex Show exhibition, the sound of smacking soles grew softer until it was eventually halted by the echo of a deep thud of a door, returning the room to a state of silence.
Across from the penis sculptures, a black and white photograph of a shirtless heavy set man with a cut-out photo of Brad-Pitt's face hung on the wall. Directly across rested a painting of a pink and brown vulva with large round eyes and eyelashes. In eight days time, The Sex Show was replaced by Gomo George's, Another Tongue exhibit.
From images of vulvas and penises to paintings exploring environmental issues, and architecture exhibits, the walls of Gallery1313 are constantly being dressed, undressed, and re-dressed again with new art. There is no pre-set menu for what lies in store for the Parkdale gallery.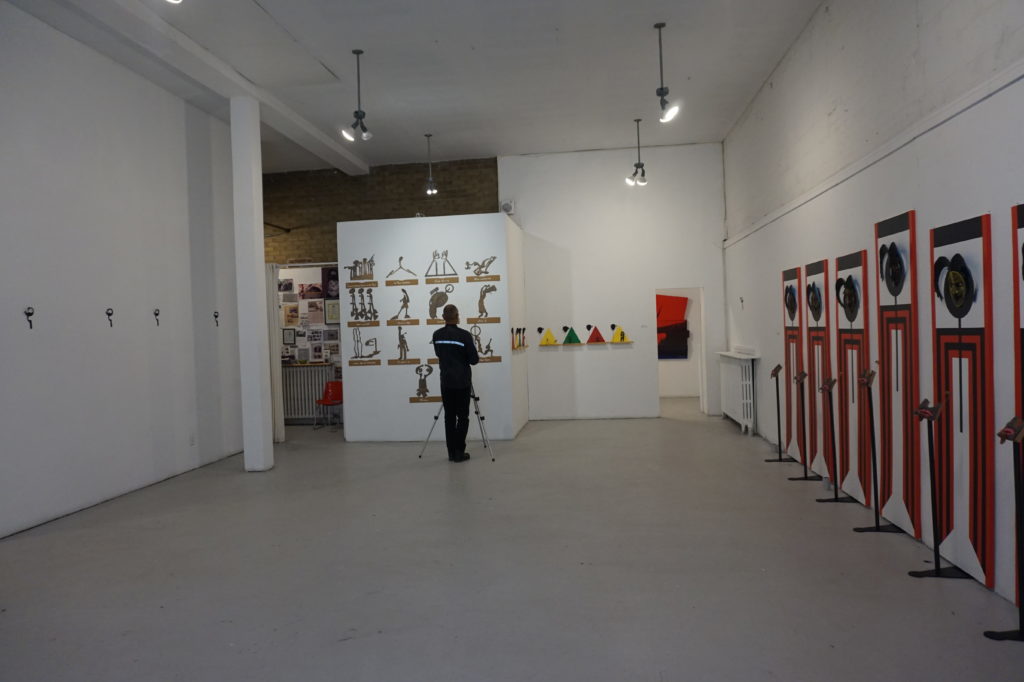 "We've had people on our board before who said we don't have a real niche, we should have a real niche. Well, you know, it's actually a good thing that people come here and don't know what to expect because they want to be surprised," said Phil.
"Sometimes they may not love it, but they'll keep coming back."