The Fantasy Fair has aged with its own type of charm. Many of its rides have been there since its opening, like its iconic antique carousel, but new changes can be seen immediately. Animatronic dinosaurs guard every corner of the fair, looming over cheap red barricades. Game booths line the areas between rides, where stuffed toys hang waiting to be won. Teen Titan characters, with eyes too big and arms too long, look like they've been waiting a while. The roars of dinosaurs fill the space, and every now and then a child screams with delight.
In its beginning in 1985, the Woodbine Mall beckoned families to come visit Canada's largest indoor amusement park. A flagship mall with big dreams and high ambitions now looks forgotten, held together by rusted bolts and beams, trying its best to stay open.
Today, the mall looks out of date. Mismatched sofas ranging from traditional to chic fill the foyers, where generic pop music echoes throughout the halls. Surrounding them are small businesses that not many outside of the neighbourhood have heard of. The main traffic comes during weekends, when parents take their children to the fair.
"It is kind of a nostalgia thing," says Kevin Taylor, a father of two, laughing while calming down his fussy son in his arms. "You come here and you feel like when you were a kid, because it really hasn't changed much."
He's been coming to the Woodbine Mall all his life – when he was a child with his grandparents, and now as a father with his kids.
"My daughter's birthday is in March, so there's not really much you can do outdoors. Wonderland isn't open yet, so we started taking her here on her birthday. She loves it. We tried not taking her this year, and she said 'No, I want to go to Fantasy Fair!'"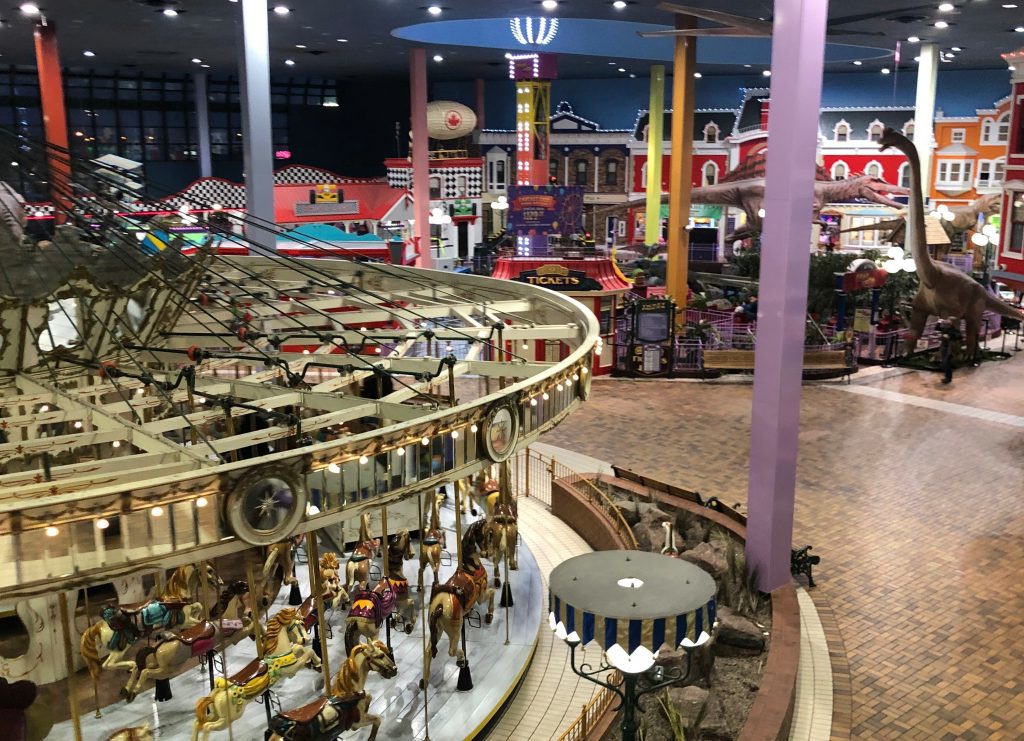 But even with frequent family visitors, it's just barely able to survive.
According to the Ministry of Labour, the Mississauga company Woodbine Mall Holdings Inc. in charge of operating the Woodbine Mall and the Fantasy Fair was charged $50,000 in February for failing to pay its workers on time. The Woodbine Mall was contacted numerous times for a statement, but has not replied.
One worker at the Fantasy Fair, who requested to be unnamed, says she wouldn't work there if she wasn't in school.
"It's fun because there's a lot of kids. I love kids," she says. "But it's just been getting worse. The Fantasy Fair has been losing a lot of money – I haven't been getting paid on time. The stores here, there's barely anything people want to come for."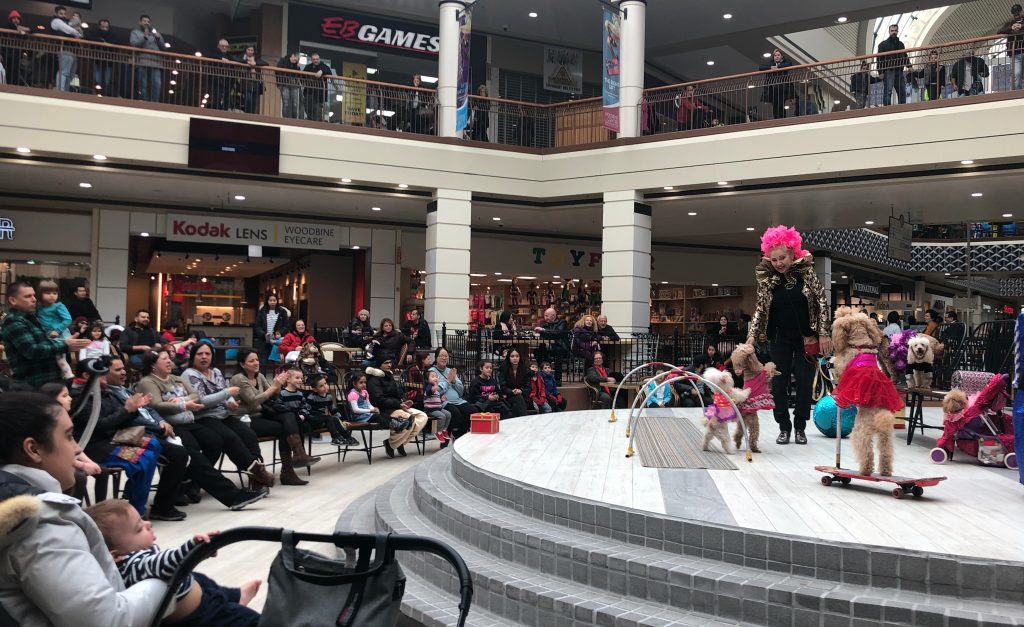 This sentiment is echoed amongst other Woodbine Mall business owners. Shawn Gawri, a worker at XTC Designs, an urban clothing store that has been open at the Woodbine for the last 13 years, says his regulars are the ones keeping his business open.
"I'm not getting any new clients," says Gawri. A banner greets customers with an offer: everything in store is 50 per cent off. "If new people do come, they come for the Fantasy Fair. They shop around and they can't find anything."
Gawri credits the changes in demographic and the rise of new flagship malls as big reasons for the decline in traffic these last few years. And a study shows that he's right.
In 2017, the report "Woodbine Mall Development & Project Analysis" by geographic information system ambassador Nicholas Pulsone from Ryerson University revealed that the changes in demographics in the surrounding neighbourhoods deviate from the white suburban family the mall has tried to target. After failing to adapt to changes in its neighbourhood, which now sees ethnically diverse peoples and higher amounts of post-secondary students, the mall started to lose its appeal as a viable shopping centre.
Ryerson student Shivaani Uruthiranandasibam has grown up in Rexdale and seen the mall change. "The only reason we would go, back then, would be for the Fantasy Fair. Now we grew out of that stage," she says.
To her, the mall only appeals to young children and seniors. "I don't really see any stores that I personally would shop from."
Gawri's friend Kabir Khulmi, who owns Balkh next door, blames the consumer move to the online market for the decline in traffic and sales. With lesser-known stores and more small business owners, the Woodbine Mall struggles to compete with flagship malls that carry name-brand stores.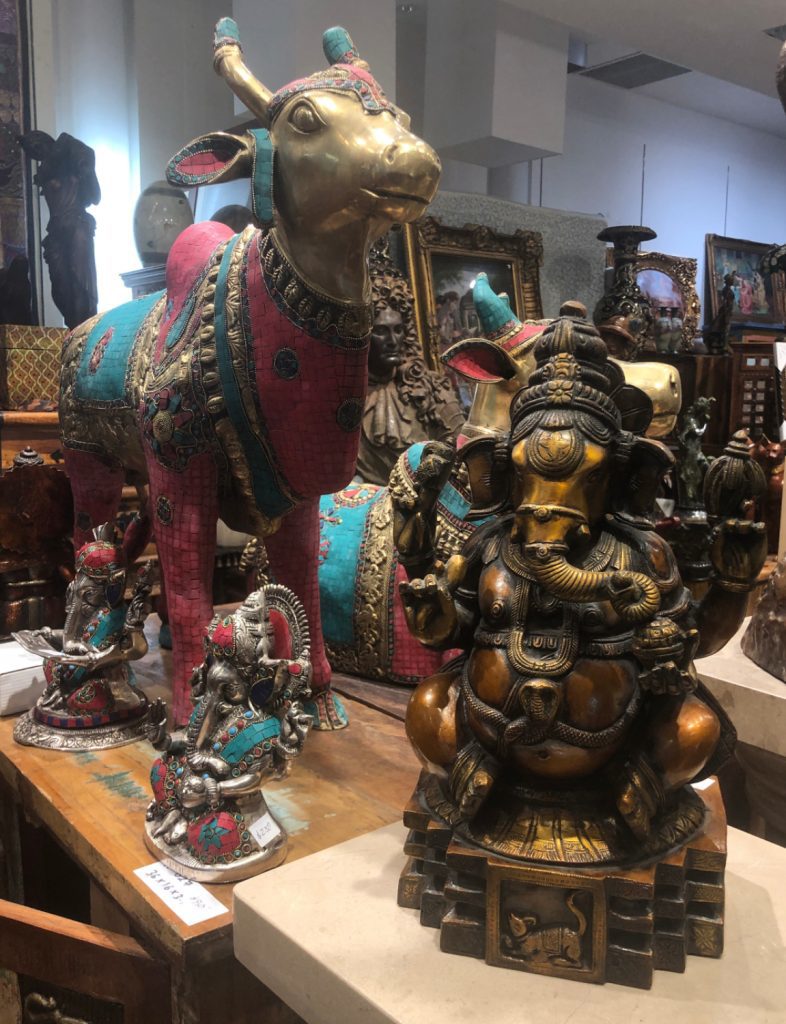 Khulmi travels every day from Pickering to his store. Open since 2009 selling handmade antique furniture, he helps keep his business running by finding clients outside of the mall through wholesale.
"Retail in general hasn't been doing so great right now," says Khulmi. "If you're not one of the malls like Vaughan Mills or Yorkdale, it's even worse."
Some workers, however, are proud of the affordable goods and services the mall offers. The fact that this mall is still running is something Dhristi Kernahan, worker at Arain Jewellers says "means something."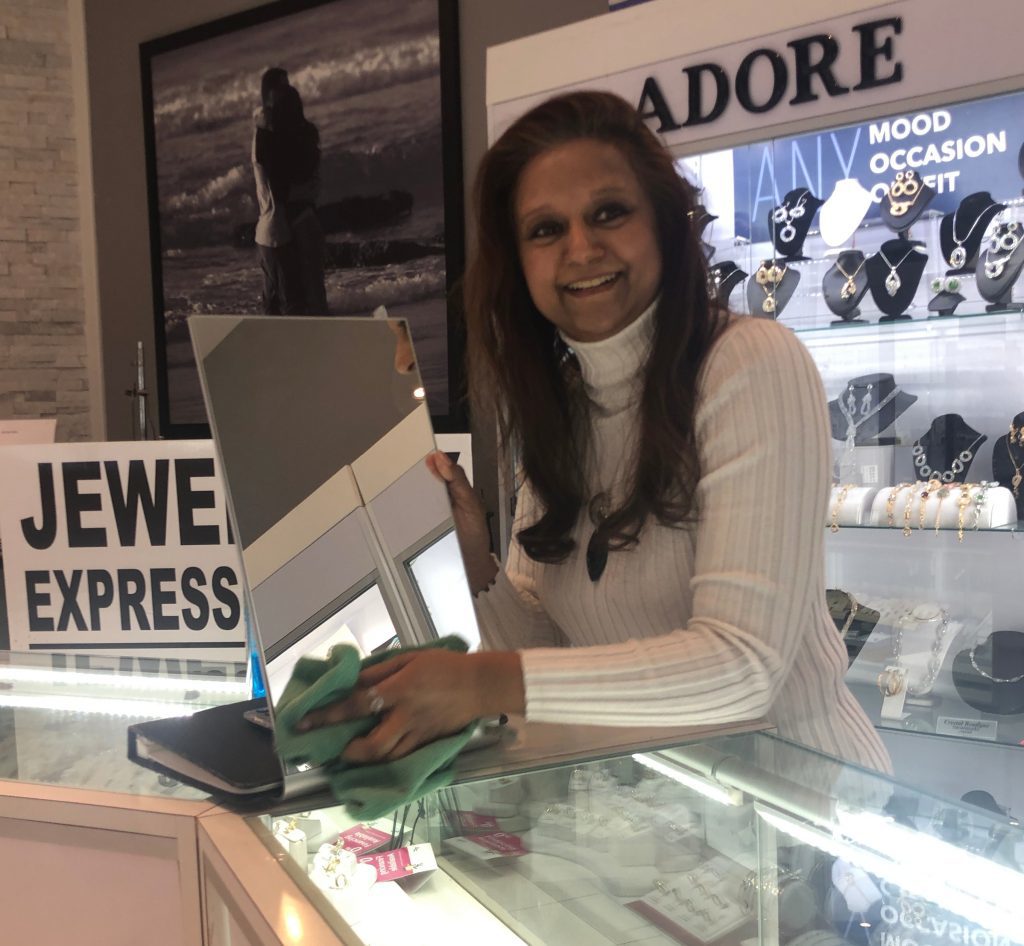 "I always find something affordable in this mall – there's always something," Kernahan says. She has worked at the Woodbine Mall as a teenager to get herself through school and has come back for part-time work.
"I know it's been harder for small business people, but they have good stamina. They've held out. You become sort of like a family."
If the Woodbine Mall was a family, a big part of it would consist of the regulars. The regulars, a lot of whom are elders and retired, come to the mall to get out of the house, exercise, and meet up with friends.
Benedicto Marasigan comes to the mall Monday to Friday with an established routine. "Nothing to do at home, see?" he says, Tim Hortons coffee cup in hand. After running into some friends in the food court, he sits beside the coffee shop waiting for other friends to come along.
"I exercise. I walk two rounds, and I get tired. I chat with friends, drink coffee. After 12 o'clock, I go home and eat lunch. I want to go to the other side, but it's too expensive."
By the "other side," Marasigan refers to the Woodbine Racetrack and the Casino Woodbine. Developments in the area have been advertised for years, and city planners are promising that the community will see increases in jobs and investments that would help propel the community out of its economic slump.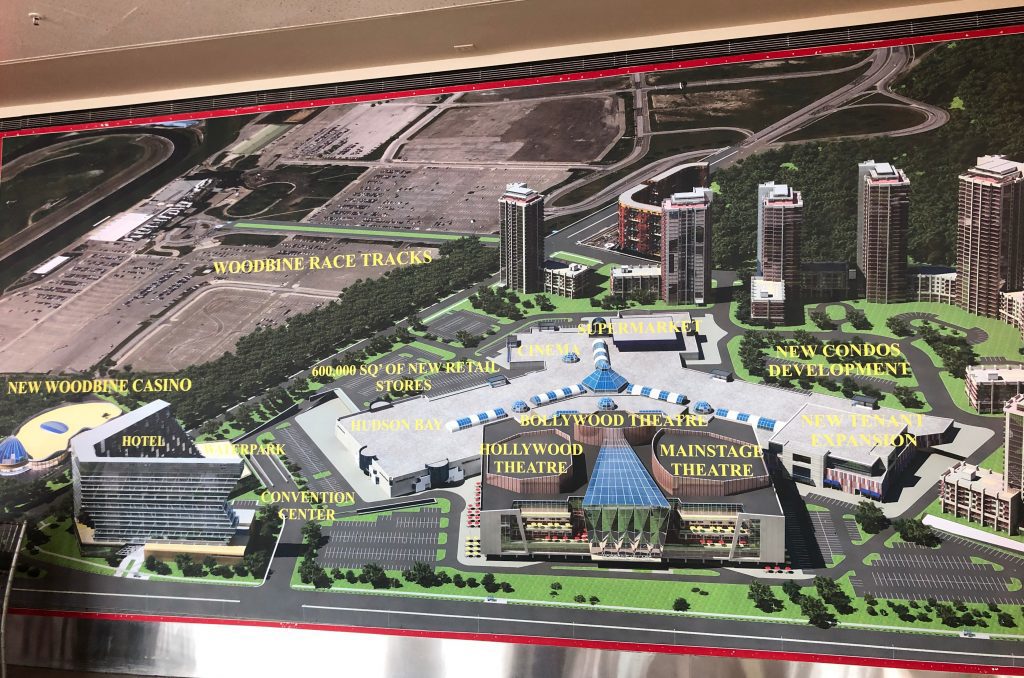 Sometimes before the mall closes, a few families can be seen wandering through the halls. On a chilly evening in March, a mother and her older son trail after her two younger children. The children disappear down the hall laughing on neon-coloured motorized animals they rented from the Stuffy Riders booth.
"Hey, be careful!" she calls out, and the sound reverberates throughout the empty hallway.