By David Warner
The phone alarm buzzes. Ella Andrews flails her hand, scrambling to turn off her alarm; it's 5 a.m. and she's not a morning person. But the excitement of being in the heart of Jerusalem, Israel—in the centre of so much history—gets her out of bed. She steps out of her hotel and into the early-morning darkness, the balmy air hitting her skin. The butterflies in her stomach propel her every step, pushing her through the morning haze until she reaches her destination: the Mount Zion excavation site, home to thousands of years of history buried beneath the earth. When she arrives, she stops and watches as the sun rises over the hills in the distance, setting the sky ablaze in a glow of red light.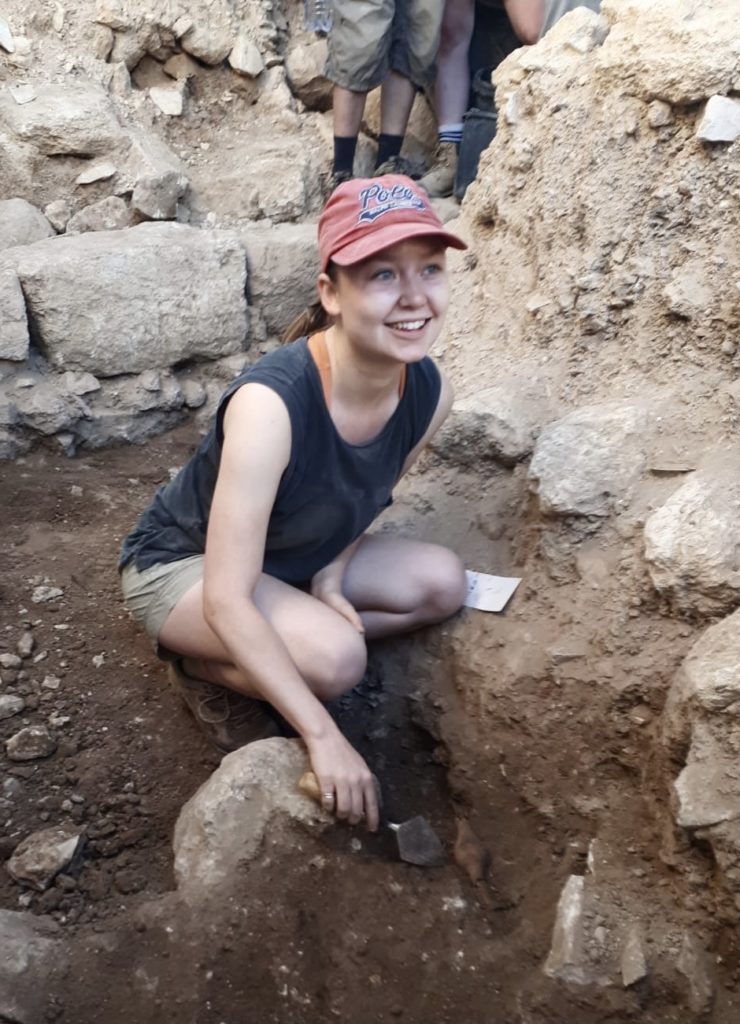 She's far from her hometown of Charlotte, North Carolina, but she's exactly where she wants to be.
"I've always, since I was a little kid, known that I wanted to be an archaeologist," the 24-year-old says from her London, UK apartment. Sometimes when she talks, the slightest twang of her home state slips through.
It's been over two years since she was working as both a conservator and field assistant at the Mount Zion site—a joint project run in association with Andrews' alma matter, the University of North Carolina at Charlotte. She currently studies at University College London (UCL), working towards her masters of science in conservation for archaeology and museums.
Andrews recalls an early obsession with Egypt especially, partially prompted by a constant stream of National Geographic and Discovery Channel programs. When she was a small child—"as soon as I could walk"—she would go outside, plastic shovel in hand, and dig up her mother's freshly-sodded lawn in search of artefacts, much to her parents' dismay. The finds were few and far between—some rocks here and there, a plastic diaper clip with a duck on it—but the experience helped cement a lifelong obsession.
"I feel like if you asked my friends, [they'd say] 'She doesn't shut up about archaeology or conservation,'" she laughs.
It's that drive and reverence for the profession that informs her every decision. "I think that's one of the reasons why I'm drawn to ceramics specifically," she says. "If you think about how many ceramics we use in our everyday life, they're so personal. Even if you don't think of your coffee mug as being personal, it's like you use that every day."
Her respect for physical objects and the stories they tell is always at the forefront of her mind, whether it's a 2000-year-old artefact or one of the many rings she wears daily, each of which has its own story. "I think I just always associate objects with people," she says. "I think it stems from me being an incredibly sentimental person."
In December of 2020, Andrews learned that she had been accepted for a position as a conservator with Middle Kingdom Theban Project in Luxor, Egypt, fulfilling a lifelong dream that started so many years ago. "I was trembling," she says, vividly recalling the moment she received the news. "I've only cried over two things like that. One was getting into UCL and the other one was getting the Egypt job." The position, planned for fall 2021, consists of four weeks working directly at the ancient site.
"I never really thought I would work in Egypt. It was almost like it wasn't a goal for me, because I found it almost unachievable," Andrews says. "I figured, you know, there's no harm in me just applying for it. And now I'm going to Egypt." She laughs, a smile flashes across her face.