By Raviya Singh
The sky darkens as the sun sets on a relatively quiet, and chilly Monday evening on Gerrard Street East, with the occasional noisy rumble of the 506 streetcar passing by every few minutes. Reflections of the evening sun drifting between gray clouds and steel overhead wires flutter past the streetcar windows.
Inside a small store nearby, Ella Fitzgerald's voice fades out softly in the background. Kaleb Hikele reaches out to the turntable behind him, flips the record and drops the needle onto the other side, and the music slowly fades back in. The shop closes in less than an hour, and Hikele sits quietly on a stool behind the counter.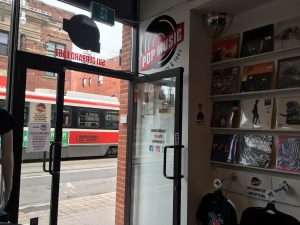 Nestled on Gerrard near Broadview Avenue, Pop Music is a record store that opened in the in East Chinatown neighbourhood just over a year ago. Vinyl's popularity has been on the rise during the past decade, and Pop Music sets itself apart from most record shops in the Toronto by exclusively selling new pressings, instead of curating from old, vintage collections.

Hikele, 29, works at Pop Music once a week, but he has also been living in East Chinatown for ten years. He's watched the neighbourhood change from being a largely Vietnamese community into what it is now – a bustling community with a migration of younger generations from diverse backgrounds, along with emerging new businesses to serve them. And Pop Music is a part of that transition.
The neighbourhood store is also a reflection of national trends. In 2018, there was a 25% increase in vinyl sales in Canada over the previous year, surpassing the million mark in unit sales, according to Nielsen Music. The demand for vinyl has been increasing steadily over the past decade, and it's been defying the digital takeover.
As the age of CD's emerged in the late 1980s and 90s, and dominated until digital and streaming services took over in the 2000s, no one expected the resurgence of vinyl in what appeared to be an apocalypse of physical music. But over the past decade, there's been an increasing excitement and interest growing around vinyl, and Hikele is someone who has witnessed it firsthand.
A self-professed "classical vinyl weirdo" today, Hikele had an extensive CD collection by the time he turned 15, but the only records he ever had as a teenager were his uncle's, covered in dust. No one talked about collecting vinyl during his high school years, something that he mentions is quite common amongst teenagers today. By 19, however, when Hikele had moved to Toronto, he got into vinyl through a friend who was a huge record collector; this marked the beginning of Hikele's own odyssey of collecting.
Since his venture into that world of vinyl 10 years ago, he sees the way teenagers today are consuming music as a complete reversal of what he experienced at that age.
"Vinyl is the solution to people trying to feel as if they're really close to and involved with music," Hikele says. "It's changing the way people listen to music, wanting to get away from how ubiquitous streaming services are. For a lot of people there's no excitement listening to new music through Spotify."
This sense of detachment people seem to feel from their music spans across generations, as both younger and older generations are coming in to buy records. Hikele sees two distinct audiences coming into the store; younger people who are buying a record player for the first time and building their collection, and those who are dusting off their old record player from the 1970s and 80s and starting to get into using it again.

On a recent quiet, overcast afternoon, Pop Music's tidy wall of bins and shelves were filled with brand new pressings of popular records like Pink Floyd's Dark Side of the Moon, Queen's A Night at the Opera and David Bowie's Heroes, along with a variety of old classics and newer releases. The record store decor was clean and minimalist in the relatively small space, with neatly folded band tees laid out on a table in front of the window facing the street.
On the opposite side of the store from the records on display, the wall was filled with licensed band merchandise reminiscent of HMV, with keychains, mugs and wrist bands adorned with the iconic logos of bands like the Rolling Stones, ACDC, Led Zeppelin and Nirvana.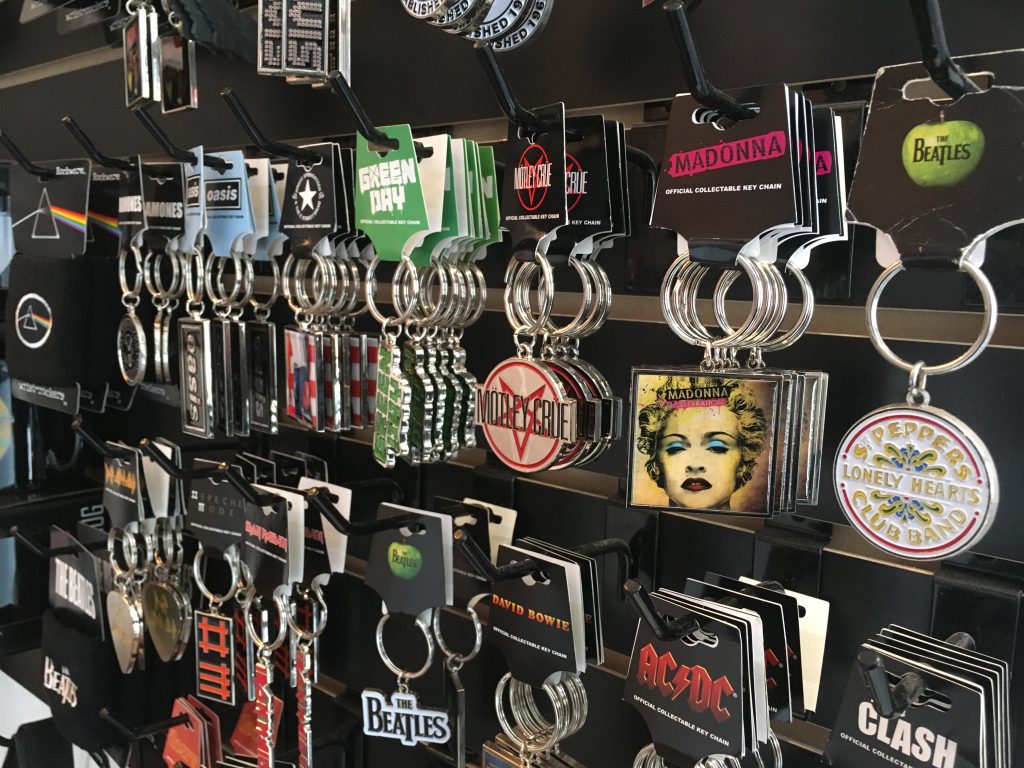 Pop Music's owner Derek Antonio was the general manager of the HMV superstore at Yonge and Dundas streets before it closed its doors in 2017 when the retail chain shut down.
After the store closed in late spring, Antonio began thinking about what he wanted to create for himself post-HMV, and in the summer of 2017, he began working on the business plan for what became Pop Music later that year. Antonio set out with his vision and set up shop on a lively intersection in East Chinatown. He had searched for a space in the east end, because he felt there was a void to be filled there by a record shop catering to what he felt was important, which is focusing on the market for brand new vinyl.
"So many record shops focus on vintage and old school… in terms of somebody else's grandpa's records or whatever… so I thought well I can change the game a little bit, and focus on new vinyl exclusively," Antonio says. He adds that his "tailored boutique-style shop" gives him more choice to curate what he sells.
Antonio counts on foot traffic to bring the browsers in. Three of the busiest streetcar lines in Toronto – the 506, 505 and the 504 – cross the intersection of Gerrard and Broadview Streets every five minutes. The impressions the store makes based on transit and pedestrian traffic are worth "beyond what I could ever pay for," he says.
A young teenager walks in to the store that afternoon and gives Antonio a nod of acknowledgement as he approaches the bins of records along the wall. Antonio greets him enthusiastically: "Hi! How's it going? There's a surprise in the bins for you, I wanna see if you notice it!" The teen begins flipping through the stack of records, and in a matter of minutes pulls out his hidden surprise, smiling brightly; it's a new release, Future Hndrxx Presents: The WIZRD.
For Antonio, this is part of the experience. He wants to build relationships in the community, and customers who come in every week challenge him to bring different things to the store.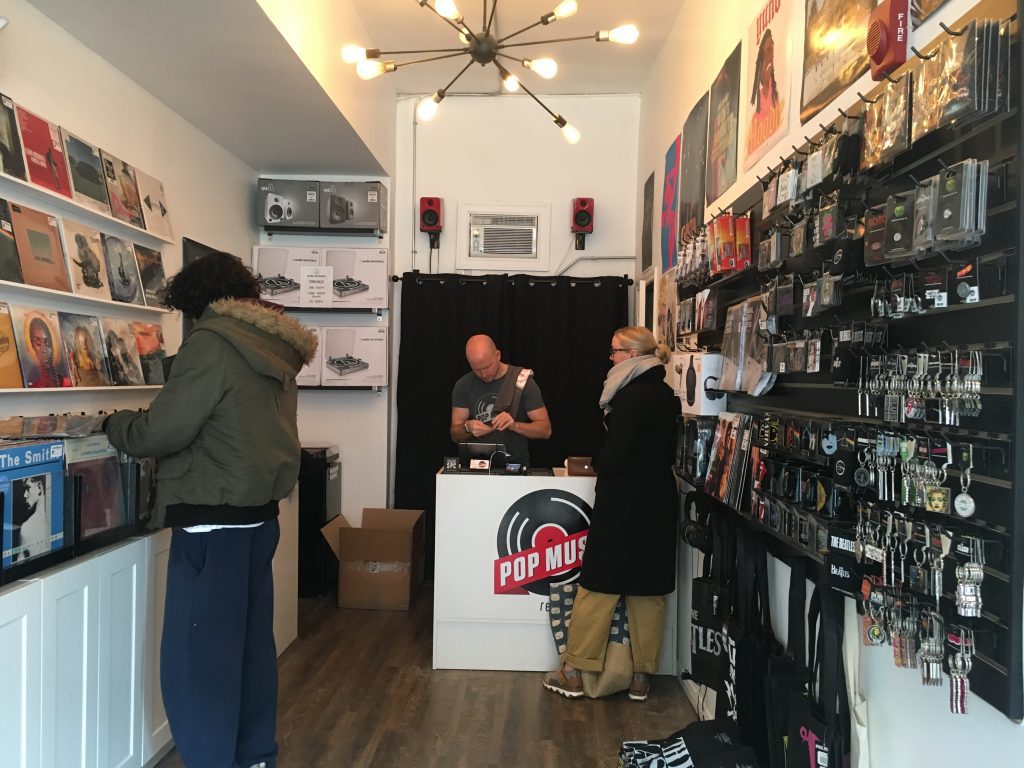 Hikele finds there's a certain subversive quality to those who come in looking for something they could easily stream from the comfort of their own homes at a time where streaming is the dominant force in music consumption.

"It's a beautiful thing that there's a counter-movement, people are protesting against that silently and being like 'nah, I'd rather have vinyl,'" Hikele says, laughing softly as he speaks.

---
the business of telling stories