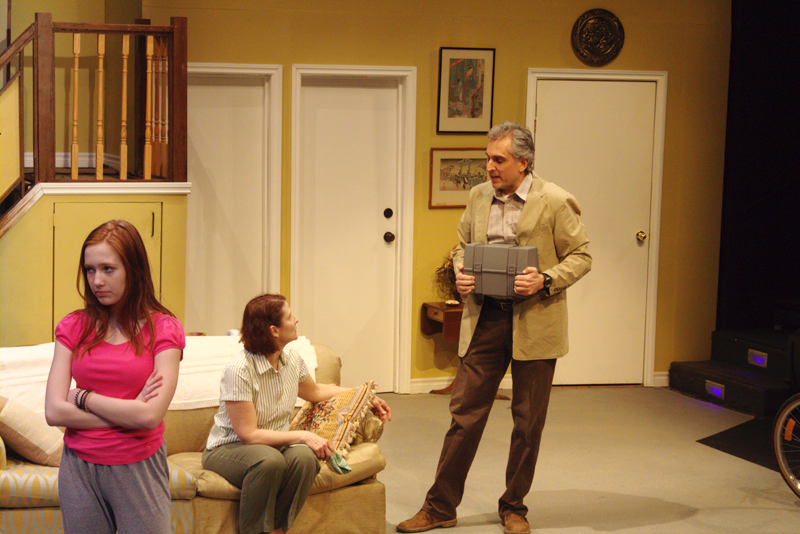 Actors (left to right) Laura Dumitrache, Renee Cullen and Jeremy Henson on stage for Scarborough Players' show "Caught In The Net" on April 3, 2019. (Adele Lukusa/T·)
By Adela Lukusa
"And he's sexy as hell," says Laura Dumitrache as her character Vicki in rehearsals. With one hand over her heart, Vicki moons over a boy she met online to her parents, John and Mary, played by Sean Ballantyne and Renee Cullen. "He's sexy as hell" Cullen repeats the line and snorts, breaking character, "Says no teenager to her dad ever." The room that had been quiet just moments before explodes into laughter.

This is common at rehearsals for "Caught In The Net" – when they're not running lines and taking instructions from director Meg Gibson, the cast and crew are chatting, joking and teasing one another.

For Cullen, and multiple other actors in "Caught in the Net", this is their first show with the Scarborough Players, one of three companies under Scarborough Theatre. Everyone seems comfortable with each other, as they share stories of their day over snacks during breaks or tease each other on the makeshift set at the company's rehearsal space. It's shocking that they've only met earlier this year.

Their good-natured humour and chemistry translates well into their rendition of farce play, "Caught in the Net". Farce is a subgenre of comedic plays that is quite literally all over the place – with characters running in and out of the set and dealing with ridiculous characters in even more ridiculous situations. Clive Lacey, who plays Stanley, John's wacky best friend and right-hand man, is all over the bare bones set at rehearsal. John has two families who don't know the other exists, but once his daughter by chance makes contact with his son from another mother, Stanley and John work in overdrive to keep the two from meeting. At one moment, Stanley is locking John's wife into the kitchen, the next he's pushing John's son out the door before he catches his father in the home of the girl he met online – the girl that just so happens to share the same father. In true farce fashion, Stanley even finds himself on his knees faux-resuscitating his best friend – and that's only the beginning of act two.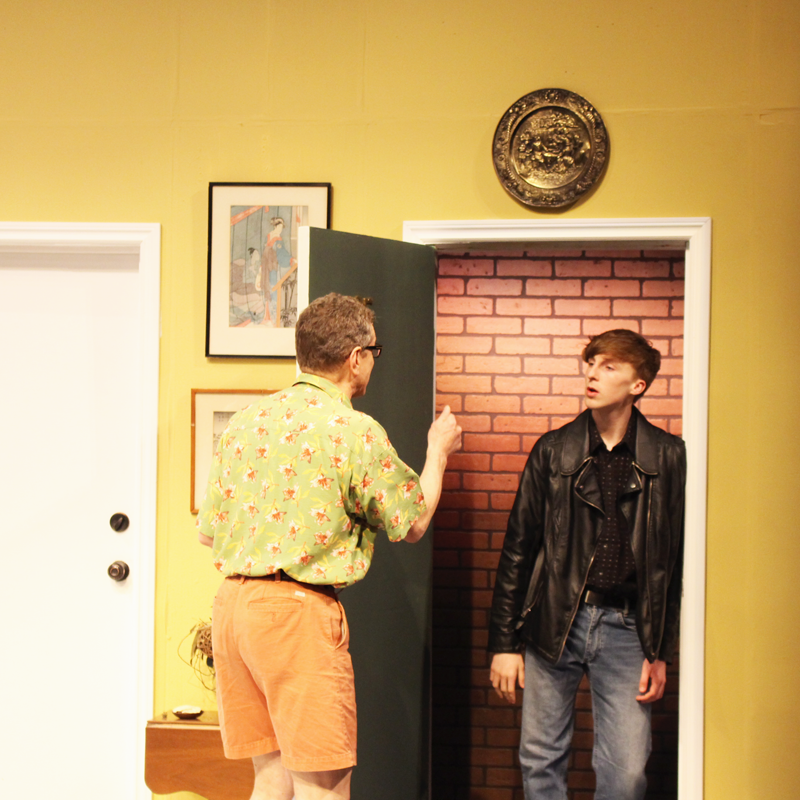 Behind the scenes
But with that much action, it's hard to keep up with every single line that needs to be told, which is where Meg Gibson comes in. She's as bright and lively as the play is, always there to throw actors their lines and remind them how to move through the set by showing them herself. Every single step is crucial in a farce, especially when the company only has two weeks before the show's opening to rehearse within Scarborough Theatre's physical theatre space.
And though she plays a big part, Gibson is not the only person to keep the show on track – there are many more people involved in making this community theatre a reality. From the folks in charge of refreshments and selling tickets, to the lighting and sound operators, all the way to the administrative members who more or less keep the show that is Scarborough Players on schedule, all of these people, in big and little ways, have helped this company live to see its 60th anniversary.

Linda Brent is one of many who have helped Scarborough Players, as well as its two sister groups, see the light of day. From the moment she joined in the late '80s, until now, Brent has taken on multiple roles – from costume designer to producer to the treasurer on the board committee and more. After a few years of being a costume designer, she started taking on different roles wherever she saw fit, which is not unlike other members of the company. Many of the longstanding members, like Katherine Turner and Elaine O'Neal, started out doing one job, then took on other roles for the theatre – motivated either by interest or need.

The people at Scarborough Players, Brent said, are very observant and adaptable, which is what leads to so many members being double, triple or quadruple threats. She recalls in the past one of the plays needing a sound operator, as the previous one had their work shifts changed, and she stepped in. "I can do that," Brent remembers saying after shadowing the job. "Especially when I have a stage manager saying 'Go!' – and you push a button."

More than volunteers
Brent first joined the group as an artistic outlet, and unlike the past theatre she was involved with, this company gave her space to be a lot more creative than she had been in the past with her costume making and alterations. Although it satisfied her creative side, it also helped expand her social life. At the time, Brent was working part-time as an elementary school teacher, which didn't give her much time to socialize and connect with other adults apart from her husband, at the end of the day. Scarborough Players changed that.
"Gosh, this is exactly what I was looking for," Terry Leach recalls thinking when she first met the people at Scarborough Players. Leach, a longstanding and now retired member of the players, joined in 1982. Growing up, Leach had always been interested in the theatre arts but had never had the courage to join. She was going through a brochure filled with events and groups in the area when she fell upon an ad for the Scarborough Players. Over the phone, Leach was asked: "Why don't you just come out and sit at one of our auditions?" – and so she did. During that time, auditions were open – so everyone interested would come into Scarborough Players' rehearsal space alongside the director, producer, and stage manager, and people were called on to read different parts. People were only called upon if they raised their hand, so she didn't feel pressured, Leach recalled, but she did eventually raise her hand. Less than a week later, Scarborough Players called to offer Leach her first acting role.

From the early '80s to present day, Scarborough Players has somehow managed to welcome a sense of unity among members, all while managing the amount of work it requires to put on all of its plays. At the final dress rehearsal, the cast and crew are nothing if not professional, but in true Scarborough Players fashion, they still manage to have some fun. Katherine Turner, a longstanding producer and director in the company, practises doing announcements during the show's intermission, and jokingly announces the producer of the show, David Rudat, as the winner of a raffle. She even pretends to run over to hand him his prize. But once that's over, it's back to business. It's nearing 10:30 p.m. And after nearly three months of rehearsals, the cast and crew huddle together at the front seats of the theatre to listen to Gibson's final notes. After that, in less than 48 hours, it is showtime.