By Ilesha Kaur Aulakh
A group of glammed up girls in high waisted jeans, mesh crop tops and high heels barge through the lofty doors at 295 Enfield Place in Mississauga. "Let the night begin," they shriek with their arms swaying left, right and centre.
It's 'Lemonade Night' at &Company Resto Bar. Cups of lemonade are served on the house. The DJ spins all the new hits as everyone chugs their drinks. Music blares from the speakers. "Boasty, boasty, Godfather, man a OG" bounces from wall-to-wall.
On the other side of the club, owner Gagan Singh sits in his usual spot with a wide smile across his face. It's been nearly three months since Singh took over the venue. It's been an opportunity of a lifetime, especially when you consider he's just 21 years old.
"I'm beyond grateful that I'm able to take on such a venture at such a young age," says Singh.
Thirty years ago, the Singh family migrated to Canada from Punjab, India with plans of getting into the restaurant industry. Their love and passion for Indian culture and food motivated the Singh's to be a part of the first wave of authentic Punjabi restaurants to open in Brampton in the '90s. By the name of Torbram Jhatka formerly operated by Sabhi and Heera (Harvinder) Saini, they did well for themselves, expanding to more than three locations over a 20-year span.
After 10 more profitable years, the Singh's sold their family restaurants. Gagan saw his cousins taking on new ventures and owning chic spots around the area. It instantly influenced him to do so too. "I've always loved the concept of owning a place and making it my own for as long as I can imagine," says Singh.
Gagan's family always had a love for the bar and grill business. It had an impact on him. Ever since he was young, Gagan knew he wanted to lean towards a family restaurant venture and take on a small 'Mom and Pop' type business.
Gagan assumed entering the industry would be tough for someone his age but he was determined and confident in taking on the role. "I want to show and prove to my dad I am responsible enough to come into the industry the same way he did," says Singh. "I want to be just as successful and attribute it to my family."
As Gagan grew older, his focus shifted. He envisioned his future through television series and movies that portrayed the nightclub lifestyle. "I wanted to be that cool sort of trendy figure … like Ghost in Power [the iconic nightclub owner from the TV crime series, 'Power']," says Singh. Gagan loved the creativity owning a nightclub entailed but without all the drama. "There's no gang or violence," Singh says, pointing out the fundamental differences between reality and fiction. "That's what I'm trying to get at."
&Company Resto Bar located on 295 Enfield Pl, Mississauga. (Ilesha K Aulakh/T•)

The inside view of the club prior to an event. Taken on Tuesday, Feb. 11, 2020. (Ilesha K Aulakh/T•)

The drinks and food menu – offering a wide variety to pick from. Taken on Wednesday, March 12, 2020. (Ilesha K Aulakh/T•)
Kimran Sahota, Gagan's best friend, is thrilled to see him grow into the man he is today. "I know Gagan inside and out and I've seen him overcome many barriers," says Sahota. "He's a passionate man. That's for sure." They've known each other for two years. Kimran has watched Gagan push and shove to get to where he is today. "There have been [times] where he hasn't slept for nights or we haven't talked for days just so he can reach his goal," says Sahota. "That's one of the reasons why I love him."
All that hard work is starting to pay off. An industrial-chic space, &Company Resto Bar is one of a handful of successful supper clubs located in the heart of Mississauga. Whether it's conceptualizing cool theme nights, developing new dishes for their upscale menu or hosting elaborate wedding parties, Gagan caters to his customers and clients.
"It definitely gets tough, but not because of my capabilities," says Singh. "I'm happy where I am right now. Although it's just the beginning, I love this place."
His age can sometimes prove to be an obstacle with clients. "People judge prematurely based on my looks," says Singh. "As soon as I sit down with them, I make sure they understand I have knowledge within the industry and I'm a passionate man."
Gagan works with a team of up to 50 people. He finds the biggest difficulty is dealing with promoters and staff. "To make sure everyone is happy can be challenging, but I couldn't do it without my promoting team," says Singh. "They are the reason we exist in the nightlife."
Gagan also owns his own marketing company, Prolific Media Agency, alongside his cousin, Amar Bhullar. That knowledge certainly comes in handy when promoting &Company's many events. The two of them imagined owning a business together after they graduated from high school. They always dreamed of being where they are today. "My cousin [and I] are closing large-figure deals every other day," says Bhullar. "Being able to improve the self image and visualize the evolution of your process ultimately turns you into the person you are aspiring to be."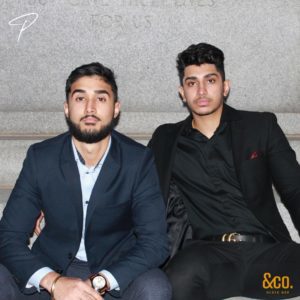 Now three months into his new business venture, Gagan could not see a place better fit for himself. He encourages people at his age to follow their heart and do what they love as crazy as it may sound. His advice for someone starting out in this industry: Forget everything they know about nightclubs and just trying to make the place look trendy. Instead, a successful owner needs to focus on understanding finances.
"That is the biggest component about being an entrepreneur," says Singh. "If you cannot understand the financing behind the operation you are trying to achieve, you will not be able to look at [its] long-term success."
Gagan is living proof if you can figure that out, you can do anything. After all, age is just a number.