By Katia Galati
Alex Morgan owns hundreds of cars, thousands of boats and an unprecedented amount of helicopters.
He sits on a trove of some of the most sought after vehicles, stored in a shop next door to a restaurant. The 7,000 square foot showroom is stockpiled with a wide range of automotive gems. He is the proud collector of some of the most expensive cars imaginable, humbly parked across from his helicopters. Perhaps the most impressive possession on display is the racetrack located in the middle of his shop that winds up, down and over itself.
Most people might be nervous to get behind the wheel of a sports car or monster truck. Morgan pays no mind when his team whips his machines around. His storefront gives everyone the opportunity to be the pilot in an airshow or a driver in a monster jam, regardless of experience, age or salary. There is only one catch. These are just toys.
Morgan is the owner and operator of Big Boy's with Cool Toys, a family-run hobby store in Mississauga that opened 13 years ago. The store has capitalized on childhood wonder and unfathomable adult dreams for 13 years.
Children often fantasize about what life might be like when they're older and what real-life "toys" they might own one day. Whether it's a fancy car or a monster truck, these material desires can accelerate adults to settle for a miniature version.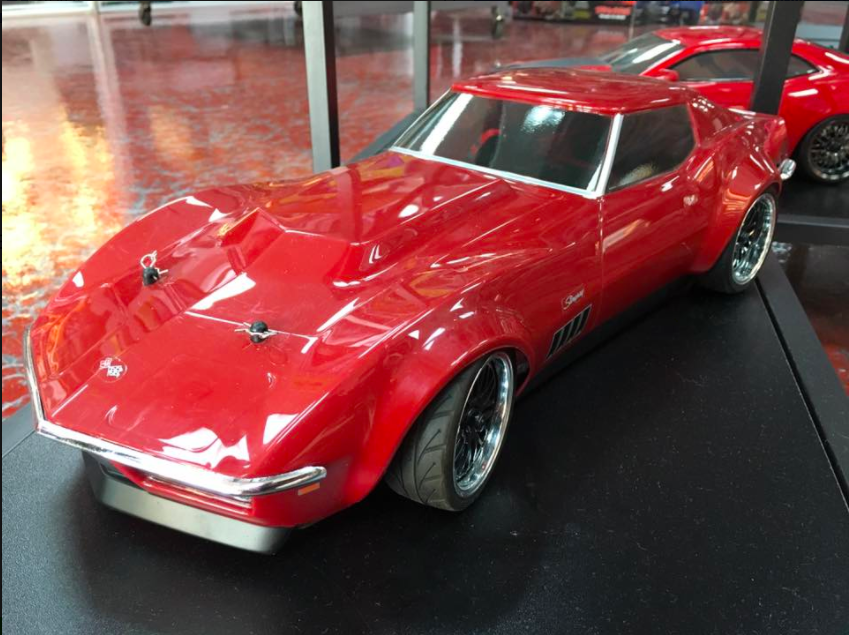 Inside of his emporium, Morgan fuels the fantasy of customers from all walks of life. Whether young or old, boy or girl, the hobby store welcomes anyone interested in the craft. "When you think of a hobby store, you think of a bunch of old guys who are retired, maybe sitting there and maybe playing with trains with dust and cobwebs, plastic models," says Morgan, whose business model was very much out of the box for his industry.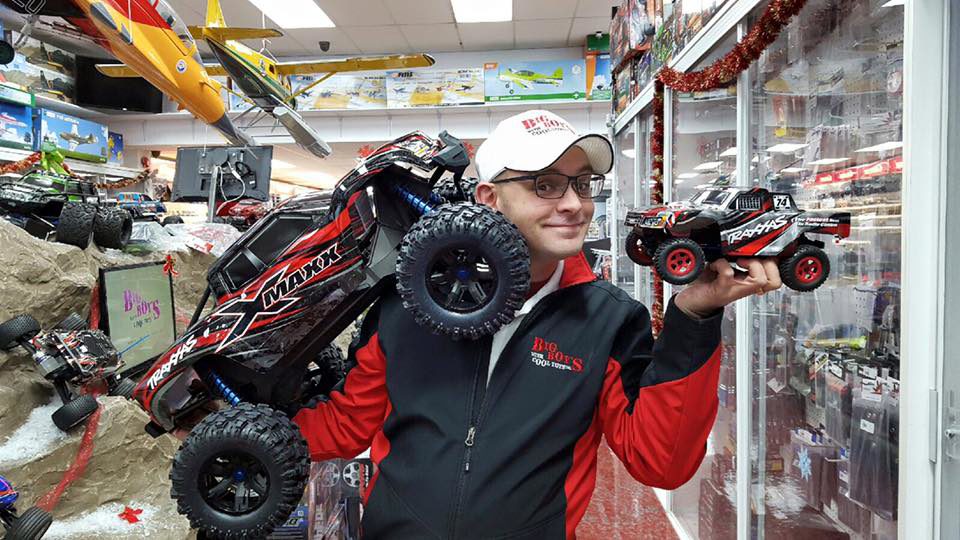 Lined across the walls of the store are plastic models of Ferraris and Lamborghinis, stacked one on top of the other and sealed in mint condition. Airplanes are suspended in a wanderlust airshow, nose-diving into plastic mountains where the miniature ATVs are climbing the rocks on their display.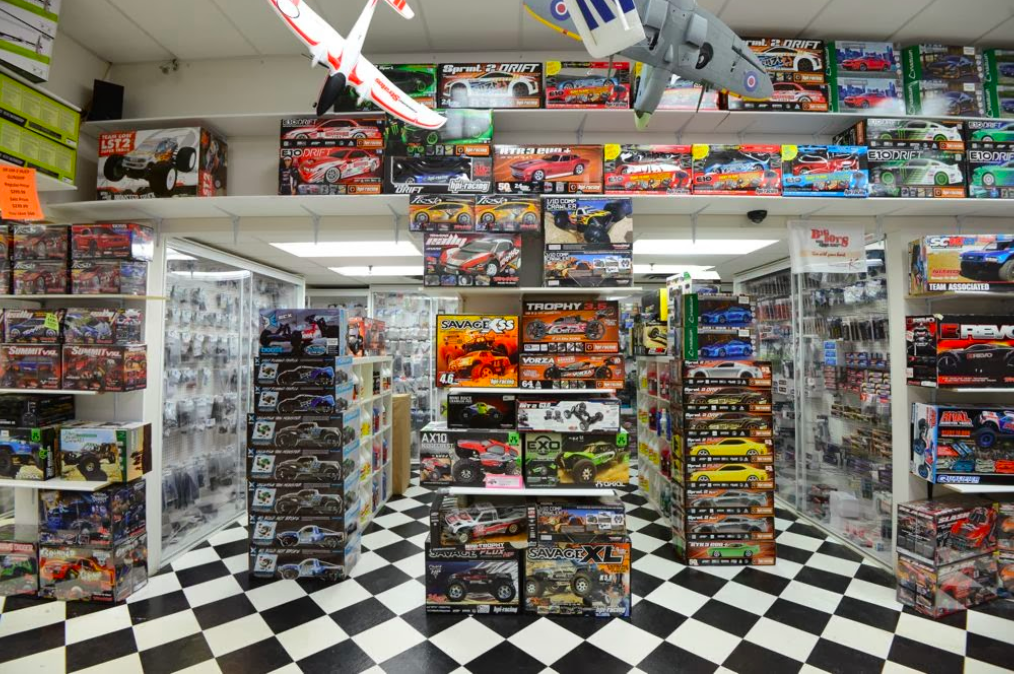 As boundless as the child-like imagination seems in the store, it is never contained. Morgan's limitless fantasies surrounding his merchandise morphs into his own comedic reality.
Big Boy's with Cool Toys initially gained notoriety for its viral video of a squirrel on water skis. Twiggy, the not so average squirrel, appeared on the screens of thousands. The little rodent shredded waves on the back of a boat Morgan rigged for his show.
Morgan spent much of his childhood in Bancroft, Ont. With an absentee father and his mother, Liz, running a ceiling tile business, most of Morgan's time was spent with his grandparents as a child. But it was his uncle who provided a father figure for Morgan and sparked his love for mechanics. At the tender age of eight, Morgan's uncle showed him how to tinker with the simple mechanics of weed whackers and lawn mowers.
Morgan credits him for giving him a sense of responsibility and maturity. "My uncle was my role model," Morgan says.
In his teenage days, Morgan worked with his uncle at his construction business building houses in Etobicoke. Working at the sites was something Morgan did not enjoy. Working day-in and day-out in general labour put an uncomfortable strain his body. He settled on a less labour-intensive job.
Morgan has integrated his understanding and love of mechanics into his store. Many of the remote control toys are fully reparable with parts offered at the store. "Little mechanics," as Morgan likes to call it. It's a term he uses to refer to the inner workings of remote control toys.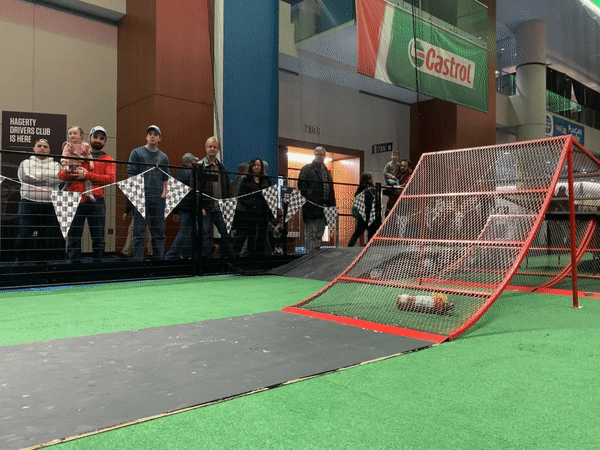 Morgan recalls the story of how remote control cars saved one customer a hefty bill at the auto shop. Their 12-year-old child – a remote control car enthusiast – was able to identify what auto parts were actually needed on a repair job to the family car, despite what the service manager rang up on the bill.
"All the money she spent on all the remote control stuff for those past years just paid for itself in one shot," says Morgan, with a small chuckle and smug grin.
While saving money at the repair shop is key, his customers are only too happy to spend at his store.
"They cant afford a ski-doo, a boat or any of these big toys," says Morgan. "But they can come in here and they can grab a remote control toy. They can tool on it in the garage and go down to the lake and still enjoy almost everything a big boat has to offer."
Engines growl at this year's Canadian International Auto Show as remote control cars speed up and down ramps soaring to heights of 20 feet in the air, flipping and then crashing down into the ground. Spectators press up on the barricades, gasping at the mere sight of a mini-monster jam performed by miniature monster trucks. The experience of the mini-monster jam yields the same reaction as a real one. One member of the audience screams, "Again!" as one of the trucks lands a magnificent jump on the green carpeted arena.
"This is the biggest production we've pulled off," says Brian Dias, a former manager of Morgan's. Dias fidgets with his remote control and commands his truck to return for another stunt. The trucks are radiating with heat as they prepare to rustle the metal ramps on the course. The trucks are part of the merchandise being sold at the pop-up store inside the Metro Convention Centre.
Whether it's on the track or back in his Mississauga storefront, Morgan continues to push the boundaries for remote control enthusiasts and loyal customers alike. He recently was contacted by Toronto's beloved rap artist Drake, who asked Big Boy's with Cool Toys to help find a toy for his son, Adonis.
"That's what they all say," says Morgan.
Like most of his customers, he's pretty sure Drake was buying it for himself.