By Sara Marsetti
At just ten years old, Nathalie Loseto was first introduced to the classical organ. From that moment on, she embarked on a lifelong musical journey. It has been guided by her motto of the three P's: Practice, Patience, and Perseverance.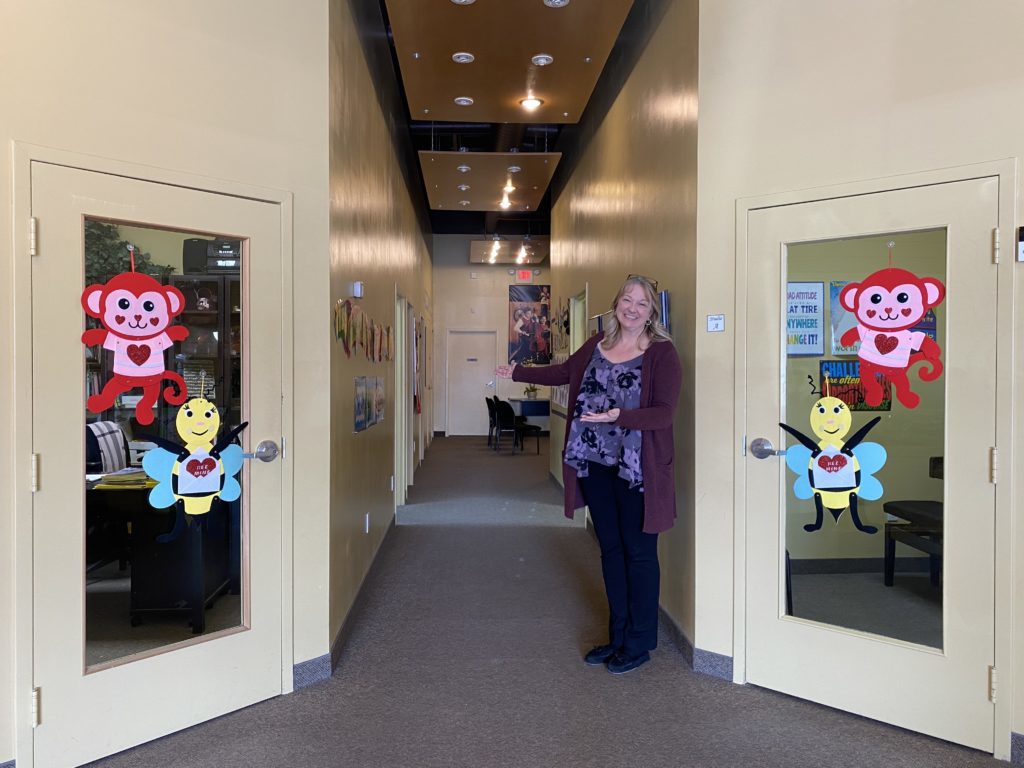 Music always came naturally to her. Growing up, the sound of her father singing filled her house with musical bliss, never leaving a moment of silence. Eventually, she sought a higher purpose. "Musicality is often a God-given talent," says Loseto, with an encouraging grin. "But that does not mean it cannot be learned."
By age 16, Loseto began teaching music. Not too long after, she attended a program at Carleton University with Yamaha Canada Music to expand her knowledge. She now has two families. The first, as a proud wife and mother of her two children. Her second family resides where she teaches, at Walters Music Studio.
Loseto oversees a staff consisting of 14 gifted instructors. Over 400 students walk in and out of their classroom doors each week. Loseto balances her time between teaching music and overseeing the studio's administrative work and finances. "Running a business is not easy," says Loseto. "[I] do it because [I] inspire, uplift, and teach the only universal language in the world."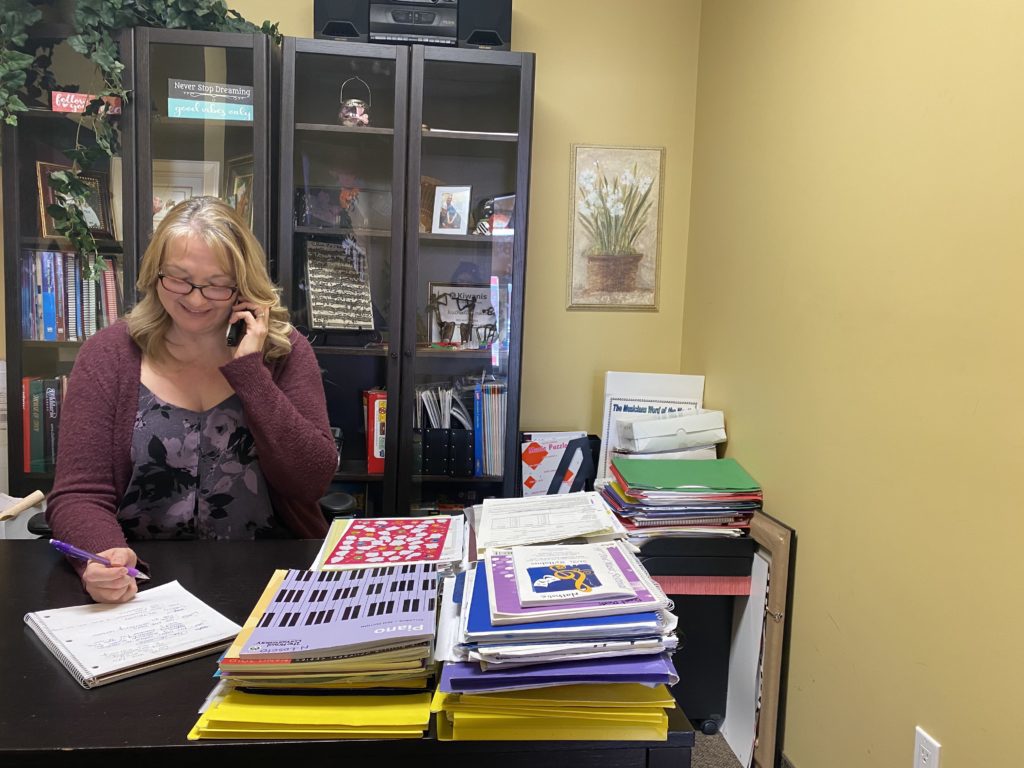 Walters Music Studio has various locations spread across the GTA. Loseto spent years teaching in the Bramalea City Centre location in Brampton, when the owner decided to sell. She jumped at the opportunity to own her own place and purchased the school from him, keeping its original name.
Loseto certainly practices what she preaches. She personifies her passion for music with her students, instructors and musical family. "Music is a universal language," says Loseto. "There are so many components to music. There is the creative aspect and the expressive aspect. Practice, patience, perseverance – all these skills you learn along the way."
Loseto utilizes her mornings making phone calls, cleaning, organizing and booking new students. From the time her students leave school at 3 p.m., all the way until 9 p.m., the studio is full. She listens as her students turn learning into song. It's music to her ears.
The studio prides itself on its one-on-one private lessons. They are modelled for the instrument of
the student's choice. Piano, guitar, vocals and violin are some of the many lessons she offers at
her studio. Private lessons allow each student to learn at their own pace. From age four to 74, her studio approaches all students with the same optimism and patience. She believes that music has no limitations as her team works toward a common goal – to help students become musicians.
"We are all on the same team here," says Loseto. "If you have a student that's having a hard time with a concept, you might ask a colleague to share ideas."
Loseto began playing the classical organ, but her favourite instrument is the piano. "It's very versatile and expressive," says Loseto. "The piano is really the only instrument that you can do harmony and melody at the same time." She still wants to learn how to play the saxophone and the oboe one of these days.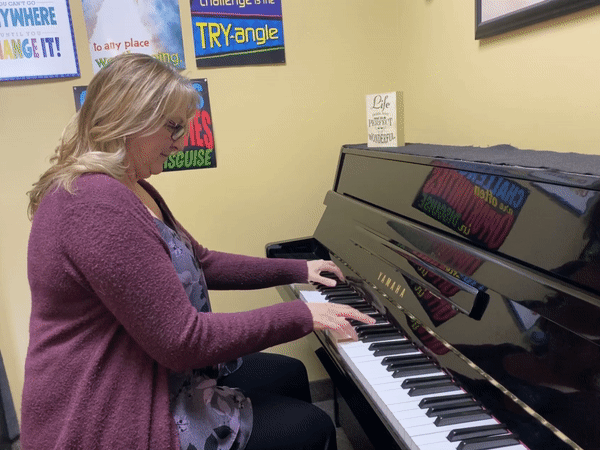 Loseto has become the matriarch of Walters Music Studio to her many students throughout her 30 years there. "We are even teaching some of our previous student's children," she says, in a motherly tone. "It amazes me that after all these years, everything has fallen into place."
All over the studio, the walls are filled with motivational signs and words of encouragement. Loseto created the "Shining Stars Wall" in the hopes of encouraging her students to practice her three P's motto to get their names on the wall. Every month, she and the teachers select the students who best showcase a positive attitude during practice, along with patience and perseverance during their lessons.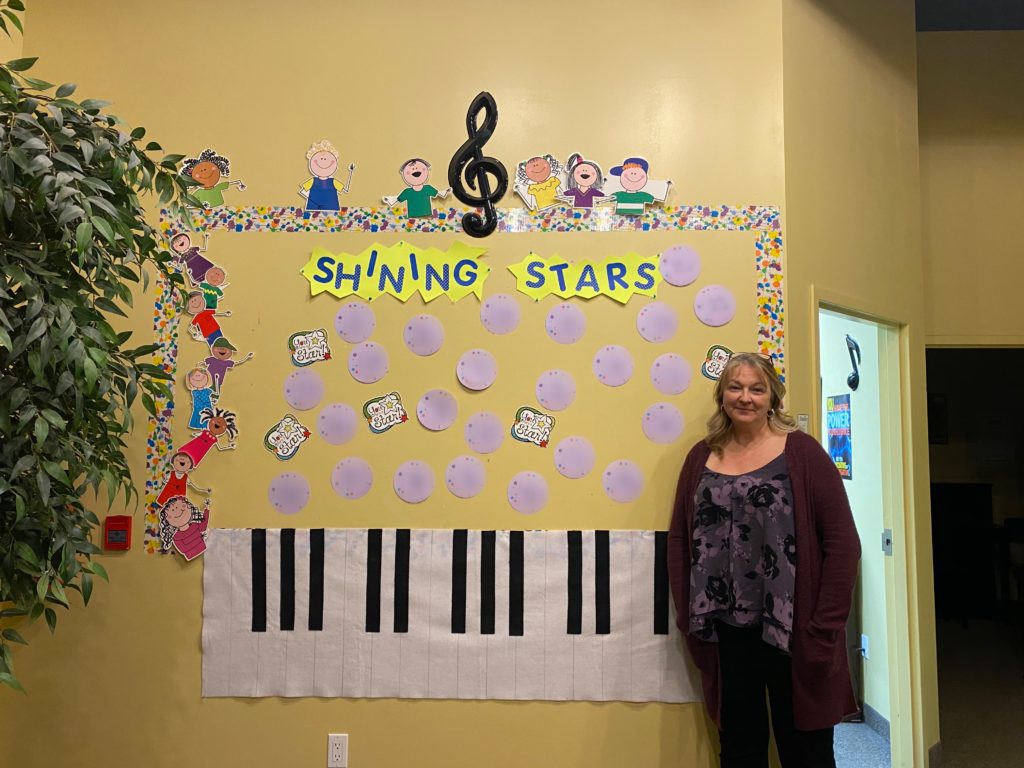 "With these three elements, students can take what they learn in the studio and enhance their abilities elsewhere," says Loseto. Whether that is presenting in front of their class at school, or in the future at a job interview."
Since the election of Premier Doug Ford's Conservative Party into office, many funding cuts to the arts have impacted the lives of students across Ontario. Children receive less exposure to music classes in the school system. These budget cuts to music and arts programs have indirectly affected Loseto and her studio. She has to work harder to fill the gaps left behind.
"The arts, not just limited to music, are all creative outlets," says Loseto. "They used to make it that every class had art, music and dance. Now they're having it maybe once-twice a week at best.".
The loss of these creative outlets may also affect students' mental health. The Centre for Addiction and Mental Health has stated that music has proven to have many benefits in treating illnesses such as depression and anxiety disorders. Music has the ability to help people escape from a rough day or cope with their stress and anxiety by playing or listening to something or someone that inspires them.
"Music overall has helped me tremendously with my depression and anxiety," says Matthew Henry Leon, a local musician. "[It] has helped me in my darkest times by allowing me to be creative in my own self."
"Music has been proven to help your brain develop. It's the only thing you do in life that uses both sides of your brain at the same," says Loseto, "Hand-eye coordination, fine motor skills, large motor skills – the practice, patience and perseverance are life skills.
"All of that encompasses what the arts [can] do for you. It's so important."