By Donald Higney
Tommy Gesell stands with his back turned to the wall-length mirrors. In the reflection are some of his students getting ready for class. Some straighten their stance and relax their shoulders. Lined up in order of the colour of the belt tied to their waist, they wait to follow his instructions. Some of them look at the words written in green above the mirror, Modesty. Courtesy. Integrity. Self-Control. Perseverance. Indomitable Spirit. Tommy was once in their position, staring at those words over a decade ago.
It started at Karate Kids, a lunchtime extra-curricular program at his elementary school that blended martial arts training without any contact, fitness training, and lessons to build character. Although encouraged by his friends and parents, Tommy had his own reason to go; he was bullied because of his height and wanted a way to defend himself.
He has grown since, but what he has gained beyond his added inches is his character. "Martial arts helped me with my ability to feel safe as well as a big part of my confidence. It has really shaped me into who I am today," Tommy explains.
He leads the class with a light warmup based on different combinations of kicks and punches called a Drill for Skill.
Tommy doesn't exactly remember the first time he met Henry, but he does remember it was at DeSantos Premier Martial Arts. Squeezed between a Vietnamese sandwich shop and a multi-purpose office building, DeSantos would be easy to miss without its sign mounted on the building above street level. The word KARATE runs vertically down the sign.
Tommy and Henry joined the demonstration team at the Main and Gerrard location when they were in their lower belts, and eventually moved into black belt training together. Tommy was there with Henry when he achieved his first degree black belt in 2013, while Tommy was moving up a level with his second degree. They are now both co-captains of the demo team at the nearby Broadview and Gerrard location, where they both have been instructing classes since 2015.
"Those are really strong moments where I feel like our bond grew from there," Tommy said on a day when he was teaching class. Together they earned their third degree black belts in 2018.
Their long connection has extended outside the doors of DeSantos. Henry's first time going on the streetcar without his parents was with Tommy.
"I wouldn't have had a friend that's in middle school when I'm in elementary school without DeSantos" said Henry.
The range of ages is something DeSantos prides itself on. On the front page of their website it says, "Whether you're 3 or 73 (or anywhere in between), looking for fitness, fun, self-discipline, or self-defense, we have a spot for you at DeSantos Premier Martial Arts." Those words are reflected in a class on a sunny Friday afternoon, where people of different ages come together to practice.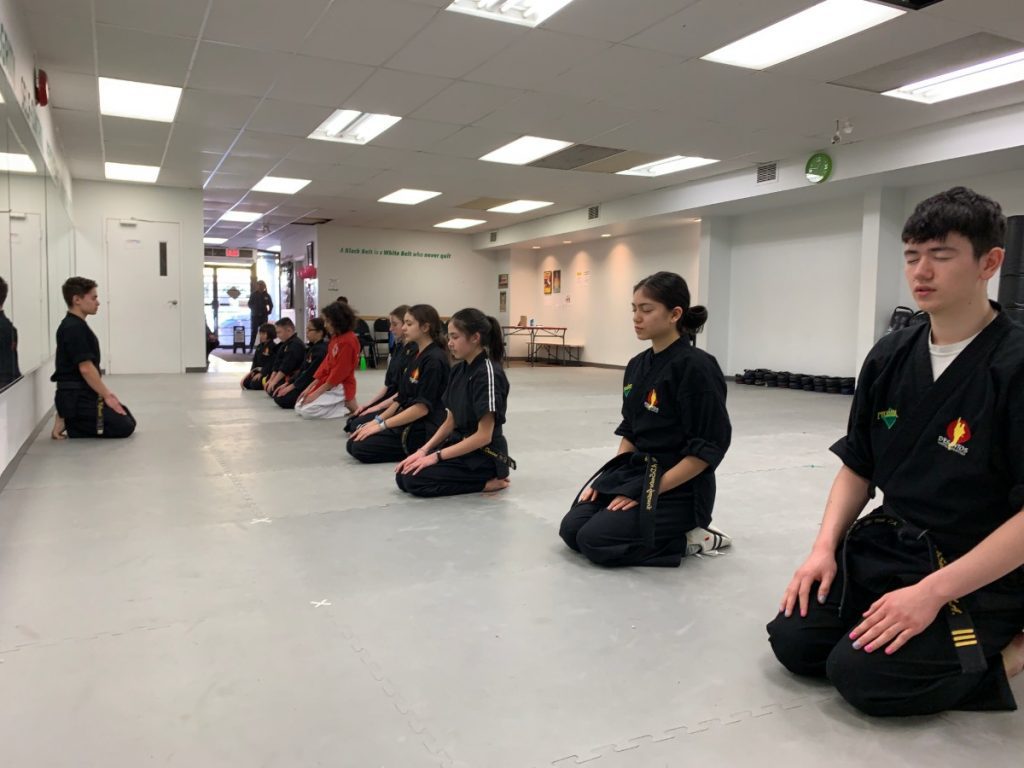 Henry says a big reason he stayed at DeSantos over the years was his relationship with Tommy. "He was always like a mentor figure in my martial arts training. Creating different patterns, movements and forms creatively was really inspiring for me. I stayed in the martial arts because I had someone there who I looked up to and could train with."
Now Henry acts as a mentor to his students, who sit around him in a semicircle on the matted floor. It's time to give a "mat chat," a talk to the class about an important skill or quality that can be applied anywhere. This week it is focus. Henry points at his eyes and his ears as he talks, and the class follows suit. Antoinette Moulton, the face of the Gerrard and Broadview location, keeps an eye on the class.
Also known to the students as Ma'am or by the Korean term for her rank as master, Sa Ba Nim, she taught Tommy and Henry at Karate Kids. She even taught me around the same time at another school in the area. While I remember nothing in terms of form and technique, I do remember her commanding yet gentle presence over the gym.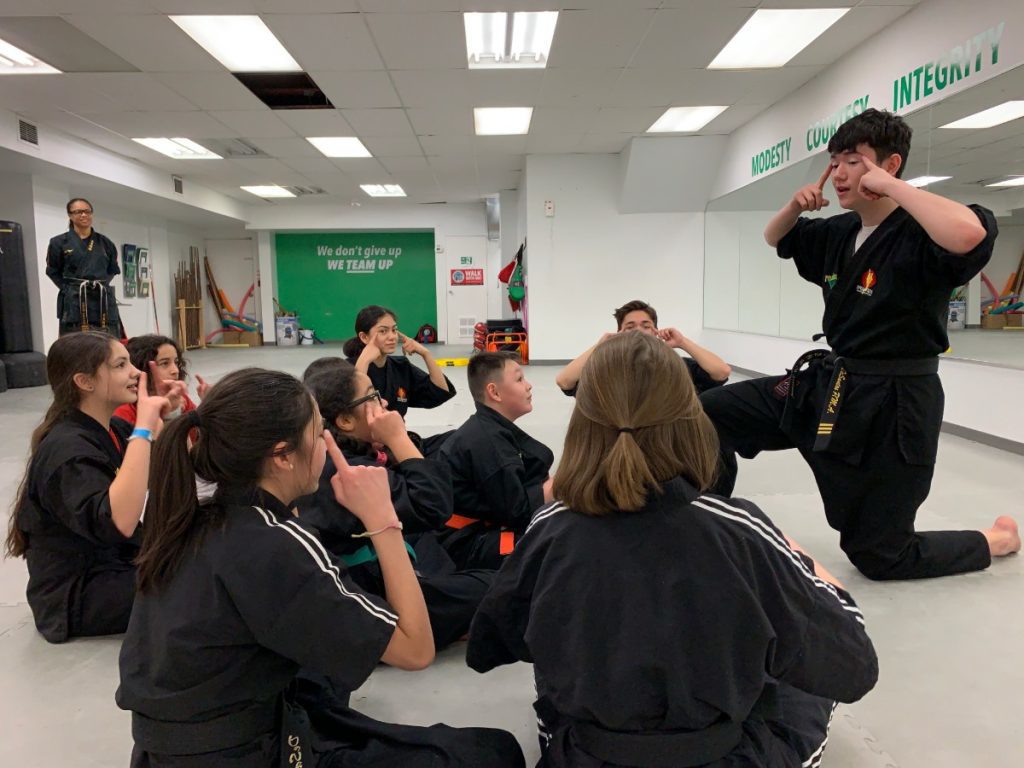 She remembers what Tommy and Henry were like when they first came to DeSantos. Tommy was shy and quiet, but an extremely hard worker with tons of talent.
Henry has also changed and grown, but his personality and manner remain largely intact from that time. "He's still rambunctious as ever, still holding on to my uniform leg saying what are we doing today? What are we doing today?" Toni said, appearing to be only half joking. Tommy and Henry laugh while she recalls how Henry would stand at the door waiting for her to arrive to help with her bags.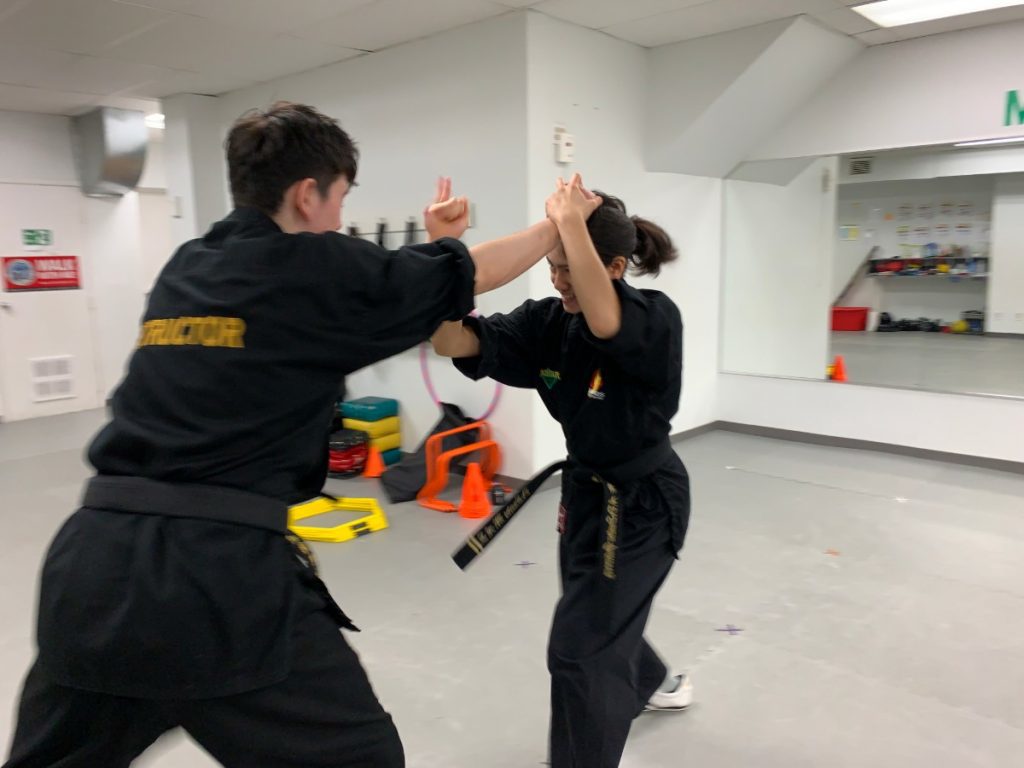 Henry explains that he thinks his real changes came from how he wants to lead, "I'm learning not how to just be an authoritative leader but rather be an empathetic leader. Someone who understands their students and is able to make sure everyone feels included and happy in the space that they're learning in."
During his Friday class, it is clear who Henry is trying to emulate. Towards the end, one of the younger students turns her back to the crowd of other students, confused about what she was asked to do. Toni wraps her arms around her from behind and leads her away. She whispers a gentle reminder and the girl shoots out from her grasp like a cannonball, launching a flurry of kicks and punches, landing on the balls of her feet every time.
The leadership and mentoring on display at DeSantos on a recent visit extends beyond Ma'am Toni to founder Veronica De Santos. A former competitor in the martial arts who was inducted into the Canadian Black Belt Hall of Fame in 2016, DeSantos met Toni when she was having difficulties in her life. In DeSantos, she found an outlet for herself and her family.
Originally started on Danforth Ave in 1988, the martial arts school has expanded from a single location on Main Street to three. The one on Gerrard east of Broadview opened in 2015, and the other at Victoria Park and Gerrard opened last year.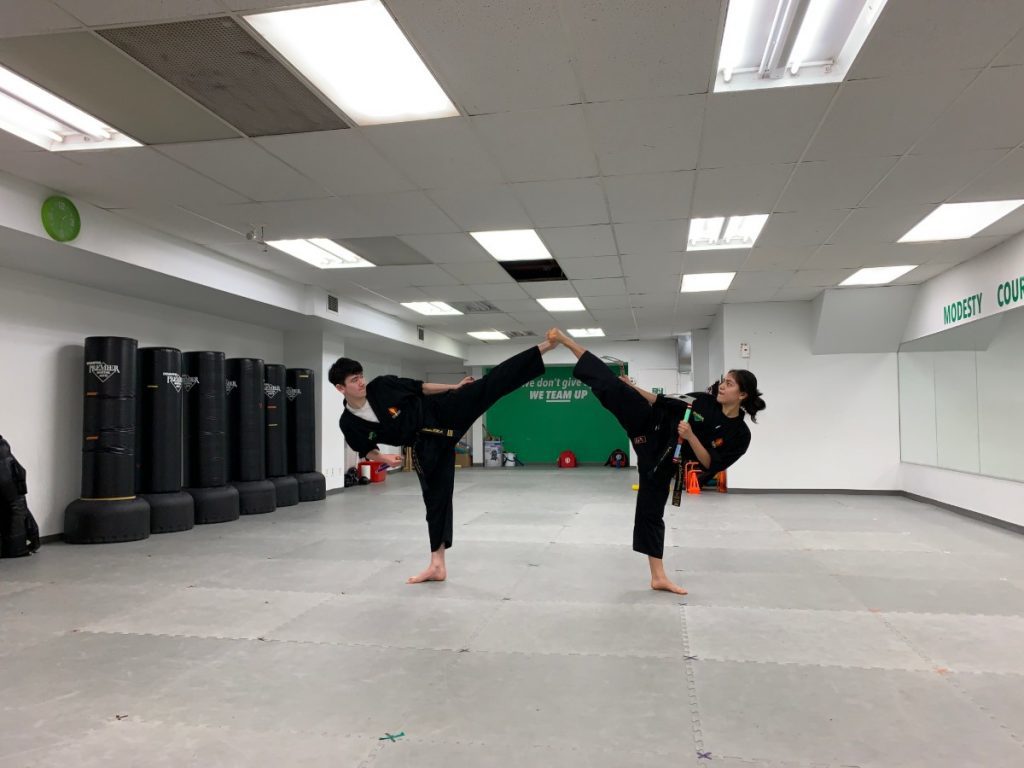 Toni says the sense of family and personal growth within the walls of DeSantos span years and geography. She thinks about this when she looks at her young charges Tommy and Henry.
"They have grown into young men who can take risks," she says. "They're really compassionate, which is why they're great teachers. I know that they'll have to spread their wings out and experience more life but they'll always be part of our family and always welcome back."