By Kyana Alvarez
When she heard the shrill notification from her phone at 10 p.m., Samantha Benezra was 20 minutes into her elliptical workout in her basement gym and workshop. Tired and sweaty, she jumped off the machine and shrieked. She had received her first custom order, and only a few days after launching her sticker and apparel business.
Benezra, now a third-year graphic communications management student at Toronto Metropolitan University (TMU), decided to create and sell her designs to the public after a student club printed some of her early work. After spending months getting advice from professors and small business owners, working on designs and dealing with machine troubles, she finally opened her online shop in February 2021 – amid COVID-19 lockdowns.
Although it "wasn't about the profit at first," Benezra was soon earning almost twice as much from making stickers as she did working part time at a pharmacy, allowing her to quit that job.
Benezra is one of many students who created a business during COVID-19 lockdowns that later helped them keep the lights on when inflation rates began to soar last year. The quarantines allowed students to revive old passions or find new ones, and some of the most dedicated turned them into successful businesses that contribute to funding their studies. In Canada, 21 per cent of the total number of the country's small businesses started in 2021, and generation Z and millennials are behind 57 per cent of them, Intuit Quickbooks reported last year.
"A lot of the small businesses who tried to weather the pandemic ended up failing and left spaces open for new entrepreneurs," said André Laplume, an associate professor at TMU's Ted Rogers School of Management.
By late 2020, most students had settled into a routine, and business owners like Benezra multitasked during online lectures. Erica Iacobucci, a second-year social work student at TMU, started making beaded bracelets she saw on TikTok to stay busy because she had extra time between classes. She began selling $15 bracelets as well as $22 eco-friendly soy wax candles with her former business partner because Iacobucci said they had "nothing to lose from trying." Now, her products are sold at two storefronts in the Greater Toronto Area. Iacobucci said she was happy to take on a new set of responsibilities because she had "always wanted to be her own boss."
Sandra Mo, a first-year creative industries student at TMU, used the extra time to learn more techniques for styling eyelash extensions. Mo received her eyelash extension certification in February 2020, but was not able to officially launch her business because of the pandemic. Without customers, Mo practiced for hours on her younger brother in the basement of their parents' home in Markham, Ont., requiring him to close his eyes for proper applications. "[My brother] would only let me do one eye, but he enjoyed it and took naps," laughed Mo.
Mo now applies eyelash extensions out of her clean and crisp Toronto apartment. She sits with clients in front of full-length windows overlooking an alley and school playground with a tall ring light that hangs over the customer during two-hour appointments. She shares the expensive Toronto rent with her close friend and roommate; her company, Lashes by SXMO, is her main source of income. Mo said she is glad to have control over her paycheques and working hours compared to retail or food positions, and said she feels lucky because she knows other part-time jobs are not as fun.
According to Statistics Canada, established small businesses with physical storefronts and spaces were hit the hardest during COVID-19 lockdowns, experiencing financial troubles, a drop in revenue and even closures.
Brad Poulos, an instructor at the Ted Rogers School of Management, called the lockdowns a "catalyst" for new businesses. However, the gaps in the market do not mean a new company will automatically be successful, he added.
"There's this saying, 'I'd rather be lucky than good,' and it means a lot of success is luck; some people are just unlucky, but it's better than doing nothing," said Poulos.
Despite knowing that small businesses were struggling with lower sales and higher debt because of the pandemic, the student entrepreneurs said they were not discouraged from starting their own companies.
In an interview at TMU's buzzing Heidelberg Centre, Benezra said that although she did not "slack" in school, she created her illustrated sticker designs during her Zoom lectures. Benezra beamed with pride while showing off some of her stickers, sweaters, tote bags and tumblers in the building's project room. She creates the designs using Adobe Illustrator and prints them herself on acrylic signs, fabric, keychains and sticker paper in her family's basement. Depending on orders, she spends 30 minutes to five hours a week creating her products. At her previous pharmacy job, Benezra was paid around $17 an hour. With Odella's Designs, she can earn $20 for a product she makes in 30 minutes.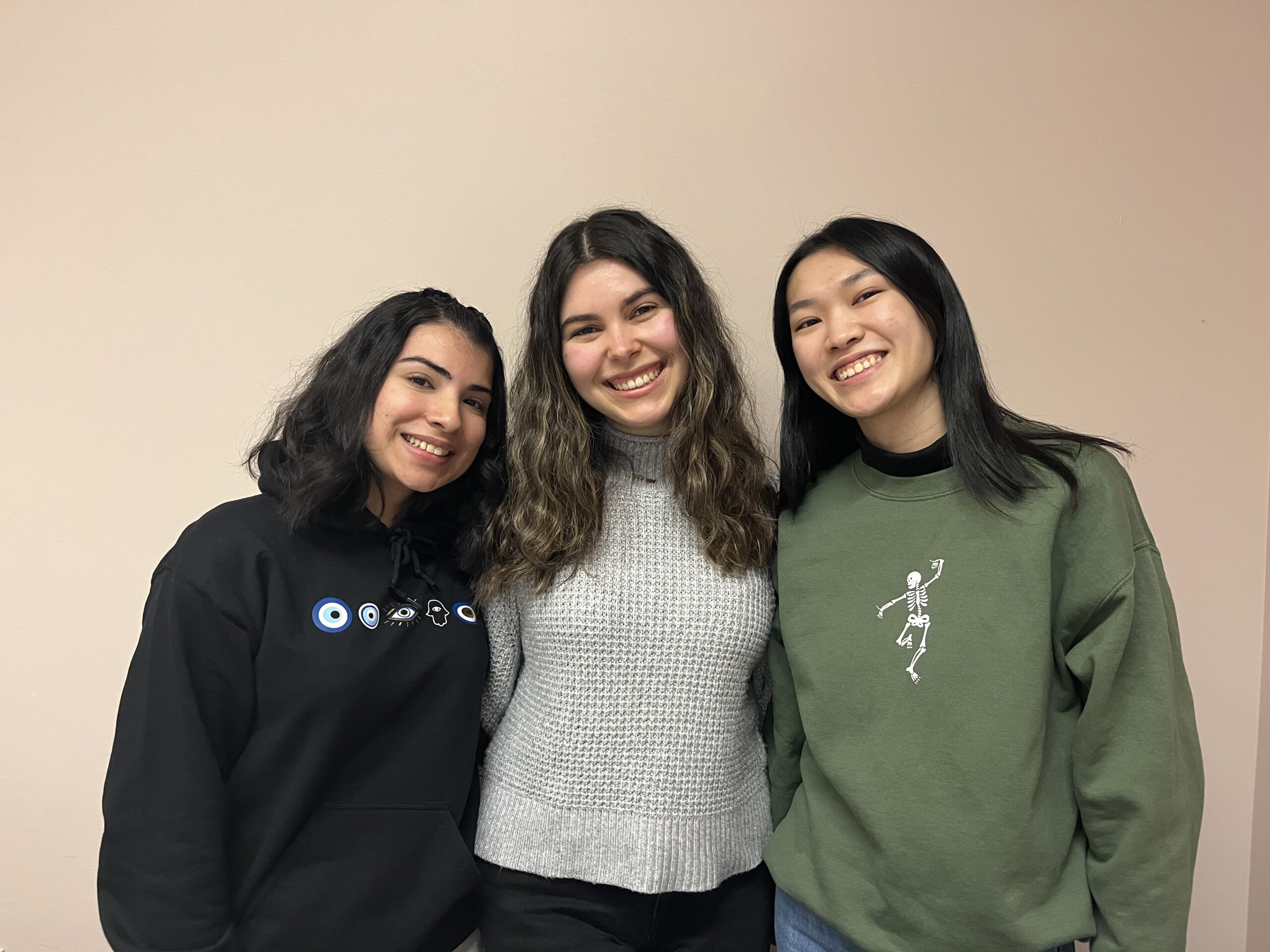 Benezra's friends, Wendy Yang and Manya Ganju, each sported original sweater designs from her company, costing around $55. Ganju wore a black hoodie with different versions of the evil eye across her chest, while Yang wore a rich green crewneck with a dancing skeleton.
"I didn't feel the pressure to grow my business. I thought, 'whatever happens, happens,' and I'm grateful for whatever [success I get]. It's a pastime that turned into my business,"

Samantha Benezra
If a global pandemic was not enough to deal with as students and new business owners, the entrepreneurs said they are facing a frustrating obstacle – high inflation rates. According to Statistics Canada, the Consumer Price Index (CPI) rose an average of 6.8 per cent in 2022.
Rising inflation rates cause equipment, tools and materials to cost more – which small business owners must pay for themselves. This forces owners to also raise the prices of their products to gain profit, explained Laplume.
However, business owners like Iacobucci, Mo and Benezra are reluctant to raise prices for their customers, especially because most are struggling students too.
"I feel bad for pricing my candles at $22 – and it's below the market price," Iacobucci said. "How can you justify making someone spend $40 for a candle?"
Her business, part-time job and Ontario Student Assistance Program funding are barely enough to support her through school, said Iacobucci, owner of Evie & Co.
Mo said she regularly knocks up to $20 off the price of her eyelash extension applications, which cost up to $110 – especially for her close friends.
"Everyone tells me I can't keep giving too many discounts and have to be more strict about it," she said.
Mo said that even though she budgets her finances, she realized she could have more money by charging full price, which would allow her to invest in other things like healthy meals.
Benezra has already raised the prices of her stickers, decals and apparel to cover the higher cost of acrylic sheets, sticker paper and vinyl. She said people are "so gracious" when supporting small businesses.
"Sometimes I get a little worried if people are going to buy [stickers] if they're a dollar more… My thoughts are proven wrong," Benezra said. "People have been more than happy to pay extra if it means supporting me."