By Mya Rana-Nippak
Michaela Stewart sways her hips to the rhythm of the
upbeat funk song
blaring from the speakers at. Loud thumping sounds of
boards hitting ramps
reverberate through Scarborough's Skate Loft, mixing with
cheers and laughter
as women of all ages and skill levels come together to celebrate International Women's Day.
A seven-year-old girl brushes herself off after a fall, getting right back up. Two girls skate by, their hands joined between them. Advanced skaters take on the ramps to one side, showing off impressive skills. In the middle of the park, while two women hold a broomstick between them as skaters limbo their way under on their boards, one by one. On the sidelines, a group of girls eat sprinkle donuts, chatting amongst themselves.
Energy radiates through the skate park. New friends are made, new skills are learned. There is no competition, nor expectations. Just good vibes.
After a long stretch of limited business during the pandemic, Michaela, an administrative assistant and instructor at Skate Loft, suggested the owners set up women-only sessions, which have now become a monthly event. Skate Loft had hosted a few events for women in the past, and what Michaela saw made her think there was a need for a space where female skaters could congregate regularly.
"The more advanced girls are always lending a hand to the beginners, helping them out with new skills and supporting them," says Michaela, who has also been studying Media Foundations at George Brown College, as she leans against a wall on a busy night at the park. "It is such a vibe having all these women just hanging out and doing what we love."
The skateboarding community is still largely made up of men. The Skate Park Project (formerly known as the Tony Hawk Foundation), a non-profit organization with the mission to create skate parks across America, says only 23.9 per cent of skateboarders are women.
It is perhaps not surprising then that women had to fight for competitive opportunities in the sport as recently as 20 years ago. In 2002, Jen O'Brien and Cara-Beth Burnside pushed ESPN to introduce women's events in the X Games after nearly a decade of being exclusive to male skaters. Later, the two women orchestrated a boycott of the game to protest a wage gap that paid male winners 25 times more than their female counterparts.
O'Brien and Burnside pushed boundaries on a trail already blazed by Patti McGee, one of the first women to compete in the sport of skateboarding. McGee, placed first in the women's division at the First Annual National Skateboard Championships in 1964, appearing in mainstream magazines such as LIFE and others dedicated to the sport including The Quarterly Skateboarder. She later created The Original Betty Skateboard Company with her daughter to support a new generation of female skaters.
Today, certain barriers persist for women in the professional skateboarding space, according to Olympic skateboarder Sophie Grant. She says that while the community has become more inclusive, female skaters often face difficulties getting opportunities to compete, and attracting media coverage and brand sponsorships. Even after attracting top-notch brand sponsorships herself, including Vans Canada and Empire Skateboards — two of the leading retailers for skate apparel — she has continued to be treated differently.
"As a girl skater, there's always going to be certain struggles that you have. It doesn't matter how good you are, sometimes [media outlets and sponsors] will only focus on you being a girl, instead of posting your skills or tricks," Sophie said on a recent unusually warm spring day. "I've had dudes tell me I only landed my sponsors because I'm a girl, not because I'm a good skater."
Hoping to propel the movement towards gender equality in the sport, Sophie encourages girls who are interested in the sport to get on a board, regardless of any negative comments they may receive from "weirdos" at skate parks.
No such negativity was present on the cold rainy night in March when nearly four dozen women dropped in at the Skate Loft, many of whom had never skateboarded before. Others came for the opportunity to refine their skills and learn new tricks.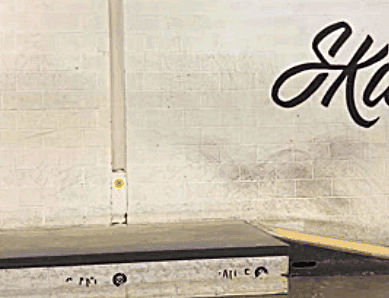 During regular free skates, Skate Loft is often packed, making it hard for beginners and self-conscious skaters to practice their skills, Michaela says. She's noticed that advanced skaters, mostly male, often have less patience and consideration for beginners and others trying to gain confidence than she observes on the women's nights.
At the skatepark, Michaela teaches classes to kids 17 and under, and is discouraged by how few girls attend. But she says the women-only sessions are creating more interest because she has more opportunity to interact with other female skaters.
Savannah Rose, a 19-year-old college student from Scarborough, started skating in December at one of the first women's skating nights. She has come every month since and, with her skills improving noticeably, she is considering making skateboarding a more regular hobby. "Obviously everyone always says, 'Yeah it's a safe space', but it truly is," she said while taking a break from practicing on the Skate Loft ramps. "The vibe here is just so positive and chill; everyone's doing their own thing but together."
For some skaters, that positive environment at the Skate Loft does not extend to other venues around the city. On one of the warmer mornings of March, Emily Li, a 17-year-old skater, nevertheless bundled up and headed to the Port Union Skatepark. Melting mounds of snow remained on the ground, but the graffiti-covered ramps and bars had been unveiled. Emily has been skateboarding since she was in elementary school, but says she still feels out of place in communal skate settings.
"Usually, I go to parks early in the morning to avoid anyone being there. I just feel kind of embarrassed when there's a lot of guys around," Emily says, shifting her board around in her hands.
Organizations such as the nonprofit SKATE LIKE A GIRL are working to promote young women in skateboarding, while female-owned skate brands such as Brujas and Nikita Clothing have been created to provide women with specific gear and apparel. Despite persisting challenges, the future of female skateboarding is promising.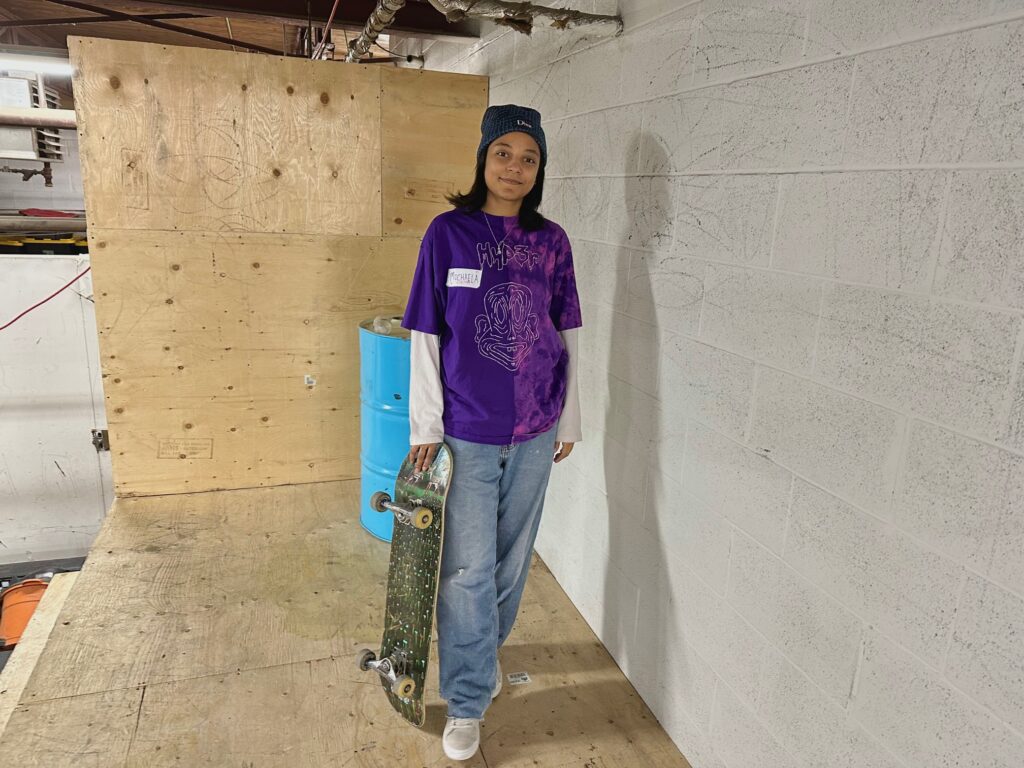 Michaela is hoping to work with female-owned skate brands and continue her involvement in the skateboarding community, in no small part to inspire young girls' interest in the sport.
She has already attended skate events in cities including New York City and Montreal and wants to continue to travel more once she graduates next year.
"When I started skating, I just knew that this would be something I was going to do for the rest of my life," she says. "I want other girls to be able to have that same feeling about it."
With her legs dangling over the top of a skate ramp, Michaela watches girls ride by below her, chatting and laughing. She reflects on her push for regular women's-only nights at Skate Loft, and says she hopes it will contribute to making skateboarding a more inclusive activity.
"At the end of the day," she says, "we're all just people doing cool things on pieces of wood."