By Alyssa Bravo
Tucked into the corner of Scarborough Town Centre, AtEaze is a definitively small store. However, it makes up for its smaller scale with eye-catching visuals designed to draw in anyone walking by. The mannequins in the front window are dressed in colour-coordinated outfits; they're accented with matching duffel bags and backpacks and even a pillow.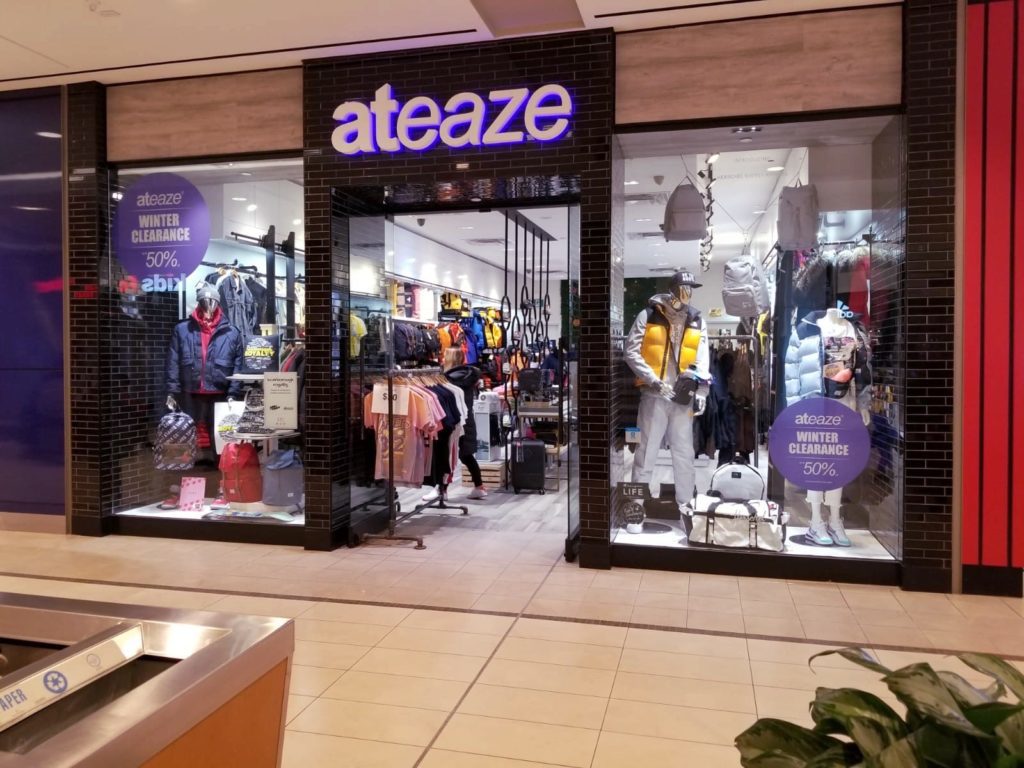 AtEaze's interior is even more distinctive. Whereas many stores stick to uniformity, this one is set up to appeal to the aesthetic of some Torontonians — streetwear influenced by the modern city. There is a wall lined with plastic grass and flowers. There are fake plants besides shoes, clear boxes with folded T-shirts and a matching fanny pack. Not one item is strewn messily or out of place.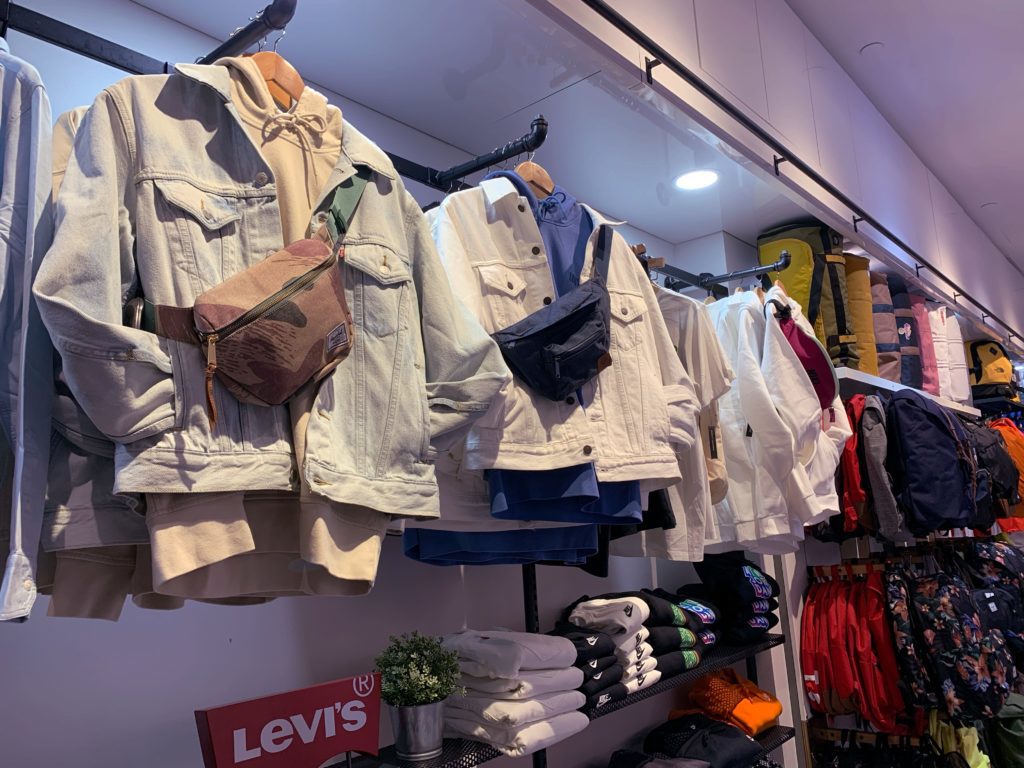 Brittany Hernandez, AtEaze's senior staff member, explains that the store typically sees slow traffic on Saturday mornings such as this one. She is quite petite, but she stands with poise and confidence and speaks with ease. It's easy to see why customers would mistake her for a manager, which she is not, as she likes to clarify.
Hernandez previously worked at Zara, which is also located within the same mall, before moving to AtEaze. "Working at a small franchise was something I wanted to experience, just because I never got to," she says. "I guess it was meant to be."
She mentions how the aesthetic of the store appealed to her personal style, and it's reflective in her apparel. Her long, dark hair is pulled up into a high ponytail. She wears a black Nike sweatshirt and green cargo pants tucked into a pair of Timberland boots — all items that customers would find within this store.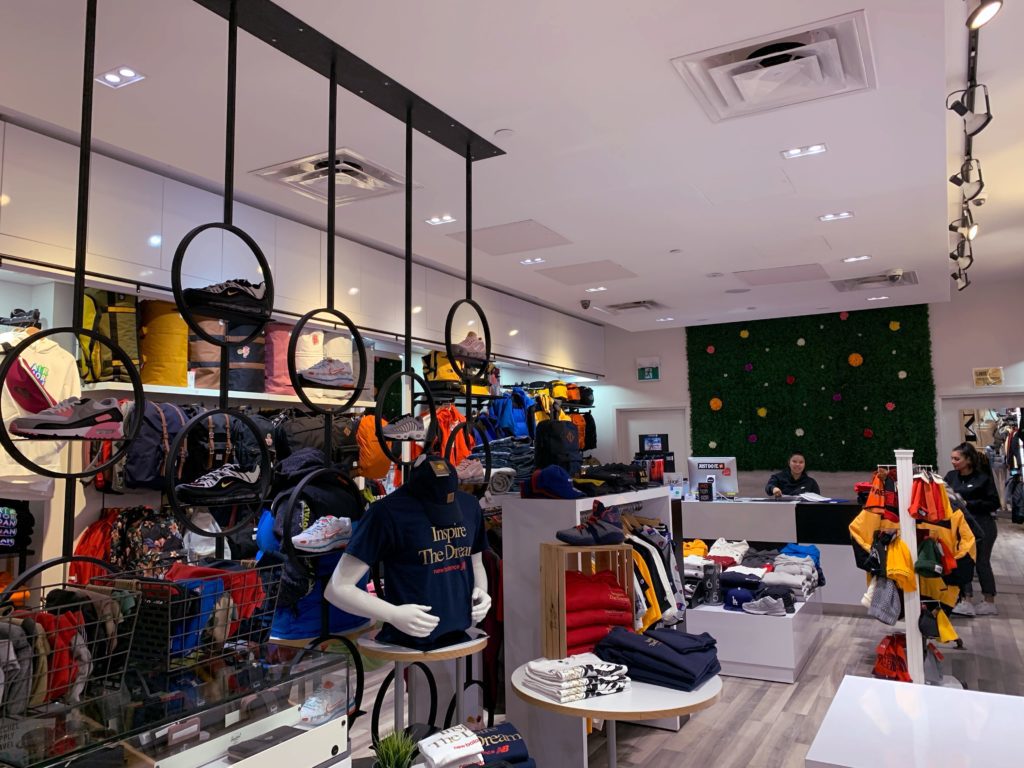 AtEaze carries a multitude of brands customers would be able to find at other stores. Its largest competitors include the neighbouring Foot Locker, which is located right across the AtEaze. There is also Champs, Footaction, and Hudson's Bay within the mall.
Scarborough Town Centre is at the heart of the Scarborough region, and, as such, many flock to the mall as a designated hangout spot. AtEaze at Scarborough Town Centre is one of three locations in Toronto, having opened in 2003, with the two others found in the Dufferin and Leslieville areas. Its first store opened in Cedarbrae Mall back in 1996, another popular destination in Scarborough. That location has since closed.
Since its establishment in 2003, AtEaze's current Scarborough location has developed a following that has kept it successful. According to Hernandez, its success is largely due to its unique customer-employee relationships.
She has seen many customers whom she considers memorable. "There's [a] gentleman who comes here often and he always looks for The North Face products, since we're the only store in the mall that really carries North Face," Hernandez says. "He doesn't speak English very well, but when he visits us, he always, always asks us, 'Hey, how are you guys?' first. He knows our main manager and our district manager, so he'll ask how they've been doing, too. It's very rewarding to get customers like that since you don't have that very often at other stores."
I get to see it first-hand. A customer dressed in a Nike T-shirt, jeans, Air Jordans, and a Toronto Raptors championship hat walks into the store. Hernandez's eyes light up in recognition immediately, momentarily drawing her attention away from our conversation. She immediately asks him how he has been.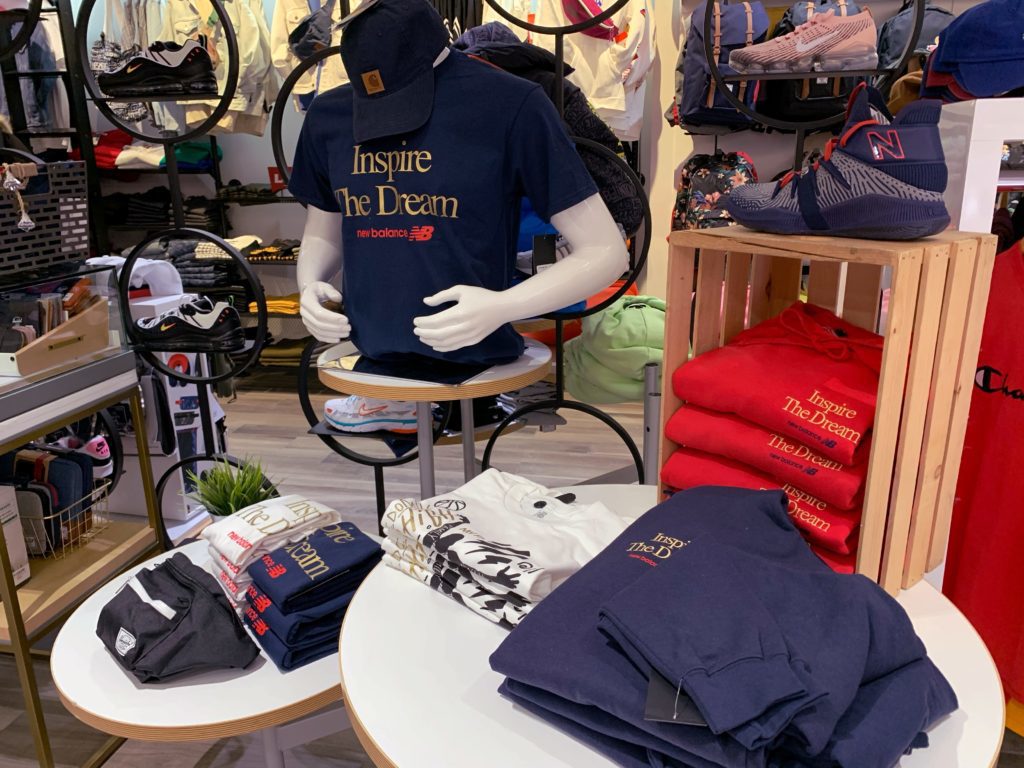 He smiles at her. "Hey! How've you been?" He goes on to ask Hernandez if they have a specific winter jacket for his three-year-old daughter.
"How is she?" Hernandez later asks as she holds up the jacket for him to see.
"Good, good," he says. "She's all sass like her mommy."
Hernandez laughs and asks how his wife has been doing. He says that she has also been doing well.
After he leaves, satisfied, Hernandez fondly recalls the first time she met this customer, whom she refers to as 'Fairplay,' as he usually comes in to purchase Fairplay jeans. "They'll come visit the store maybe once or twice a month. He'll usually come with his family," she says. "I've known them since his wife was pregnant with their baby and they were looking for little baby shoes. They're really sweet people."
Joshua Rey, another frequent customer at AtEaze, holds the store near and dear to his heart. "I've been coming to this place for a while," Rey says. "They have the latest Jordan releases and the nicest clothes, but besides that, everyone who works at the store, they just make your day. You could be having a bad one but they would smile at you and ask how you've been, how your family's been doing."
Along with its unique customer service, AtEaze has adopted its own sense of merchandising within the store, setting itself apart from some other major retail chains. Its clothing is layered on display, utilizing different brands and products; its shoe wall is not a cohesive straight line — some are vertical, some are on its side; products and paraphernalia are scattered intricately around the store to enforce a casual streetwear aesthetic.
Employee Shyreen Ramsumair elaborates on the store's aesthetic: "We don't like to stick to uniformity," she says. "We angle our shoes on display, we'll put hats or little potted plants beside them because the colours are complementary… It's quirky, it's fun, and it shows what the store really stands for. It really sets us apart from other competing places."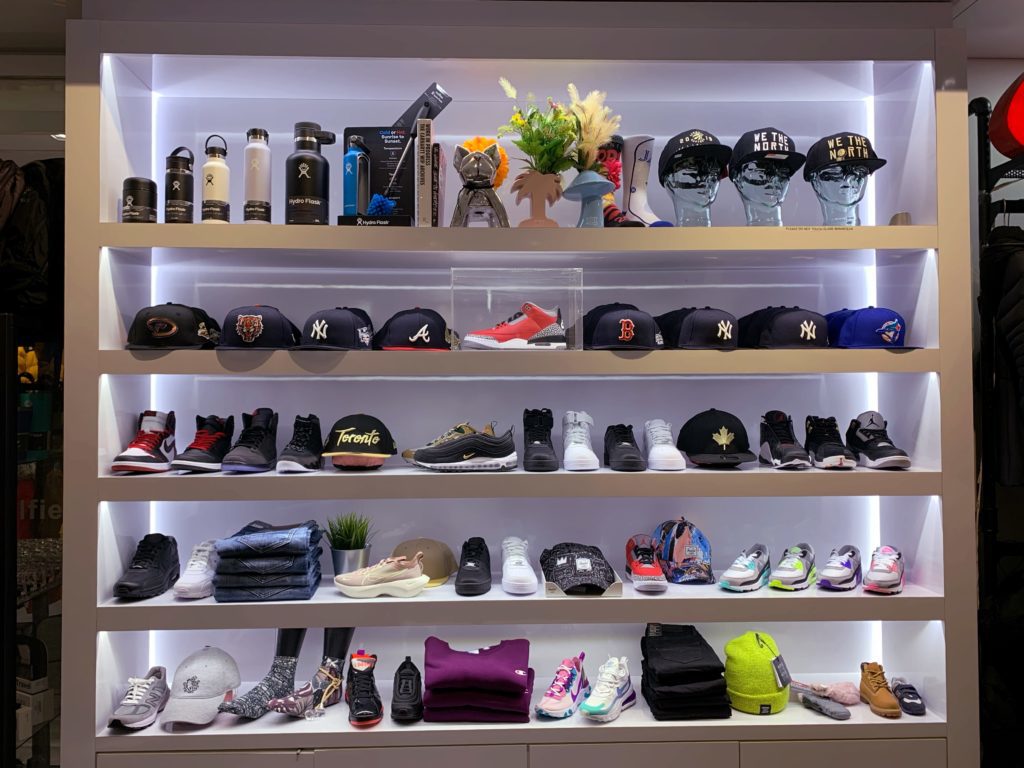 In spite of the slow traffic the store sees, especially during weekdays, Ramsumair maintains that AtEaze is never all that quiet. "We're a family here," she says, describing the relationship between employees. "That's the rewarding thing about working at such a small store. We're a very tight-knit group."
Adds Hernandez: "Sometimes it does get hard to compete with the big leagues like Foot Locker and Footaction and Champs, but at the end of the day, we want to set ourselves apart. We want customers to have a unique, memorable experience, and it's reflective in what we employees do, from little things like merchandising our store differently to assisting them in every area we can."
Seeing as the store has remained open for the last 17 years, it is safe to say that AtEaze is a distinctive part of Scarborough Town Centre, powered by the positivity radiated from their community.