By Alexandra Holyk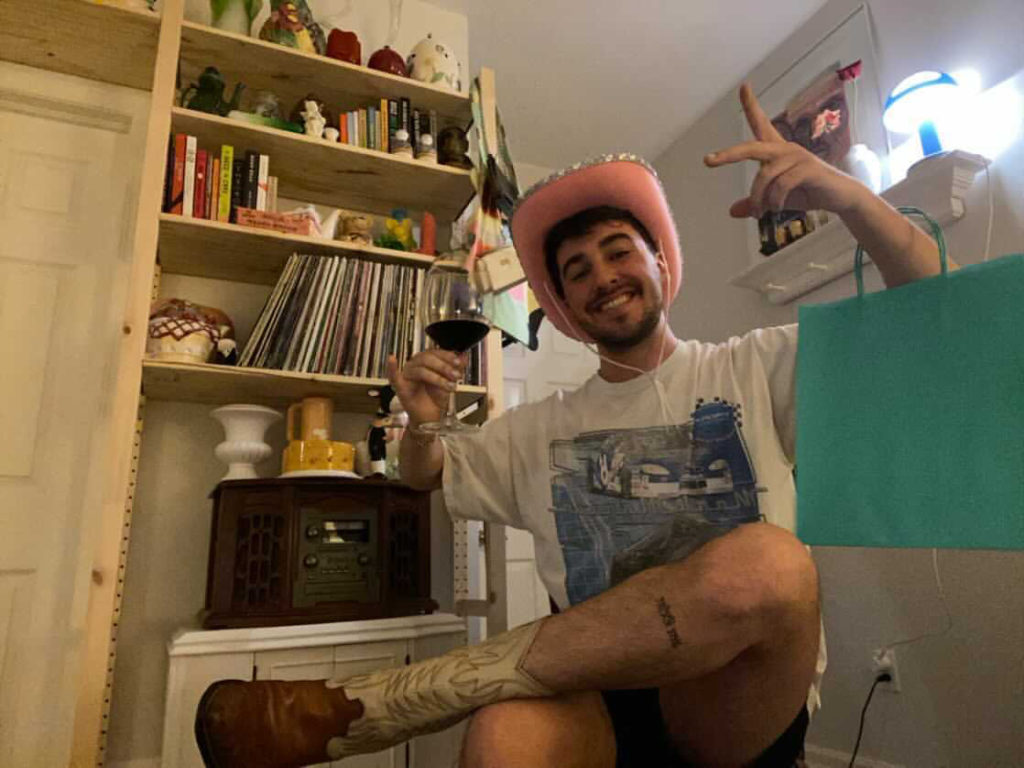 On a summer night in 2020, Quintin Ermes could be found sitting on the floor in his shared townhouse near Queen Street and Ossington Avenue, drinking a glass of boxed wine and hand-decorating paper bags.
Each bag was adorned on all sides with random strokes of colour and the textures of paint and crayons. The words, "Sloppy Seconds," were written with a black Sharpie as Ermes applied the finishing touches to the bag and waited for the paint to dry.
Ermes saw the bags as an aspect of his business that acted as a safe space where he could express himself and accept his queer identity. "As trivial as the bags are, [they're] a good representation of most creative people who are queer," he says, adding that their freestyle design mimics a queer person's ability to "do whatever they want without any judgement."
At the time, Ermes was a recent university and college graduate with a background in business communication and event planning. Though he enjoyed both of these fields, he wasn't exactly sure what career path he wanted to pursue. His full-time work as a project manager helped him realize he enjoyed completing tasks. So, he decided to use the pandemic and staying at home to his advantage in launching a passion project of his own: a vintage clothing and decor store called "Sloppy Seconds."
As business picked up, Ermes stopped painting the paper bags because they took too long to dry. He used that time to expand his collection of items and recounts spending several hours a day at thrift stores, estate sales and online on Facebook Marketplace.
When Ermes is sourcing items from a store, he starts by making a beeline for the men's jackets. He picks out items that he would want for himself, while still paying attention to his customers' individual interests.
Making his way over to the home section, Ermes notes that he doesn't buy commonly seen decor. He instead opts for fun, atypical statement pieces, imagining where they will go rather than judging the items on their own.
"I can visualize it in a space and how it can be styled," he says, adding that he calls selection style, "maximalism."
To purchase second-hand cowboy boots or catch-all dishes designed to look like vegetables, new and returning customers visit @shop.sloppy.seconds on Instagram. Though the business doesn't have a website, Ermes says Instagram allows him to chat with his buyers and establish connections and a loyal following. At the same time, he's able to express himself similar to the way he did with his paper bags.
Scrolling through the account's main page, thrifters can find multicoloured posts and unique shapes that highlight the items on sale. Story highlights offer updates on what's still available, as well as Ermes' personal experiences which he relays to his ever-growing audience to express himself and his identity.
"As a queer person, I feel like I've always had to censor myself," he says, referring to his sense of humour, actions and interests. "But [now] I feel the more open I am, the more people are attracted to me and my energy. So, I use Sloppy Seconds as a platform to not hold back on…who I am."