By Priya Hall
Horse
people are crazy. That is the reason why you can find around 100 people dressed for negative temperatures at a horse show in Stouffville in February.
A light chatter can be heard in the wooden bleachers beside the arena. Groups of people huddle together in hopes of retaining warmth.
Out of the 100 people, 72 are competitors with around 40 horses being used in four different divisions. The Ontario Collegiate Equestrian Association (OCEA) is a college and university horse show circuit broken down into zones, where 20 schools compete for a bright red ribbon.
A chestnut coloured horse with a white stripe down its face canters by, the rider pulling on her inside rein steering the large animal toward a green and white jump. A four-leaf clover is carved into each side of the standards, making it ironic when her horse crashes through the jump and the rider comes flying off.
In all of this chaos, there is one man whose sole purpose is to make sure that the horse and rider's life is okay.
As a collective gasp filters throughout the arena, Woody Woodfine jumps into the ring and runs across to the girl lying on the ground.
Being a rescue specialist and a senior firefighter for 32 years, running towards chaos and danger is second nature for Woody.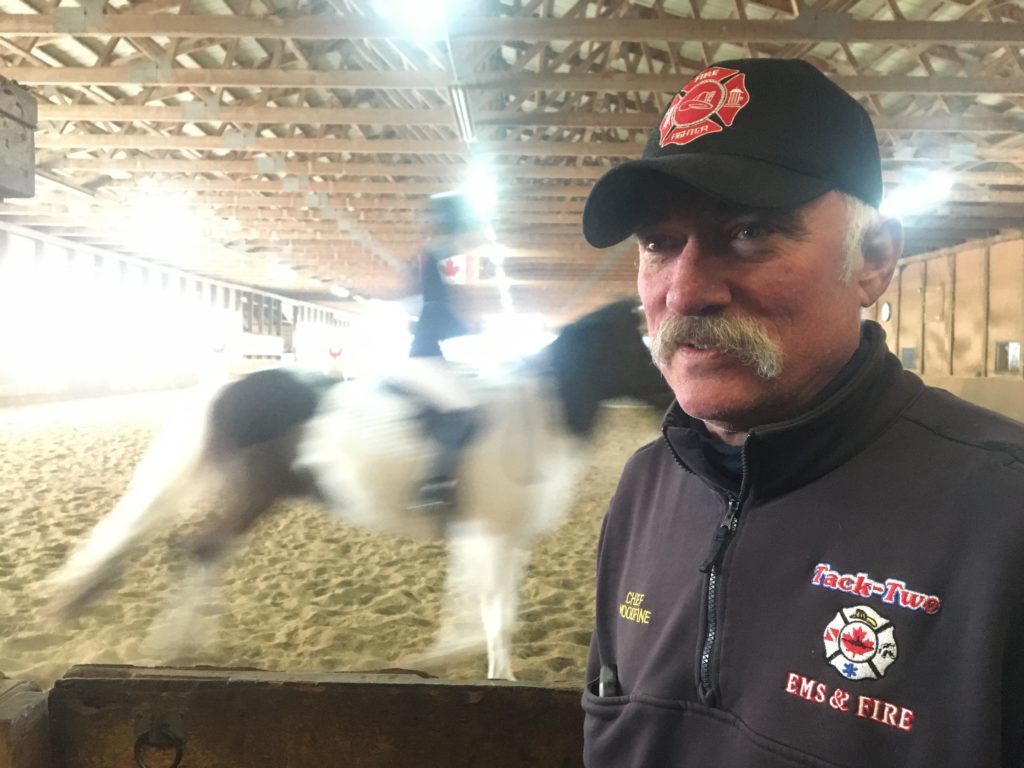 Woody helps the rider back onto her feet, a smile gracing his face when he knows she'll be alright. He speaks with a cheerful tone as he leads her to the exit of the ring. The words Tack-Two written in red on the front of Woody's blue sweater stand out.
Woody started his company Tack-Two Emergency Medical Services and Fire Suppression Inc. in 1998 after being a senior firefighter for many years.
"I'm what you call a rescue specialist," Woody says. "I'm all this wrapped in one: Structural firefighter, airport rescue firefighter, marine rescue, large animal rescue, confined space rescue, EMS coverage and I teach over 35 courses in my training division."
When asked what it took to become a firefighter Woody laughed. In his day, "You walked up and knocked on the door and there's two questions on the application… do you have a pulse and are you crazy? I passed," he says.
There are several divisions within Woody's company; fire department, horse ambulance, ambulance EMS coverage for humans, marine rescue division, airport rescue, security guard division and a training division. Around 160 people are employed underneath Woody.
Woody's company aids countless horse shows across Ontario. The Pickering Horse Centre is one of many stables that uses Woody's services for horse shows. Owner Danielle Yaghdjian said that they trust Woody's professional and reliable skills to provide the best medic services for their competitors and horses.
Arthur Tateishi, former president of Ontario Horse Trials Association and Horse Trials Canada, witnessed a young woman get kicked in the head by her horse at a competition.
"Mr. Woodfine attended the rider in such a focused and professional manner that once she was transported to the local hospital, where I visited her, the medical staff advised me that she would have probably died from her injuries had Mr. Woodfine not been so decisive in medical professionalism," says Arthur.
Back at the OCEA horse show, the first large animal rescue horse ambulance in Canada is parked outside of the red barn marked "B" Arena. From first impressions, one might assume that it's just another horse trailer shipping in for today's show, but large, stark black letters against the white paint of the trailer that read "horse ambulance," beg to differ.
Woody proudly stares at his horse ambulance, rubbing the back of his neck and adjusting the blue baseball cap on his head, his logo stitched on the front.
"My favourite part of the job is being there to help somebody, to better their life, to make sure that their life is going to be okay," he says. "I tear up when I talk like that because people are so important to me."
Before Tack-Two was a fully established company with expensive equipment, Woody remembers a time when he had only a gym bag filled with bandages. A bright, red gym bag that was the beginning of his long successful career. "I remember I grabbed a red gym bag because I wanted it to look professional," he says. This same bag was used for the first horse show Woody worked at providing EMS coverage.
With constant jokes and a wide smile, Woody makes everyone around him feel comfortable and welcomed. Reflecting on his positive personality, Woody believes he acquired it from living on the streets as a kid after he ran away from the foster care system at age 11.
"I didn't have much of a childhood, I guess," he says. "I was born an orphan, bounced around foster homes and they weren't screened like today. I remember Christmas time you sat there and their kids are opening Christmas presents and you get nothing — you're just supplement to their income."
Pain flashes across Woody's face speaking about the hard parts of his job. Dealing with the "bad stuff," as he puts it, is an understatement considering what he has witnessed. His voice drops a few octaves as he talks about the hardships he's gone through. He leans closer as if he's about to tell a close friend a dark secret. Woody describes all the deaths he has encountered, from babies to the elderly. He has seen kids die in car accidents and suicide attempts. Construction accidents where he had to tell young children that 'Daddy's not coming home anymore.' The death of animals, particularly horses, guts Woody. He stands by a promise he made to himself years ago to always pat their forehead and whisper in their ear thanking them for their service, love and memories they gave us.
"Yes, there's PTSD, depression, there's haunting up there," he says. "I got a lot of years of experience. We're trained to deal with it. I mean, people go to counselling and that, but us old boys, we just suppress it, bury it deep and keep on going. It's still hard and you have hauntings."
The grieving and successes Woody has taken from his job have shaped the person he is today. He sighs and a heavy smile doesn't quite reach his eyes.
"Doing my job, you look at people different, you talk to people different," he says. "You can't wait to go home and hold your family tight because that world out there doesn't meet people half way. You're here now and gone in a second."
Woody's three children often refer to their dad as the "rescue guy," and living up to that standard is what he tries to accomplish every day.