By Alina Jaffer
The aptly named store sits atop a flight of creaky stairs in the Robinson-Bray House – a family home turned commercial property constructed in 1885. Inside, customers can hardly stretch their arms out without knocking over a pile of novels yet, somehow, the cramped space feels comfortable. Its homey wooden floors, dim yellow lights and Italianate style furnishings are in perfect juxtaposition with the bustling traffic, chain restaurants and wintry winds outside. The papery scent of books intertwined with fresh baked goods from The Tea Room downstairs heightens this immersive experience.
Opening an independent bookstore in the era of Indigo and Amazon seems difficult enough. Opening an independent bookstore just before COVID-19 while working another job seems just about impossible. But in the Mississauga, Ont., community of Streetsville, Carmela Vedar did exactly that. Vedar's shop — The Book Wardrobe — now thrives thanks to her persistent nature and, she says, divine intervention.
As shoppers browse, they are greeted by Vedar's musical voice. The business owner happily entertains questions about objects adorning the room – paintings from her patrons and trinkets from her travels. When asked about a glazed sculpture of the Virgin Mary perched atop a bookshelf, Vedar lights up. Her eyes sparkle as she launches into the story of a spiritual pilgrimage which dramatically changed the course of her career.
In 2017, Vedar took leave from her Toronto office management job and traveled to Fátima, Portugal. She was determined to visit a religious site dedicated to Our Lady of Fátima – a title some Catholics gave to the Virgin Mary after six 1917 apparitions.
After reaching the holy sanctuary, Vedar put her prayers to the Virgin Mary on paper. Today, she quotes that note with a smile.
"If it's your grace, or your Son's will, I'd like to have my bookstore when I retire," she wrote.
Vedar says this prayer was answered earlier than expected. Two months after the Portuguese pilgrimage, while helping a friend with wedding planning, Vedar stumbled upon a photography studio on the second floor of the Robinson-Bray House. She walked inside and her imagination ran wild. Vedar saw the room's clicking cameras and flashing lights fall away. In their place, she envisioned The Book Wardrobe as we know it today.
Fueled by her vision, Vedar approached the studio's manager.
"I was crunching the numbers already," she recalls.
As luck would have it, the manager informed Vedar that he was relocating to a bigger studio. Then, Vedar – still working her corporate job – managed to snag the space.
"You know how it is when you fall in love," says Vedar. Her eyes wander around the room, taking in the actualization of her vision. "You've got to claim it. Whether it's a partner, a house, a business, I think everybody has the grace to claim something."
Charming as it may be, The Book Wardrobe's past is not all sunshine and roses. After its opening in September 2017, the store ran into some financial difficulties – albeit expected ones.
"The first three years are always a struggle," says a reminiscing Vedar.
How bad did things get? Vedar noted that on a particularly slow day, she considered closing the store. That day, just before closing time, she prayed to the Virgin Mary once again. The plea had barely left Vedar's lips when an elderly woman walked into the store, wanting to take a look around.
"That look became a huge purchase," says Vedar. She recounts the moment in hushed, seemingly reverent tones.
Vedar asked for the shopper's contact information while ringing up the sale. The customer was rather private, divulging only her name: Mary.
Of course, prayer only eased Vedar's troubles in conjunction with determined, hard work. Vedar spent much of The Book Wardrobe's early years nourishing relationships with customers and curating a book selection which featured local authors.
As part of those efforts, Vedar hosted promotional events for children's author Tina Powell.
"Carmela Vedar's enthusiasm and excitement was contagious," said the Freddy and the Blue Jays writer in an email correspondence. "She welcomed customers like old friends and offered delicious treats to all those who attended my storytelling sessions."
Powell, a graduate of Streetsville Secondary School, also says she was intrigued by the store's location in the Robinson-Bray House.
Heritage Mississauga historian Matthew Wilkinson says the building's historical prominence certainly adds to its charm.
The space was built around 1885 for Thomas Robinson, who served as Reeve of Streetsville in 1897. The politician's unique style of house was something of a status symbol.
"It (the style) may not be the greatest example of Italianate, but it's our finest example that we have and it is finer than its neighbors," says Wilkinson. "The owner of this house was intending to be seen."
Frequenters of downtown Streetsville, like Powell, can interact with businesses operating out of the heritage house thanks to city preservation efforts.
"It still serves that cultural anchor in the landscape," says Wilkinson.
Hear Wilkinson and Vedar speak about finding beauty in local history, below: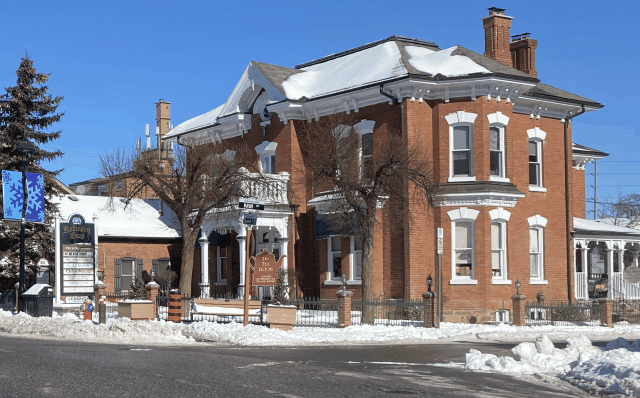 Of course, The Book Wardrobe's success stems from more than this charming exterior. Vedar's personal approach to customer service helped sales pick up in 2019 when she quit her corporate job to work full-time at the bookshop.
"It's about people," says Vedar when discussing her philosophy as a bookseller. "Knowing who your customers are – growing up with them, growing old with them – and knowing their books by heart."
Business improved despite pandemic-related lockdowns because such customers pointedly placed orders for curbside pickup. Some shoppers even offered to raise money for the store on a crowdfunding platform called GoFundMe. Vedar declined this offer, but appreciated the sentiment.
"That's the beauty of community," says Vedar, looking back on the moment with a smile.
Vedar says business continues to advance post-pandemic. Her typical workday begins with noting new online orders. Then, she picks up the phone and chases down packages from publishers. Vedar keeps a sharp eye on her laptop throughout this routine. She does not want to miss any emails from authors looking to host readings in the store, or from customers inquiring about her next book club meeting. Of course, she puts the calls and correspondence on pause whenever a customer walks inside – ready to swap and discuss stories.
Vedar plans on hiring employees to help manage this workload, which is expected to intensify in the near future. Canadian Independent Bookstore Day – annually falling on the last Saturday of April – tends to attract business.
The Canadian Independent Booksellers Association says that, "By joining the celebration, you are advocating for independent businesses, supporting a flourishing bookselling community, and investing in Canadian culture."
Those who choose to support local, small businesses do not go unnoticed by Vedar.
"My only request is if you want to buy shoes, buy from a shoe store. If you want to buy clothes, buy from a dress shop. If you want to have coffee, please not just Starbucks – there are many very good independent cafes," urges Vedar.