Navdeep Kaur anticipates her search for an arranged marriage when she visits India in December 2023.
By Mansha Sharma
Under bright fluorescent light, surrounded by the smell of burned sugar, Navdeep Kaur begins peeling mangos. The orange-yellow fruit is small and perfectly fits her palm. The all-encompassing sound of the roaring blenders provides an environment to let her thoughts wander.
While she begins the preparations for smoothies at her job, Real Fruit Bubble Tea in the Bramalea City Centre mall, she imagines her anticipated trip to India. She plans to visit Punjab in December 2023 and stay for over a month. She will visit family, enjoy the Diwali festivities and look for a husband.
Despite living in Canada for over six years, Kaur has found it challenging to find love here. Feeling as though she is falling behind her peers, she has asked her parents to help find her a suitable husband.
Though uncommon among Canadians of European descent, arranged marriages are commonplace in India. This extends to those who are of Indian descent living in Canada. And, according to Kaur, there is a large societal pressure Indian parents face when their children remain unmarried.
"I am already 28 years old, so my parents want me to get married. You know in Indian culture, they [our parents] want us married at like 25. They want us married as soon as we can get married," said Kaur.
Isha Arora agrees. A business analyst for Rogers and a real estate agent, Arora was born in India and has lived in Canada since she was three months old. She now lives in the GTA. 
"To be very honest, there's a lot of pressure, especially in the Indian community. You are 25 and you need to get married. You are 24 and you need to get married, and I was the eldest so I have a brother and sister, both younger, and a lot of pressure was on me. My mom used to say 'You need to find somebody,'" said Arora.
Arora married nine years ago. Her parents arranged the marriage. Despite knowing each other for over twenty years, she didn't date her husband, Vishal Arora, until her parents proposed the idea.
"She (Arora's mother-in-law) always used to say 'I like Isha. Can we hook them up? Can we help them out?' So our parents started that whole thing. We just got to know each other for a month and a month later, we were already making wedding plans," said Arora.
On Kaur's trip to India, she will meet potential suitors. Kaur said the process of finding a match can be lengthy. First, family members and friends begin to find potential matches. Most matches are recommended by people Kaur trusts. Then the potential match will meet at a public place like a restaurant to get to know each other.
Depending on the connection the pair will likely go on more dates before they introduce each other to their families. If all goes well the couple will progress to the Roka. A Roka is a small engagement ceremony used to signify the formation of two families into one. It is often referred to as the most significant pre-wedding ceremony.  In a Roka both families, not all relatives just close family, meet. They met up and tie a mauli, a ritual red thread, to the right hand of the couple. The families give money and sweets and fix the Roka.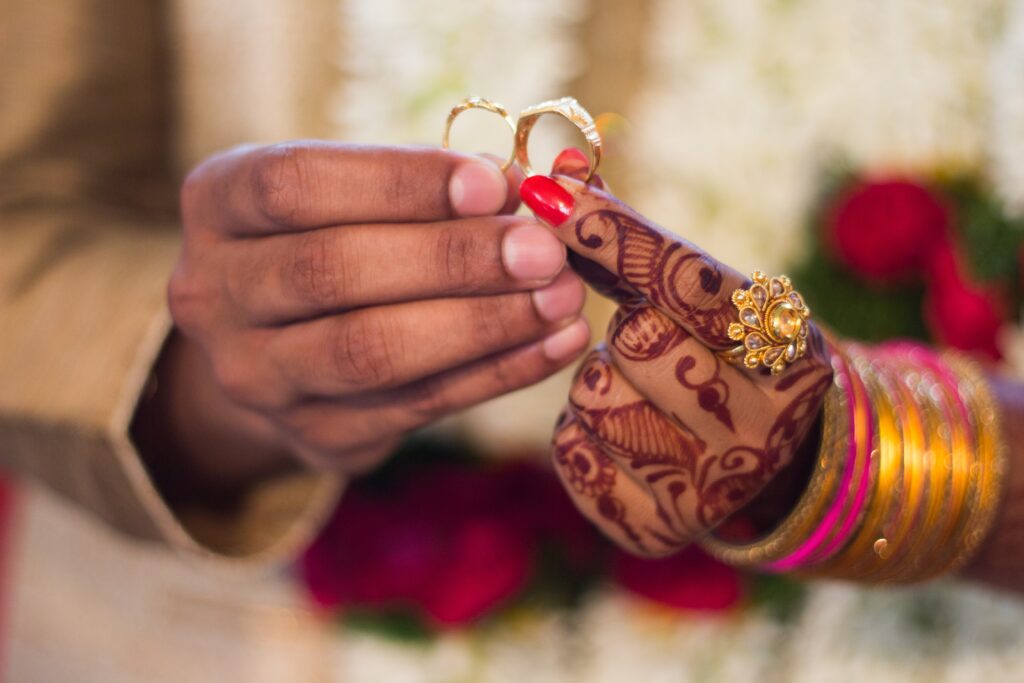 Indian marriages are often separated into love and arranged marriages. However, the definitions are not concrete and are changing rapidly.
"Arranged marriage is not how it used to be," said Arora. "Like my parents, for example. They've been married for like 40 years now. For an arranged marriage back then, a family member would just tell you, 'I found somebody for you.' My dad would go meet them and literally on the fourth day, they had their wedding. It's not like that anymore. I feel that the true definition nowadays is basically, parents can still introduce you but the couple can take their time. They can date for a year or whatever it is, and then decide."
Tarun Devgan is a Hindu priest from India who now lives in Brampton Ontario. He works all over North America. He comes from a long line of priests and learned the practice from his father and grandfather. According to Devgan, nine-tenths of the marriages he officiates in the GTA are arranged. He defines an arranged marriage as one where both families are involved in setting the couple up.
Kaur believes that arranged marriage offers a sense of dedication that is lacking in love marriages. "In a love marriage, you can understand someone, but you also get fed up with that person. You might like this person but I don't like this thing. If I don't want to stay with this person in an arranged marriage, I'm married to this person. I have to survive with this person. You try your best in an arranged marriage. In a love marriage, people don't try their best."
The process to find Kaur a suitable person has already begun. Her family is looking to their social circles for someone who also wants to get married.
"I feel like love marriages last but arranged marriages last longer. Only because in arranged marriages you eventually grow to love somebody, love is always going to be there," said Arora.
According to Devgan, arranged marriages tend to succeed because the couple gains support from the family. Both families have an active involvement to ensure the relationship will succeed.
Kaur hasn't met any suitors yet but has a wish list of characteristics that her husband should possess. The most crucial trait to her is kindness but she hopes also to find someone who lives in Canada.
"Arranged marriages succeed in the Indian culture because when parents are involved, they do their due diligence. They don't just think about the guy… they go through their background, their family tree, where they're coming from and whether they follow their culture, " said Devgan.
Historically parents would have a specific list of characteristics when looking for suitors, a list that is now steadily disappearing.
"I don't have that mindset anymore, to be honest," said Arora. "But I did at that time [when she was looking for a partner]. I'm Hindu Punjabi. So ideally, I wanted a Hindu Punjabi. But now I don't care anymore. He could be Sikh. He could be a white guy, a Canadian, whatever. It doesn't matter, as long as he treats you properly. Honestly, that's all that matters at the end of the day. You can come home to that person and feel relaxed. You feel like you're loved and cared for. That's all that matters."
Adds Kaur: "I am looking for a partner who is a nice person, lovable and understanding. Other things don't matter to me."