By Calvin Leung
Shining bright lights illuminate the mostly empty stage of the Scarborough Village Theatre and a singular piano sits in the corner of the stage. On closer inspection, the piano looks chipped, rugged and played-in. The various staff of the Scarborough Players shuffle to and from the stage to make their final preparations before their production of Jane Austen's Pride and Prejudice.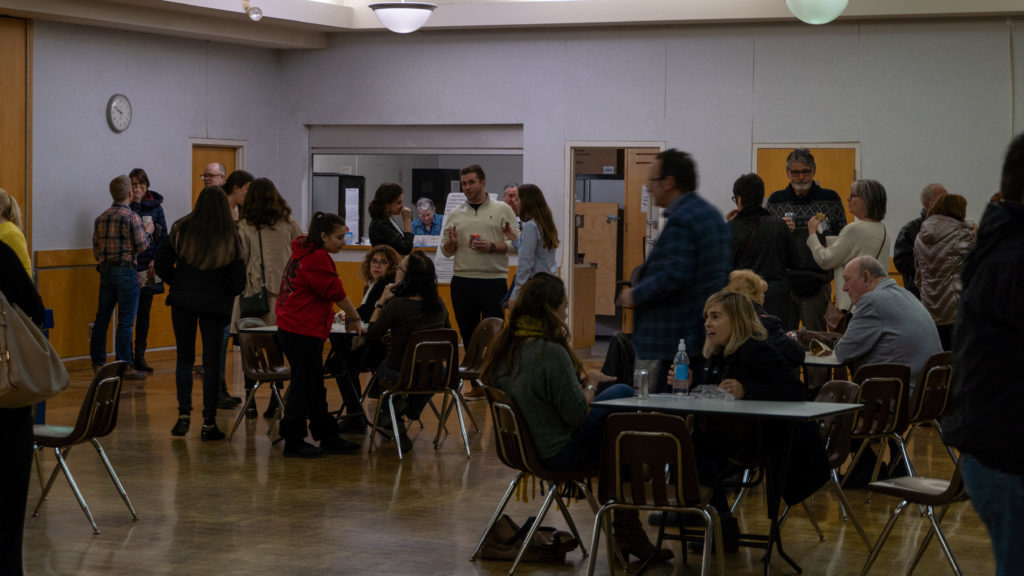 Ten minutes before call time, the discussion in the male dressing room has turned into one about facial hair. Will van der Zyl asks the rest of the dressing room if his stubble has "gone too far." After a brief discussion with the rest of the male cast that included a tangent about whether it will be in character for him to have a goatee, van der Zyl heads to the bathroom for a shave. Holm Bradwell makes a quick check at the mirror, grabs his razor and decides to follow suit.
"It can be a bit of a scramble to get all the makeup, outfits and staging done in time," says actress Megan St-Pierre. "People have other commitments beforehand, so we have to squeeze the preparation time as much as possible."
The Scarborough Players is a community theatre company that performs at the Scarborough Village Theatre. Along with Scarborough Musical Theatre and Scarborough Theatre Guild, the three companies form Theatre Scarborough. The Scarborough Players, with its all-volunteer cast and crew, receives no pay, yet attracts people from all walks of life to create theatre productions for nothing more than a love of theatre and self-actualization.
The experience in the cast varies — while some of the cast have studied acting in school or have acted for decades, others are making their theatrical debuts. Fitting into the latter category is Kris Kucharik, who is acting on stage for the first time since school. "Returning to theatre performance is something I always wanted to do," Kucharik says while doing final checks on his costume. "So it's an honour to make my return to acting in a production like this one."
The lack of experience initially made Kucharik nervous. "I went into the first readings and rehearsals rather nervous; I remember going into it with butterflies in my stomach and sweaty palms."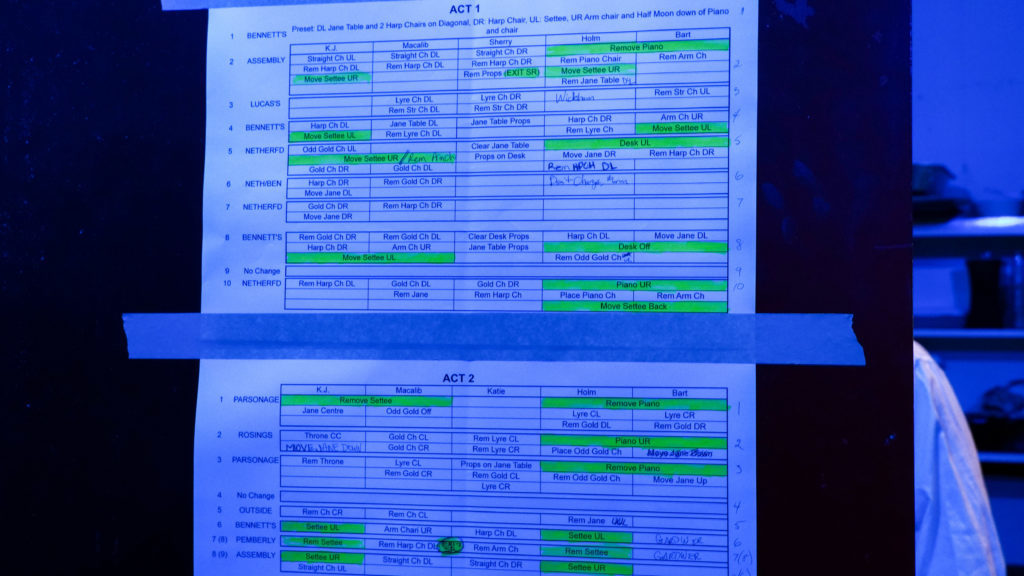 Kucharik, who works as a fundraiser for Second Harvest, stopped acting after university as he shifted his focus toward his career and to start a family. Moving to Toronto from North Bay, Ont., gave him motivation to return to acting. He found the auditions for the Scarborough Players and saw it as an opportunity that he could not ignore.
On the other end of the spectrum is St-Pierre, who studied stage acting at York University. The lack of opportunities made her pursue a career outside of acting. However, participation in community theatre productions allows her to continue to pursue her passion for theatre, albeit in an amateur setting.
St-Pierre did not even initially get the part in Pride and Prejudice and only received it after the actor originally playing her role dropped out after scheduling conflicts.
A common thread between the actors here is a passion and genuine love for their craft. Between all the quips and anecdotes they share with each other are discussions of the play and analyzation of its characters. There is the hope that doing so will foster a deeper understanding that allows for better performances.
St-Pierre says while this is a hobby for the people involved, it is one that they all take very seriously.
Entering the green room, she finds makeup artist Darlene Thomas there looking at the vast selection of chips, gummies, cookies and cakes that has been laid out on a table in the middle of the room as a free-for-all buffet. "We kind of pig out back here," Thomas says, as she offers the people in the room the box of cookies. "The nerves can really get to you and, for a lot of us, snacking helps with that."
As more and more actors arrive in the green room, a bag of gummy bears is quickly emptied and a mass group conversation forms when actor Barton Graff tells an anecdote about how incomprehensible his uncle was while drunk on one occasion. That leads to a chat about whether a Glaswegian accent is suitable for Pride and Prejudice.
"We genuinely all get along here and it's like one big family," Kucharik says, as he takes a gummy worm. Some of the production staff and actors have previously worked together in other shows. Despite the disparity in time spent between the actors, there is no lack of chemistry or friendliness between them and the newer hires.
Even when a mistake is made, there are no attempts to place blame or to make anyone feel guilty. Instead, the offender acknowledges their mistake and the cast and crew move on with no feelings of animosity.
"She missed her entrance last night," says an actor while pointing at St-Pierre. The previous night she forgot she was in a scene and was in the dressing room when it was her cue to enter. Another actor had to race into the dressing room to drag her out on stage.
She made the same mistake the night after as well.
After the scene she reentered the room apologetic and the cast and crew reassured her mistakes happen and everything was fine. A bruised ego and moments later they returned to treating each other as if what happened less than five minutes ago never did.
To the Scarborough Players, the community portion of community theatre means more than just the area in which the group serves. It also represents the close-knit group that forms backstage behind every production.
Props and Media Coordinator Ciara Crozier reenters the green room from the stage and tells the cast to quiet down as audience members are let in. Moments later she has to remind them to quiet down again. Mary Nowlan, who works as a high school teacher, laughs when someone asks if the cast is harder to manage than her students.
Nowlan says she acts as a way to achieve work-life balance. "I always enjoyed theatre and acting," she says. "Performing here allows me to commit to spending time doing something I enjoy."
The ability to break away from thinking about the other aspects to day-to-day life is also something she values in acting. "During the three hours of the play I am just focused on acting and nothing else," says Nowlan.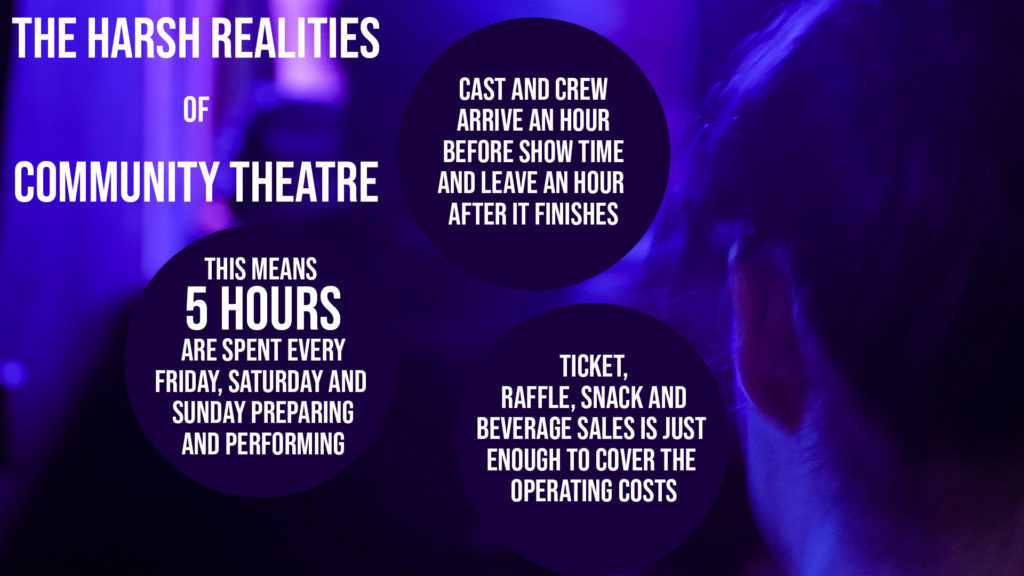 Kucharik shares similar views, saying work-life balance is something necessary to maintain good mental health. "Performing gives me a high that cannot be achieved by any substances out there," he says. "Even rehearsing gives me feelings and a level of control that cannot be found anywhere else in life."
While both only play a minor role in Pride and Prejudice, they say the ability to participate in a production like this is enough to keep their love for theatre alive.
Showtime approaches and chairs and various furnishings are moved from the back hallway on stage, with the actors having to double as stagehands to help finish the setup. Those who are not involved in moving props wait patiently backstage as the clock ticks closer to 8 p.m..
"Five minutes," Crozier announces to the green room.
Those who have a role in the first scene line up in front of the stage entrance and as the lights in the audience dim, they walk out to once again perform to a sold-out crowd.