By Rachel Aversa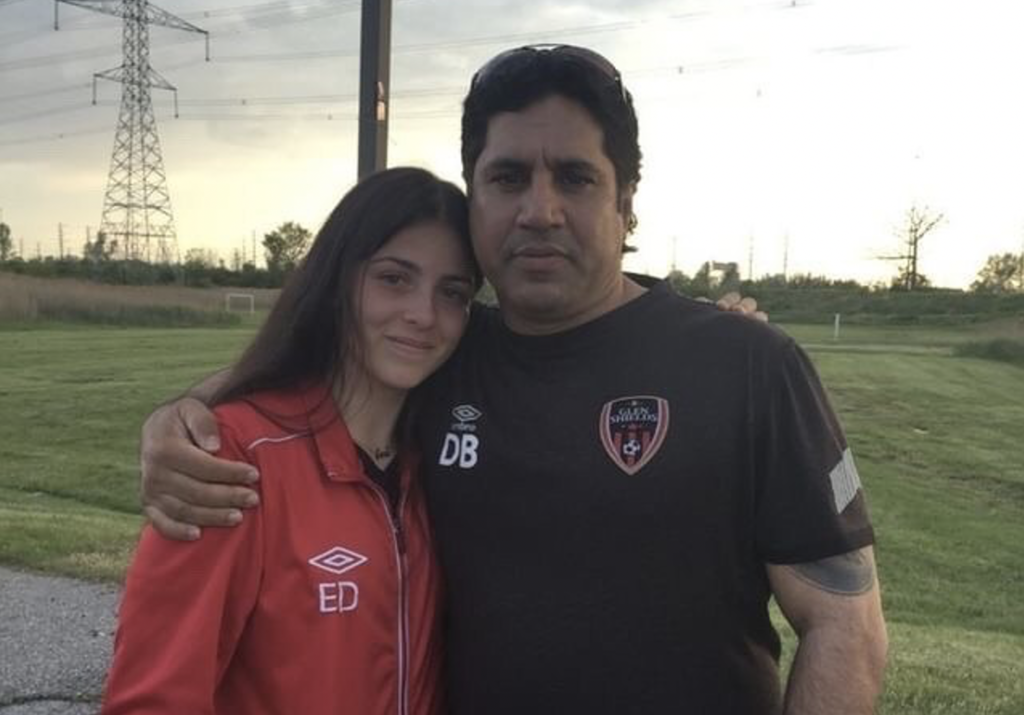 The sidelines of the soccer field are packed with people. They cheer as both teams race up and down the pitch, struggling to gain control of the play. Everyone's eyes go wide as a wingback drives the ball, sending the bomb flying through the air.
As it rockets its way down, it smacks into a player's head and ricochets to the ground. The players nearby dash towards it and the play continues.
Shaken, Eva Di Nallo, 17, tries to shrug off the hit she has just taken to the head. As she tries to focus, she feels dazed and sick to her stomach.
Di Nallo knows this feeling, she has been here before. Her eyes meet her dad's in the crowd and she nods her head up and down signalling she has another concussion.
Although Di Nallo retells this story, it is not something she remembers. This head injury makes eight concussions in about a five-year span. She finds it hard to piece together how she got many of her head injuries so she relies on her family to help her remember.
Rather than playing soccer with her friends, Di Nallo now cheers from the sidelines as she is choosing her health over her love for the game.
"As hard as it was, we had to explain to her that more time is necessary," says David Benning, her former soccer coach and mentor. Benning coached her for many years when she played for the Glen Shields Futbol Club.
She suffered her final concussion playing competitively in a women's league game at the University of Toronto. She was a member of the North Toronto Soccer Club at the time.
Now at 19, Di Nallo is a second-year student at the University of Toronto where she studies neuroscience and physiology. She lives in Woodbridge, Ont. with her mother, father and her younger brother and sister.
Since her last head injury, she still experiences back pain, strained eyes and migraines, all of which she encountered throughout her recoveries.
After suffering her eighth concussion in July 2018, she recovered and then returned to soccer. A few months later, the migraines got worse, her vision was blurring and she would sometimes lose consciousness.
Her symptoms had never been this severe before.
This called for another trip to the doctor. In October 2018, Di Nallo was referred for an MRI and she was told there was something in her brain, an unknown growth. The doctor warned that playing soccer was no longer safe.
Holding back tears, Di Nallo remembers how the words hung in the air. "He says, 'Is it worth it to get another concussion.' "
Since then, she has had MRIs every six months to monitor the growth. In her last scan in September 2020, there was no sign of it. The growth had vanished and it was not appearing in the scan.
Inspired by her past, Di Nallo founded The B.R.A.I.N.S. Project in August 2020.
The corners of her mouth curl into a smile at the mention of "B.R.A.I.N.S." as she calls it. She says the non-profit organization is a community where people can learn more about their brains and mental health. The project's team members gather weekly to discuss topics for social media and strategize ways to spread awareness.
Due to her concussions, Di Nallo's dreams have shifted from playing soccer in the National Collegiate Athletic Association to attending medical school. She wants to help people, just as others have done for her.
Grinning with each word, she says, "That is why I really started B.R.A.I.N.S. I want to change people's lives or make small steps on the way to doing so."