By Ayleen Karamat
In the house neighbouring a famous polo ground in Lahore, you will find a busy woman with many ambitions. You'll also be able to find two bright inquisitive little girls laughing at everything, and an array of desserts coming out of the kitchen fulfilling bakery orders for hungry customers. But things weren't always like this for the lady who runs the house.
Nazia Zainab Sheikh studied law at university following in her family's footsteps. Following what your family considers to be a "good career" is a norm for many Pakistanis heading off to university. But Sheikh's story is a little different.
Sheikh's father is a lawyer who owns his own law firm, and her two sisters are well-established lawyers working in England. She mentions how these factors had a lot of influence over her when she was 17.
Maria Faraz, a psychologist who has been practicing counselling psychology for eight years, said financial security, class mobility, family honour, and marriage prospects are factors that influence career choices in Pakistan.
Faraz said, "Parents, in their own perception and due to societal pressures, perceive that they are thinking in the best interest of their child. Unfortunately pressurizing is considered good parenting in our culture."
Sheikh, being influenced by her family, went on to pursue a law degree. Once completing her degree, she practiced law for a few years. She eventually stopped working after her daughters were born, a decision she says that "was not hard to take."
Her job as a lawyer didn't excite her in any way, and the money wasn't worth the time from her two daughters. But Sheikh doesn't regret her law degree.
Having quit law, she first tried monetizing her passion for makeup but Sheikh found the schedule hard on her and her family. She would get booked to do events on certain days, leaving her no time for herself or for her young children. Sheikh shut down her salon, but she has no regrets about trying it.
"The different projects, degrees, and work that I have done, has led me to realize what makes me happy and what it actually means to enjoy your work," she said.
Sheikh decided to turn her other hobbies into business ideas, which led her to open a bakery from her home. Her inspiration stems from her two daughters.
"I got into baking because of my girls," Sheikh explains. "When my girls were younger, I loved baking their birthday cakes, as their cakes were always appreciated."
From baking for her daughters, Sheikh got inspired to create Buttercup in 2014. The name Buttercup was not to pay homage to The Powerpuff Girls, but because the name reminded her of extravagant vintage decorated cupcakes.
Currently, Sheikh said she has no intention of expanding her bakery as she likes the amount of control she has from her home. Instead of expanding, she caters desserts to restaurants located in her city.
During the interview, Sheikh moves around her house to complete the orders she had left for the rest of the day. As she was gathering the orders together, you could see that she was accompanied by her daughters.
In her house, two sitars laid on the ground in the living room. At one point the two girls, aged 10 and 12, ran to get the sitars to practice in another room. Sheikh's house had a homely feel with the fresh smell of baked goods coming from the kitchen and the happy giggles of two kids laughing and playing the sitar.
"If you had to bake for one celebrity who would it be?" asked a reporter.
"I would love to bake for the Queen now," says Sheikh reminiscing about the time she baked for The Duke and Duchess of Cambridge when they visited Pakistan in October of 2019.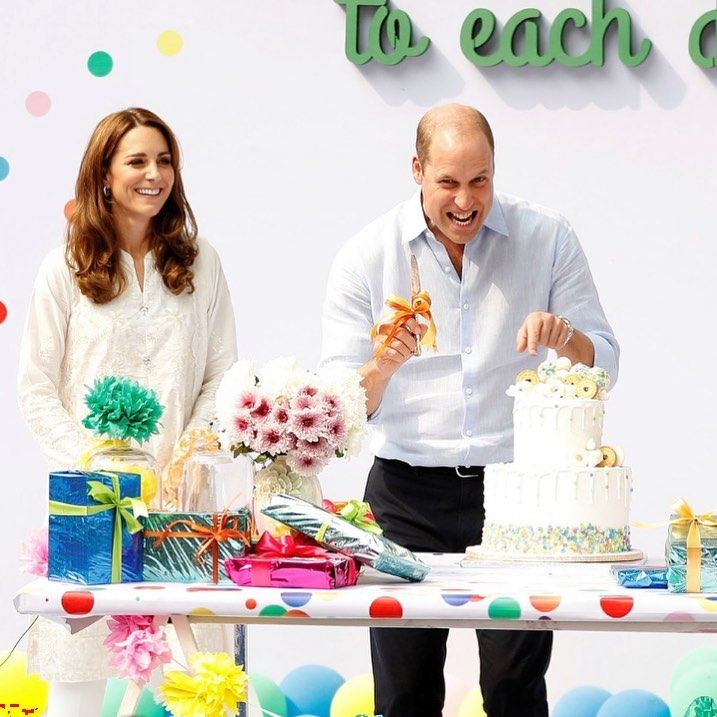 This was the couple's first official British royal visit to the country.
Sheikh tells the story of how she didn't know she was baking a cake for the British Royal Family till the cake left her premises, but describes the whole thing as a dream come true.
Since she didn't know who she was baking for at the time, she sent in her portfolio to a client who was interested in her baking. She describes being relaxed during this time as it was just someone viewing the portfolio of her best work. When they approved of her portfolio and allowed her to bake a special cake, only then did she find out who she was baking the cake for and the excitement really set in.
Apart from taking care of her children, trying out new hobbies, and running a bakery, Sheikh has also embraced meditation.
"It had to do with my own healing journey," explains Sheikh, "I was diagnosed with a couple of autoimmune conditions about six years ago."
During that period, she started working on her body and concluded that the human mind is powerful and has a lot of influence over the body.
She received textbook results, and her results were better than other people who had the same disease. She says her strong mindset and determination set her apart from others, and she started working with different meditation practitioners to improve her physical and mental health.
Theta Healing was developed in 1995 by Vianna Stibal. Stibal was going through her own personal journey like Sheikh as she was healing from a leg tumour.
The Theta Healing technique, according to Fall River Chiropractic, is when a "person's conscious and unconscious mind directly impacts their emotional well-being, which in turn impacts their physical health."
"This had such a profound impact on my own life," Sheikh said. "I wanted to introduce the concept to people around me, and see them benefit from it."
Sheikh started a meditation practice called The 3rd Space and takes classes for people who want to open up spiritually. She has guest-starred on a podcast and on a tv talk show to talk about the wonders of Theta Healing.
Sheikh is appearing in a book series called 'Women Who BossUp: Women of Colour.' The series profiles women from all around the globe, who have broken the mould to overcome challenges and inspire with their work.
Sheikh says she could never have imagined her life being the way it is right now. She says her parents are her biggest fans as they have supported her throughout. Sheikh talks about how her parents make an effort to watch every interview and Instagram live.
"A piece of advice I would give to my younger self and to my children is to never underestimate the experience of being happy. Be happy, and make that your dominant intent. Try not to seek validation and guidance from external sources, but allow yourself to guide and understand that when things feel good that is your validation coming from within."