By Shadai Scoburgh
After being in a dark place as a young adult, Karla Velasquez found herself struggling to believe in her potential. As her self-doubt intensified, the harder it became to mask the anxiety she was feeling inside.
Thinking that post-secondary education alone was not enough for her to "grow up and make money for something, [she] was passionate about," Velasquez found an unexpected path to recovery through
entrepreneurship
.
Back in March 2020 when lockdowns came into effect and businesses started shuttering their doors, Velasquez turned to entrepreneurship as a way to build up her confidence.
She created the online athleticwear brand, Kndy Fitness and said that the pandemic "helped me focus and understand what is really going on with me personally. It encouraged me to figure out what I want in life."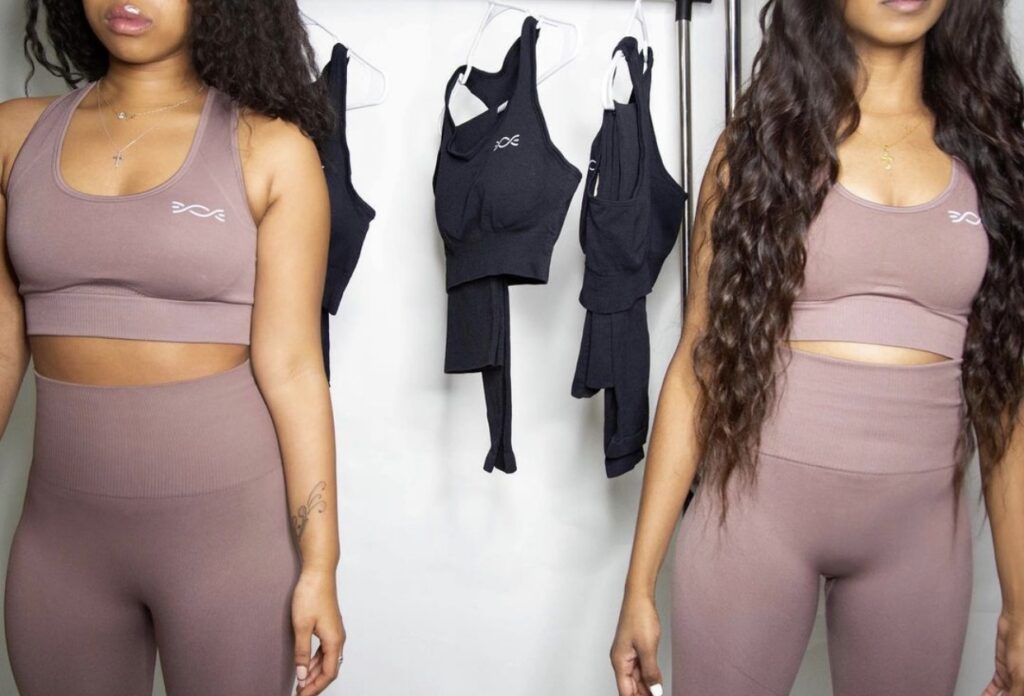 When Velasquez confronted her personal fears and decided to start working towards her goals, she combined her love for fitness with her diligent work ethic. Creating her Kndy Fitness brand and becoming an entrepreneur pushed her to believe in her ideas which ultimately helped her confidence rise, she said.
"Starting anything you're passionate about is scary. When I found my real passion [Kndy Fitness], it gave me a clear view of what I want and allowed me to trust myself," Velasquez said.
Similarly, young entrepreneur and owner of Loo's Lashes, Olivea Folkes, found that starting a beauty business during a pandemic brought her positivity in her personal life and kept her going during a time when things were uncertain.
"Now that I have a business, I am more confident with trust [in] my ideas and the products I sell. Overall, it just kept me going with all of the support received from customers," she said.
Rosemita Viard, who recently launched her brand RJ Boutique earlier this year, said that entrepreneurship is "all about taking risks."
You're scared at first, which is okay, and at times you'll fail, but it is perfectly normal because that is how you learn," Viard said.
A May 2019 study on self-employment by Statistics Canada found that one-third of self-employed workers stated independence, freedom, and being one's own boss as the main reasons for launching their own businesses.
But the journey isn't without challenges. Velasquez said that everything she has learned about running a successful business has come from being hardworking, motivated and focused.
At the beginning of her journey, Velasquez found herself to be her own toughest critic, being "
scared
of failure," and not wanting to face "opinions, rejection, and wondering, 'What if people do not love what I come up with?'"
Despite her self-doubts, Velasquez has managed to sell out every collection since her brand first launched in September 2020.
Kndy Fitness's most recent spring collection the Kiwi and Kloud Skrunch set sold out in 3 days. The collection is made from 78 per cent nylon and 22 per cent spandex.
Velasquez explained that her brand fabric is manufactured to be breathable, durable, quick-dry, stretchy and flexible to complement one's curves during everyday workouts.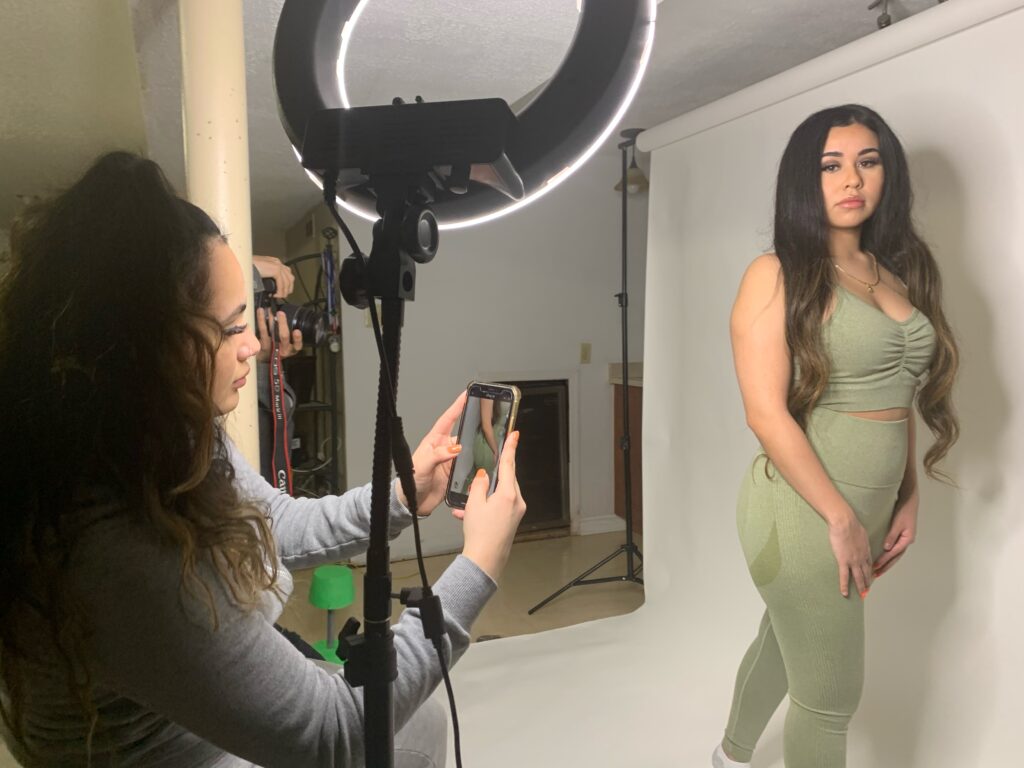 She describes the process of launching a new collection as "intense." Velasquez always thinks that "nothing big will happen," for new launches. However, countless direct messages, likes, and comments pop up on her phone from Kndy Fitness's Instagram account. Furthermore, her new website gets flooded with orders from all across the Greater Toronto Area.
Overwhelmed with joy at the sound of the blaring notifications after a launch, Velasquez gets to work, grabbing her notebook and pen ready to immediately write down over 30 orders. She opens her messages asking her first customer, "What size do you need, small, medium, or large?" She tells her customers to "always size up" if they are unsure of their size.
Then, she confirms the customer's choice of colour, delivery, and payment method, quickly writing all of this information down into her notebook.
While sending a confirmation of the orders to her customers, she confidently writes, "Thank you for choosing Kndy Fitness," with a pink heart emoji, via Instagram before going down her list to the next order.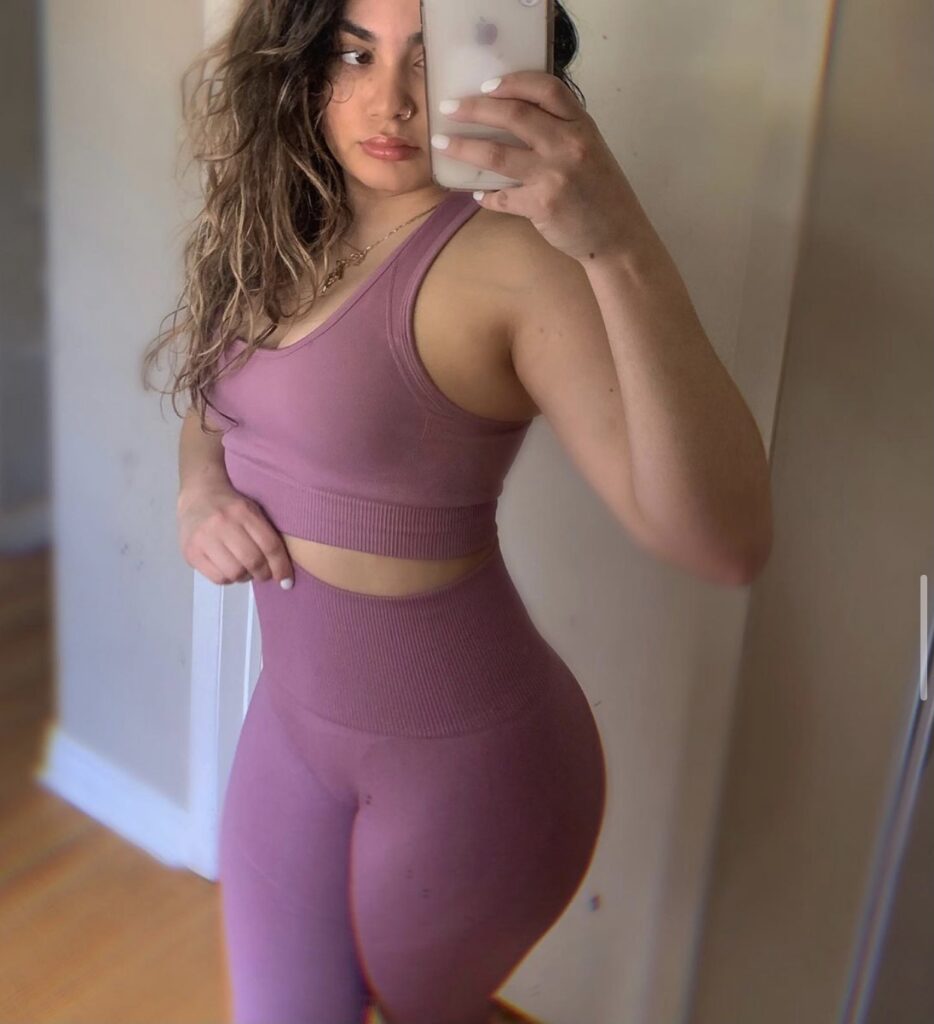 Now, Kndy Fitness is one year old, and Velasquez recognizes how much self-confidence she has gained throughout her journey as a young female entrepreneur. She says her mental health has improved and that she is more comfortable in her skin now that she is working towards her business goals with each new launch.
"Through this journey, I've been just believing in myself and I never thought I'd be doing so well this early in as an entrepreneur," Velasquez explains. She adds that "sometimes I am my biggest obstacle, nothing at all comes easy, but I am learning how to reach more people through entrepreneurship…. which starts with you believing in yourself."