By Kuwarjeet Singh Arora
Rick Matharu's name is on almost all of his ventures: His black food truck with the thickly painted black-and-white logo featuring a large spoon, a restaurant in Mississauga, and even a blog where he has posted pictures of his dishes including a butter chicken lasagna recipe that is sold in Loblaws supermarkets across the country.
But behind Rick's Good Eats is a story of fusion and collaboration. And at its heart is his mother Manjeet Matharu, who taught him to cook.
Whenever Rick, now 39, steps into the kitchen of his restaurant, he is greeted by containers of spice blends inspired by Manjeet. One frequently used spice mix blends two cultures: Canadian and Punjabi.
"A lot of the foundations of the restaurant's menu are heavily influenced just by her upbringing and her creativity… growing up as a kid," he said, sitting in his apartment far from the bustle of the restaurant.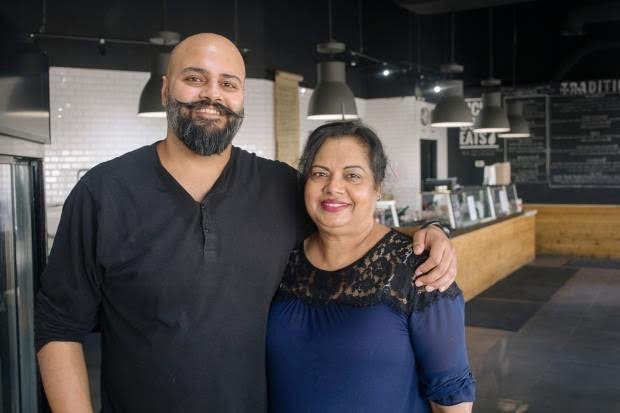 "It's my job to make sure that it's always consistent and the brand is always there and is the face of the brand," he added. "But I think it's a collaborative restaurant while we are putting our food out there."
These days, the familiar black Rick's Good Eats food truck is collecting dust. It was forced off the road and into storage during the coronavirus pandemic. The restaurant in Mississauga bearing the same name was closed, too, for six weeks. But it's back. The menu has been cut in half and it's a skeleton staff of eight who take orders online and prepare food for customers who come to pick it up.
It was packed on a recent day in April, with customers leaning against the walls, keeping six feet apart, waiting for their orders. At the counter, staff prepared and served food, armed with masks and gloves. On the right side of the counter, a blackboard that takes up the whole wall details what's on the menu daily in thick writing, and two different clocks display the time here and there: Canada and Punjab, India. Rick did two years of pop-up shops in the UK — this one, perhaps surprisingly, called Secret Samosa Club.
He sits up straight, smiles, and lays out a vision of using food to bridge geography and culture.
"The food we create is a part of a movement which is a reflection of the South Asian Diaspora and it's important to people, not just to us as the business owners," he said. "We created Rick's Good Eats to be more than food but a cultural hub."
Rick didn't always aspire to be a chef. When he was a kid, he wanted to be an architect or perhaps a police officer. His career began far from the kitchen, as a photographer and a videographer. For over 12 years, he did shoots for celebrities and had his own marketing company and a security company At some point, though, food came to mean more to him than nourishment and casual enjoyment. He began taking photos of the food he was eating, food travel, mostly dishes prepared by himself and sometimes his mothers . Then he posted it online on his blog.
"I was intrigued by different cultures, and through cultures, a lot of it has to do with food, and I found myself really excited when I was talking about food to other people," he said.
The exposure of the blog led to recognition, enough that he was able to open a pop-up shop and then later a catering company. Seven years after breaking into the food business, a fusion twist he created with his mother's spices led to what is perhaps his best-known dish: butter chicken lasagne.
In 2011, the recipe won a Food Network Canada reality TV competition called Recipe to Riches, and it was that victory that led to his packaged Butter Chicken Lasagne being sold in Loblaws grocery stores .
Rick continued to post on his blog Rick's Good Eats and, in 2014, he was offered a job producing a food segment for OMNI, a national TV specialty channel. His segment was called BLVD Bites and was part of Bollywood Boulevard, a show featuring Indian cinema and South Asian pop culture.
Nowadays, Rick and his mom continue to create recipes and products with each other's feedback and knowledge. Rick's wife, Harjot, is the creative director of the restaurant and handles marketing. His dad helps with maintenance. His aunts make the samosa every day. At the core, despite its size and sprawl that includes the food truck and the catering, it is a local family business.
Sitting in his apartment where he records food videos for his social media feeds, Rick reflects on the experience of the pandemic and adapting to the new regulations on the fly . He crosses his arms and takes a drink from his water bottle and muses about how his career has always taken him in unexpected directions, far from his formal education, and with the continuing support of his whole family.
"You can create a path for yourself out there in the real world and that's what I did," he said. "That's what I'm doing now and I don't think I'm going to stop anytime soon."