The downtown core is not affordable, leaving X University students in a precarious position
By Holly Newell
Kennedy Thornton, a graphic communications student from X University, walked into a bright and modern building, greeted by a security guard and her realtor. This was the eighth listing she and her roommate had seen, but she was excited and hopeful. It was a beautiful condo in a well-kept neighbourhood, listed at $2,400 per month and only a 15-minute walk from the school. She entered an elevator covered in mirrored walls. It required a key card to access each floor – a good sign. The building was clean and provided a variety of amenities. Everything seemed perfect. As she walked through the hallway, she was very excited to see this listing, she thought this was finally the one.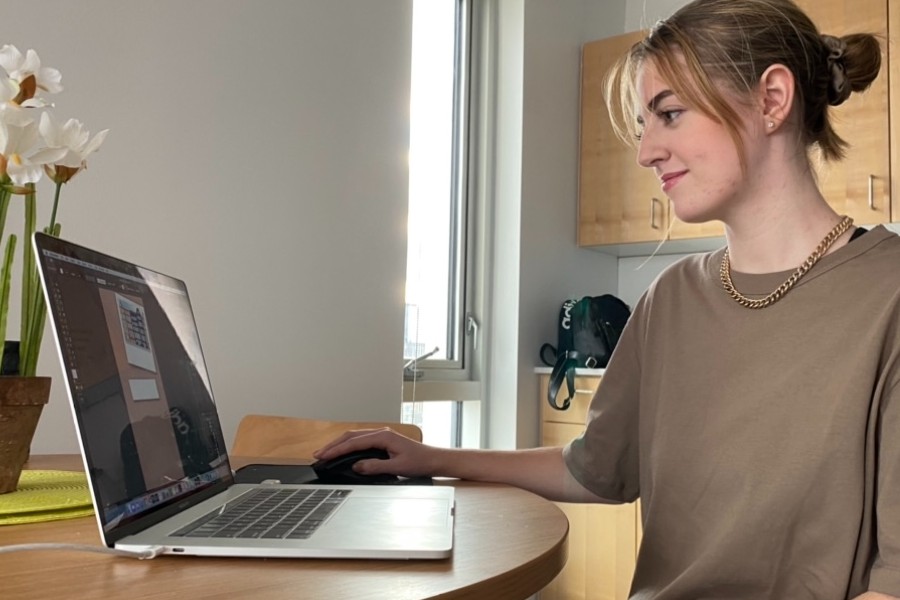 Kennedy Thornton has been using a variety of website to help her search for the "perfect rental", April 15, 2022 (Newell/T•).
As the door opened and she entered the room, she was hit with a smell. It was a distinctive scent, almost like a hospital or an old age home. The rental was dirty: there was mud on the floor, dust on the kitchen appliances, the fridge had leftover food and the windows were covered in smear marks. As she entered the living and dining area, she noticed holes in the walls and multiple colours of paint. The second bedroom was tiny; she could maybe fit a single bed and desk in the room. Thornton was expecting to walk into a condo that she could call home but it felt dark and uninviting. Still, she was desperate to find a place to live for the 2021-2022 school year. They put in an offer.
"I couldn't believe we were really about to pay $2,500 per month for a rental that was dirty with holes in the wall." She offered $100 above asking and six months rent upfront. She still did not receive the apartment.
https://www.google.com/maps/d/u/0/edit?mid=1t8YFhxBiTvQf2Wbed6DKChaheaz-6ZQh&usp=sharing
With the recent rental market inflation, students at X University have been struggling to find reasonable rentals in downtown Toronto. The average two-bedroom condo increased 12.6 per cent from 2020, with an average $2,763 per month, according to page one of the Rental Market Report for the fourth quarter of 2021. In today's market, there is no doubt that students are facing a lot of challenges affording rentals, let alone finding them. Many students have been pushed to move outside the downtown core or live with their parents. It may seem like students are expecting too much, but two students in a 600 square foot condo is not much to ask for. In previous years this type of market was unheard of, but how is this really impacting students?
Kevin Donegan, Thornton's realtor, has been helping students find rentals in the busy city throughout the last year. He worked with Thornton, who provided a strong guarantor and still did not secure the rental. In his experience, there was high interest in rentals in the 2021-22 school year. In today's market, for students to be considered for a rental they must have a guarantor with a strong salary, credit history and references. The market is so oversaturated that to even be considered for a listing, he said, you need to be willing to put an offer above budget and more. Donegan recommends students to look further outside the downtown core to find listings that are student friendly, close to transportation and within a reasonable budget.
Nico Beck, a journalism student from X University spent a lot of time trying to find a rental in Toronto. They decided to settle in Parkdale because it was one of the only places they could find a four-bedroom apartment. They looked closer to X University but only found one rental with four bedrooms. When they visited the listing, it was very small and looked like it hadn't been updated in years. There was not a lot of space for entertainment and, being in a basement, it was cold and dusty.
The apartment that they are currently renting Parkdale is much nicer than the option in the downtown core. Beck is paying $700 per month, which is a good price considering the average rent in Toronto. Still, it can be difficult for them to make rent even with a part-time job.
Mark Taylor, co-founder of Places4students noticed there were less available rentals on the market in 2021. As students were trying to get back into housing around the school, there were less available rentals which led to bidding wars and rental rates going through the roof.
That was definitely the case for Mateo Cejoco, an X University film student who began looking for a permanent residence in June 2021 after he moved out of the newly-built Daphne Cockwell Complex, which provides accommodations for X University students. He knew he wanted a two-bedroom that was close to campus, modern and furnished. As he began his search, prices were too high so he decided to settle for a one bedroom plus den. After a month and a half, he found a rental that fit his lifestyle and was within his budget. Despite having to give up a few of the things he really wanted, he was willing to settle to be close to school.
Cejoco currently pays $2,250 per month plus utilities, which is split between him and his roommate. The condo is just over 625 square feet, which is not a lot of space for two people. In the front entrance there is a four-piece washroom and a hall closet with storage and a washer and dryer. Entering the rental, there is a three-piece washroom and small closet with a stacked washer and dryer. As you continue, there is an alley kitchen which is open to the living room with a table and six chairs.
Cejoco sometimes finds himself crammed when they have guests over because there is no space to entertain. The main bedroom has a window, double bed, desk, and closet. Cejoco's room, which is considered a den, has a closet, a single bed, and a clothing rack. He cannot move around his room even with the minimal furniture.
Despite the small size, he was very happy to find a listing that was below the market average, but he now struggles with safety. His locker that was used to store his suitcases was broken into and everything inside the locker was stolen. Cejoco initially thought his building to be safe and well monitored. "I can't believe how safe the building seemed to be and then within weeks [my perception] changed."
Thornton understands the difficulties with living in Toronto, similar to Cejoco. A variety of the rentals she looked at seemed to raise safety concerns. She viewed a listing that was a two minute walk from X University, but was concerned by the number of people experiencing homelessness on the street outside. As she entered the condominium there was no security and it was easy access to all floors in the building. These challenges are often common in rentals near X University because of the developing community. "I just hope there's some change around X University, safety is a big issue".