By Apurva Bhat
As the sun sets and more people crowd the streets of the Entertainment District in Toronto, I decide to head out for a walk in my neighborhood on John Street. My eyes are instantly drawn to the fluorescent pink sign, "Miss Jones." The store is a cannabis outpost that calls itself a "cannabis confidant." Not too far from Miss Jones, I notice Century Cannabis on 288 Adelaide St West, Rosebud Cannabis on 365 King Street West and Hunny Pot Cannabis on 202 Queen St West. All these cannabis retailers are approximately five to ten minutes from each other.
Since cannabis' legalization in October 2018, legal sales have skyrocketed. Statista states legal sales in Canada grew from $41.71 million in October 2018 to $364.15 million in October 2021. Pot is sold, consumed, and enjoyed in various forms; joints, oils, edibles, bath bombs, vapes etc. The Ontario Cannabis Store (OCS) is Ontario's sole online retailer and wholesaler of legal recreational cannabis in Ontario. In a tweet released on Aug. 20, 2021, the OCS announced that Ontario has 1000 authorized cannabis retailers.
According to an OCS report, an open allocation licensing system was designed to increase the number of cannabis stores in Toronto when the OCS collaborated with the Alcohol and Gaming Commission (AGCO). "By the end of the fourth quarter of 2020–21, the AGCO was approving 30 licenses per week, increasing Ontario's retail network from 53 to 572 stores," the report stated. What's interesting to me is how so many pot shops exist in Toronto and how easily accessible weed has become. I started to wonder how all this weed is affecting Ontario? Are people consuming more weed since its legalization? How much pot is too much pot?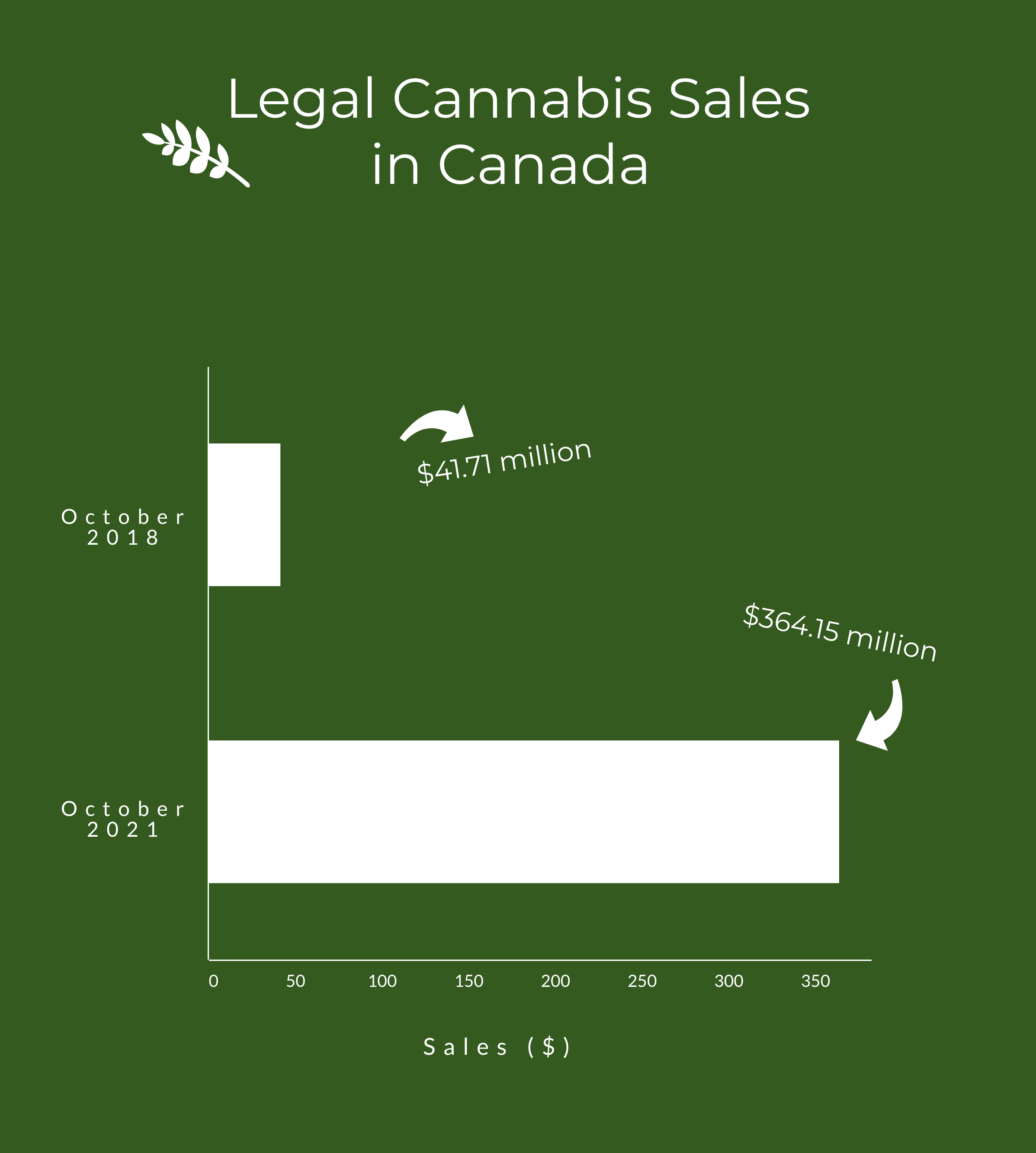 According to the same report, the average distance to cannabis stores decreased from 22 kilometers in 2019–20 to 6.5 kilometers in 2020–21. Anecdotal evidence seems to suggest that the ease with which weed can be purchased makes it more desirable for consumption. "I have two or three dispensaries near me and you can order weed too. I don't think I would go out of my way and buy weed if it was not as easily available," said 19-year-old Joshua D'souza who moved to Toronto in the summer of 2021 for his education at Humber College.
People engage with cannabis for various reasons such as recreation or health purposes. D'souza stated that weed elevates his experiences, particularly with food, and shared his experience eating chocolate cake while high. "I remember seeing every part of that cake in 4K vision," he said. In the fear of ruining a cake that looked so beautiful, D'souza did not take a bite for at least 30 minutes. Instead, he spent all that time admiring the gooey and soft texture.
Despite cannabis' growing popularity, its overuse has certain disadvantages. The term overuse, however, has different meanings for different people. For D'souza, three or four times a month is enough. "It is too much if you are high more than you are sober," he said.
For 18-year-old Hussain Attar who recently moved to Toronto, every day is just right. "I finish my tasks for the day and reward myself with weed at the end of the day," he said.
Clinical Psychologist and Assistant Professor at X University's Department of Psychology, Dr. Sarah Dermody specializes in addiction. She said what constitutes excessive consumption is determined by the individual's history and genetics.
"If an individual has a genetic vulnerability to certain mental health conditions, they may experience greater harm from a much lower dose or frequency," said Dr. Dermody.
The term "cross-fade" or "greening" is commonly used to describe the use of multiple substances at the same time (often the use of marijuana and alcohol simultaneously). "When people combine substances, they are at risk of experiencing harm from both," said Dr. Dermody.
When Akanksha Biju moved to Pickering from Dubai in the summer of 2021 for her undergraduate studies at Trent University, she attended a house party on her first night and smoked weed for the first time. As everyone was drinking, dancing, and listening to music, a friend of Biju's suggested smoking weed. The group went downstairs, headed to the backyard and stood in a circle. As Biju's friends passed the joint around, she felt the alcohol's effect amplifying. When the joint was passed to her, she took three long pulls that were at least seven seconds each. "On my third pull, I passed out," she said.
"I kept smoking weed with the hope of experiencing those good trips that the people around me were having, but all I experienced were bad trips," said Biju.
Biju would question everything around her and not feel like herself for days after smoking weed. The final time she smoked weed was when she passed out and kept reliving her death. "At one point, I felt like I was being stabbed to death and at another, I felt like I was being burnt alive. I couldn't move," she said.
Health Canada's website states frequent and heavy cannabis use can cause physical dependency. Dr. Dermody said individuals can also develop a Cannabis Use Disorder. "One might experience difficulty controlling cannabis consumption or struggle with engaging in work and relationships," added Dr. Dermody.
Frequent cannabis use over a long period can also cause difficulty concentrating, impact mental health and lower IQ (amongst other side effects), Health Canada adds.
While trying to comprehend whether or not your cannabis use is healthy, Dr. Dermody suggests evaluating your reasons for consuming cannabis. "I would be wary about any psychological need for using cannabis," said Dr. Dermody.
Highlife Cannabis, a Sudbury-based cannabis dispensary, opened its doors in 2019 and now has 11 locations across Ontario. Highlife believes in elevating the human experience through the use of cannabis. "We believe that with the proper knowledge and amount of cannabis, one can achieve whatever goals they set in life beautifully," said Vishnu Khullar, a member of Highlife's creative team.
Highlife recommends speaking with budtenders to learn about better consumption methods, being open to conversations about consumption, reading and conducting research, and purchasing from the right stores.
Dr. Dermody said enough research has not been conducted to fully understand cannabis' impact on individuals due to its recent legalization. "It's important to remember that just because it's legal and readily available, does not mean it comes with no harm," she said.