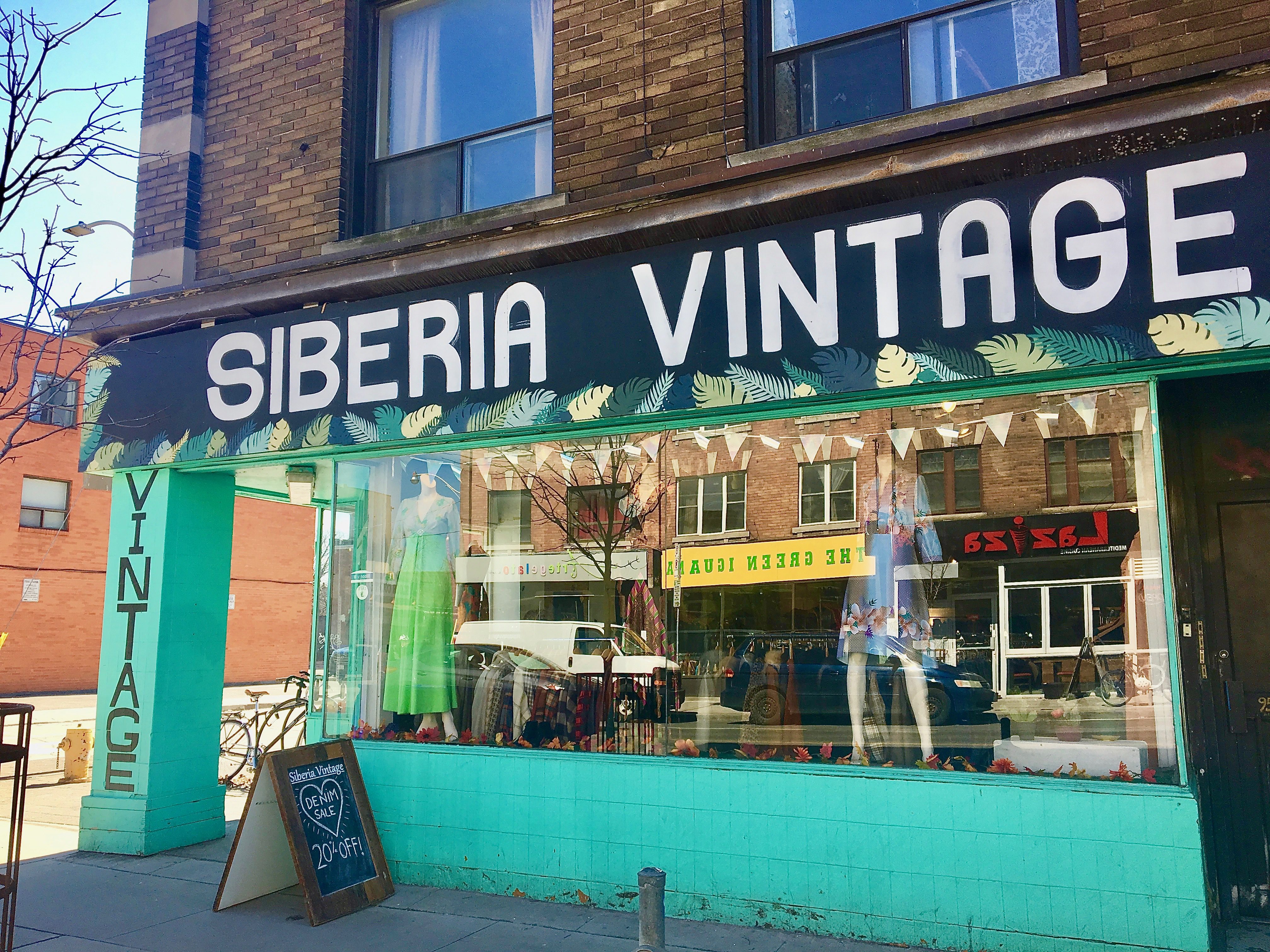 By Ekaterina Giannikos
From the 1960s to 1990s, this unique shop offers an assortment of vintage garments.
A bohemian dress from the 1960's designed with a brown, purple and burnt orange floral pattern that flows down to the knees reflects the free spirit of the flower children. The 1990's navy blue one-piece dress decorated with an adornment of pinkish-red roses with a sequence of buttons going down the middle could have been worn by Monica Geller on the set of Friends. Retro shoes and boots, purses and scarves are placed strategically throughout the store to enhance the feeling of the past. As your eyes keep wandering, they take in the organization and design of the display of the racks with the clothing. One notices how the clothes are arranged and coordinated and it's as if you were looking at a colour wheel with a hue of blues, pinks, reds, greens and yellows. One can easily stand out from everyone else by investing in one-of-a-kind fashions.

Siberia Vintage, located on the corner of Bloor Street West and Delaware Avenue is owned by Stacey Collrin who decided to name the store after her favourite bar in New Orleans. All the pieces in Siberia Vintage are curated by Collrin herself. Collrin travels to the United States, mostly to Los Angeles and Miami, and to different parts of Canada where she searches for eclectic pieces and accessories that have funky patterns.

According to Alex Giordano, a cheerful store clerk at Siberia Vintage, Collrin chose to place Siberia Vintage in the Dufferin Grove area because "it has a lot things going on in the neighbourhood." Giordano says, "There are cafes, and bars but there's not that many clothing stores unless you go to Dufferin Mall." She says she believes Collrin located her business in the area because there's a market for it here, "I think we are the only vintage store for miles away."

The outside view of Siberia Vintage when walking pass it on Bloor Street West. Taken on Mar. 29, 2019. Ekaterina Giannikos/RSJ

A display of retro shoes with an outfit laying out folded nicely is placed. Taken on Mar. 29, 2019. Ekaterina Giannikos/RSJ

A rack of 1990's dresses with greens and blues mixed together. Taken on Mar. 29, 2019. Ekaterina Giannikos/RSJ

The dresses are placed strategically from pinks to reds representing the lightest to darkest colour coordination. Taken on Mar. 29, 2019. Ekaterina Giannikos/RSJ

In a glass display Siberia Vintage offers accessories of sunglasses, scarfs and some bracelets. Taken on Mar. 29, 2019. Ekaterina Giannikos/RSJ

Sterling silver rings and pendants are for sale. Taken on Mar. 29, 2019. Ekaterina Giannikos/RSJ

Denim jeans and denim jackets on display. Taken on Mar. 29, 2019. Ekaterina Giannikos/RSJ

A rack of plaid patterned skirts ranging from pinks to reds to purples. Taken on Mar. 29, 2019. Ekaterina Giannikos/RSJ
Another store clerk, Shauna Wright, who is wearing a forest green vintage blouse and a mustard yellow skirt greets people in a friendly way. Her personal style captures the aesthetic look of the store. Wright is passionate and well informed about vintage clothing. She attributes her eye for vintage clothing to her mom. She mentions that growing up, her mom had quite the collection.


Wright says, "I was into it from a young age," and now she herself buys from Siberia Vintage all the time. She shares an old memory, "My sister and I used to play dress-up, we used to go into my mom's closet and try on everything she had and we would put on a fashion show." Wright mentions that they would wear tall boots, floppy hats, crinkly belts, and leather slouchy purses.


Wright admires vintage clothing because she finds that the clothes were made "a lot better back then" and says that in the retail market the clothing now "is just fast and cheap fashion." She finds that the clothing today does not last as long as vintage clothing. She says, "there's a big difference I would say in terms of quality." She proudly states, "The vintage stuff I own, I have had them for a couple of years and they still look brand new."

As Wright is showing dresses, she relates how some of them flow out at the bottom and have a neck collar similar to the one in the famous picture Marilyn Monroe is wearing when she is standing over a vent. She calls Marilyn Monroe's attire as an "iconic symbol," a Marilyn dress would be perfect for a cocktail occasion.
On another visit to the store, Wright mentions one of the vintage pieces that she admires at this moment is a knee-length purple dress with embedded beadwork. Today, Wright is wearing a pair of tanned bell bottoms, making her look like the embodiment of a vintage connoisseur.
When customers enter the store Wright doesn't follow or intrude upon them during their shopping experience but rather she invites them in with a warm welcome and lets them explore and take their time browsing the clothing. When a customer has a question, she has an immediate reply. She says that the work environment is "refreshing," and says that she gets to interact with customers and co-workers who are "really cool, chill and friendly people."

On a wintery cold day in February, a few customers enter to browse, and a young slim woman carrying a backpack picks up and admires a pair of light blue shorts in the denim section. The denim is a pair of distressed Levis shorts but she seems to have second thoughts, places them back on the rack and continues browsing. As she looks around, her head is moving to the rhythm of the soft jazz music. When she comes across an all black t-shirt with the wording "The Rolling Stones" printed across the front in white letter blocks and the famous red mouth with the red tongue sticking out, her eyes light up, and with a big grin on her face, she pumps her fist in the air. She checks the size to make sure it's the right fit, and immediately makes her purchase.


Siberia Vintage always has a regular stream of clientele. Ellen Jurgenson, another friendly store clerk says, "customers shop when the store opens at 12:00 p.m., after work and during the weekends." Jurgenson mentions that when the seasons change they rearrange their merchandise and decide what items will be put on sale. Jurgenson says, "so now that it is spring time we will be getting rid of sweaters and coats." One can choose a cap sleeved marigold ruffled dress or a light yellow paisley skirt complemented by a bright orange scarf or a sparkly rhinestone bracelet to announce the arrival of warmer weather. It is indeed warmer outside, the sun invites those dresses to come out and adorn the happy customers of Siberia as they stroll through the Dufferin Grove neighbourhood.


There's more to discover about Dufferin Grove

This is a video of a tattoo shop called Ink & Water Tattoo. In the video you will learn about a guy named Jordan who gets a tattoo done by Pam who is one of the tattoo artists at Ink & Water.