By Max Loslo
As Jennifer drives on a country road, images of snowy farmlands pass by her driver side window, and sounds of the car radio drown out the rhythmic bumps of the road.
She is on her way to a small-Ontario town so that she can perform for the weekend. Jennifer is pumped for his gig because her friend lives upstairs above the club so she can have a couple drinks without worrying how to get home after.
However her excitement is at odds with the feeling that her life may be forever changed. Its March 2020 and COVID-19 has been in the news cycle for a while. The uncertainty that she may be out of a job looms over her and her entire industry—an industry based around interaction and contact with clients.
It's when the car's radio tells her that the NBA will be shutting down due to the pandemic, that she knows it's only a matter of time until the strip clubs close too, "I didn't know if I should just turn the car around," she thought.
When she gets to the club there is a surreal feeling as TVs blare a constant update on everything COVID. At one point in the night Jennifer asks one of her clients, a farmer, "Are you concerned?" The farmer seems to have different priorities when he replies, "Oh honey I'm not concerned, let me know when it's the bovine flu."
While the farmers' livelihood may have been safe from COVID-19, Jennifer and many exotic-dancers like her lost their jobs a week later in the following lockdown.
On March 17th Doug Ford announced a state of emergency in Ontario, and introduced the first wave of closures to bars, restaurants, and strip clubs leaving dancers in the cold.
The governments restrictions have given members of the sex-work industry very little options to make a living during lockdown. Since sex-work is a cash-only business, applying for financial aid like the Canadian Emergency Response Benefit (CERB) can be a difficult process.
Jennifer has worked in the industry for 15 years and has been a member of the sex-workers advocacy group Work Safe Twerk Safe (WSTS) since its beginnings in 2018.
The group holds events like movie nights, workshops, and puts dancers in contact with professional advisors like accountants.
WSTS has launched a GoFundMe page that is raising money to pursue a judicial review of the provincial governments restrictions on strip clubs. "We felt marginalized and stigmatized," says Jennifer as she explains how the Ontario government chose to shut down all clubs across the province on September 26 following the outbreak at the Brass Rail.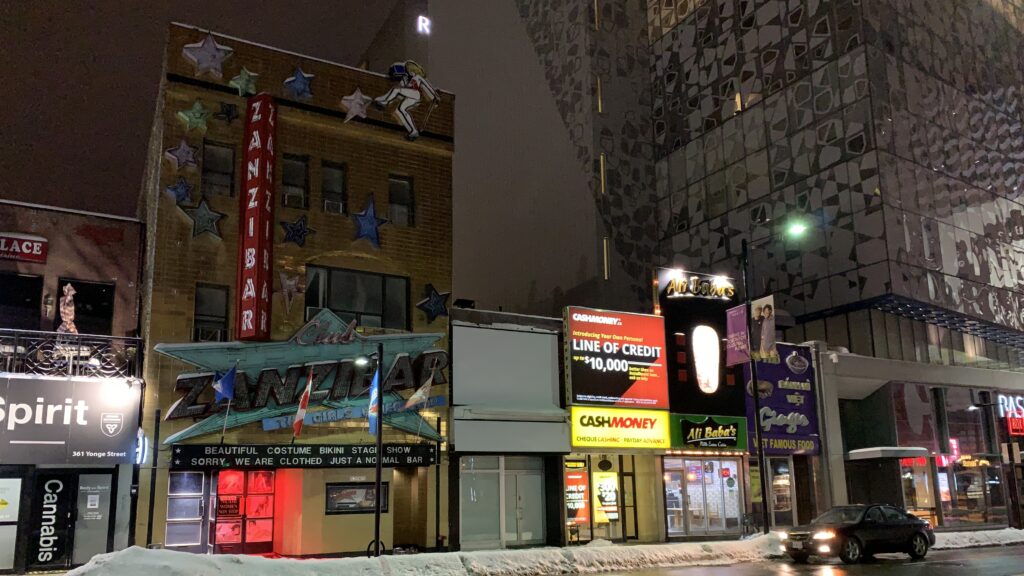 Many dancers worked second jobs in restaurants, the service industry, or gyms but with the mass layoffs during the first wave, they only had dancing jobs over the summer. "Many people only had their dancing money to rely on," says Jennifer. With the strip club closures in September, exotic-dancers were left with zero source of income. In the face of these restrictions, the sex-work industry has begun to find new and innovative ways to keep performing.
Like many other places of work, the sex-work industry now exists primarily online. The industry has had a presence online before any lockdowns but now more than ever performers are moving to platforms like OnlyFans to continue their work.
OnlyFans is an online platform that allows users to subscribe and pay monthly fees to performers in order to view their material. Since its creation in 2016 OnlyFans has become a hub for exotic-dancers and other x-rated artists. The platform exploded in popularity following the pandemic induced lockdowns with there now being one million creators on the site.5
Rhapsody Blue is a Toronto based artist and performer who started doing burlesque 11 years ago, and has been stripping for six years.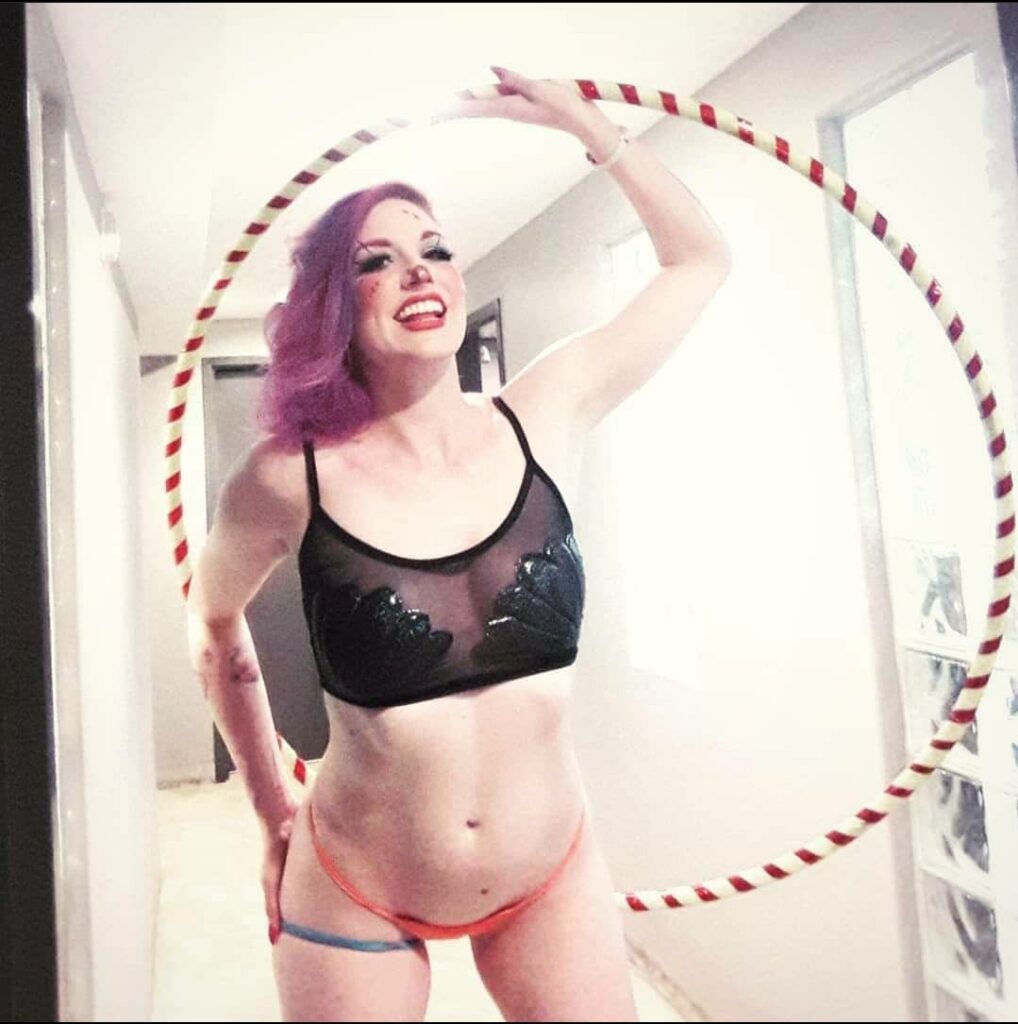 Rhapsody began her OnlyFans a year before the pandemic and has noticed a shift in the platform since the beginning of lockdown in March 2020.
"Before [the pandemic], I knew personally about three or four people who had OnlyFans, now it's 30 or 40 of my personal acquaintances who have OnlyFans," explains Rhapsody.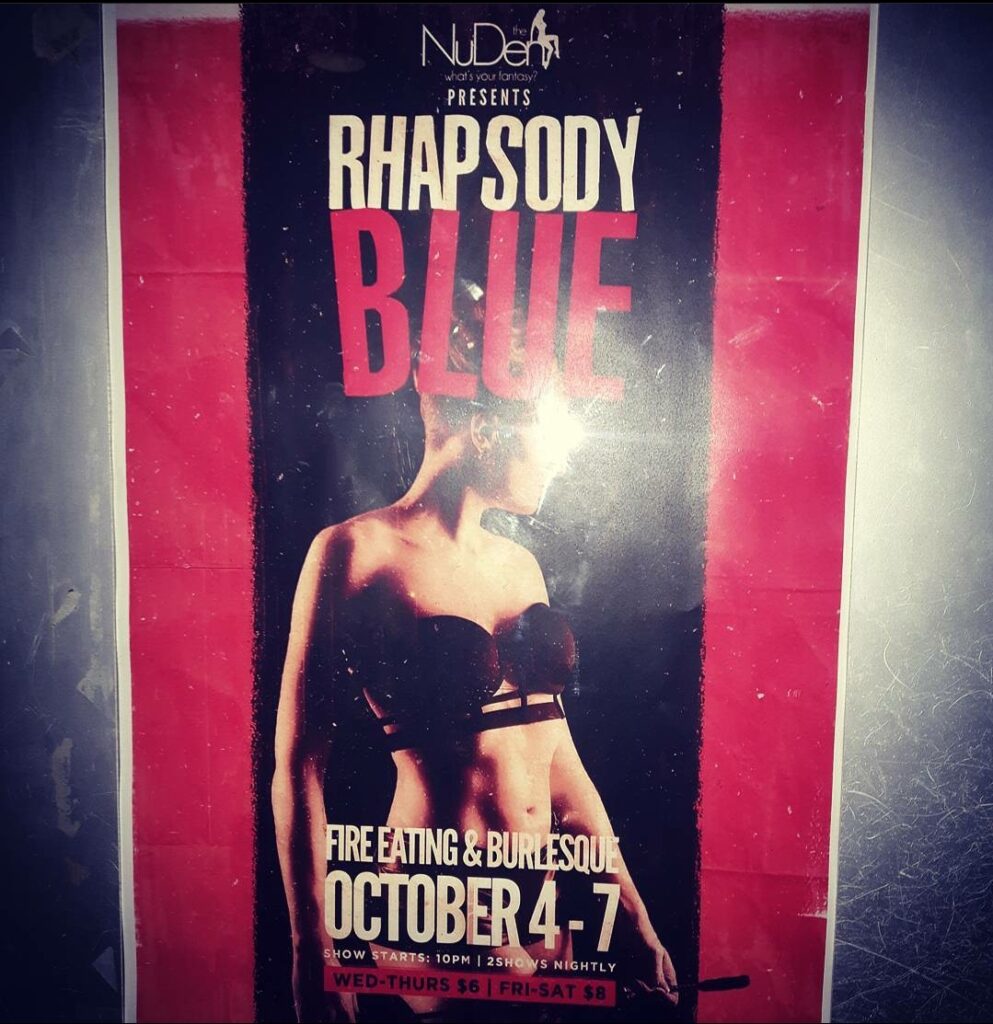 "There is a greater pressure to put out a higher quality product," says Rhapsody, who herself produces content like live stripping shows and custom photos for her subscribers, that pay anywhere from C$6 to C$54.6
Interaction online is a challenge for creators working on OnlyFans, "Your interactions are likes, comments, and messages. It takes longer to build a relationship through those mediated things than it does in-person," says Rhapsody who knows about a third of her subscriber base. "I know your name, 'Greg79' which pretty much assures your name is not actually Greg," Rhapsody says chuckling.
Rhapsody says that audience interaction is a large part of any show "comedians who want that laugh, musicians who want that applause, sex-workers who want that 'oooh my' face that we love so much."
Even with these issues creators like Rhapsody are still engaging with their community. "Every once and a while I'll bait people into interacting by saying 'if you comment on this post I will send you a free bonus photo'."
Despite the problems of working online, Rhapsody is still grateful to have a place to perform and work as an artist, "When performing is such a big part of who you are and it's what makes you happy, losing that can be devastating, and I have seen that in so many entertainers."
One group has created a new way to perform. RareeShowTO have created a brand new type of performance that places the artists on a 3.5-foot by 7- foot stage surrounded by a clear plastic sheet to keep the artist isolated. The stage can be placed anywhere so that artists can perform all over the city. The creator, Kitty Neptune, is an experienced artist and a co-founding member of the burlesque group, The Scandelles.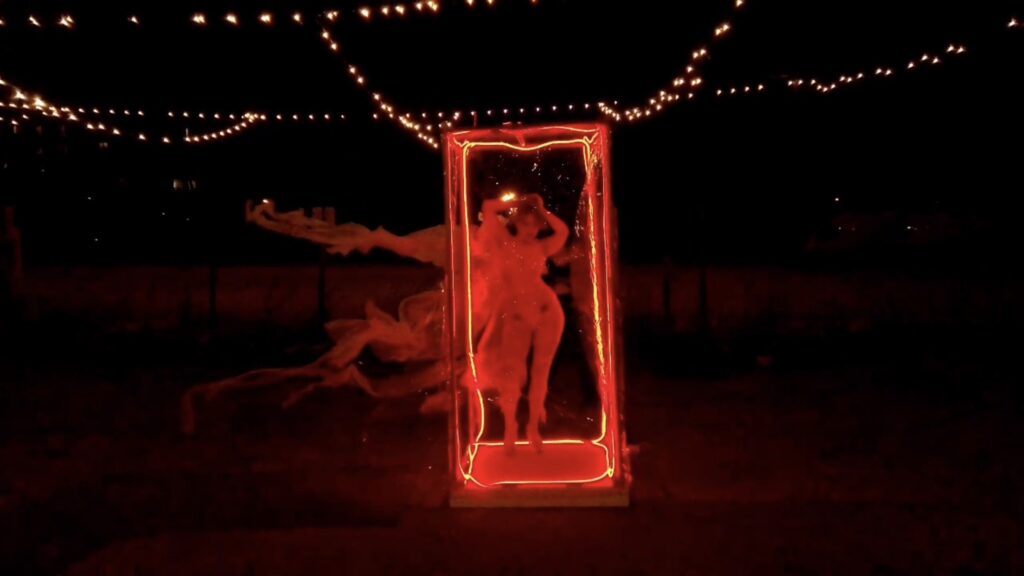 As lockdown dragged on and her friends who worked in strip clubs continued to lose work, Neptune saw the need to innovate how performance is done. "Pivot and transition has always been like a Wednesday for most people I know that work in the arts," says Neptune who produces the shows out of her own pocket. With very little support from the government, Neptune knows that artists can only rely on each other. "We really only have community to support us through any of this."
On a 'normal night', performers at one of Toronto's strip clubs could be seen getting ready in the locker room of the club. The room would be filled with the scent of body spray, singed hair from straighteners, and vape pens. The locker room is telling of how old the club is with fresh coats of paint over the lockers while the counter tops sport 70's-style patterns. Dancers in high-heels would navigate the uneven floor that has been caked in decades worth of hair spray. While the performers would get ready, banter and laughter could be heard as helpful tips, jokes, and gossip were passed around the room.
This kind of feeling cannot be replicated online, "shows are a live experience, and so is community," says Rhapsody.