By Mariam Nouser
Aamir Sukhera greets people entering The Neighbourhood Organization's food collaborative in Thorncliffe Park. Volunteers have arrived to pick up prepared boxes, overflowing with food and household staples, to deliver to the community. After helping out for a moment, Sukhera returns to a Zoom call in a frantic state after "saving the world" — his community. The 41-year-old has hope in his eyes that is defined while wearing a mask.
Families arrive with their carts, picking up essential items "with dignity," Sukhera says. They are assigned a worker waiting in the wings to help them load their carts. This is more than just a conventional food bank— it is also a place of employment for at-risk youth to restart their lives and gain valuable skills.
A tall guy wearing black from head to toe walks into the food collaborative just before 3 on a sunny Tuesday afternoon, rushing to the table where PPEs are given out. Sukhera points to him and says, "He's the man, one of our best. Ramadan is his name," as the young man towering over everyone else starts preparing for his shift.
Ramadan Said was the new kid at Marc Garneau Collegiate Institute in 2017, coming to Canada from Dubai with his family. Like many new students, he was looking for people to befriend. Through that he discovered a violent culture at the high school with students often joining gangs. In Grade 10 at the time, he got to know classmates who were involved in gangs. Said, however, says he wanted something different.
Staying out of trouble by "minding his own business," Said also sought out Muslim community throughout the last four years at the local mosque, Masjid Dar-Us-Salam, where the religious leaders hold youth programs. One of the program directors told Said about an opportunity at the food collaborative, to give back to the community and stay out of trouble by helping put food on the tables of Thorncliffe Park residents. Starting as a volunteer in the summer of 2020, Said is now employed part-time at the collaborative as he attends Ryerson University's international finance and economics program.
"Giving back and working here keeps me out of trouble," he says. "A lot of my friends are involved with (the violence), which puts me in an easy position to also get involved with their stuff."
Just as Said starts his shift, Maysa Darwish and Erfat Mahfoud, walk in together, hesitating, their plaid-printed shopping cart in tow. They ask in broken English, "Can I get food?"
Darwish and Mahfoud landed in Canada in October 2020, following five years in Turkey as refugees from Syria. Soon after they settled in one of the Thorncliffe Park highrises, the couple along with their three children, contracted COVID-19 and ran out of food shortly after their 14-day quarantine.
After recovering from a mild case of COVID-19, Mahfoud found a flyer in Arabic in his building that notified residents about the food bank has taken over part of the old Target at the East York Town Centre, conveniently located beside their daughter's school.
With no money to their name and having just their apartment and utilities covered by the government, he contacted the centre to book his first appointment to pick up food. The family beams with gratitude when they notice how much food is available to them. There are many shelves in a row full of beans, soups and other non-perishables.
Darwish goes around conversing in hand gestures that signal how many items she can pick from that section. She looks at items with curiosity and sighs, "OK."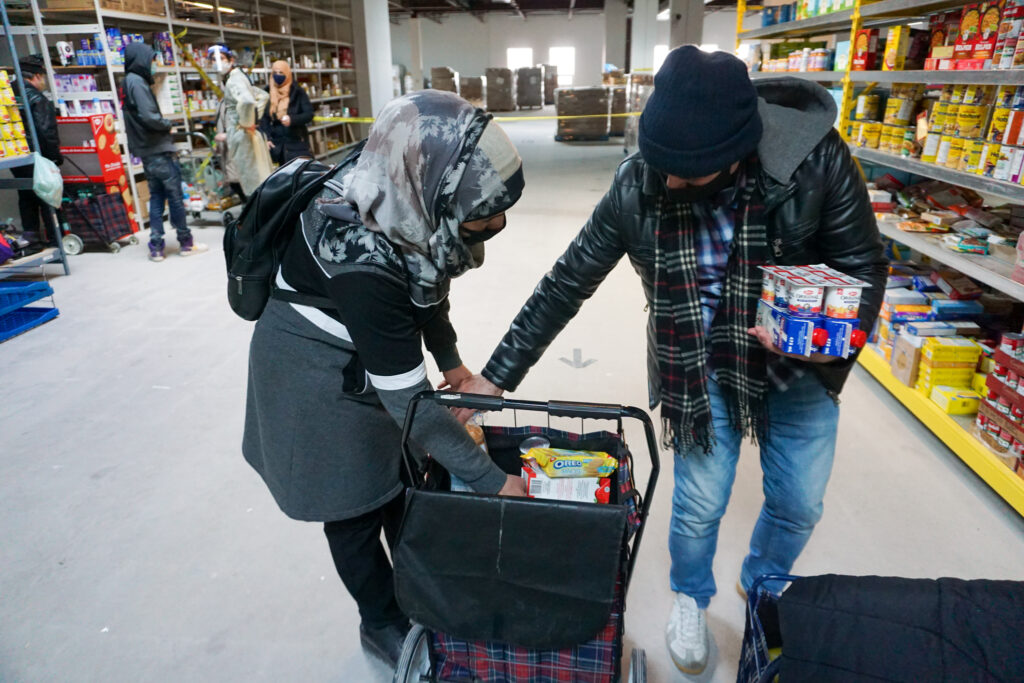 The couple is just one of the many newcomers to Canada who each year call Thorncliffe Park their first home in Canada. Many of them, like Mahfoud, are unemployed or work minimum-wage jobs to keep themselves afloat.
Sukhera stresses that the only way the food bank can function is with charitable donations and discounts. "That is the beautiful thing about Thorncliffe Park," he said.
Neighbouring Leaside is more affluent compared to Thorncliffe Park and has been a vital part of supporting its neighbours. People from Leaside send full truckloads of food, diapers and feminine hygiene products to the food bank, using their means to help them.
A young Leaside resident, Robert Lam, called Sukhera one day in summer 2020 and asked how he could help. He worked at a local Metro grocery store and Sukhera thought it was a good opportunity to get more donations.
When Lam met up with Sukhera to provide a gift card for the centre to use, he included a $20 bill with it.
"What's this?" asked Sukhera.
"This is a donation from me," Lam replied with a smile.
While the employment opportunities at the neighbourhood organization are for Thorncliffe Park residents, Sukhera saw a willingness to help and brought Lam on board.
Through a connection at Gordon Food Services, Sukhera arranged a deal to provide fresh produce to distribute to the community, an attempt at a long-term solution. However, with the cost of food, the well of money ran dry quickly.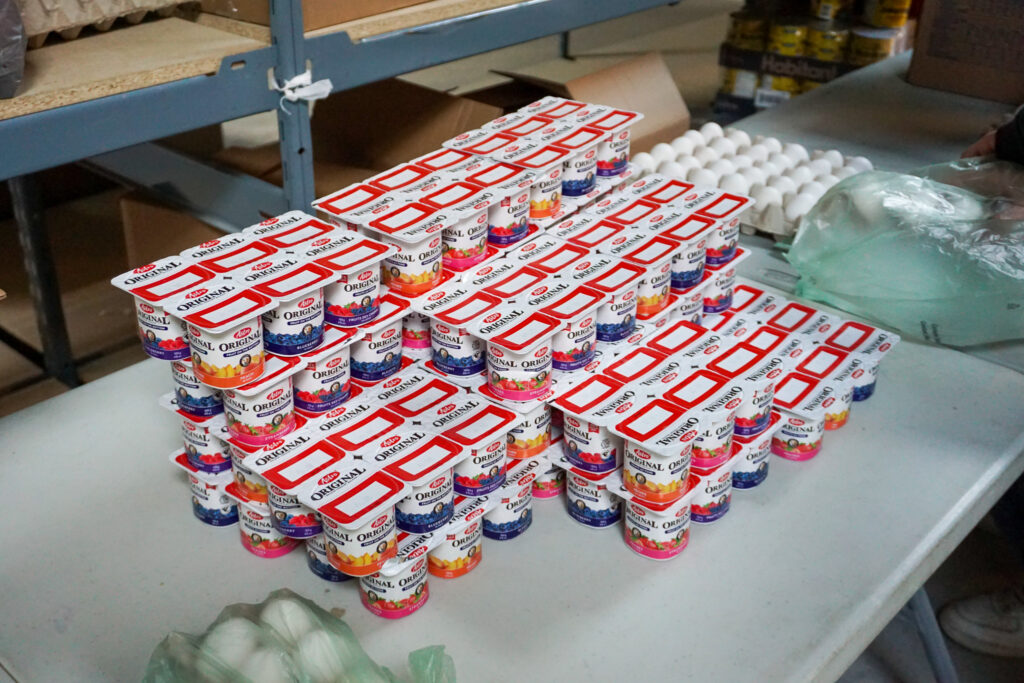 That is when Iqbal Malek, the owner of Iqbal Halal Foods at 2 Thorncliffe Park Dr., became active in supporting the delivery efforts of the early days and helped many of the residents he knew were struggling. When he heard Gordon Food Services was supporting the food bank, he asked Sukhera what the company was offering and gave the centre an even better deal.
To Malek, that was his form of charity — to provide high-quality produce to the families of Thorncliffe Park. Unfortunately, soon after Sukhera and his team started the delivery program, they ran out of food for the 30 families they were serving
Thorncliffe Park is a community of sharing and when one person receives good, they want to share the news. Through that, word spread throughout the community and beyond and more companies such as Coca-Cola, the City of Toronto and Agrocrop Exports donated food and cleaning products. Today, the back of the warehouse is filled with hundreds of kilograms of beans and lentils, a staple in many immigrant households.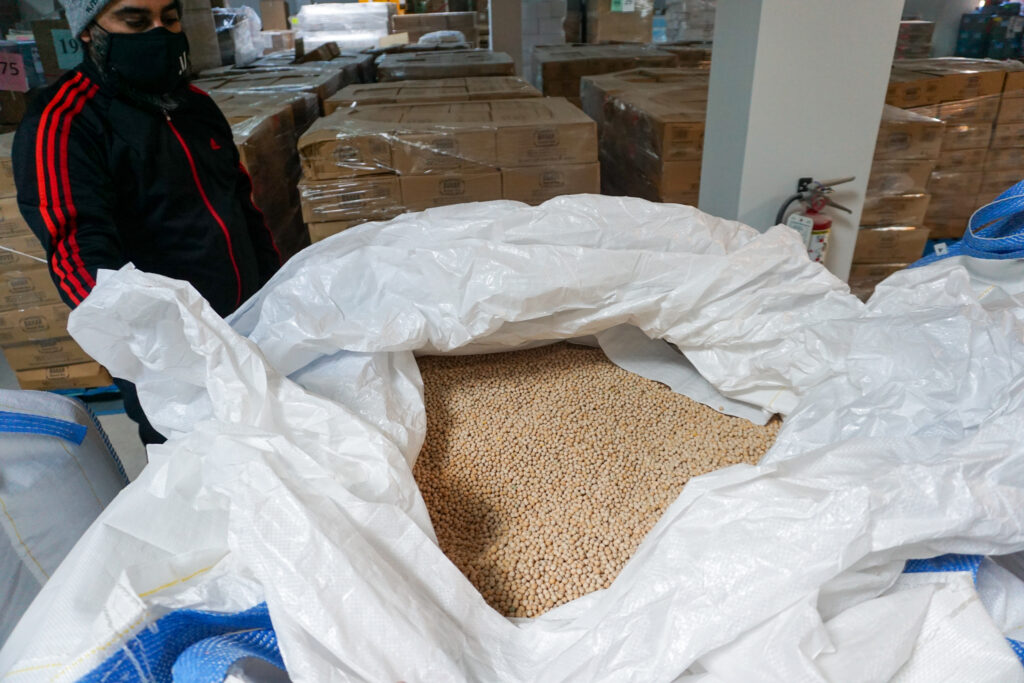 For Sukhera, it's not really about saving the world. He hopes the food collaborative is not a permanent solution to an economic problem and wants to empower youth with finding jobs, paying for training programs to help lift their families out of poverty.
"By improving our situation, we'll be able to move mountains."