By Craig Fergus
Although, at 2 p.m., peak time is hours away at Timothy's Pub, available seats are already scarce. Among the regulars gathered on this Thursday afternoon, four middle-aged men sit in a dimly lit corner of their favourite drinking joint, sharing stories and laughter over several pints of Molson Canadian beer. Located in the quiet enclave of Alderwood, South Etobicoke, the pub's ambience is reflective of the one seen in the iconic 80s sitcom Cheers. Its brick walls are enhanced with bronze wall plaques of medieval Irish knights, and framed LP album covers of iconic bands such as Fleetwood Mac, Bob Marley and the Wailers and The Rolling Stones, while music from the same era booms from the speakers.
Owned by the Brem family, who are of Irish descent, Timothy's Pub is a favourite spot among locals for good times and live music. However, their reputation in the community has been earned at least as much by how much they've given back – in the last 16 years, they've raised more than a quarter of a million dollars for those less fortunate in the area.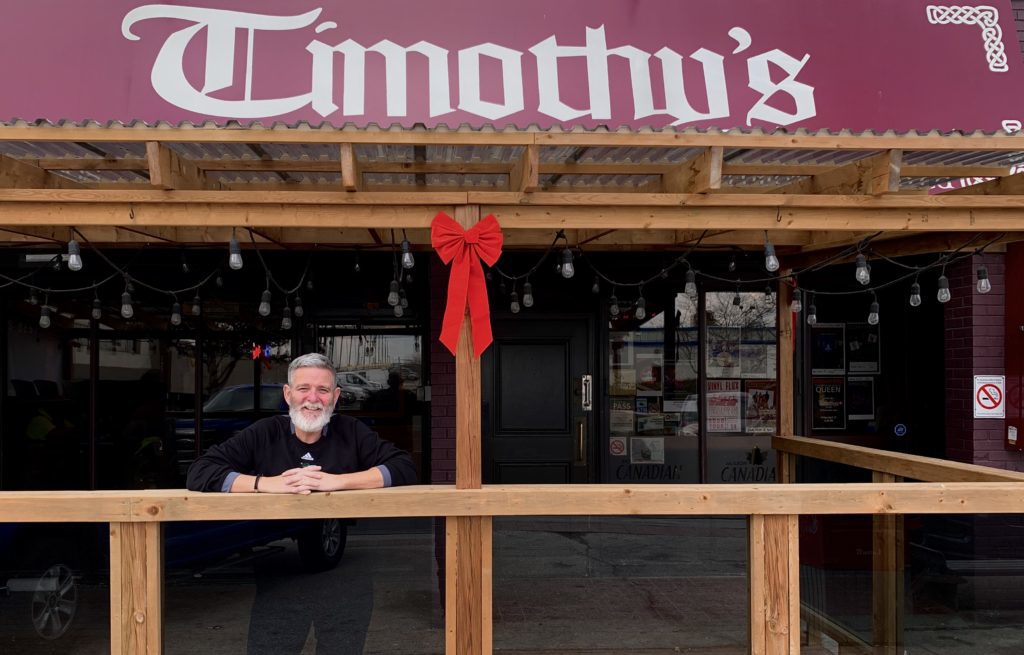 The brains behind the boozer belong to North Etobicoke native Timothy Brem. Since opening Timothy's Pub in the late 90s, he and his wife, Robin Brem, have been committed to raising funds for the underprivileged in Alderwood. Over the first eight of the pub's Christmases, the generosity of Brem's customers allowed them to sponsor over 60 families – an admirable number, considering the pub itself seats only 90 people. "[If we] see anyone down on their luck, we will try and help them out as much as we can," Brem explains.
Nowadays, their charity of choice is the South Etobicoke Salvation Army, because he likes that all money donated is disbursed directly back into their community. He fondly recalls the many silent auctions held at the pub, in which customers are known to often donate luxurious items such as televisions, only to buy them back during the bidding process.
Those who donate to the pub's fundraisers have not been overlooked – in November 2015, the Salvation Army presented them with the Community Award, a framed certificate honouring the community's commitment to providing hope to those in need. The document hangs pride of place at eye-level at the pub's entrance, one of the first things you notice when walking through the door.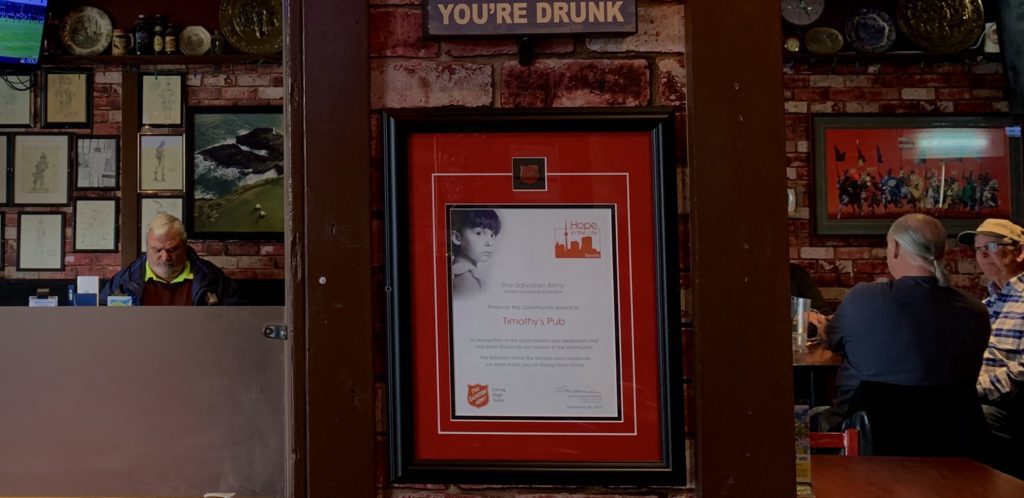 Once an aspiring pediatrician enrolled in med school, Brem discovered his passion for the hospitality industry through bartending jobs he held during university. As he worked his way up to managerial positions in others' bars, Brem soon realised his true aspiration was to open one of his own. From the beginning, his vision was simple: he wanted to run a pub that could bring the community together, somewhere that old friends could catch up or couples would visit for an enjoyable drink. On his search, Brem sought out a run-down bar not far from his home called Mangoes. Inside, he recalls, the bar was outfitted with white plastic patio chairs and tables with open umbrellas on top of them – but, most importantly, an unmissable opportunity. He immediately saw the location's potential, as it is located on Brown's Line, which diverts into a dozen or so smaller streets. Brem approached the owner with an offer, and after weeks of impassioned negotiations, the pub was his. And so, in the summer of 1998, Timothy's Pub opened its doors for the first time.
The business is famous in the suburb for several reasons: live music from genres such as rock and soul is performed eight times a week, twice on Saturdays. They claim to have "the best chicken wings in town," and there's a vast range of beer available on tap. However, the element he is most proud of is how Timothy's Pub has managed to maintain the same strong sense of family the first punters discovered when they ventured inside over two decades ago. Brem laughs as he proudly boasts that after a couple of visits to the pub, the bartenders will know your name, and your drink order, before you walk in the door.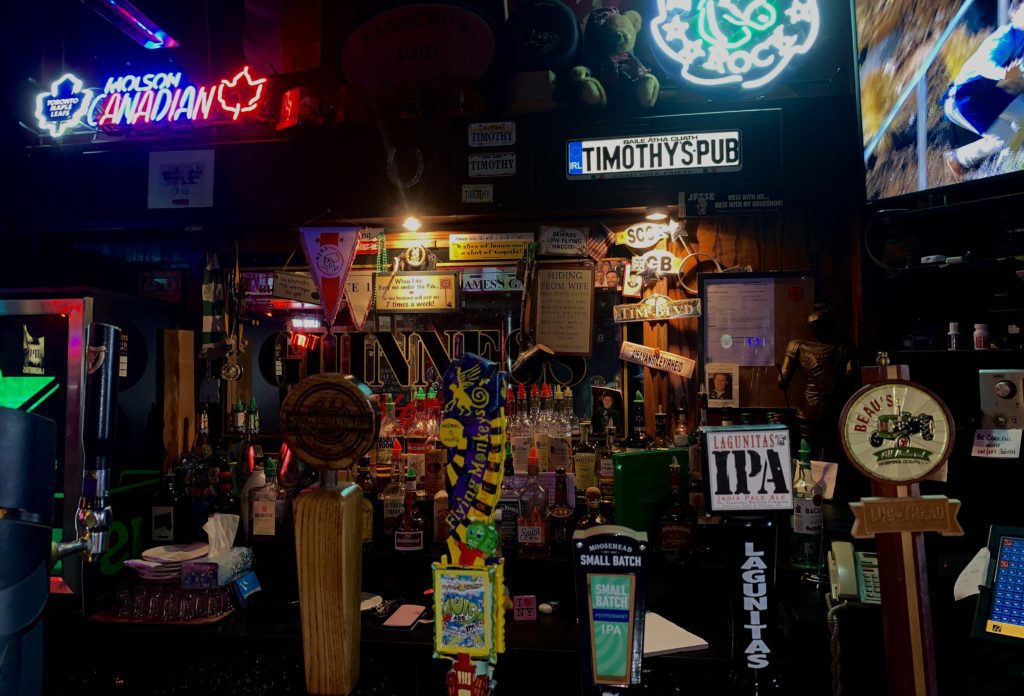 On the shelves that line the ceiling of the pub are seemingly odd choices of decor: a battered, hardback vintage book collection, a porcelain plate commemorating Canadian family crests and a ceramic Heineken beer mug, to name a few. They all look as if they have been teleported from the early 90s – but this is no random selection, as Brem explains. Each one of these items once belonged to a member of the South Etobicoke community. Prior to the opening of the pub, Brem had an unusual strategy as to how they would immediately win over customers in the community. He and his wife explored several garage and yard sales in the neighbourhood, picking up unique objects at each one whilst simultaneously informing the seller that it would be featured in their new tavern. This sparked curiosity in the locals, which was demonstrated when they had "people coming in pointing to their items, excitedly claiming, 'that's mine!'"
"Catering for an older audience that has grown with the pub through elements such as live entertainment evenings, [Tim] has brought in the correct clientele who want to return. It has sustained the business enormously," says waitress Tannis Watson. Watson also mentions that she is the third newest employee at the pub – and she has been working there for nine years.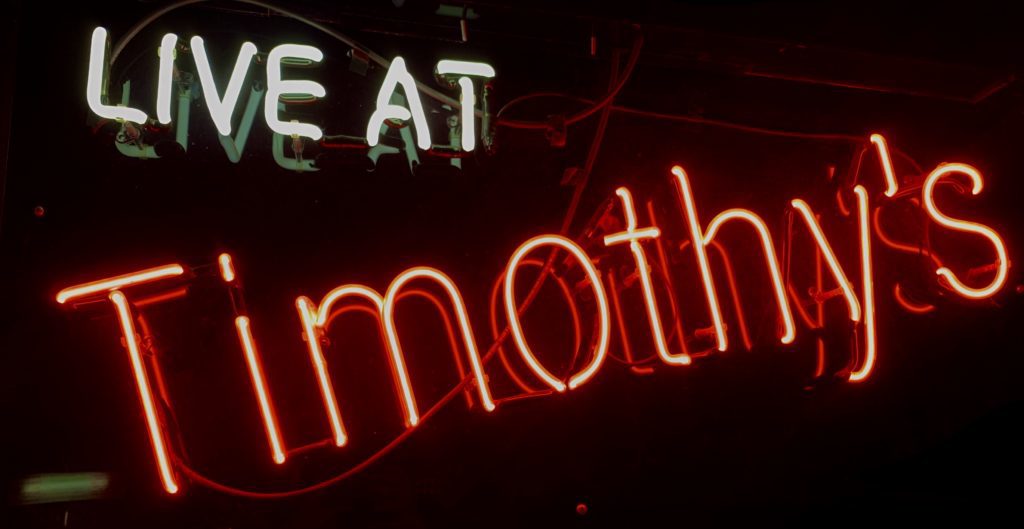 When discussing the future of Timothy's Pub, Brem sees himself taking a step back from the business in the next 10 years, allowing one of his dedicated staff members the promotion to a managerial position. He insists that he will always be part of the pub, and that the pub will always be a part of him. As he says so, he shakes my hand goodbye and heads to greet a crowd of his many regulars, as he usually does.