By Megan Ebreo
A warm and welcoming feeling can be felt from a modern boutique that's located seconds from the intersection of Bathurst and Front Streets in downtown Toronto. Situated in the heart of stackt market, a hub filled with small businesses and local contemporary culture, lies a badass team of women running Makeway, a sneaker and streetwear boutique.
Yet to be touched by large masses of customers, Makeway's pristine studio-designed space glows golden inside as sunshine pours through the floor-to-ceiling windows. Passersby peer curiously into the shop, their eyes drawn towards the giant wall stacked with sneakers and the racks of clothing meticulously arranged out on the shop floor. The massive windows offer up an unspoken invitation to step right into the shop.
Inside, Abby Albino and Marcia Lopes from the Makeway team are handling business like they have every day since the boutique's opening during a province-wide lockdown. Makeway co-founder Albino hums along to "Dead Man Walking" by Brent Faiyaz as it plays in the background. She digs into boxes filled with a new addition to the shop and stacks the scented soy wax candles neatly on a steel rack on one of several metal shelving units. Lopes, Makeway's digital marketing strategist, stands with her shoulders hunched over the grey countertop and nose buried into the store's iPad. Lopes's fingers swipe across the screen, creating a social media post that advertises Makeway's next exclusive product drop.
Makeway is a freshly opened streetwear and sneaker boutique, the first of its kind in all of Canada. Although the boutique may be new to the streetwear scene, the store's presence has been long asked for by communities that have been continuously overlooked in the industry. Women and people of colour in the sneaker world have often not had a seat at the table; now, after a long wait, they finally have a space they can exclusively call their own.
For many female sneakerheads, including Katherine Johnsen, director of marketing and partnerships for Startupfest, Makeway's opening in Toronto means an accessible, convenient destination to shop curated collections of women-focused and -catered sneaker and streetwear accessories. "Pre-COVID, I travelled a lot for work. I was in New York and L.A, or London very frequently. And so, I felt like I did a lot of my shopping at boutiques in those cities and honestly, ordering from European stores. Even places like Naked or Overkill in Berlin, you know, there's just so many women's curated boutiques. In Canada, there wasn't really a spot. I wouldn't have a Canadian go-to besides Livestock or Haven, and it was unlikely they had what I was wanting," Johnsen says, shrugging and furrowing her brows in expression.
Now, Johnsen does not have to rely solely on international shopping as she and many other women have a store made thoughtfully for them and in the comfort of their home city. Makeway's founders knew these women existed and wanted to see themselves reflected in a store – to be acknowledged through a platform that amplified their voices. They believed that if they did right by these women, the community would do right by them. So, despite opening a store during a challenging pandemic, the Makeway team moved forward with confidence.
"People thought we were absolutely insane to open up a brick-and-mortar retail shop at a time where people were closing their shops," Albino says, her eyes lit with enthusiasm and hands gently emphasizing each word. Founders Albino and Shelby Weaver, who leads Makeway's business operations, took fearless lead and did not hesitate to take on the opportunity to launch a business that no one else in the city had.
The boutique is built on a unique foundation that specifically prioritizes and uplifts the voices of women and people of colour in the streetwear industry, storytelling around those who have often been left out of the conversation. Through curated merchandise, exclusive sneakers from female collections, and creating merchandise collaboration opportunities with local women creatives, representation and diversity is in Makeway's DNA.
"Makeway was started from a story," Lopes says enthusiastically, her eyes lighting up. She notes that the absence of representation of the Toronto female sneaker community, alongside a lack of inclusion of female sneakerhead voices within industry conversations, was the catalyst for Makeway's creation. The boutique was developed with the goal of storytelling around Toronto's community of women and people of colour that are actively involved in the culture of sneakers, providing a platform and community space for their voices to be heard.
"I have a fashion background. I read magazines all the time. I watch runway shows and TV shows. I'm very present in creative spaces. And at a young age, that's something that I did notice – that representation is missing," Lopes says.
To amplify the voices of women and POC sneakerheads and provide part of a solution to the lack of representation of these communities, the members of the Makeway team have poured their hearts into filling every corner of the boutique with thoughtful, female-driven merchandise. Products are selected and curated by business owners that are local women and people of colour, themselves.
Albino sets aside the box of scented soy wax candles and walks across the shop, her all-white Air Max 97's grazing several hand-tufted, colourful rugs as she passes. At the opposite side of the boutique, she picks up a skincare product, Milky Melt-Away Cleansing Balm by Vo Beauty, located on a shelf stacked with local body butters, roll-on perfumes and sheet masks. She holds up the product proudly, a slight smile curving upwards. "I think that there's nothing better when you walk into a store and you see, you know, a product that was made by someone who has the same skin issues as you because she has melanated skin," Albino says, waving the cleansing balm in the air. "I know that these products are made for women of colour because the people who made them are women of colour."
Makeway actively represents and honours all aspects of women – it's the only sneaker boutique where you can expect menstrual cups to be sold alongside stylish, iridescent tote bags and chunky sneakers. "You'll never see menstruation cups beside a pair of sneakers at any store ever, you know what I mean? So, we wanted to make sure that we included that because that's a big part of being a woman – getting your period!" Albino laughs while throwing her arms in the air.
Lopes and Albino, alongside the rest of the Makeway team, have pushed even further to advocate for female sneakerheads. The team frequently partners with their vendors to produce exclusive Makeway products.
In light of International Women's Month this past March, the team created and released exclusive products every Friday. These products included a collaboration with Converse, mini hand-tuft rugs, one-of-a-kind sneaker pins, and a crewneck sweatshirt featuring a reflective Makeway logo.
"These products are women-focused and -inspired to celebrate female artists, creatives and trailblazers in the community," Albino says proudly, noting that such products challenge how women are seen, heard, talked to and considered every day within the sneaker industry and in creative roles.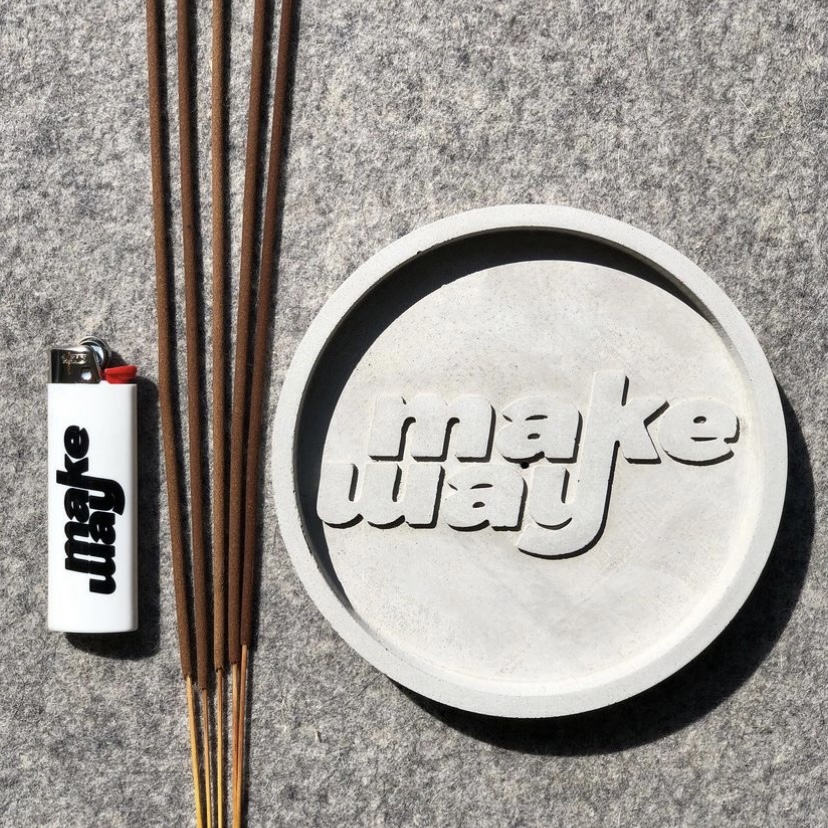 Lopes walks over to Makeway's grey checkout counter and places several brown bags on the countertop. She labels each bag with an order number and prepares them for curbside pick-up by placing an orange or black cap into each bag. The caps were one of the boutique's surprise product releases and honoured the WNBA's 25thanniversary, an event that inspired the name of the shop.
Albino gets chills as she looks over at the caps, reminded of the success of the drop. "To be the only Canadian retailer to sell these hats is wild to me. We sold out in 30 minutes and preorders have been skyrocketing," she says, smiling.
Albino takes a long look around the store, admiring the space that she's created with her team. She walks over to Lopes, who continues to place orange and black caps into the numbered brown bags. Albino grabs a stack of Makeway stickers and plops one into each bag. The two continue to complete curbside orders, both laughing and humming occasionally to "Doo Wop (That Thing)" by Lauryn Hill as the sun slowly sets, casting an orange glow against the bags.