By Fidela Mangulabnan
After years of thrifting vintage clothes, Conner Stella's closet was overflowing to the point at which there weren't enough days in the year to wear each outfit. She decided to open an online store where she could sell some of her pieces. She was proud of her collection and thrilled to see the interest that it sparked online. She dreamed of one day opening her very own brick and mortar store. That dream came true in December of 2020 when she opened Babys Basement in downtown Oshawa with her life partner, Evan Saar.
Since opening, the store has racked up more than 7,000 followers on Instagram by sharing video clips and photos that capture the love Stella and Saar have for vintage clothing and the electric vibe the store has to offer the citizens of Durham Region. On top of selling vintage clothing, Babys Basement sells home decor, jewelry, and artwork from local artists to their customers. The store is located down an alleyway with a brick roof in downtown Oshawa. When the sun isn't peaking through the ends of either side of the alley, the narrow path is dark, but it leads to a bright, colourful store. Babys Basement brings a different and exciting experience for those visiting or living in downtown Oshawa. This store can usher a better reputation for downtown Oshawa by encouraging people to visit and debunk the negative stereotypes surrounding the city.
Some may find the shop out of place in its new home. Many of the red brick buildings surrounding Babys Basement are dull and uncared for. Houses in the heart of the city have front lawns with overgrown grass, weeds, and deteriorating wooden porches. Outside and between buildings, alleyways are filled with cigarette butts, discarded face masks, and random pieces of cardboard. The day I visited the business, the only people on the nearby streets were those experiencing homelessness. Earlier this year, gunfire was opened about a five minute drive away from the business. The Durham Regional Police Service 2021 year-end review recorded a steady rate of property-related calls for services within the past four years. The same applies to the number of violent related calls for service, a steady rate for the past four years with an increase in stabbings. "Between Oshawa's reputation, and our hidden location we don't get a lot of people just walking by," said Stella.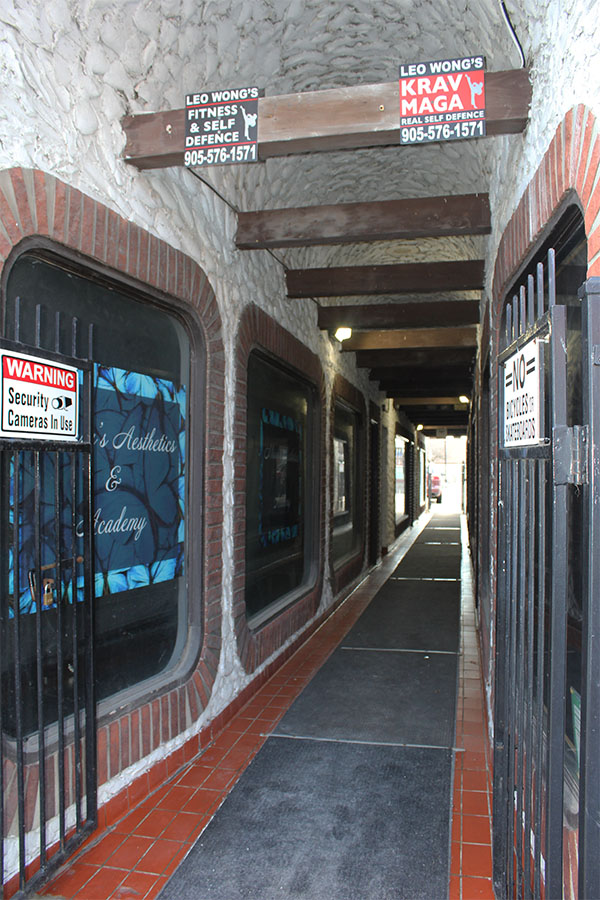 Despite the high crime rate and negative stereotyping about downtown Oshawa, Stella and Saar still want people to give the community a chance and they feel that their store can help. When people come into Babys Basement, Stella will ask customers if they've heard of different shops around downtown Oshawa and often, the answer is no. Downtown Oshawa's reputation creates a lot of missed opportunities, according to Stella, who is not only a business owner but also a citizen of the city. She believes that they need to be proactive and show people that Oshawa is worth investing in.
In contrast to its surrounding environment, Babys Basement creates a welcoming space. Since the shop is about five by 10 meters, it can be challenging to create a friendly but also relaxed environment with such little room. Babys Basement brings a youthful and unique energy to the city that's unlike any other shop in the downtown core. A blast of blue, yellow, and green overloads the eyes with joy. This colourful design feels natural, creating a bright atmosphere. Even with the front of the store being in a dark alleyway, Stella and Saar still manage to make this place feel lively with the countless plants and vintage vases that are carefully placed on top of the window.
These details are what makes Babys Basement store vibrant and organic. Not to mention the smell of vintage clothing resembles grandparents' home, instantly bringing a nurturing and welcoming feeling.
One of the shop's best features is its approach to gender. Sarr calls it the Costco method, where the clothes are laid out in a way that encourages people to look through everything regardless of the gender it was originally designed to appeal to. The layout gives shoppers the opportunity to feel safe and comfortable to buy whatever suits their identity, style, or taste.
It's also important to look at the negative stereotypes that people outside Oshawa have about the community. There are at least five food banks and multiple homeless shelters in downtown Oshawa, therefore making it more likely to encounter people experiencing homelessness on the streets. Oshawa may be seen as a small city, but it suffers from big city problems. Stella said it's difficult for people to see it like other suburban areas in Toronto.
Although it's only been a bit over a year since Babys Basement vintage thrift shop opened as a brick and mortar, Stella and Saar have big plans for the future. They hope to expand their vision through new products and merchandise, while still going with the flow. The ultimate goal, Stella said, is to create a safe space in downtown Oshawa for anyone who feels like they need it.