By Nashra Syed
In 2019, married couple Saba Ladha and Jawad Butt decided to take a trip to Turkey. They could have never predicted that what started out as a vacation to get away from the hustle and bustle of the Greater Toronto Area would be the start of a new business endeavour. Walking through the bright and colourful alleys of the Grand Bazaar, one of the world's largest and oldest public markets and home to nearly 4,000 shops, Ladha was transfixed by the different prints, patterns, rugs and antiques that surrounded her.
Later, she stood in awe of Istanbul's religious pinnacle, the Hagia Sophia, as it encased her with its marble slabs, Red Porphyry pillars and natural light. After Istanbul, the couple travelled to Bodrum, a coastal city where they dipped in the clear blue water in the ancient Ceramic Gulf. With mountains all around and the sun shining down on them, the couple knew that the beauty and traditions they saw in Turkey had to be shared with the rest of the world.
Back in Canada, Ladha and Butt noticed there was a lack of Eastern-inspired jewelry in Canada. They saw a hole in the Canadian market they could fill and thus Love East was born. Love East is a Turkish-inspired small business based out of Ladha and Butt's Brampton home. They are a Pakistani-Canadian couple who met and fell in love as undergraduates at McMaster University. All the pieces are designed and handmade in Turkey.
"We realized how much beauty and talent there was in Eastern Jewelry, and therein began the journey of Love East," the couple shared through the company's website.
The couple's trip to Bodrum in particular inspired the brand's aesthetic. Popping in and out of shops in the city, Ladha and Butt appreciated the city's seaside serenity. Surrounding them were abandoned vans with flowers and plants bursting out of the windows and stray cats. Looking up, they were being watched by sculptures on balconies. The artistic atmosphere of Bodrum gave them a modern view of the country.
Although their trip wasn't intended for business purposes, Ladha and Butt had been brainstorming ideas to create a venture of their own. "We've always talked about starting a business," said Ladha. "Going through ideas and coming up with a name for those ideas, they never came to fruition. We just kind of thought about it, forgot about it. But then in 2020, it was the first time we were just sitting like this all the time. And then we're like, 'why don't we do it?'," she added.
Despite having different working styles, Ladha and Butt found a happy medium between them. Ladha focuses more on social media and design, whereas Butt is in charge of logistics and website development. "I feel like when we were working through launching the business and up until when we launched it, I really felt like we accomplished something together," said Butt. "I never thought we could have done it together."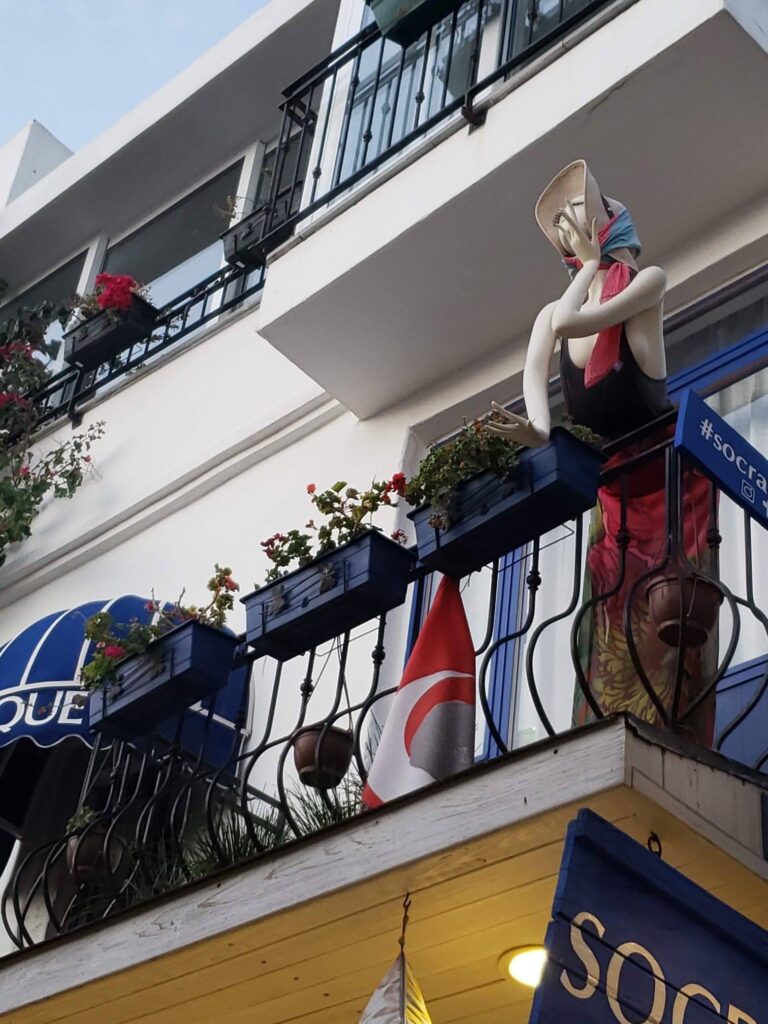 Areeba Khan, a longtime friend of the couple, was a model for the brand's first collection, Nazar. The line was heavily inspired by Turkish elements such as the evil eye, which is said to ward off evil, and geometric patterns. Despite the cool, crisp autumn weather on the day of the photoshoot for the Nazar collection, Khan was ready in her white sweater, blue jeans, and pink coat. She enjoyed all that the season had to offer, taking a walk and soaking in the warm colours of the changing leaves.
Although this was their first launch, Ladha and Butt wanted to make sure that the models were as comfortable as possible during the outdoor shoot. Khan remembers how the couple had brought a big tub of hot chocolate and hand warmers to the shoot to ensure everyone stayed warm.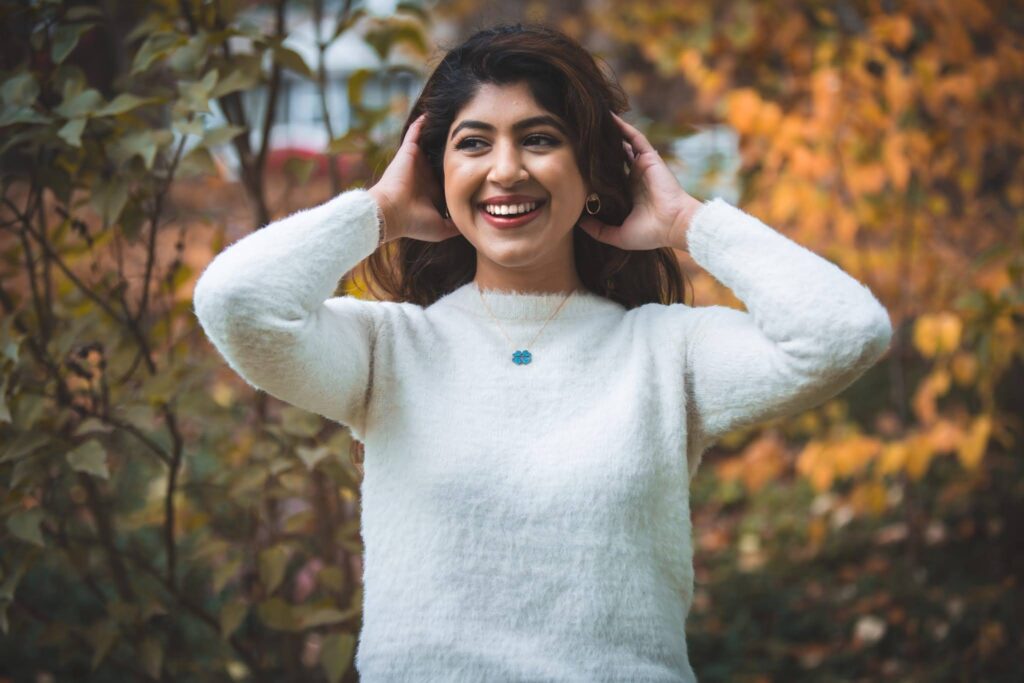 Iqra Syed is another friend of Ladha and Butt's from their McMaster days. She appreciates the time and effort that is put into each Love East order. "At the beginning, it was more supporting a friend that was doing something great," said Syed. "I was kind of impressed by how quickly [the order] was delivered and the quality of the jewelry."
Like Khan, Syed was impressed by how important relationships were to the brand. She received a free bracelet with her first order as a thank you. Social media and testimonials have also helped the brand gain nearly 3,000 Instagram followers, with the Love East community growing day by day. Primarily active on Instagram, the brand posts regular content about its launches and testimonials to keep the community up to date.
Syed relies heavily on testimonials from family and friends before she decides to purchase something from an online store. "The way it works for me on social media is if someone I know promotes something and they've had a good experience, that's when I'll probably look into the brand," she explained. "I'm not someone who would randomly try out a brand, I need testimonials from people who I know to encourage me to buy online from social media."
Love East released its Gold Dust collection in the summer of 2021. To appeal to a bigger audience, Ladha and Butt did their research and found that gold jewelry was gaining popularity. This collection aimed to represent Turkish culture in a trendy way with all gold pieces. "Gold jewelry is very trendy right now, we're all wearing it," said Ladha. "We didn't want to just be Turkish evil eye jewelry. We wanted to also offer something that other people who are maybe not into that would like, so that's kind of how the Gold Dust collection came to life."
Bushra Syed, a customer-turned model, said she fell in love with the jewelry the moment she discovered it. "It had a uniqueness to it and so I knew that I loved the brand. I knew I loved what they stood for, and I loved their pieces," said Syed.
She was contacted after having bought several of their pieces, and despite not having any modelling experience, the Love East team made her feel very comfortable. "After buying a few pieces, I followed them on Instagram, and I was contacted by [Saba]. I was super excited. The whole experience, modelling for their jewelry, was amazing," she added.
The two entrepreneurs are looking forward to expanding their brand and developing more elements of Eastern culture. Being Pakistani, they'd like to introduce Pakistani jewelry in the future, and their ultimate dream would be to have a Love East store.