An immigrant's journey to bring his culture to his business
By Talha Hashmani
Galata Cafe has many taglines: A breakfast and brunch place, a Turkish café, a bakery. The café is also a small business that has a 4.5-star rating on Google reviews. On any given day, the café is home to regulars and morning hustlers who get a glimpse of the morning commute right outside the café windows. It's also a culinary hub of Turkish dishes: from breakfast items such as the simit sandwich or the menemen, to a cheese gozleme or baklava for lunch; premium coffee to aromatic tea.
Galata Café has been up and running for the past five years.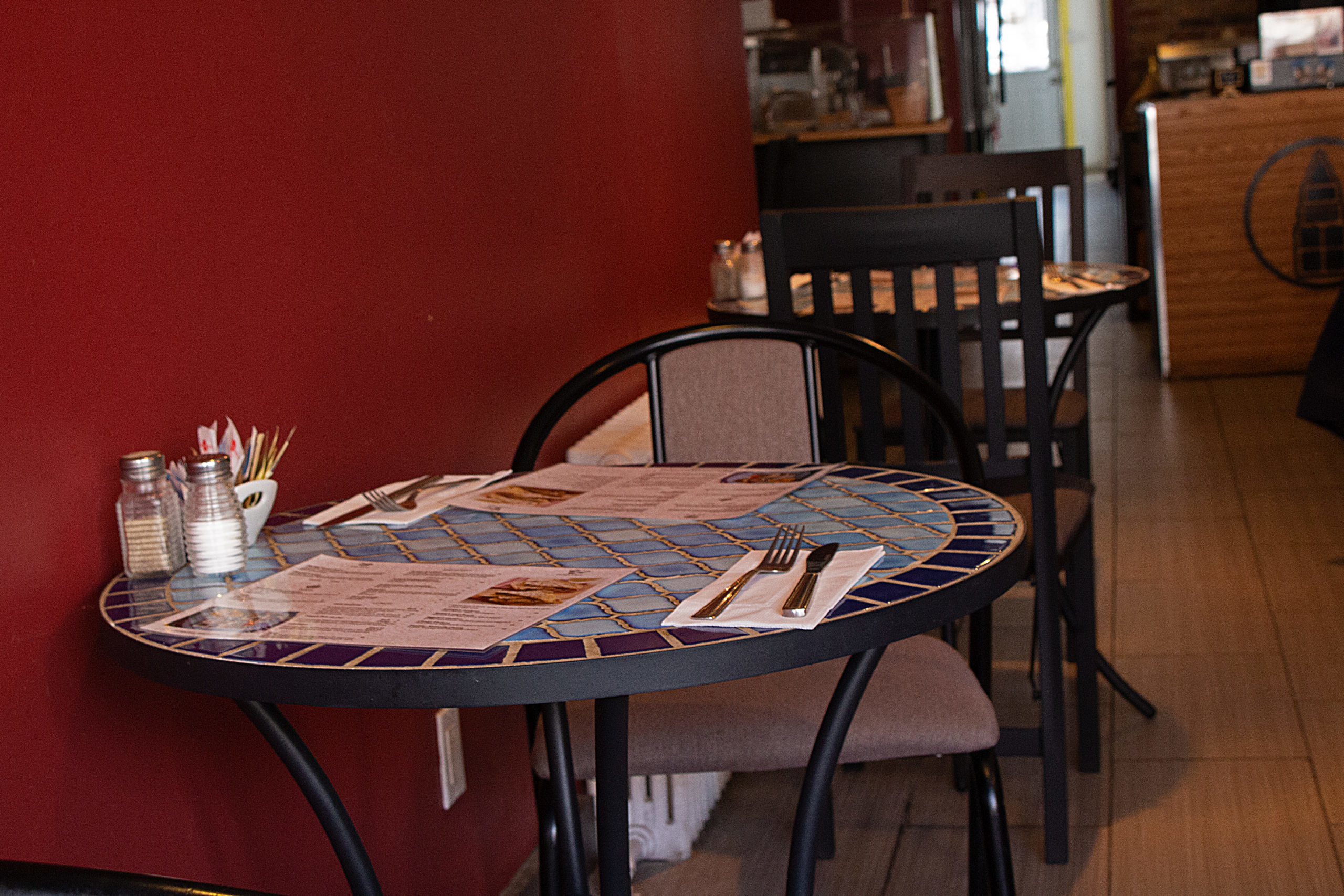 Just past the front door, the café's interior is a mismatch of tables that are each of different sizes, fitted with matching tablecloths and cutlery. On one side of the wall are detailed canvases on the history of Turkish coffee; beyond are shelves stacked with Turkish sweets.

[Image taken on Feb. 28, 2020 (Talha Hashmani/T•)]
Guests pick away at their breakfasts, sipping warm coffee out of tiny cups and deep in conversation with others around them. Behind the kitchen counter, a woman smiles and brings you to an empty table. She places a menu onto your table and pours you a cup of coffee from a bronze pot known as a cezve (pronounced as jezz-VA).
The article above your table reads, "Small Business is Family Business" and is written by Linda Platter for the Village of Islington Times. Dated Summer 2019, the article is accompanied by an image of a man with his hair tied up in a bun, an arm placed gently on the back of his aunt. He's the owner of this café and his name is Caglar Araz. You notice bags under his eyes, probably a sign of exhaustion.
Looking up, you find him walking around the café greeting each diner, smiling under his grizzled mustache.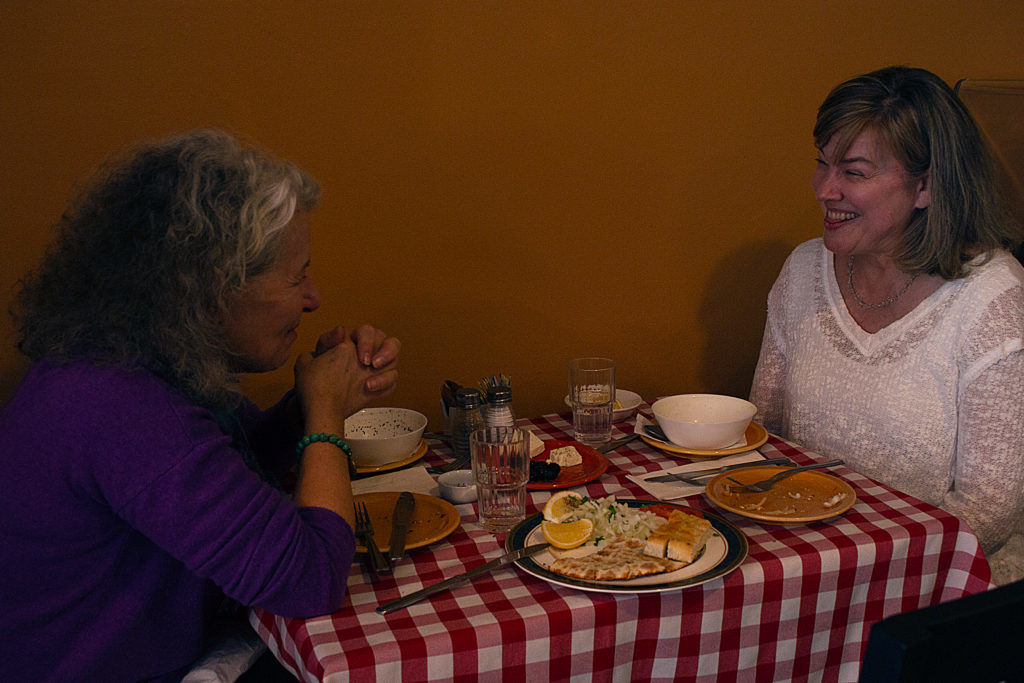 Araz is a man in his late twenties, with a face wrinkled in experience and an accent reminiscent of an Eastern European heritage. He says he knows his customers, many of whom are regulars. He's proud of knowing their favourite dish, his own being the lahmacun – thin pitas topped with meat and a garnish of chopped cherry tomatoes and parsley (part of the café's lunch menu).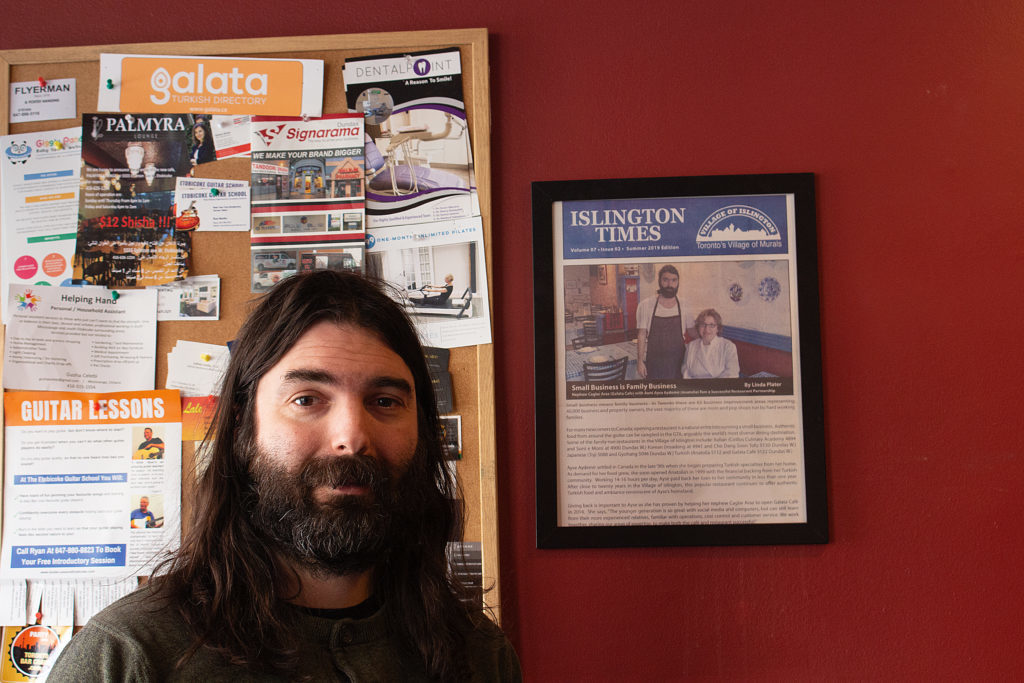 Araz takes a seat at the table, sipping a warm cup of coffee he brewed for himself. He says that the café used to be a butcher's shop, that its freezers used to make a resounding noise every night so that it was impossible for him to sleep in the basement. For the first few months of running the place, Araz says he would camp out in the basement to save money while finding a more permanent place to stay in the city.
Money is his biggest struggle with the business, he says. Notably, he mentions that the café only began making a profit at the start of this year.
Financial barriers and meagre profit margins have tainted Araz's aspirations for renovations and expansion. According to the Government of Canada, there were more than 400,000 small businesses in Ontario at the end of 2017. Interestingly enough, Statistics Canada found in 2019 that the 10-year survival rate for small businesses was only 44 per cent.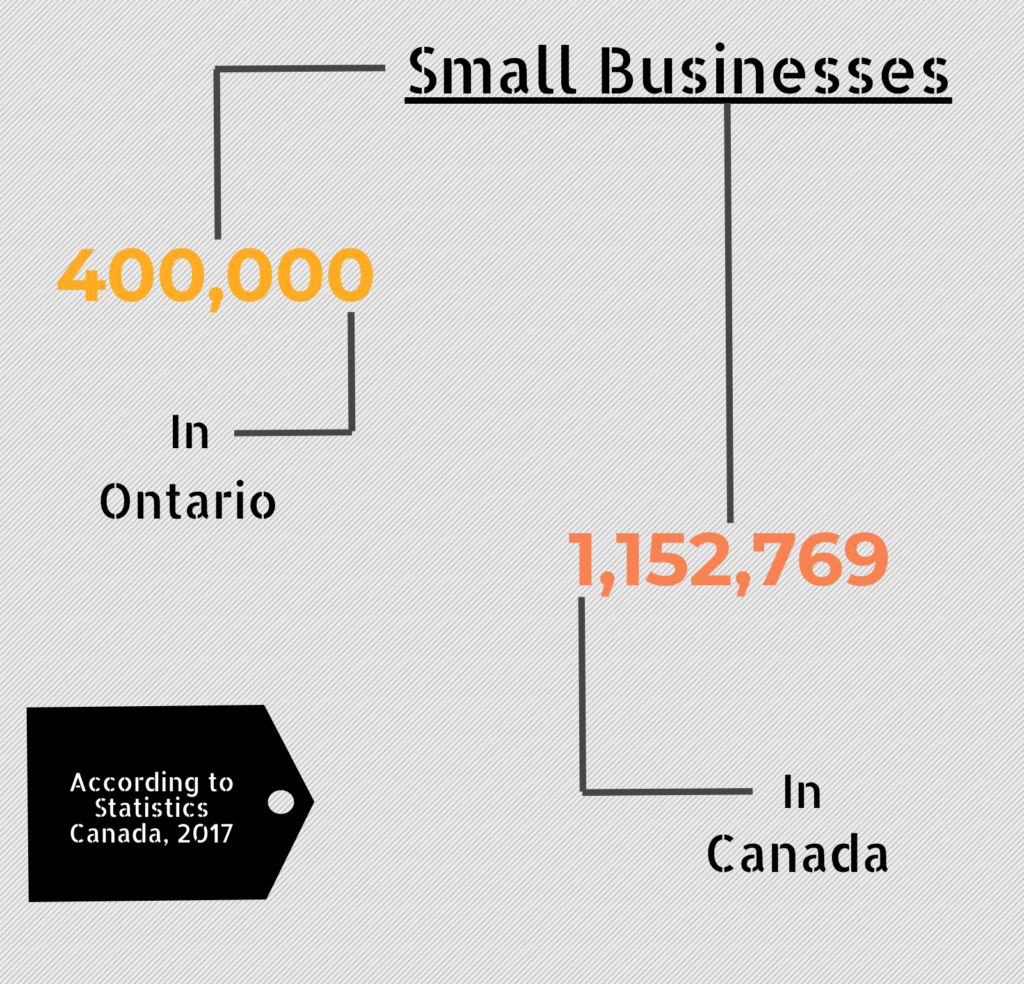 Starting a business is a challenge for anyone whether they were born in Canada or are an immigrant, according to Paul Pirri. Pirri is the manager of entrepreneurship services with the City of Toronto and is also part of Enterprise Toronto, which is, in his words, a "small business training wing for the City of Toronto."
"A lot of businesses do fail [but] some of the ways to help mitigate that is really undertaking a process to identify who your clients are, the different ways you can make revenue, and really planning out then business before you open the door," says Pirri.
Pirri says that a lot of people get into entrepreneurship and running their own business because they find it difficult to find a job. He says that his own grandfather came to Canada, started his business, and became his own boss only because he had no other work he could go to.
Araz moved to Canada from Turkey nearly seven years ago to help his aunt retire from the restaurant industry – her own restaurant being a few blocks away from the café.
While the cafe was originally purchased as a second location for his aunt's restaurant, Araz soon found himself as the owner and in a position of utmost responsibility. He also contributed with his own earnings as an investment for the place.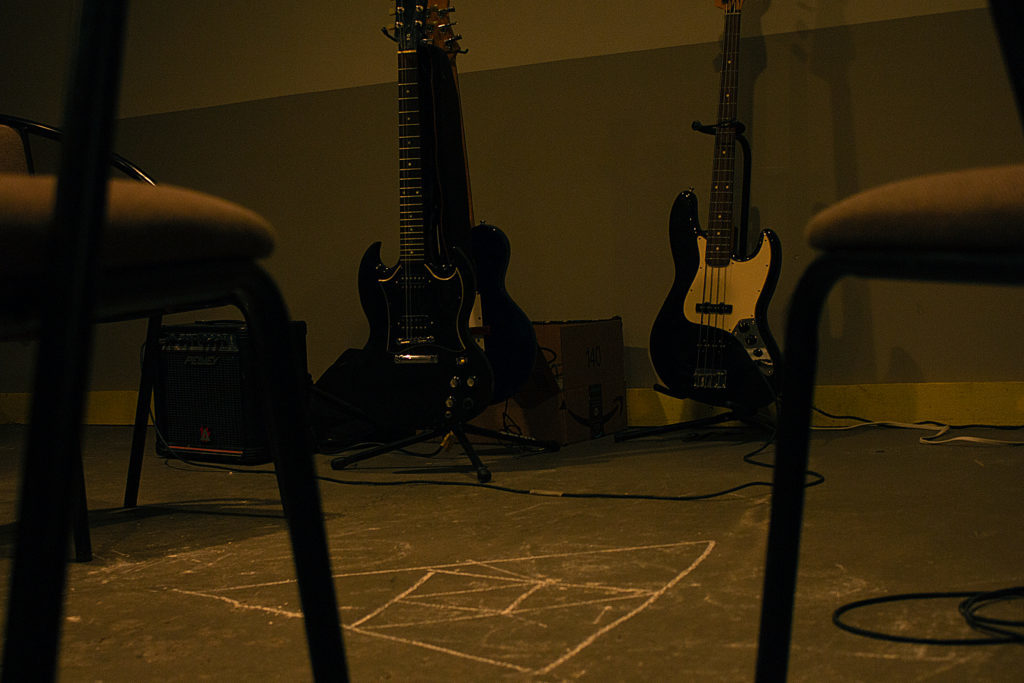 In Turkey, Araz used to be a part of a band – strumming guitars for gigs with his buddies. Now, his instruments are laid out in the basement, reserved for when some of his Canadian friends come over after the cafe closes for the day.

[Image taken on Feb. 28, 2020 (Talha Hashmani/T•)]
Raising his hands, Araz begins to count down all the members of his family that he loves the most. His aunt is a close second to his parents.
Along with working more than 30 hours a week as the owner of Galata Café, Araz also studies computer science at York University. He's already studied Mandarin, business administration, and hospitality and tourism.
Araz makes a point in reaching out to the Islington community. His café used to provide coffee to the local seniors' home. Certain dishes that are also made at the cafe are then sold at his aunt's restaurant – the Anatolia Restaurant.
Before you head off, Araz offers to make you a gozleme (pronounced as gauze-le-may), a dish made with pitas stuffed with meat and topped with a mixture of cherry tomatoes, green onions, and coriander. He brews you a fresh cup of coffee as you wait behind the counter to pay.
For a man struggling to make money out of a business he started nearly five years ago, Araz smiles through the pain. Even as he misses his home and his family, Araz says that he has found a community in the city and with the customers that come to his cafe to enjoy Turkish cuisine.
The following is a map displaying Galata Cafe along with other businesses in Etobicoke: