By William Dixon
A print shop can be found on every corner, run by any Joe Schmo with a half decent printer and some blank business cards.
A print shop can also be a quaint little store sandwiched between two colossal red brick industrial buildings in Vaughan, with a handcrafted wooden sign and a welcoming glass front and two dedicated young adults whose hard work, tenacity and dedication have created a successful business.
What started off as just two friends silk-screening band T-shirts for their friends and family has snowballed into what Explore Printing Incorporated is today.
Unlike most print shops, Explore Printing has concentrated on custom one-off projects and, as a result, has tapped into a niche market. Projects have ranged from wrapping ATVs and guitars to installing a skating rink on top of a downtown Toronto skyscraper.
Recently Anthony Saldutto and Lucy Abate created a Jack Link's beef jerky dispenser that looked like a sasquatch. They had to source the fur, custom airbrush it to match the rest of the suit and tease it out, all while making sure the fur could be easily removed afterward so the dispenser could be used in a more professional, corporate setting.
Saldutto, 29, and Abate, 32, have been officially running Explore Printing for nine years. The business started off in Abate's mother's basement in Woodbridge and has been self-funded from the outset. Explore Printing attributes its success to word-of-mouth and references from past clients.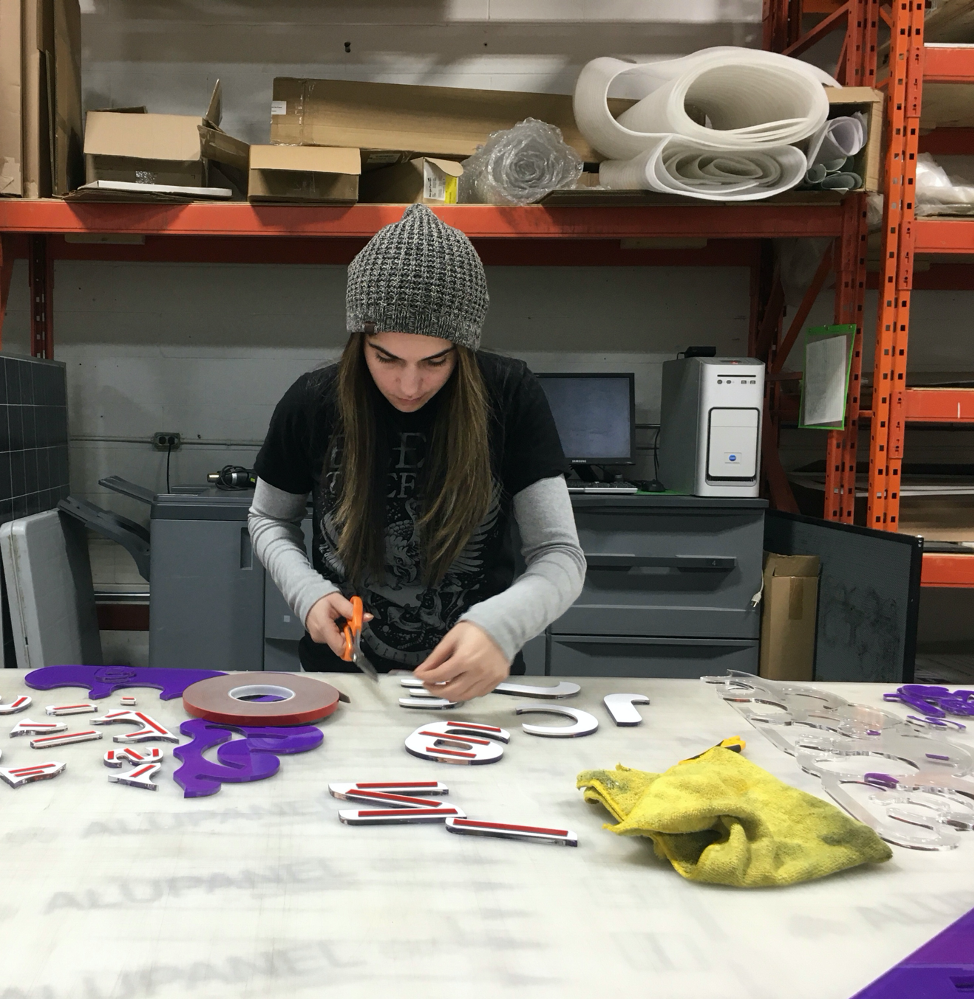 Today, Abate and Saldutto work in the back of the shop at 301 Hanlan Rd., finishing up the 3-D letters, graphics and signage for Mackenzie Brain and Spine Associates. The constant hum of the printers is accompanied by background country music. Saldutto and Abate tap their feet to the beat as they work on finishing touches.
Saldutto stands with one leg resting over the other, watching the Rose Graphix Laser Cutter outline the shape of a brain on a piece of scrap cardboard. After each round of the laser cutter, Saldutto stops the machine and raises the lid, releasing a puff of white smoke. He gently presses on the cardboard to see if the laser cutter has reached the appropriate density to where he can easily remove excess cardboard from the graphic.
While Saldutto finishes up with the laser cutter, Abate leans over her workbench, adding final details to the project. She cuts small sections of red double-sided tape, gently tapping her finger on each piece to make sure it is still sticky, and attaches them to the finished 3-D letters and graphics.
It's tedious, painstaking work but it is something Explore's craftspeople clearly enjoy.
Once, Saldutto says, Explore was asked to wrap a fire truck for a beer festival. "So, we had to figure out a way to wrap the whole truck and convert it so out of every tap came beer. The tricky part was we had to do all this while also making sure the fire truck was still fully functional.
"Figuring out those little details is always the fun part," he says. "Annoying, but fun."