By Marin Scotten
Robyn Pacquing spent a lot of time in and around Lake Ontario when she was a child — much of it with her father. Still, it was a revelation when, in 2006, she discovered there was a surfing community on those same shores.
The chilly waters of the smallest of the Great Lakes don't usually come to mind when one thinks of surfing. More likely contenders are lush oceanside getaways like Hawaii, Australia and California.
"Having surfed before in Hawaii and on the west coast of Canada, I was stoked when I found out there were waves on a lake that I was so familiar with," Robyn recalled recently.
Still, it wasn't easy to break into her local surf scene in Toronto.
"There was this online forum where people would share information," she recalls of those early days. "I tried to just learn as much as I could."
As online communication grew, though, things changed.
"When social media blew up, so did the surf scene. People started opening up businesses, and from there the community really blossomed" Robyn explains.
Since then, she hasn't stopped hitting the beach. As a female surfer, she is considered a pioneer on the Canadian scene and, in 2014, Robyn started an organization called Lake Surfistas, which aims to bring women of the surfing community together.
"I was stoked to see so many women joining the community," Robyn says with a smile.
There are only a few surf shops in town. One of them, Surf the Greats, is located in an old, brown brick warehouse on Carlaw Avenue. If you walked by at a brisk pace, you might miss it, despite a bright pink sign on the sidewalk out front. Stopping for a longer look, however, reveals a hand-painted mural of a penguin, racoon and rat, all on surfboards, beside the shop's door. The smell of coffee lingers in the air upon entering, and more than a dozen colourful surfboards are lined up like oversized pencil crayons against one wall.
Operating since 2016, the store has become a hub for adventurers, with lessons, workshops and events with other surf organizations across Ontario and around the world. Its proprietor is Antonio Lennert, a prominent surfer in the community.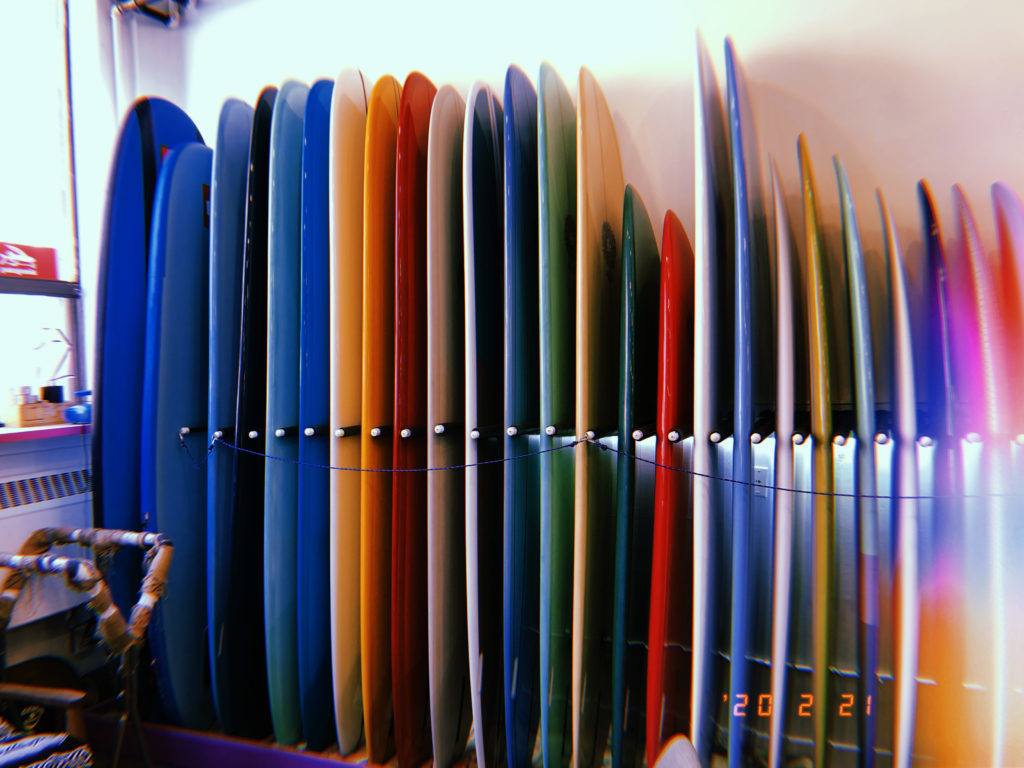 Antonio, who grew up surfing in Brazil before coming to Canada in 2008, admits that running a surf shop in a place like Toronto comes with challenges.
"This isn't California. Surfing on a lake is different than surfing on an ocean," he explains. "Lake waves are entirely dependent on wind, so learning to read the winds and predict when a good wave is coming is crucial."
Perhaps surprisingly, surfing on the lakes is a year-round sport, but there are other crucial differences from surfing in the ocean.
"Freshwater is much less buoyant than ocean water because there's no salt," explains Antonio. "This makes it a lot harder to stand up if you're a beginner."

To complicate matters, the waves on Lake Ontario are inconsistent, so Surf the Greats can't offer a stable lesson schedule. Instead, they have an email list for customers and send out an email a few days before the forecast indicates that wind conditions will create waves for beginner surf.
The shop tries to make a virtue of the unpredictable elements, offering forecasting workshops taught by Antonio.
"I love teaching the workshops," he says. "It's all about growing the community and teaching other people to surf the lakes."
The forecasting workshop is how Randy Enns, now assistant manager at the shop, learned to read the waves on Lake Ontario. On a recent Tuesday morning, Randy was behind the wooden coffee counter at the shop, making lattes and talking to customers. He has long wavy hair, always wears a toque, and, when asked about surfing, he smiles from ear to ear.
"I fell in love with surfing on the west coast. When I found out I could surf back in my home province of Ontario, I was stoked. I started reaching out to people who I could surf with, and eventually I took the forecasting workshop at Surf the Greats." Randy said, flashing a smile that seemed to be as consistent an accessory as his toque. "Everyone was so welcoming, and the people I've met through Surf the Greats have all had a huge impact on me."
One of the shop's most popular events is called Ladies of the Lake, an all-woman surf retreat at Pleasant Beach on Lake Erie that takes place every September in collaboration with Robyn's organization Lake Surfistas.
"Ladies of the Lake just fills all our hearts with community and love," Robyn says.
She recalls one such event, in 2016, as her most memorable day surfing. But it was bittersweet.
"We had worked so hard to produce this event, and then literally five days before this event happened, my dad suffered a massive stroke and my world came crashing down," she recalls.
Robyn was unsure if she would even go to the event.
"I was devastated. But then I thought no, my dad was the one who inspired me to get out there and not going isn't what he would've wanted," she says, reflecting on both her earliest days spent at the lake and the event a little over three years ago.
"I ended up going to the event and surfing that day. I felt a lightness that I never thought I would feel again," she remembers. "I was so uplifted by my community and all these people around me. That's what surfing is about, the people you do it with."