By Jacob Marion
Sweaty bodies crowd the dance floor moving to pop beats as cheers and applause echo towards centre stage. Multicoloured bills are waved at performers twirling in rhinestone-covered costumes in what seems like every colour imaginable and stunningly severe makeup.
A drag show is the place to be to see Toronto's nightlife scene truly come alive. It not only creates a space for the city's queer community, but somewhere they can thrive.
At least it did before the COVID-19 pandemic hit.
"The energy of the bars in Toronto was electrifying. It was all this love going around within this small community, people would constantly come out and be excited to see us perform," says local drag artist Aurora Matrix. Matrix is a staple of the drag scene in the Church and Wellesley gay village, entertaining crowds multiple nights a week. That all changed in March of 2020 when lockdowns to control the spread of COVID-19 sent ripples still reverberating through the entertainment industry.
Toronto's thriving nightlife was effectively put out of business when the pandemic hit. Performers were forced to adapt how they create and share their art during what turned out to be lengthy lockdowns, inventing new ways to support each other and fill the void of queer spaces. Tapping into technology and social media may have changed the scene in ways that outlast the pandemic.
"Queer people want to be around others who have had the same experiences in life and understand them in ways other people do not," says Casey Vuong who regularly attends drag shows in Toronto.
At first, no one knew how long the lockdowns would last, but as the pandemic dragged on, bars and clubs that featured drag performers remained locked up and desolate. Their owners were still paying rent, but it was anything but business as usual. Wooden boards covered windows, dusty chairs and tables were stacked in the corners, and lights previously glowing in rainbow colours were now unplugged. It was a strikingly different picture from the party-like atmosphere a few months prior.
It was difficult to adapt live drag show performances to restrictions that included masks and social distancing. Entertainment, not food, was the big draw to these venues so months of take-out only dining did little to help keep these places afloat.
"Many queer establishments are based on social interaction and these policies limited that. Performers weren't allowed to come up close to patrons," said Vuong in a chat over Instagram.
The closures and restrictions left many performers without a steady income or a way to express themselves. "A lot of us thought about moving away," says Erin Brockobić, a drag queen who hosted weekly brunch shows before the pandemic. "Many performers had to look into new ways to make money and even new professions."
Some drag performers were not eligible for financial support from the government, through the Canada Emergency Response Benefit, because they are contract employees and not on a payroll, often paid in tips and cash.
"A lot of us who work in nightlife had to fight an uphill battle with CRB and CERB to prove we work at a certain level," says Allysin Chaynes, a prominent entertainer in the drag scene. "I called one bar I worked at for years to get access to pay stubs I would sign to receive my cash and they weren't available to me."
Gay Jesus, a performer who works in the theatre industry and combines drag and burlesque in an art form known as draglesque, feels that the federal and provincial governments gave little thought to how performers and queer spaces would be able to support themselves.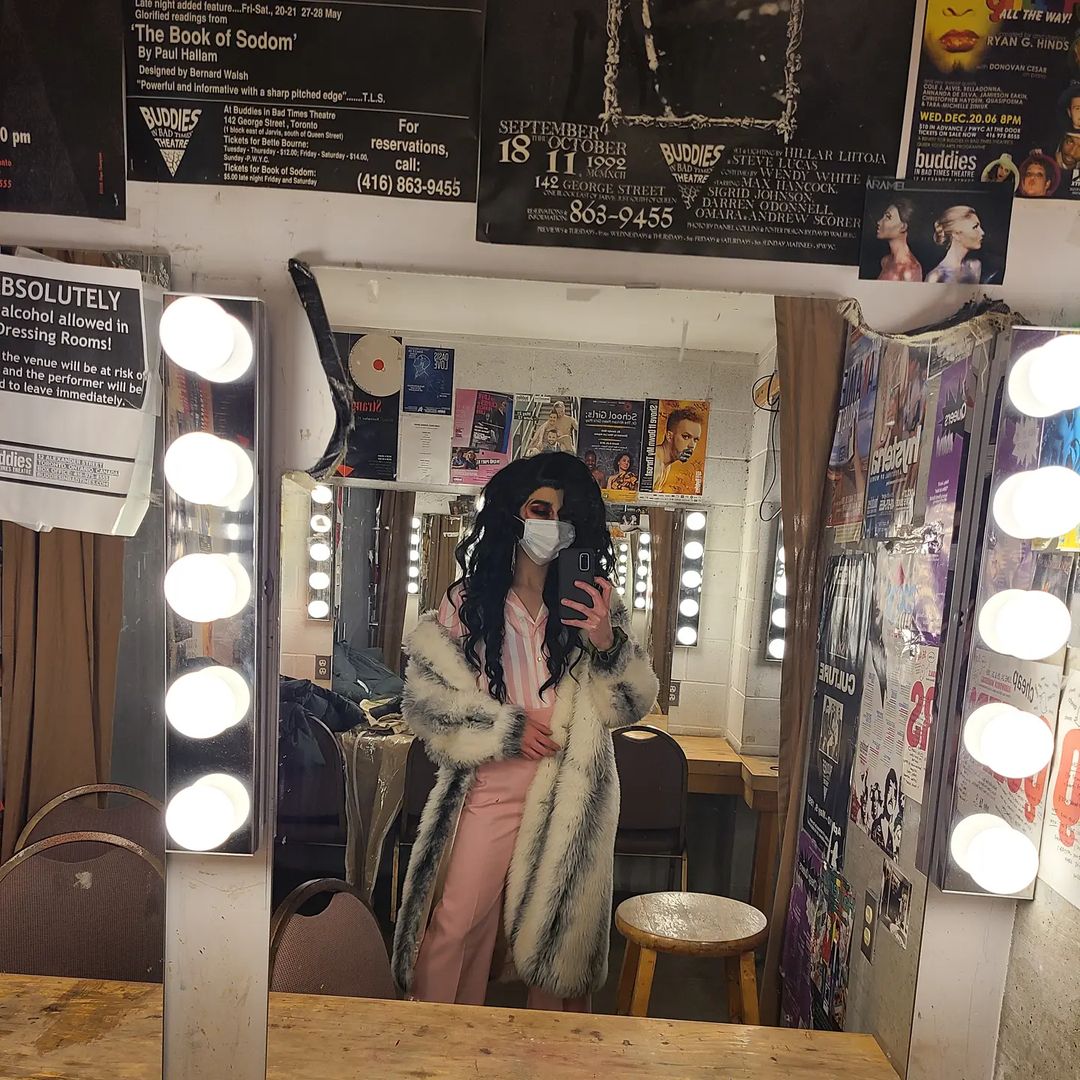 "It's been really evident where our government's interests lie, like the choices they make and what businesses have been prioritized," Gay Jesus said. "Decisions are being made based on finances and profit rather than assisting marginalized communities."
The challenges pushed some to reach out beyond their ranks to keep the scene going. Chaynes had just begun working on an idea of streaming content with Lizzie Renaud, an active supporter of Toronto's drag scene and the owner of Speakeasy Tattoo on Dundas West when the first lockdown propelled them to create an online platform for queens and fans to get their drag fix.
Renaud had already played around with the idea of streaming at her tattoo shop and had a lot of equipment and knowledge about how to get a show running on the live-streaming platform Twitch.
"I thought it would be really cool for the community and to feel a sense of togetherness by making shows online," Chaynes said recently, with a glimpse of a proud smile.
Calling the Twitch channel Speakeasy TV, the pair and other guests host queer-centred content, including virtual drag shows, gaming, art, DJing, and podcasts.
Starting the first week of lockdowns, Speakeasy TV began hosting online drag shows and viewing parties for RuPaul's Drag Race and Dragula, two drag-centred reality tv shows.
Online drag shows featured all the glitz and glam of their in-person counterparts but with the help of technology and the internet, performers were able to create even bigger and bolder shows. In addition to the live-streamed shows, music videos and photoshoots for social media offered more opportunities for Toronto drag to showcase itself online. Everything from projections and animations to costume and set changes could be done with the click of a button.
Working solo, performers like Matrix, Brockobić and Gay Jesus added new skills to their repertoire as they assumed the roles of promoter, lighting director, editor, and videographer.
Chaynes, who not only performs but helps run behind-the-scenes aspects of Speakeasy TV's shows, also learned a lot about the technical side of things, and how to use it to improve their craft.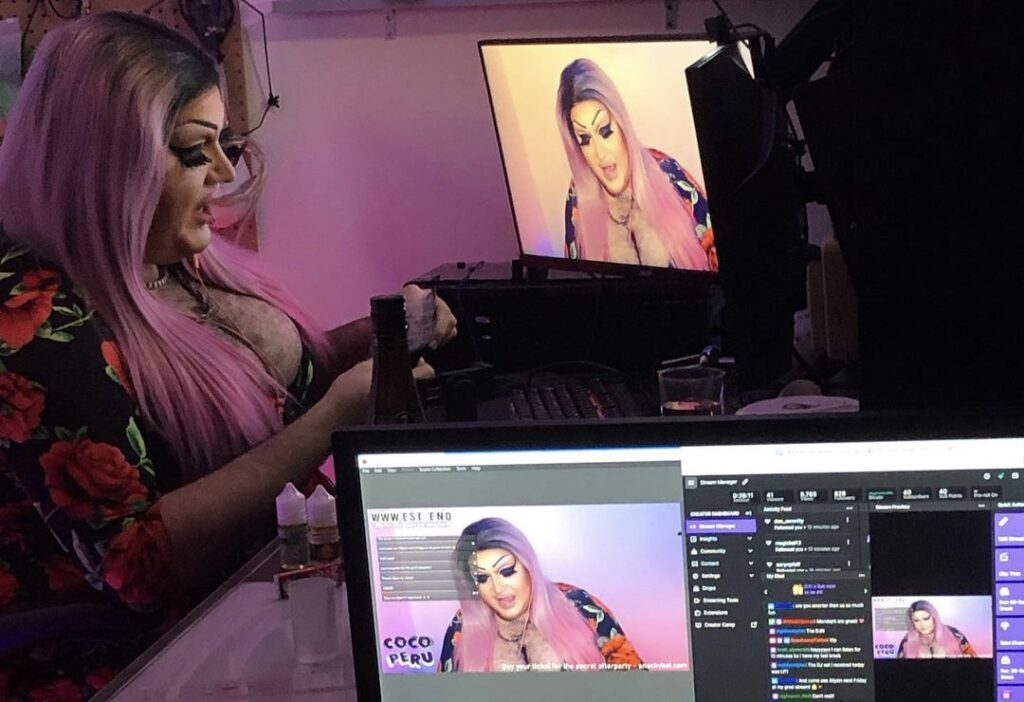 "In the beginning, I learned all the technical stuff from Lizzie, it was completely brand new to me," Chaynes said. "Now we're constantly sharing new techniques we discover, and it's become such a big part of my job."
From the first online shows, the performers and tech teams realized that taking the show off the stage had not cost them the connection with an audience. Tips rolled in virtually through platforms like PayPal and e-Transfer, while the chat scrolling was so fast that viewers could barely keep up. Smiling faces in Zoom audiences, meanwhile, showed that people were eager to support the drag community and have some fun amidst the fear and uncertainty that COVID-19 brought.
Performers also realized these shows were doing more than filling a gap. Fewer age restrictions meant more viewers and performers from around the world could be involved, and the shows were more accessible for queer people with disabilities.
Now that restrictions are largely being lifted in the bars and clubs where drag shows originally reigned, many performers are shifting focus to returning to normal. "I feel like I've been waiting years for this, being able to get back into spaces and do what I love," said Matrix excitedly. "With the summer coming and the weather warming up, hopefully, there will be a boom of patrons coming to bars."
In the meantime, the creation of online drag shows and social media content – and the audience it has found – suggests there may be space for both.
"People still watch TV when there's live entertainment, YouTube when there's live comedy," said Chaynes.