By Kiara Rudder
From the outside of the store, you are able to see hundreds of elegant and classy dresses through the glass window.

The little white dresses hanging on the rail shimmer and stand out against all of the brown, wooden furniture.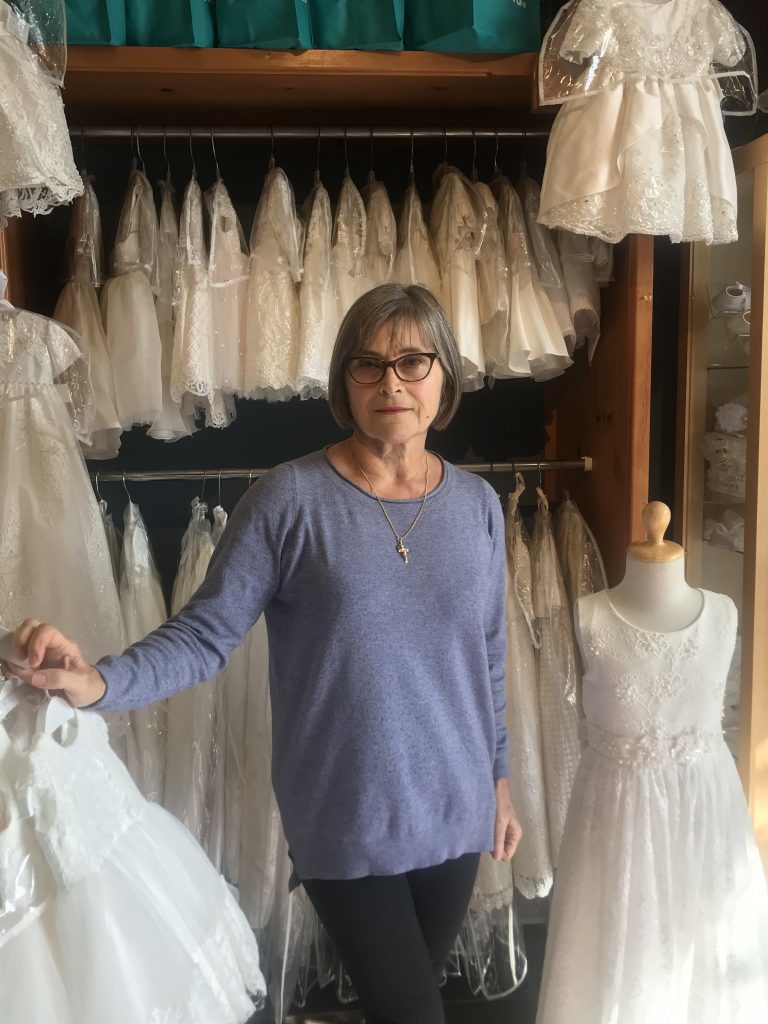 Each dress in the store is unique, with its own touch of rhinestones, pearls, or lace.

Further back in the store is the sewing studio, with endless rolls of fabrics, materials, and the sewing machine to bring the designs to life.

Carmen's Designs is a retail store. Carmen also designs and hand sews clothing for children and ladies for special occasions. Including, but not limited to garments for weddings, communions, and baptisms.

Romao had a few other businesses around Toronto, but decided to pursue Carmen's Designs at 1274 St. Clair Avenue West, because of its convenience to her and her family.

Carmen's Designs is open everyday except for Sundays. Carmen works all of those days from 10 a.m. to 6 p.m.

"This is the area that I was accustomed to, I lived on Northcliff, my kids went to St.Clare school, and my church is St. Clare. This was the area that I decided to settle in because of the ethnic groups. Anything to do with the sacraments is more of the Roman Catholics, which is the Portuguese, the Italians, and South Americans, this is the area." Romao said, who wears a necklace with a crucifix.

My first time in Carmen's shop, I was welcomed by the sound of her frustration and confusion while on a phone call, trying to fix her debit machine.

As she hung up the phone, she giggled and joked with me about the lack of help the lady on the other line gave her.

Romao has been her own boss for over 20 years.

In 1985 she bought an existing business on College Street, where she imported children's clothing, and sold wholesale clothing.

Romao always knew that she wanted to do something with children and designing. Her love for sewing came from watching her grandmother, who was a seamstress. Ten years later, in 1995, Romao decided to utilize her sewing skills, by opening Carmen's Designs.

For the first five to seven years everything in the store was handmade, Romao only sold what she produced.

Romao's parents were very supportive while she was starting her business. Romao's mother would come in and help her with the hand-sewing,and her father would take care of her children, and cook.

As the business began to grow, Romao couldn't produce enough for the amount of business that she had, she evolved by bringing in other clothing lines and brands to make Carmen's Designs what it is today.

The future of Carmen's Designs is unknown, "I will be getting on with age, I've worked for many, many years. In five years or ten years, I would love to find someone that wants to continue with this business, but my kids don't want it," Romao said with a sigh.