By Lauren Stallone
Arriving home from her dance recitals, eight-year-old Shannon Whelan would scurry up the stairs like a mouse. Bursting through her bedroom door she'd find a bouquet on her pillow, wrapped in metallic silver paper reflecting the light in her eyes. Light citrus-scented stargazer lilies, giant red roses, and an array of pink beauties were secured tightly by a string of rough straw-like raffia.
"My mom always went to a fancy florist and it made me feel so special and important as a young kid," Whelan said on a cold day in January, as she pulled her mask up to the bridge of her nose. "It is one of my fondest memories involving flowers and one I often remind myself of with the bouquets I arrange and wrap for customers."
It wasn't until the pandemic hit and her hours as a dance teacher were cut down that she found the time and energy to share her family's lifelong love affair with flowers by opening her own shop.
Embracing the unfortunate circumstances, Whelan borrowed a small amount of money from her father and invested her own personal savings to open a flower shop on Toronto's Queen Street West. Her opening of Euclid Farms In October came between pandemic-driven shutdowns, an ongoing concern for retailers. One in six small business owners in Canada is considering permanent closure, according to a recent survey by the Canadian Federation of Independent Business.
"I never really took a typical job because I've been self-employed my whole life — and now I'm the one running the corporation that I work for," said Whelan, as she pushed a strand of her dark brown hair behind her ear. "I think that people need to carve their own path, decide what they want to be, and make the work for themselves. I've worked very hard to be here and now I've created what I want to do for the rest of my life."
For years, she was a dance teacher and choreographer, but flowers were never far from her life. On weekends, she would put together floral creations and sell them at local farmers' markets, and couples she met there would commission her to provide arrangements for their weddings.
In 2017, she decided to start selling arrangements out of her home on Euclid Ave. She dreamed of creating something much bigger but with her commitments as a dance teacher, which kept a roof over her head, it remained a daydream. Until the pandemic hit, that is. Her hours as a dance teacher were cut down dramatically and she began to appreciate having more time on her hands.
In university, she recalled, she spent a lot of her time applying her mother's teachings to grow flowers she couldn't easily afford — or even find.
"The only real way to do that was to grow them myself because there weren't any garden centers selling tri-coloured zinnias or exceptionally interesting dahlia plants," said Whelan. "I learned that way, how to grow my own flowers from seed and loved gardening so much that I expanded into my neighbour's yard where he let me grow whatever I wanted."
Now, her tiny urban flower farm lies behind a white curtainless bay window wrapped in dark green pine leaves with adventurous roots spiralling upwards. Full of exotic shades of pastel pinks and warm lavender purples, pedestrians walking by are given a sneak peak of the uniqueness of every arrangement.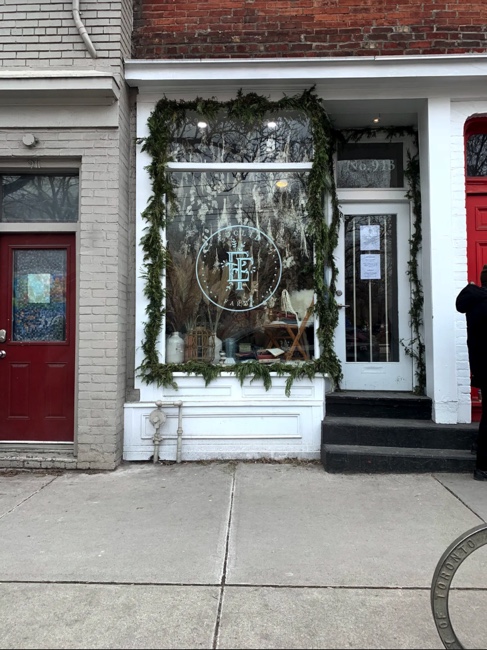 .Whelan greets customers lined up outside the shop for curbside pickup with a smile that seems to radiate warmth on a gloomy January afternoon. She hands them bouquets wrapped in simple brown paper, with flowers bursting out of the packaging like the feathers on a jewel-tone peacock.
Annie Eskander-Ghali popped by the flower shop on a recent crisp spring day, as she has often found herself doing throughout the pandemic. Eskander-Ghali describes Euclid Farms as an oasis for her during the pandemic, reminding her that this difficult time shall pass.
"My favourite thing about Euclid Farms are the fresh flower arrangements. Shannon has a brilliant eye for colour, texture, and balance," said Eskandar-Ghali. " I love popping in to see what new dried pieces she has. I simply add them to my existing arrangements and they automatically feel new and fresh."
Kaila McMcanus, a pilates instructor and founder of The KM Method, also checked into the store that day, purchasing custom-made floral arrangements in hopes of "brightening up" her at home pilates studio after seeing a collaboration between Euclid Farms and her local wellness store.
"The flowers make me think, which I really like. They give my space a very different feel, very luxurious and elevated, " said McManus. "The muted and neutral tones give off a sense of warmth which reminds me of a beautiful day in Greece."
The door shuts slowly following the customer deliveries, and the shop is filled with wafts of crisp and minty scents from the hanging baby-blue eucalyptus. A team of eight florists is preparing orders, bobbing their heads to Whelan's favourite classic rock songs bursting out of the store's speakers.
"The dynamic of my team is great because there are so many different personalities and backgrounds, which reflects everyone's style," she said. "It's amazing to see what everyone creates within those styles."
Whelan remembers her earliest experiments with colour and texture. As a child, she would walk to Loblaws on the coldest days in December and the hottest days in July, excited to purchase her favourite blooms with babysitting money she had saved up. Little yellow lilies, long-stemmed roses, and exotic mixed bouquets were almost always seen in her shopping cart on her way out as she rushed to get home. She placed the fresh blooms in small individual vases and positioned them around her bedroom, creating a sea of sweet scents and soft petals. She remembers being fascinated by their unique and elegant beauty.
In her shop, she combines lime-green chartreuses and mustard-toned lagurus resembling tiny bunny tails in a white donut shaped vase. With pale pinks in one hand and dark teal tones in the other, Whelan tilts her head to the side and takes a moment to think, ultimately deciding to add both options to the arrangement.
To avoid the use of foam and plastic, Whelan's floral designs are tied securely by pencil-thin strands of rough raffia palm leaves and swaddled in packaging that is chosen to reduce any negative impact on the environment.
"We don't have to grow flowers with chemicals so we don't," said Whelan. "If there's a better environmentally-friendly way of doing something we do it. Whether that's buying back jars from thrift stores or growing locally, we are always working to find better options."
For most people a career-altering pandemic would be bittersweet at best. But, while many people are struggling, Whelan acknowledges the uniqueness of being able to tap into a longtime passion.
"I do something I love day to day and have made my hobbies my work," she said.