By Rachel Ashdown
On a chilly February night, the energy at the Paradise Theatre is as bright as its marquee lights. Though the rest of Bloor Street is empty, the West End venue's doors swing open and closed as moviegoers file in, some taking photos with an illustrated Brokeback Mountain poster before scanning their tickets. Tonight's screening has a packed audience – a mix of couples, groups of friends and lone guests – who chatter and sip drinks as they trickle into their seats.
For the Toronto-based writer and film curator behind the screening, Peter Knegt, the buzz of this crowd is a feeling he'd missed during the city's COVID-19 lockdowns. "I rekindled a yearning for movie cinemas and realized how important they were to me." That's why he started his film series, Queer Cinema Club, in the spring of 2022. To Knegt, after hosting almost a year of monthly screenings, the queers who cram into the Paradise are more than just an audience. They're a community.
New queer film programming has recently emerged at Toronto's independent movie theatres, offering welcoming spaces for 2SLGBTQ+ folks to share their love for cinema. Events like Queer Cinema Club, Drag Me To The Movies and Lesbian Film Society are independently organized, funded and hosted by their curators. These film nights are now regular fixtures at repertory cinemas like Paradise Theatre and The Revue, and queer-owned businesses like Glad Day Bookshop. The programmers create themed experiences to match each film, from a heartfelt speech introducing a seminal romantic tragedy to a nu-metal drag performance warming up the crowd for a fantastical camp comedy. With these productions, curators are bringing together queer communities that have been strained and lost their spaces due to Toronto's accelerating gentrification. Through cinema programming, film buffs are sharing their love for the medium and queer artists reclaiming their space in the city's cultural scene.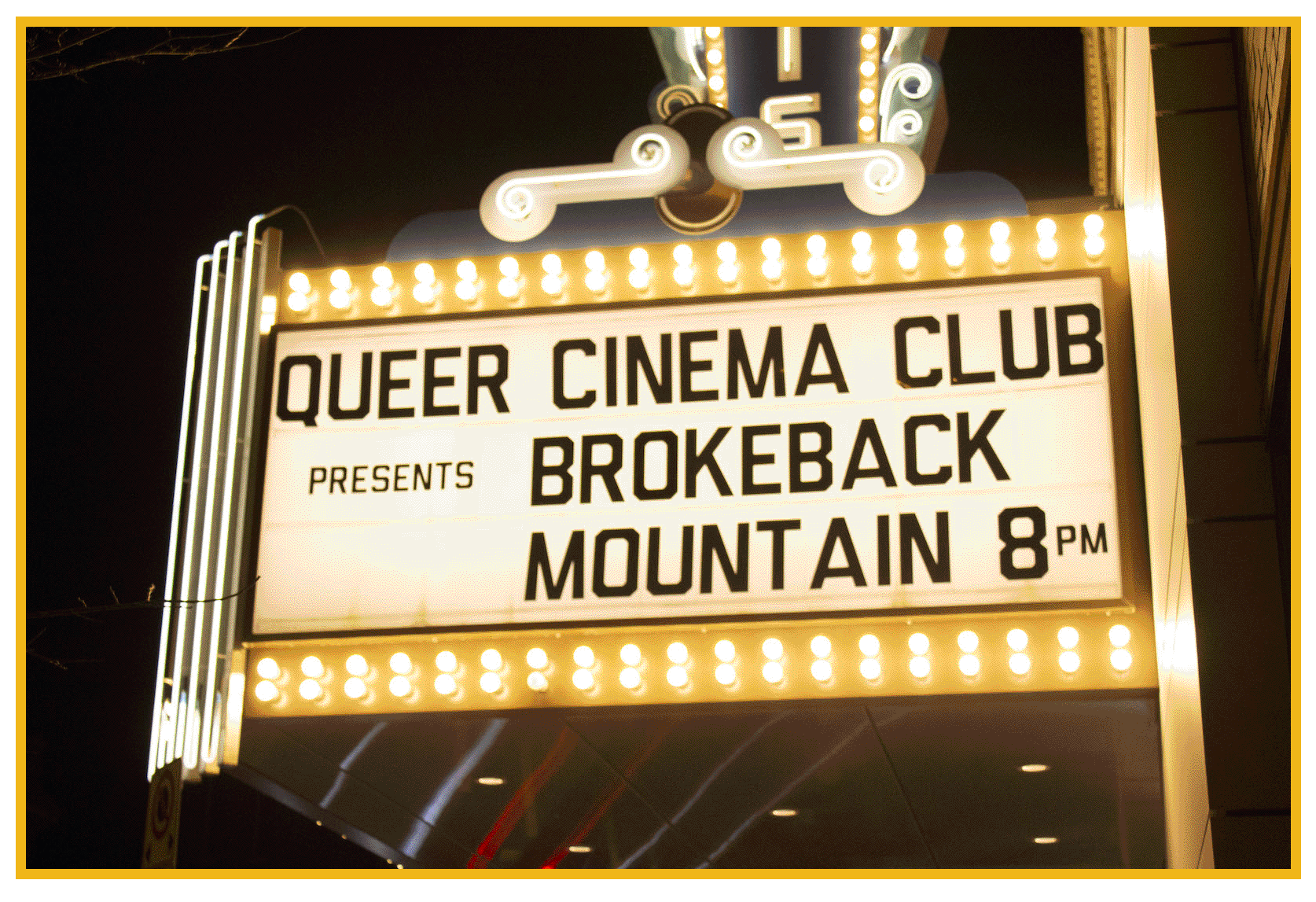 Queer Cinema Club offers a showcase of Oscar-winning films and hidden gems, from Moonlight to The Living End. Every screening opens with a speech from Knegt, adding a personal touch to widely acclaimed cinema. Before the opening credits of Brokeback Mountain, he captivated the crowd with the story of his tear-filled first viewing of the notoriously heartbreaking romance. At previous screenings, like Paris is Burning and But I'm A Cheerleader, he kicked off each night with a costume contest and a drag number, respectively. Every show is a welcoming environment in which Knegt and his audience celebrate significant 2SLGBTQ+ cinema together. To him, "no matter how serious the movie is, it's a very loving vibe."
Drag artist Weird Alice Yankadic hosts the "interactive camp cinema" series Drag Me To The Movies. After kick-starting every show with a lip sync, Yankadic sits beside the screen, mic in hand, cracking off-beat jokes with the audience. Their selection is a unique brand of camp, surrealism and nostalgia, which they're delighted to share with a crowd. "It's an aesthetic of film that I find a lot of joy and comfort in and I want to show other people," Yankadic says. Sitting in the audience, the sounds of each film blend with the roaring laughter and dramatic gasps of Yankadic's partially delighted, partially bewildered audience.
Though attendance can reach 200 guests a night, these cinema clubs are tight-knit. After showings, Knegt and Yankadic can be found floating around the Paradise lobby, passionately discussing each film with their regulars. In only a year or so of monthly screenings, they've personally gotten to know many of their patrons. For Knegt, "There were at least twenty people, some of whom I did not know at all before this started, who have come to every single one." At The Paradise and other repertory theatres like it, strangers congregate like longtime friends. It's an energy that's difficult to replicate at big chain cinemas: a sense of connection.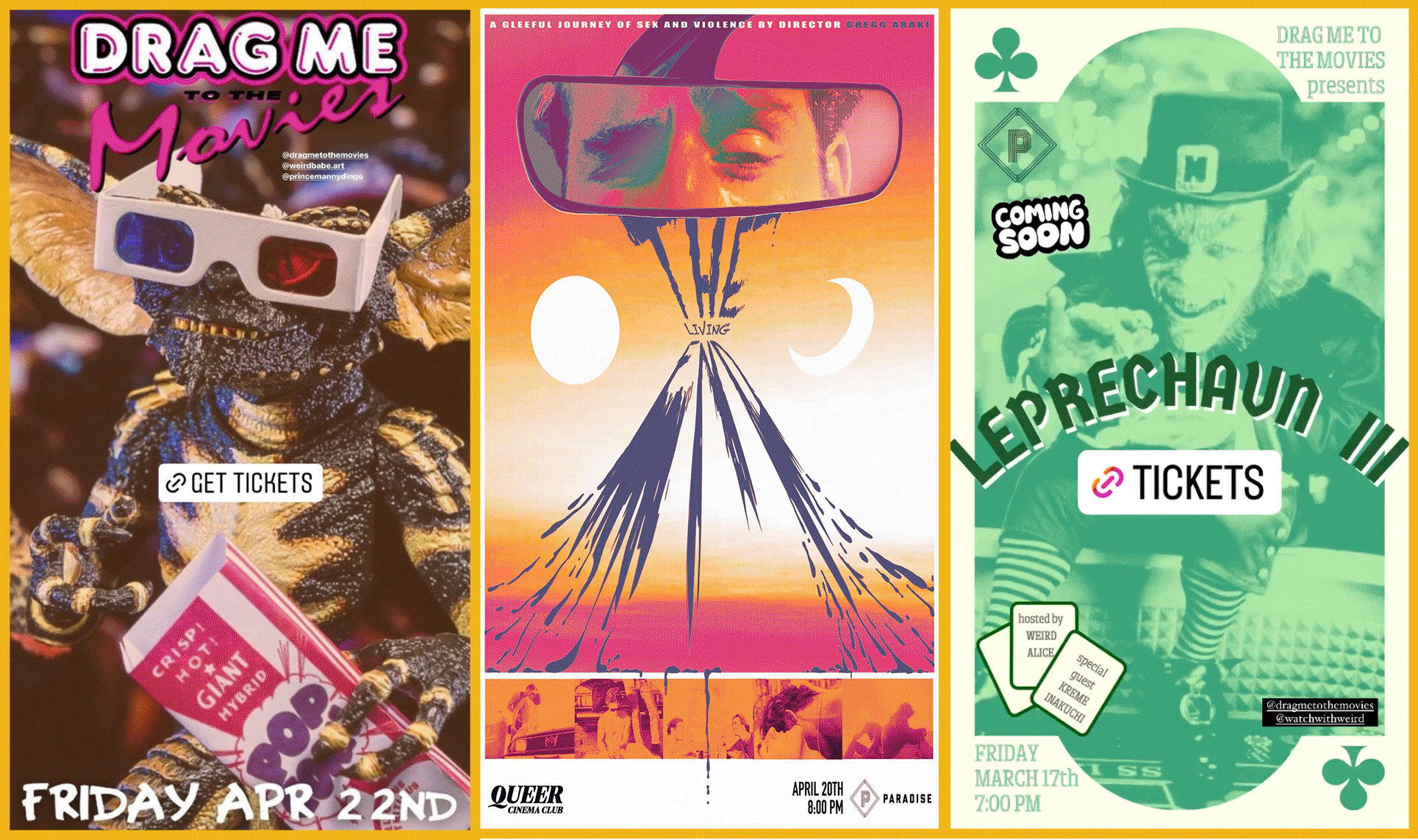 Toronto's West End, which houses the Paradise, has long been a hub for queer arts. When the district fell silent during 2020's shutdowns, some parts couldn't recover. During Ontario's on-and-off quarantine periods, 2SLGBTQ+ sanctuaries like The Beaver closed for good after only a few months without customers. Across town, iconic gay establishments like the drag bar Crews & Tangos are contending with the threat of eviction at the hands of incoming condo developments. But even before the pandemic, the city's vicious cycles of gentrification and rising property costs have made it difficult for business owners to find their footing. Queer bars throughout North America have been in decline for decades, according to a survey of 2SLGBTQ+ business listings. With taller financial hurdles tripping up Toronto's business owners, established venues for simply socializing — let alone artistic expression — have become a rarity.
Though Toronto's rep cinemas are not queer-specific spaces, they have embraced their new audiences with open arms. The Paradise Theatre is now considered, by its guests, a unique venue for the city's queer culture. "We want to offer film programming that speaks to all corners of the LGBTQ+ audience," said Lucy, an internal programmer at the theatre. "Our hope is to create an expansive view of the queer film landscape of past and present."
For its curators, the Paradise has become a new space to feature art with an emphatic audience. "We're opening opportunities for queer gatherings in a non-traditional queer space," says Weird Alice Yankadic. "Between my programming and Peter's programming – I've been told this by other people – that's where you go to see queer film in town. And I would love that to continue."
New groups are also popping up to prioritize those particularly underlooked within the 2SLGBTQ+ community. The Lesbian Film Society (LFS) was established last year with only a promotional Instagram profile and a link to a forum for its followers to share their own art and resources. This spring, its organizer Maiesha Zarin plans to dedicate their club to "pro-lesbian" film programming.
Using their background in community organizing, Zarin took their time considering the space they wanted to make for members of the LFS. With cinema screenings set for the spring, they're hoping to form a collaborative environment that pushes past simply watching movies. "I would love for it to grow into a really big space that caters to a lot of different people's needs," Zarin said. "I definitely want that to be a place where local Toronto artists and lesbian filmmakers can come out and talk about their stuff, showcase their stuff, craft, and brainstorm in groups."
LFS is arriving at a time of scarcity for diverse queer venues in Toronto. With lesbian bars and clubs closing for good, queer women and trans people are now creating spaces through one-off shows, parties, and get-togethers at existing businesses. Though the current state of the city has let down its residents, organizers like Zarin have remaining hope for its future. "As queer people, we're already so isolated because of the systems and structures we live in that don't really have a space for us," they reflected. "I just want things to be welcoming for everyone."
That welcoming feeling was in the air back at Queer Cinema Club's February screening of Brokeback Mountain, as patrons stared in collective awe at the film's final melancholic scene. When the screen faded to black, the crowd sat in silence for a moment, then erupted in applause. As audience members stretched out of their seats to disperse, some sat back, cracking jokes with their friends or crying into their partners' shoulders. In a matter of minutes, the Paradise was empty of its customers. But the memories made in those few hours will last — at least until next month's show.
Looking for more film in the city? Check out this map of some of Toronto's best indie theatres: