By Dorsa Rahbar
How Venus Bakery and Café has become a hub to the Iranian community in Scarborough
---
The scent of rose water and vanilla wafts the air like a spell. Outside, the bustling streets of Scarborough are loud with piercing sirens and traffic noise. Inside, the quaint bakery is filled with a sense of strange calmness in the East of Toronto. Behind the counter, Olena, a Ukrainian woman with short hair and a smile as sweet as honey, shouts a friendly hello, "Salam." Classic Persian
music
plays at a low hum as Afshin, the pastry chef, works away at a new batch of fresh sweets in the kitchen.
With only a staff of three, each works closely to ensure quality goods and provide a friendly space for customers. There's Olena Jatsyshyn, on cash and attending to customers, and Afshin Asgari, rounding up new batches of sweets while being referred to as the "Picasso of pastry," along with Norellah Barghi, the owner of the store, who provides fresh ingredients for the kitchen and serves the needs of his staff. Venus Bakery and Café caters a wide variety of Persian and Middle Eastern pastries, tea, and staple Iranian nuts.
The bakery connects various kinds of people together over a common interest: Food. With all types of customers coming in and out of the bakery, the Iranian community bonds over pastries, or "shirini" in Farsi, as it serves as a one-stop-shop. Meaning that Iranians can come in and buy their staple nuts, classic Persian goods such as Saffron sticks— a sugary stick used to sweeten tea or a lollipop for children to enjoy— and traditional pastries.
---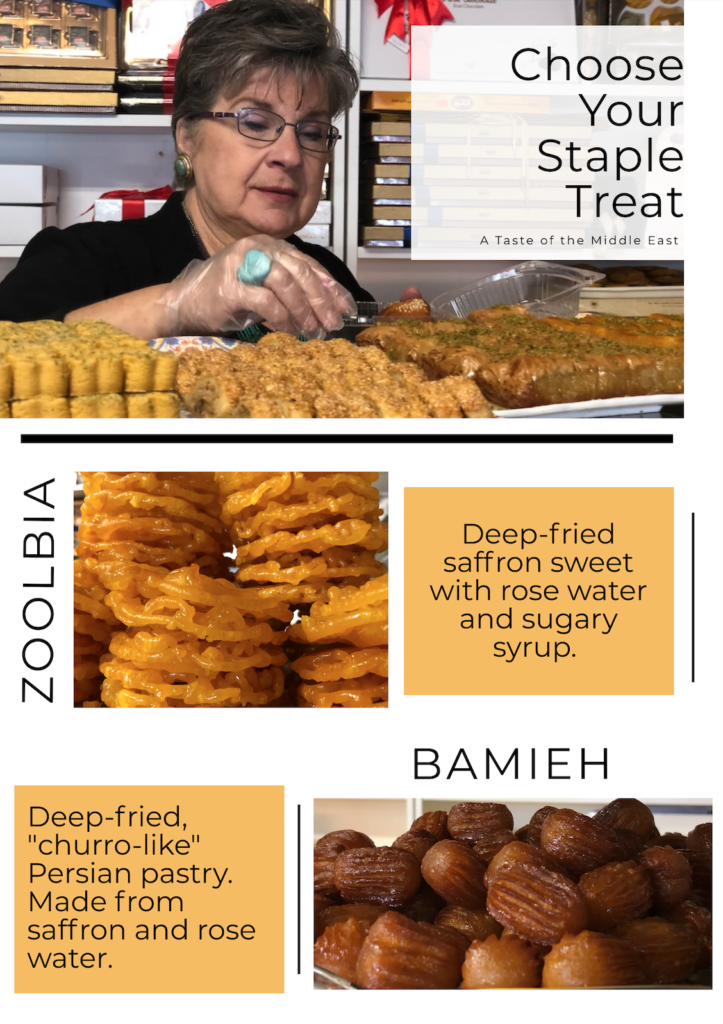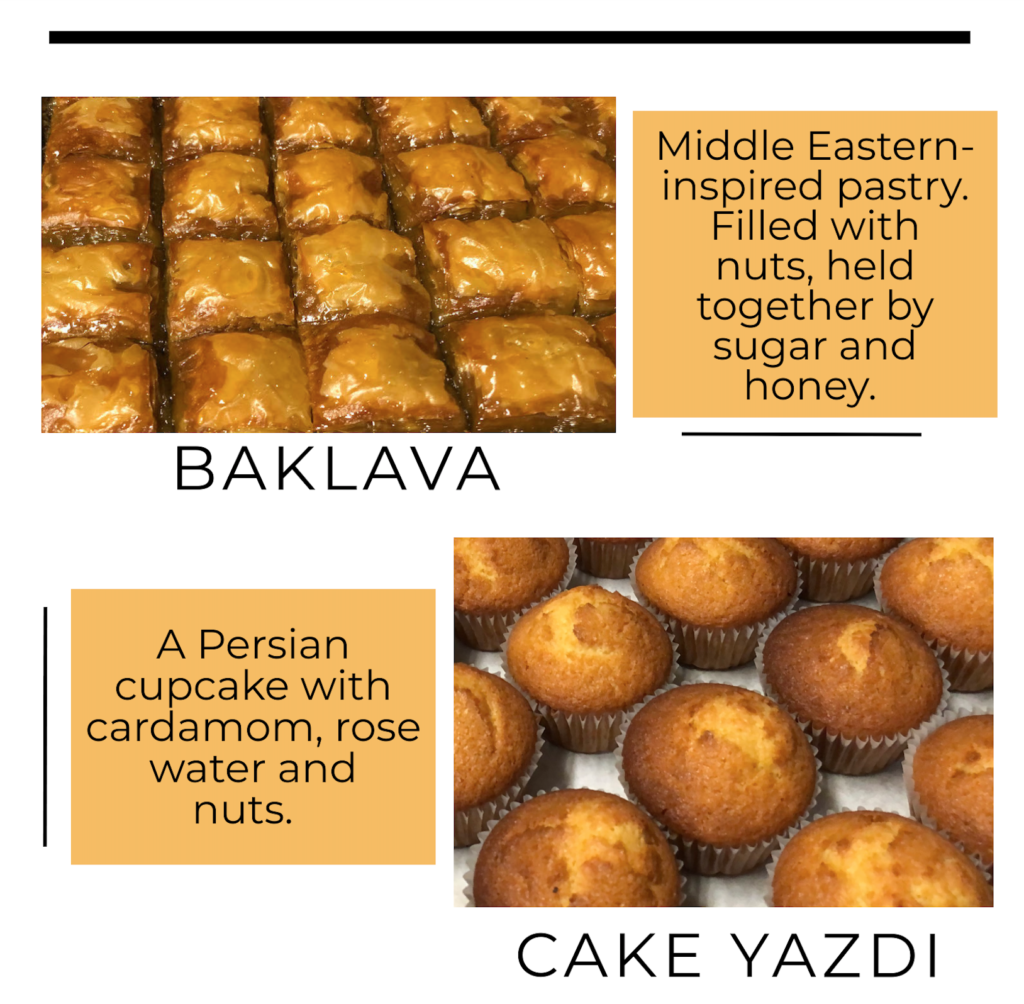 As the Eastern parts of Toronto are diverse and filled with various people from around the world, Venus Bakery and Café has purposed a home for the Iranian community. The bakery acts as a hub, catering for various occasions and events, such as funerals and weddings, serving a substantial role in the community. Additionally, this establishment is one of the few Iranian bakeries in Scarborough. So, customers like Shadi Shiraldini feel right at home when they visit the store.
---
Shadi, a realtor based in Toronto, has been coming to the bakery for about two to three years now. Originally from Tehran, Iran, she confirms that she can purchase all her essential Persian goods from the bakery. Shadi enjoys the quality and freshness of the pastries, making sure to buy extra batches for her clients and family, including her favourite, the "Rollet," a sponge-like sweet with pistachios and cream.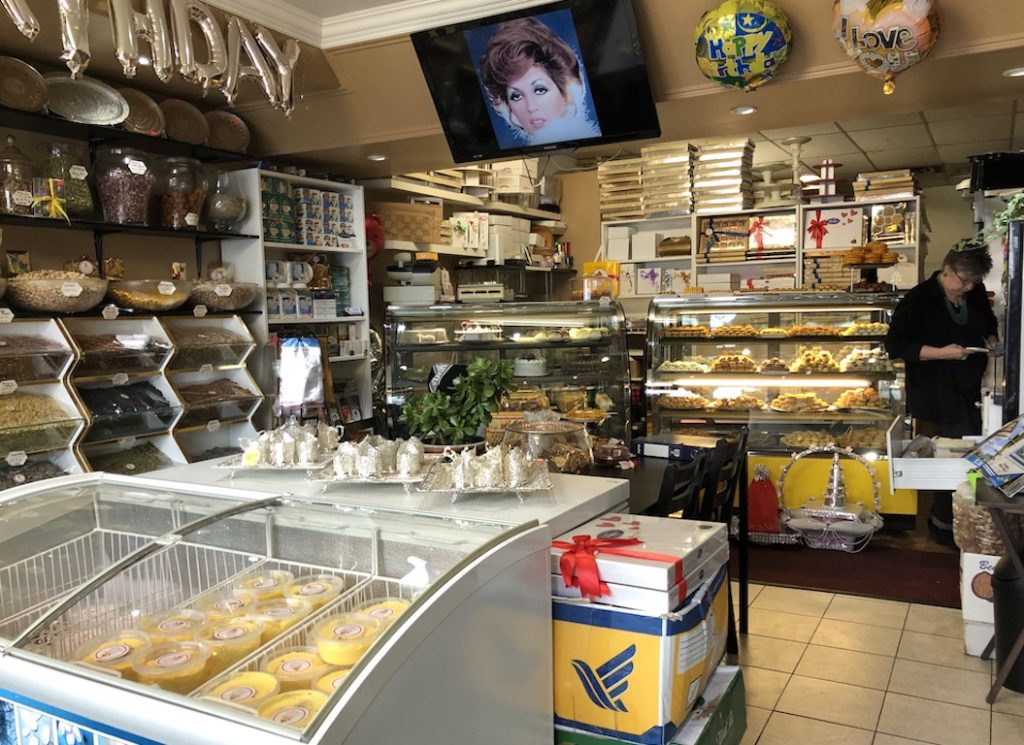 Now more than ever the Iranian community is finding comfort in the bakery, a small piece of home for Persians in Scarborough. Despite COVID-19 and ensuing closures, Venus Bakery and Café remains open while maintaining safety regulations. Customers can come in and buy all their essential products.
"Venus is the Goddess of Love, and there needs to be more love in this world," says Norellah. Inspired by the bakery's name, Afshin works one-by-one on each pastry, mixing the ingredients in a bowl, painting the sweets delicately with a brush soaked in oil and butter, and popping the various kinds of shirini into the oven.
The bakery takes pride in its pastries; Afshin is the mastermind behind the sweets. He started cooking at the mere age of six in Iran, and now has over 25 years of experience. He is known for his popular, "Falooda," ice cream made from rice noodles and sugary syrup, similar to sorbet. Afshin is a tall man with a defined posture, working in the kitchen only to come out with a fresh batch of sweets, with flour on his shirt. As he claps his hands attempting to shake off the remaining flour and sugar, Olena begins to serve the baked goods. From afar, Olena shouts a familiar sentence, "The Picasso of Persian sweets," she exclaims, smiling from cheek-to-cheek.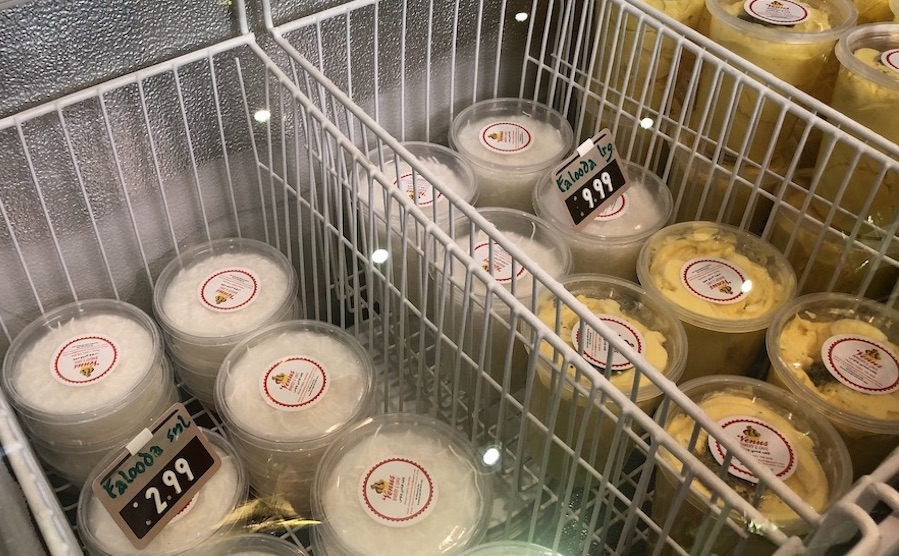 Olena, coming from an arts background and pursuing various acting and singing roles, was once where I stood, a visitor walking through the front
door
for the very first time. Living close to the plaza and commuting back and forth, meeting up with friends and clients, Olena one day noticed a new bakery had opened. She recalls that she had originally thought Venus Bakery and Café was Greek.
During her frequent visits to the Café, Olena got to know the owner, pastry chef, and the Iranian community. Fascinated with different cultures and languages, she began to become familiar with Iranian shirini, and other staple products. Norellah, needing some extra help at the bakery, and Olena, already acquainted with the Iranian culture, shirini and bakery, joined the team, initially part-time and then became full-time. From then onward, Olena has established a bond not only with the Iranian community, but most of the Middle East.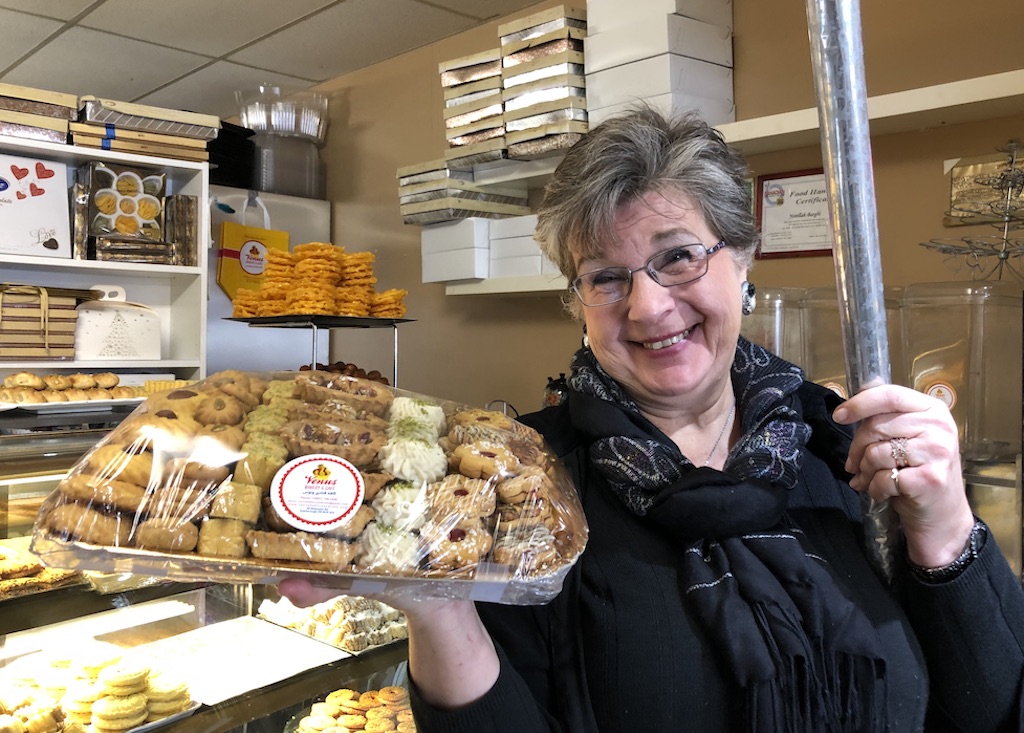 ---
While the distinct hum of classic Iranian music plays throughout the small bakery, Afshin can be found working in the kitchen while Olena serves and attends to customers. With everything going on in the world, Venus Bakery and Café stays as a constant, carrying on their regular routines while remembering safety regulations and treating everyone with kindness. The Iranian community is finding solace in the bakery, a home in times of darkness, and purchasing their staple goods and sweets. Olena says her familiar, "Salam," to customers and with the same, sweet, honey-like smile she asks, "What can I get for you?"