By Anna Wdowczyk
Strolling under a cluttered ceiling of colourful hangings, Ixchel Suárez waits for her students before Wednesday night painting class at the Oakville Arts Studio.
She pauses once she reaches the music player and hits "Play." Dramatic echoes of classical symphonies cascade across the room. But something isn't right—Suárez immediately notices a lifeless facial expression when her student Felicity Stone* enters.
Felicity was once a regular at the Oakville Arts Studio where she would sketch and paint with fellow artists, often spending over two hours in the art room with sheer focus and determination.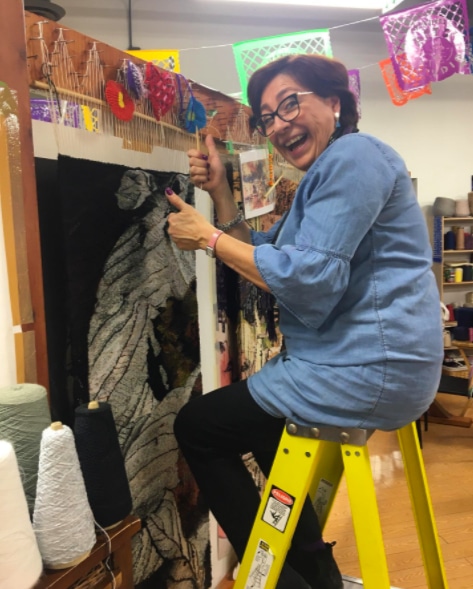 The studio owned by Suárez offers a wide variety of art forms including drawing, painting, tapestry weaving and mixed media. Suárez says she aims to unite artists of all ages and abilities in a safe space where they can talk freely about their personal lives while creating something that brings them a sense of pride.
Upon seeing Felicity's drastic change in attitude, Suárez brainstorms what she can do to comfort the young girl. Before she even manages to open her mouth, Felicity looks up and says, "I just want to share with you that my father died."
This isn't news for Suárez; she already knew Felicity's father lost his battle to cancer a few short days before Christmas. However, seeing the motivation drained from a normally enthusiastic girl who loves to paint and sketch is hard to process.
"Let's talk in my office," Suárez replies after hesitating.
Felicity agrees and follows Suárez into a private room where she releases her facade. "I have to be strong for my mother," explains Felicity. "I can't cry. I can't cry in school because they will bully me."
Suárez nods. She understands these emotions after watching her own son stay strong for his girlfriend who eventually died by suicide. She looks deeply into Felicity's eyes and says, "Get the largest canvas you can find and throw the colours that you feel. Get my studio dirty. Use your hands, use your feet, your hair, anything!"
Felicity seems unconvinced, but she continues listening to Suárez anyways.
"Of course, you're angry," Suárez sympathizes, hoping she'll motivate Felicity to pick up a paintbrush after a long break away from the studio. "Who wouldn't be angry? You lost your father due to a stupid disease. It [cancer] took the most precious thing of your life."
To her dismay, Felicity remains silent. That's when Suárez comes up with a different approach. She smiles gently and says, "You don't feel comfortable. Why don't you write words?"
Felicity's eyes finally glimmer with hope. She picks up a pen back in the studio with the entire Wednesday group that rumbles with excitement.
Suárez shows her how to create literary art by writing verses. "Weave words. Use a tapestry of words," she instructs. After teaching Felicity how to write a beginner-level poem, Suárez calls her sister who's a poet for help.
With her network of young artists, her sister's support and Felicity's knack for poetry, Suárez unites a musical band. Felicity writes the songs and her band members compose notes.
Just six months later, Felicity sings her own songs while other kids play music to the beat. Suárez decides to celebrate by hosting an open mic.
On the night of July 28, 2018 nearly 250 GTA-based youth cram together between painting-covered walls. Felicity isn't silent anymore. She sings her songs with confidence and the crowd roars.
Suárez says she "would love to" host similar events, but losing business due to lockdowns amid COVID-19 makes it hard for her to finance a large studio. To make ends meet, she had to sell her house along with the old business location. Since Mar. 14, 2020 Suárez has been staying connected with the Oakville community by offering virtual classes instead.
Working out of her garage in a new home, Suárez says she's happy she can unite students during these uncertain times.
"I believe in the power of art . . . For me, it's a weaving of lives."
*This name has been changed.