By Gabriella Oteiza
Within the Central American country of Nicaragua, the mountains of Segovia house a small farm with 500 workers. The workers spend all day picking, drying, and preparing coffee beans to be sent to the continent of North America. Within each bag of coffee, lies the spirit of Nicaragua and the passion of a Canadian couple who wish to spread their Latin culture.
Segovia Coffee Co. is the only coffee shop in Brampton that offers a truly Hispanic experience through their passion for art, music, food, and most importantly, coffee.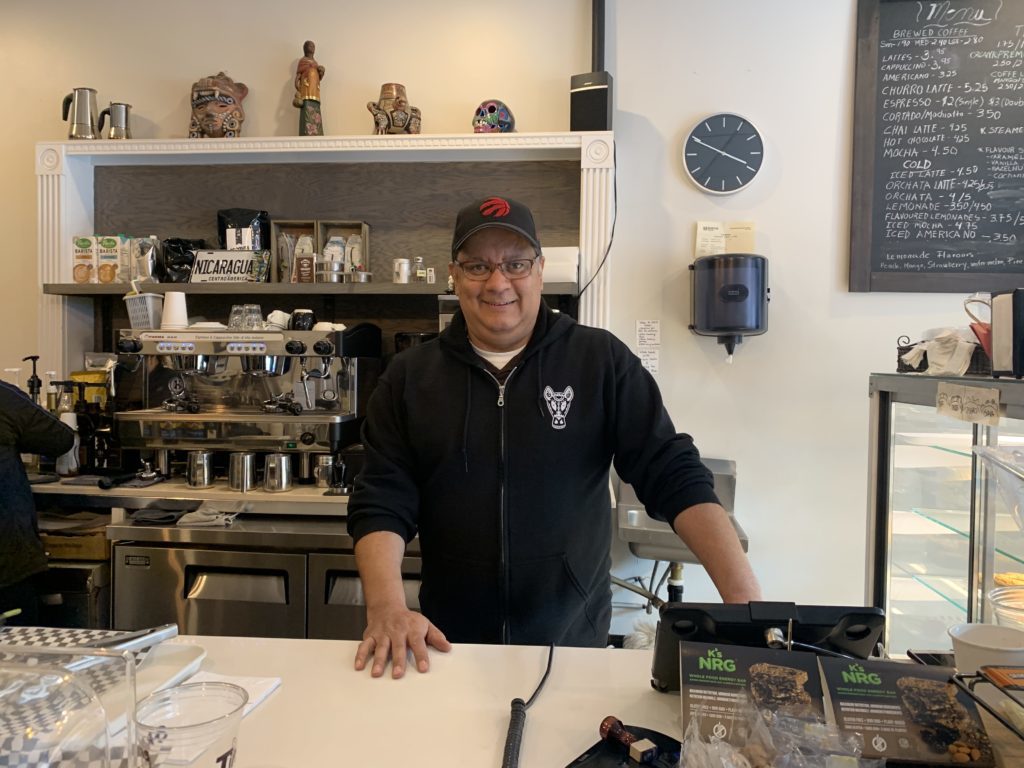 Owners Horacio Herrera and his wife Marcia, have lived in Canada for over thirty years. After working corporate jobs they decided they wanted to become their own bosses. After setting roots in Brampton, the couple wanted to have a place to call their own and to bring some Latin flare to their hometown.
Nestled in the heart of Brampton, the Herreras opened Segovia Cafe in 2018. The cozy shop with a small seating area stands out among the neighboring shops. The bold white "Segovia" letterscatch the eyes of on-looking pedestrians, piquing their curiosity. In the front window are a set of white tables and chairs with twinkly lights cascading down the windowpane. Horacio and Marcia's warm smiling faces are ready to greet customers, help them decide what to order, and even share with them stories of their heritage.
"We wanted to bring something from Nicaragua. Something that is very representative of our country," explains Horacio. "Since we have friends and relatives working in the coffee industry we decided to get into that industry. It's something we are very proud of."
The snacks and espresso machines are housed on the counter at the front of the shop. Beside the counter are a set of glass cases and tables filled with handmade decor from Nicaragua.
A handcrafted and brightly-painted parrot figurine along with handmade wallets sit in the glass cases begging to be bought. Towards the back, there are many tables and a counter where customers can sit, listen to music and enjoy their freshly brewed cup of coffee.
The menu at Segovia is full of delicious Latin snacks including their gourmet empanadas, filled with unique combinations like black angus, chicken, and guava and cheese. They are also known for their churro latté, made with their fresh brewed coffee, a pinch of cinnamon sugar and a drizzle of chocolate sauce.
An older man walks in and finds himself confused as to what he should order. Sensing the man's indecision, Horacio calls him over to the counter.
"My friend, what can I help you with today," he says, smiling brightly at the man.
"I have no idea, maybe just a simple cup of coffee?" the man replies.
"You should try our espresso," boasts Horacio. "It's one of the things we are known for."
The routine of opening the shop consists of preparing the coffee and baked goods for the day's customers. Marcia often refills the glass case with fresh cookies and sweets throughout the day. While they make some sweets, they also partner up with other shops. "We try to bring the best from bakeries in Toronto as well as some local Bramptonian businesses," says Marcia.
Segovia Coffee's logo is a modern take on the classic Macho Raton character. The Macho Raton is a character from a well known Nicaraguan play. The character dresses up in lavish clothes and dawns a horse mask in order to make fun of the Spaniards who were colonizing the region in the seventeenth century. This tale of resilience in the face of adversity was passed on for many generations until finally, the United Nations Educational, Scientific, and Cultural Organization (UNESCO) recognized it as an Oral and Intangible Heritage of Humanity. The ancient character has had many looks over the course of 400 years, however, they have incorporated a special twist that explains their own journey.
The Macho Raton features a volcano called Momotombo which is located in Leon, Nicaragua. There are also five mountains that represent the five out of the seven countries in Central America, with the central and largest one being Nicaragua.
Horacio, who created the design himself, wanted it to tell a story. Within the small design holds the story of his family immigrating to Canada from Nicaragua, with coffee linking the two. The logo is plastered all over their social media channels and is even sold on sweaters alongside other handmade souvenirs.
Horacio incorporated a number of elements from his home country but he also snuck in some modern motifs, including the CN Tower. On the horse mask's ears are a Madonna with a baby under a blanket, which represents the motherland and where they were born.
Segovia's coffee beans are ethically and eco-consciously sourced from Nicaragua. The coffee is grown in the mountainous region of Segovia-Matagalpa, in the northern part of the country. This area has a high elevation and very rich volcanic soil, giving the beans their distinct chocolatey taste.
Brampton does not offer much in terms of access to Hispanic culture and experiences. The Herrera's goal is to fill that gap and introduce people to their language and culture. They are very generous with their time and also providing opportunities for people within their community.
The couple are currently working with a well-known Ecuadorian artist, Patricio Bermeo, who recently immigrated to Canada. They are helping give Bermeo, who doesn't speak English, a chance to make connections here in Canada. The Herrera's have taken it upon themselves to help the man out.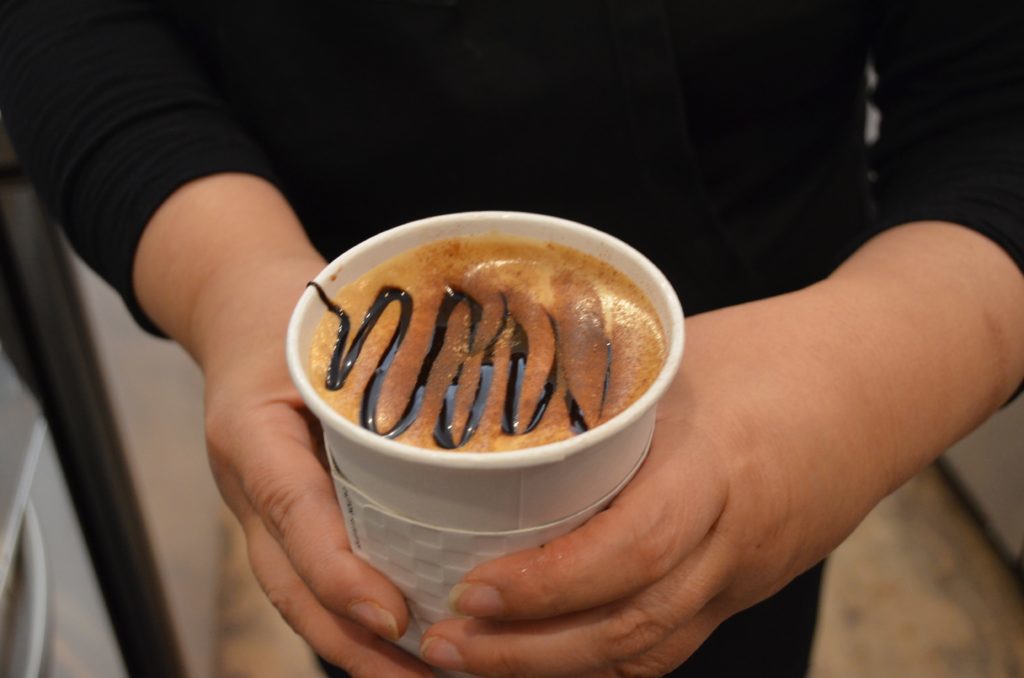 "He just happened to walk in here [one day]," says Marcia. He told us about himself and showed us his art and we immediately identified, 'We['ve] got to work with this guy.'"
The Herrera's have set up an exhibition for Bermeo's paintings at the Brampton Library. When they're not contributing to the art community, the couple provides dance and guitar lessons, live music and, hopefully one day, Spanish lessons.
And they want to do it all in their coffee shop.
"We're trying to promote our own Spanish Culture through art, music, and coffee," Horacio explains.
Segovia continues to spread their love of their culture throughout their community. They have no plans of stopping anytime soon.