By Isabella Daniel
Some fear that concert violence may occur as restrictions ease as we enter this new post-pandemic era.
In 2019, Befftow Ali attended her first concert at Rebel Entertainment Complex in Toronto. She was excited to see her favourite artist, YBN Nahmir, perform live. But while waiting in line with her friends she noticed the other attendees elbowing one another to get to the front of the line.
She tried not to feel agitated as people towering over her small, 5'0 frame brushed by while yelling "move out of the way!"
She hoped it would settle down once she got inside, but it turned out that was only the beginning. Many people were pushing and shoving others to get closer to the stage.
Once the show began, even more chaos unleashed as fans created a mosh pit in the middle of the dance floor, pushing Ali farther away from her friends. Ali lost control and began moving to wherever the crowd was taking her.
Thankfully, she managed to escape with only a few cuts and bruises on her arms, but the experience left her shaken up.
"I am really small so this experience was very scary for me. I felt like I could get crushed in any second," she said.
Music festival season is just around the corner. As COVID-19 restrictions are lifted, people are finally able to attend their first concert since the pandemic began. But some people, like Ali, feel nervous about joining big events after so long — this is also the first concert season for Toronto after last year's Astroworld tragedy in Houston, where 10 people were killed during a crowd surge. While organizers have been putting in measures to keep people safe, experts say there are also ways you can protect yourself.
Paul Wertheimer is the president of Crowd Management Strategies, a consulting firm he founded after a deadly crowd surge at a 1979 concert by The Who in Cincinnati.
Wertheimer said the problem is the way concerts are planned, managed and staffed and officials are playing "Russian roulette" with the safety of attendees because there is so much money to be made.
"Planning a safe concert is not rocket science, but people are getting away with overselling tickets at festivals because numbers are harder to tell in a crowd."
He said that there has been guidance for over 40 years, but it is generally ignored because young people are exploitable, they usually do not know their rights and are often blamed for crowd crushes.
Wertheimer said an example includes when Astroworld's medical staff told officers that a security guard was injected with drugs while attempting to refrain crowd members, which has now been confirmed as false.
"The whole thing was nonsense, you couldn't even run around as the crowd was so dense. The police chief said this for days to try to blame the crowd!"
Toybox and Rebel assistant concert organizer, Michael Mussa said it is very important for big festivals to sell an appropriate number of tickets as overcrowding causes attendees to push and shove.
Big events will sell tickets as if the whole venue is being used and "although that is the goal for some concerts it is definitely not safe," he said as things may change when it is concert time.
It is usually decided to only utilize certain areas and lock off other rooms "which causes people to pack into the only space being used."
Mussa said, concert goers should definitely keep this in mind and do whatever they can to keep themselves safe if overcrowding were to occur.
He said this includes moving towards the back of the crowd even if you feel like you are missing out, as many people like to gather around the front of the stage.
"The possibility of getting injured at a festival will always be present and this is why it is best to take action as soon as you notice your movement being even slightly restricted."
"People should be concerned about their safety as there is a lot of pent-up energy during the pandemic that can turn to aggression," Wertheimer said.
He said he recommends eating properly beforehand and dressing comfortably by wearing track shoes for better traction.
He also said to practice "situational awareness," which includes trusting your instincts, texting rather than calling in an emergency situation, leaving when you feel you are about to be in a dangerous situation and being aware of all exits.
"Try not to go for the nearest exit. If many people are rushing towards the same exit as you, go to another one instead to avoid crowd crushes," said Wertheimer.
He also suggests not getting into crowds that are too dense and that you cannot get out of, as "no artist is worth putting yourself in danger."
"When attending a festival or a concert it is very important to not gaslight your intuition," Peters said, who is a former security guard at Rebel.
He said as soon as you feel unsafe or uncomfortable make sure to let the nearest security guard know so you could be removed from the crowd. "It's better to be safe than sorry, so make safe decisions when you still can."
Wertheimer said he highly recommends victims filing independent reports or complaints to police outside of the company after an unsafe event. as, "Promoters hire the paramedics and the city approves these events so attendees should assume that no one is on their side."
Ali said she believes that effort needs to be placed into having stricter capacity limits and increased security as anything can happen at any time.
"I will probably start to feel more comfortable with the idea of a general admission concert when people stop waiting for the worst case scenario like Astroworld to occur to start paying attention," she said.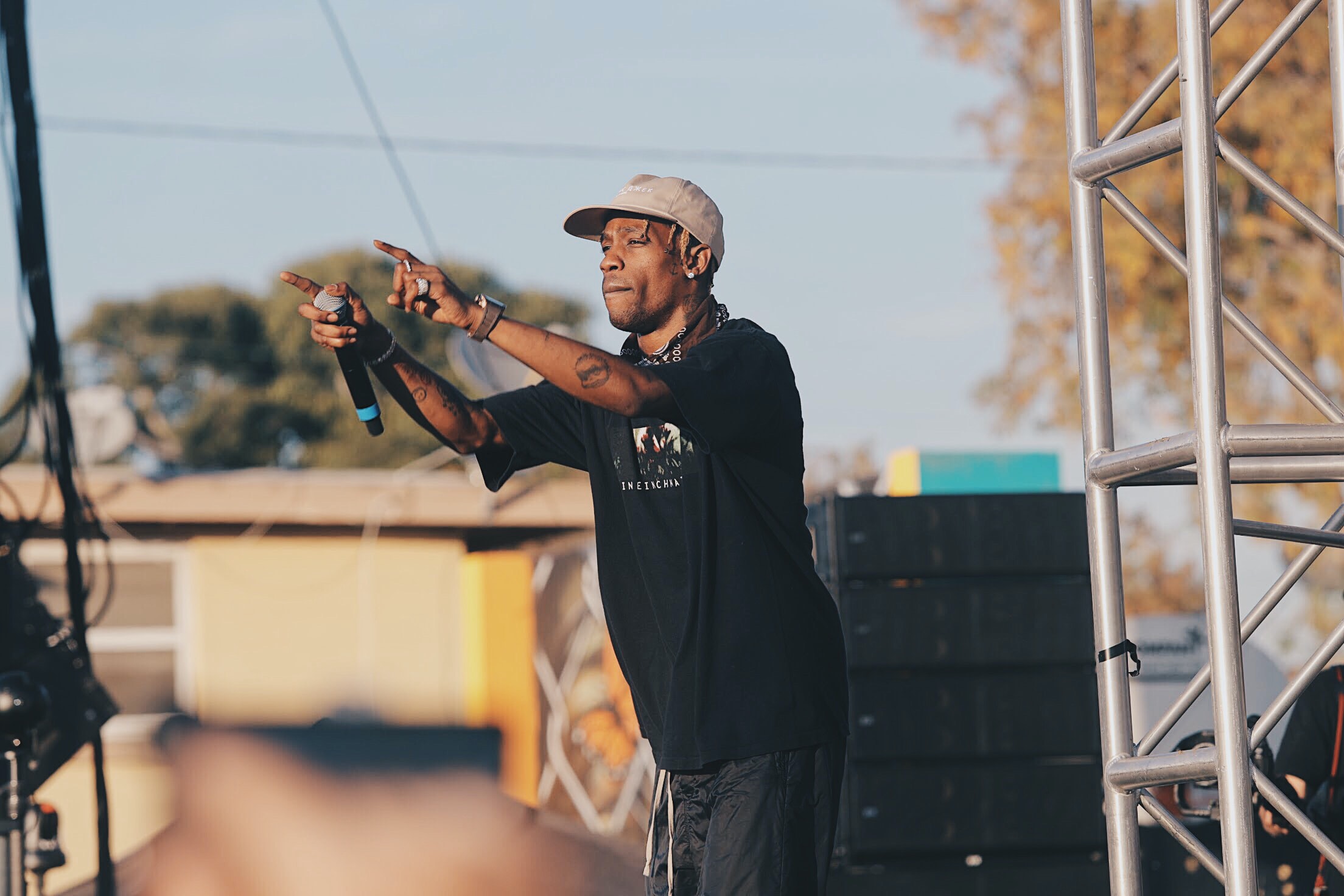 Travis Scott performing in Los Angeles on May 7, 2019. The main stream artist performs in front of large crowds at many festivals. (UNSPLASH/ Joel Muniz)