A popular online community has put physical books back into people's hands – and daily lives – again
By Zoie Karagiannis
With a fresh cup of tea in one hand and "It Ends With Us," by Colleen Hoover in the other, Areeba Cheema settles onto her couch, ready for a day of reading at home. An avid reader since she was a little girl, Cheema loves the escapism of finding a new book so she can lose herself within its pages.
She used to browse the shelves of her elementary school library to find new reads, but now at age 21, all she needs to do is scroll on her phone.
For Cheema, it wasn't bookstores, Goodreads or word of mouth that allowed her to discover her latest find. Many young readers in the Greater Toronto Area are turning to TikTok, a social media app, best known for its short, personalized videos. But there's a side of TikTok dedicated to the book-lover community, and it has been helping to reignite people's love of reading and has become a go-to method for many to select their next read.
The BookTok hashtag has received tens of billions of views on TikTok and contains videos of BookTokkers and readers sharing everything to do with books: reviews, TBR (to be read) lists, book hauls and more.
Its influence has been enormous, says Manuela Watzl, the trade manager at the Sherway Gardens Indigo Books & Music Inc. In May 2021, when the store was able to reopen after COVID-19 lockdowns, BookTok's effect was immediately evident. Scores of mostly young adults and teenagers were coming in with large lists of the same books.
"It shifted really quickly from us asking, 'What is this? What is happening?' to having a table dedicated to BookTok by the beginning of August 2021," Watzl says.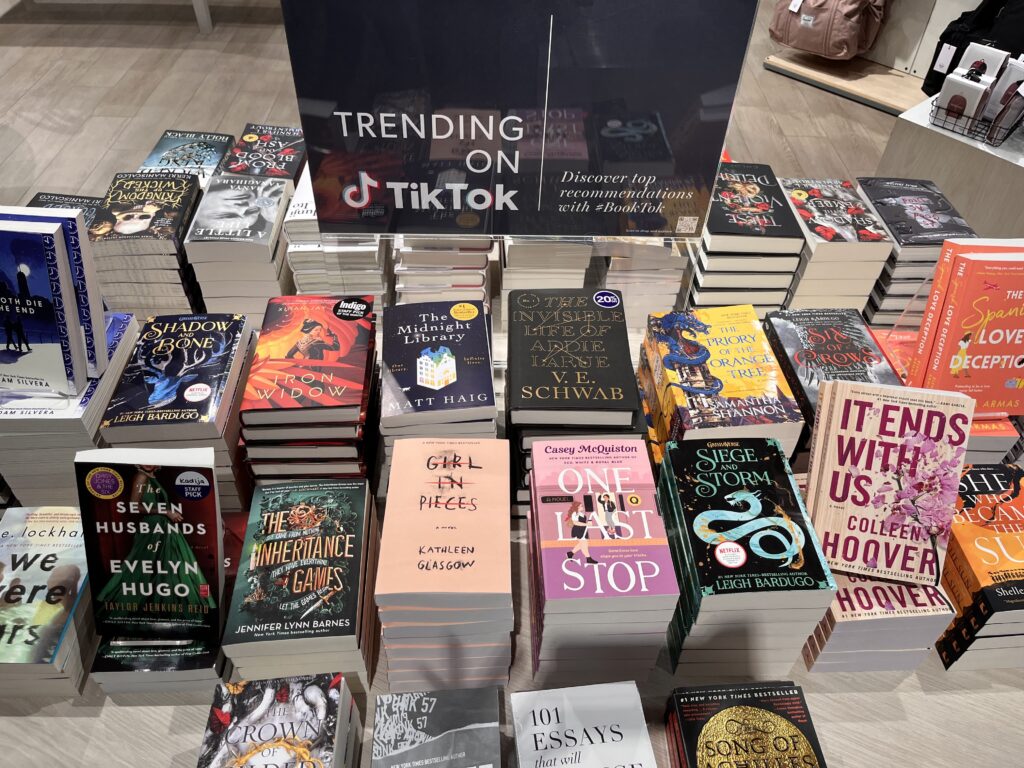 Readers are carrying armloads of books out of the store, something she says she has never seen in her 20-year career in the retail book business.
"I can confidently say it's because of BookTok. We noticed teen and young adult fiction skyrocketed. Sale numbers from our store have almost tripled," Watzl explains.
According to an analysis by the data platform Kepios, 43.7 per cent of TikTok's global audience is aged 18 to 24 years old. Still, young adult fiction is not exclusive to teenagers. Meg Harmer, a 32-year-old Toronto BookTokker, says she created her account @meg.turns.the.page as a passion project. She has over 1,500 followers on TikTok and credits BookTok with helping her fall back in love with reading. Now she uses a spreadsheet to keep track of her TBR list, which contains over 900 books, about 90 per cent of which she discovered through BookTok.
"I went from reading zero books one year to now being on track to read 100 to 130 books this year. It's crazy how much influence TikTok has had on reading for me," Harmer laughs.
Harmer isn't the only one with a long TBR list. Hibaa Hasan, a 19-year-old psychology and neuroscience student at McMaster University, says she adds any popular books she sees on BookTok to hers. She says people in the BookTok community understand how to market the best part of stories to intrigue readers, which is why it's become her central source for finding books.
Not everyone is convinced BookTok is the way to go – even some young people are old school. Benjamin Slywka, a 17-year-old from Toronto, prefers traditional methods for finding books, such as visiting stores and exploring the shelves. He doesn't believe he would find books in his areas of interest, such as politics and investing, on BookTok.
Some don't trust BookTok would be able to provide recommendations better than from people who know them and their interests. Dylan Jenkins doesn't want to rely on an algorithm. The 19-year-old University of Toronto student says the shared experiences he has with friends makes them better sources.
However, many say the online community led them back to their passion. As a young girl with a deep love for books, 18-year-old Malaika Menon found herself reading less as she entered high school in Milton, Ont. Her education got in the way, her mind preoccupied with assignments and tests to study for, distancing her from getting back into the habit she once loved. Then, in the summer of 2021, she scrolled through TikTok where she stumbled upon a video of a girl talking about "The Love Hypothesis," which has now become Menon's favourite book.
"When people started posting about books and how passionate they were, it reminded me of how I used to feel when I read. After the first few pages of "The Love Hypothesis" I couldn't put it down," Menon says. Now in Grade 12, she is grateful that BookTok has reignited her love for stories.
Watzl says the Indigo bestseller list, which used to change every week as new titles hit the shelves, has carried the same 15 to 20 titles for the past year, such as "The Seven Husbands of Evelyn Hugo," "The Song of Achilles," and many Colleen Hoover novels.
Even the fiction bestseller list of the venerable New York Times reflects the influence of BookTok. One week in March 2022, Hoover's "It Ends With Us" and "Ugly Love" made the top 10, along with "The Seven Husbands of Evelyn Hugo" and "The Love Hypothesis," some of which were released over five years ago.
Watzl calls it a two-bladed sword: on one hand, BookTok is boosting Indigo's sales, while on the other it impacts how the store chooses the books it sells. Not only does the location constantly need to take out quantity for around 40 titles that have been consistently asked for and make space for them, but Indigo must also sell the other books in the store, which require much more promotion than usual. She says TikTok has made it really unpredictable to know the next big thing, as BookTokkers can recommend a title that has been out of print for some time and suddenly everyone wants it.
Libraries are also getting traction for certain titles. Alice Moore, a youth collections specialist for the Toronto Public Library, says books such as "We Were Liars" and "They Both Die at the End," as well as others that have taken off on BookTok, have seen a huge surge in holds, some long after their initial popularity.
Cheema remains a BookTok fan, but maybe someday she'll find herself browsing the shelves of her library or bookstore without a story in mind.
"Part of the joy in purchasing a new book is discovering it yourself. That's something BookTok just cannot replicate," she says.