By Zaina Razek
The drive from Kitchener, ON to Windsor, ON is a straight shot down the 401. The road is wrapped with farmland and clouds of dirt. At 19, Joe Rupoli was old enough to drive alone, but to his surprise, a car rolled up behind him on the 401 and trailed him to a rest area between the two cities. As he exited Kitchener, a new driver pulled in behind him for the rest of the drive. It was 2019 and Rupoli was in his third season in the Ontario Hockey League (OHL). He'd just been traded and the league organized a drive-along to make sure he arrived safely. After a long drive, Rupoli arrived in Windsor to start a new chapter. For another player, that wasn't the case.
In 2014 Michael Fine was 21 and had just begun his first year as a student at Toronto Metropolitan University (TMU). That winter, Fine, who is now the assistant coach for the men's hockey team at TMU and coached Rupoli prior to his stint in the OHL, received a message from an old teammate: "Did you hear about Terry?" Terry Trafford, his former teammate on the Saginaw Spirit, was missing. Days went by and Fine kept checking to see if anyone could reach Trafford, who was sent home for violating team rules. Trafford was outgoing and known for his ever-present smile, so the news of March 11, 2014 came as a surprise to many. Years later, Fine still recalls the Facebook notification. Heartbroken and confused, he couldn't help but wonder if things would be different if Trafford had access to mental health resources or had leaned on those around him. Authorities in Saginaw confirmed that Trafford was found in his car one week after his disappearance. The 20-year-old had died by suicide.
For years, the stigma of mental health in men's hockey was an unspoken topic. As strong as they are on the ice, it's easy for pressure to build up for players who are juggling hockey with jobs, school and family. This is true for all players, from student athletes to professionals. According to a study of retired players, including some from the National Hockey League (NHL), published in the Journal of Neurology, Neurosurgery and Psychiatry, hockey players often experience mental health problems ranging from depression to alcohol abuse. But things are starting to change and players are starting to speak up. The NHL, for example, now uses Bell Let's Talk Day to spread mental health awareness. Things are changing at TMU, too. The university's men's hockey team has recently started to take steps to ensure its players are protected both physically and mentally. But this conversation is just the beginning
It's been just under a decade since Trafford's passing. Since then, Fine served as Ryerson's team captain and played hockey in Denmark and England before returning to TMU to coach. His experience losing Trafford has stuck with him and Fine has become an advocate for mental health in hockey. Hockey holds a stereotype of roughness. Players are meant to be big, macho guys who show no emotion. Fine said the opposite is actually true. It takes strength to speak up about mental health and to ask for help.
He reminds his players that the coaching staff prioritizes them as human beings. At the time of Trafford's passing, most hockey leagues didn't take mental health very seriously. Physical health was the top priority. Mental health can be invisible, but leaving conditions untreated can lead to devastating results. After seeing the outcome firsthand with Trafford, Fine never wants players to feel like they can't handle the strain of the game.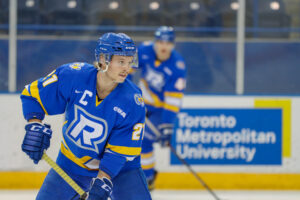 This year in the 2022-2023 season, the TMU men's hockey team is led by captain Jesse Barwell. Following in the footsteps of his coach, Fine, Barwell wanted to be a leader his teammates could confide in. Before TMU, he played for the Saginaw Spirit one year after Trafford's passing in 2015. Following the incident, the OHL began holding seminars about mental health and offering players access to counsellors and therapists.
The OHL required a lot of traveling and, at times, team trades for Barwell. Being traded made him feel like a commodity. Being away from his family for eight month stretches led to loneliness. Barwell, now in his fifth year, is balancing school, hockey and owning a restaurant. He attends a weekly meeting with the team chaplain, a church representative who counsels players. Barwell grew up in a hockey culture that taught boys to be dominant and suppress their feelings. Now he's out for change.

What happens on the ice can stick with players. During the biggest game of the 2021-2022 season, the pressure was on for Rupoli. TMU made it to the semi-finals and everything was riding on one game. During that game, a player took a shot that Rupoli blocked. The puck hit his hand so hard his pinky finger bent sideways and a bone in his hand ripped through his skin. Throbbing in pain, he skated to the bench. A trainer wrapped his hand and told him not to look. He didn't. It didn't matter to him. At that moment, his season was over.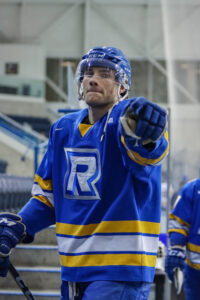 The mental toll of injuries is difficult to avoid. A horrific accident cost Rupoli the chance to play a bronze medal game. Returning to the ice was tough and he feared re-injury. Rupoli stayed silent, not wanting to burden his teammates. For years, players dealt with the mental impact of injury as an afterthought, but now new program's are in place.
Following the tragic loss of Trafford, the Canadian Mental Health Association (CMHA) started a program called TalkToday. Honouring Traffords' initials, it hopes to shape new generations of hockey players with mental health resources. Jack Veitch from the CMHA is also a mental health coach with the OHL team the Peterborough Petes. Teams under the Canadian Hockey League, including the OHL, are now provided with access to mental health coaches and other aids. The goal is to train players to recognize when a teammate may be struggling, but also what resources are available for suicide intervention.
TalkToday's message is clear: one life lost is too many. The call for mental health awareness amongst athletes has grown over the last 15 years. With the Peterborough Petes, Veitch made his presence known. Giving teenagers the chance to come to talk to him if needed. Sometimes a little goes a long way.
Chris Playfair, assistant captain of the TMU men's hockey team, has been playing hockey since he was three. He's had many coaches and played in environments where being yelled at was normalized. He mostly didn't open up about the impact that had on his mental health. He felt pressure to handle everything on his own. His experiences led him to the creation of Prolific Hockey, a company dedicated to coaching players aged nine and up in Kitchener-Waterloo, ON. Playfair knows many players who still deal with mental trauma left by coaches. As a coach, he tries to allow kids to just enjoy the sport.
One day during practice he found a young boy crying on the bench. The boy was showing promise, but his parents put a lot of pressure on him. No matter what kids do in practice, Playfair believes no kid deserves to be yelled at. Some of the coaches he had growing up would have screamed at the boy. That's not Playfair's approach. He knows from experience this kind of pressure can lead to mental health struggles in the future.
He wants to help raise a different generation of players. For Playfair, it's not about goals or stats. What keeps him in the game is when a kid's face lights up – on or off the ice.