By Aishah Ashraf
During the pandemic, Sana and William Saleh spent their time scrolling through TikTok — a social media platform for creating, sharing and discovering videos — as it slowly swept the planet.
The pair decided to try their hand at creating content in an effort to "humanize Muslims to the world." They began posting casual videos until one of them went viral on Feb. 23, 2020, gaining two million views overnight and forever changing their lives.
Nearly two years later, the mixed culture couple now known as the "Saleh Family" has earned a following of 2.5 million people and continues to share lifestyle, comedy and family content.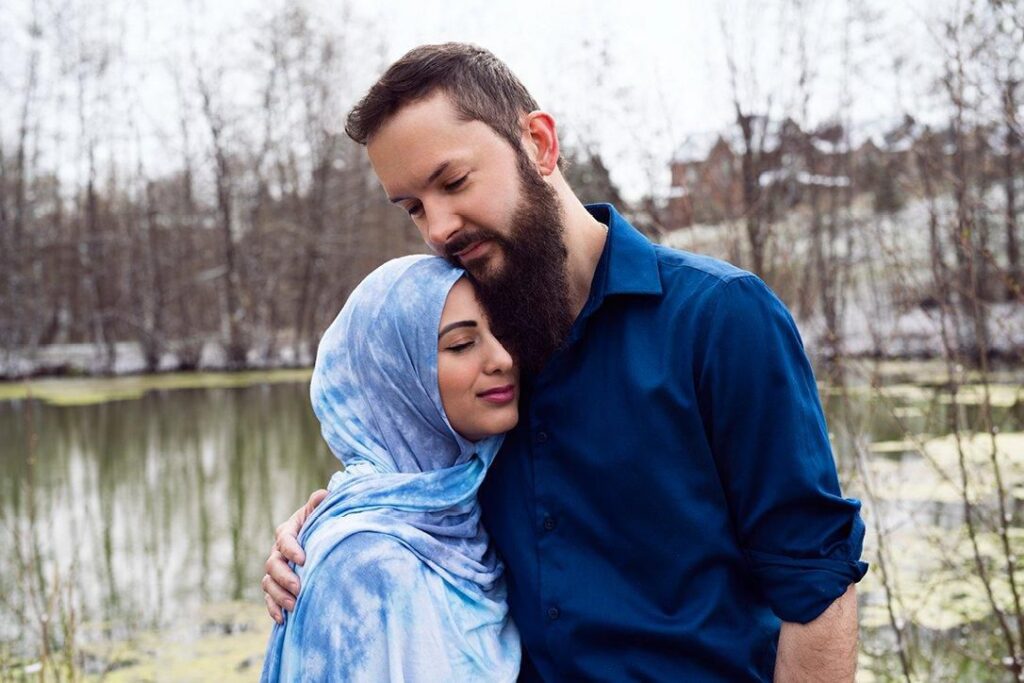 While they were building up this audience, Sana started tie-dying her hijabs. After she wore one of them on TikTok, numerous enthusiastic users asked where they could buy them.
Realizing there was an overwhelming demand for new and different hijabs on the market, Sana and Will established Lala Hijabs in August 2020. What began as an unexpected, whimsical project turned into an incredibly successful business with clients across the globe.
They first worked out of a small loft but moved to a spare bedroom under their own roof. With a quickly expanding and eager audience, they eventually outgrew the space and moved to a new house, dedicating an entire floor to their business.
Their eldest daughter, Aaminah, came up with the name. Will then used the four letters in "Lala" to embody the message "Live Authentic Love Always."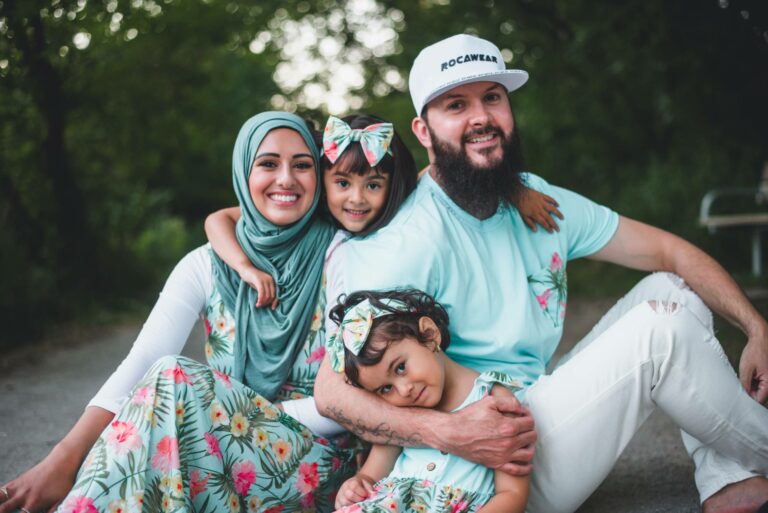 With Lala Hijabs, you can find everything, from hijabs made out of chiffon and jersey, to accessories such as hijab-friendly masks and underscarves. Every couple of months, they release new collections that correspond with trends.
Different coloured hijab pins sold by Lala Hijabs (@lalahijabs via Instagram)

Different styled underscarves sold by Lala Hijabs (@lalahijabs via Instagram)

Different material scrunchies sold by Lala Hijabs (@lalahijabs via Instagram)
Will is the mastermind behind the designs, while Sana is responsible for colour selection and blends. The two work together to hand-dye every single hijab to ensure every item is made with care.
Christina DeFranco is a business coach and strategist who works with entrepreneurs on their next steps in managing their brands. She emphasizes the importance of recognizing the market for one's product in order to achieve success in business.
"One of the biggest concerns when starting a business is, is there a market for it? Do people want it? They already knew the market was there before they launched, which already put them in a place to become more successful."
Five months ago, the Saleh's moved into a massive commercial warehouse and have big plans for the future. "Our business — Alhamdulillah (praise be to God) — has grown substantially and our next step is to open up a showroom so people can shop in person," Will says.
The couple views this as an opportunity for them to offer unique hijabs, educate others about the concept of hijab and unite different backgrounds.
While nearly one in three businesses registered a revenue drop of 30 per cent or more in 2020 relative to 2021 according to the Canadian Survey on Business Conditions, Lala Hijabs grew massively during the same period. By February 2021, they had accumulated over 10,000 followers on Instagram, and now have 20,000 followers.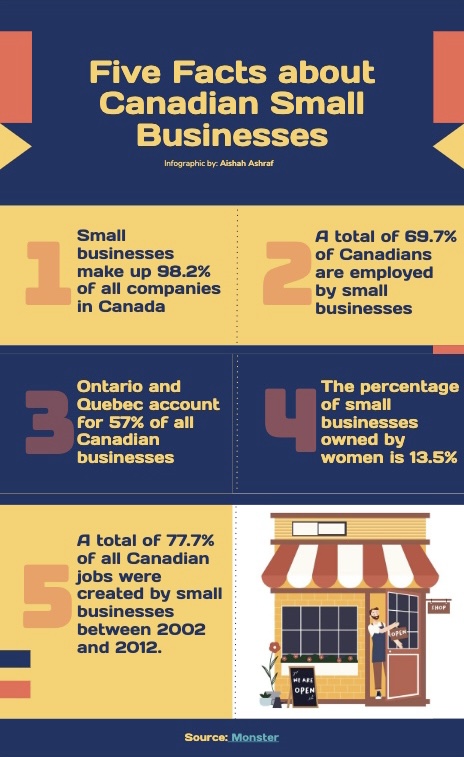 "One's social platforms, your websites, your blogs, whatever it is you're creating online, it's your virtual storefront, it's your virtual business card," DeFranco says.
"Now when we look at the social [media] platforms, what's so interesting is that you can become a viral sensation overnight," DeFranco adds. "Social media was probably one of the most influential factors in the Saleh Family's ability to grow and scale quickly, and that's simply because they were a personal brand first.
A crucial component of the Saleh's early success was TikTok.
"We did not pay for a single ad during our first year of business, all of the traffic and success of our business came organically," Sana says. "It was truly amazing to see the growth our business had."
According to Marie Claire, beauty and fashion influencers who wear a hijab account for less than 5 per cent of the industry.
The Saleh family believes that Muslims are very misrepresented in both mainstream and social media. "Our goal is to change that. We want everyone to know that Muslims are just like everyone else."
Born into a Caribbean-Muslim family, Ameena Roshae has always struggled to navigate her conflicting cultural and religious identities. Though she was born into a rich mix of both, certain aspects of her culture don't necessarily align with her beliefs.
"Caribbean culture is amazing," she says. "But obviously if you're Muslim, you're not going to be heavy on the music and carnival aspect because it goes against the morals and values that you adopt as a Muslim woman."
Roshae yearns for representation where people can discuss the balancing of these two opposing and oftentimes conflicting identities.
"The Saleh Family has taught me the importance of consistency and the fact that if you don't start this thing, then it's not going to start," Roshae says. "If you implement time and put passion into something that you actually enjoy and you run with it, no one can take that away from you."
Over the last two years, Lala Hijabs has been able to garner attention from both Muslims and non-Muslims alike.
Chanelle Mendosa is a non-Muslim fan and content creator who focuses on mental health, self-care and culture. With the Saleh Family's focus on sustainability and inclusivity, Mendosa was immediately captivated.
"It's important to educate people about culture and religion because these are integral parts of our identities," Mendosa says. "Lala Hijabs is a very inclusive space and you always feel seen in their content. I'm neither a Muslim nor a hijabi but you always feel like you're a part of their community."
Their welcoming nature has left a lasting impression on their audience, and the Saleh Family takes pride in this.
"We have countless non-Muslim customers who chose to wear our hijabs for their own personal comfort — and many of them gradually became Muslim on their own," Sana Saleh says. "It has been amazing to see — given that Will has been Muslim [revert] for over a decade. We want to be inclusive to everyone as the purpose of the hijab is so much more than we think it is."
One day, Arisha Noor was scrolling through TikTok and found one by the Saleh Family.
Despite being a proud hijabi and loving the opportunity to "be the face of Islam," she faced a lot of obstacles throughout her decade-long journey.
Upon seeing the way in which Sana Saleh and Lala Hijabs celebrated this honour, she promptly gave them a follow.
"I totally fell in love with everything they were doing and teaching others," Noor says. "Wearing the hijab is a privilege, not a burden. It's like a crown, and I'm so proud to be the face of Islam every time I go outside with it on."
The Saleh Family leaves aspiring entrepreneurs with a word of advice.
"Work hard. And do not give up. Becoming an entrepreneur is not as easy as just having an idea and giving it a go. It really takes a lot of time and patience."