By Julian Beltrano
Driving past a suburban shopping plaza in Woodbridge, Ont., one might notice a few bold 'WE ARE OPEN' signs. On closer inspection, there is a deserted family travel agency, and the insides of several surrounding storefronts are littered with partially disassembled equipment, abandoned seating areas and idle chairs. These days, the parking lot is mostly vacant. This isn't the once bustling plaza located off Pine Valley Drive of a year ago, before the coronavirus spreading around the world was declared a pandemic.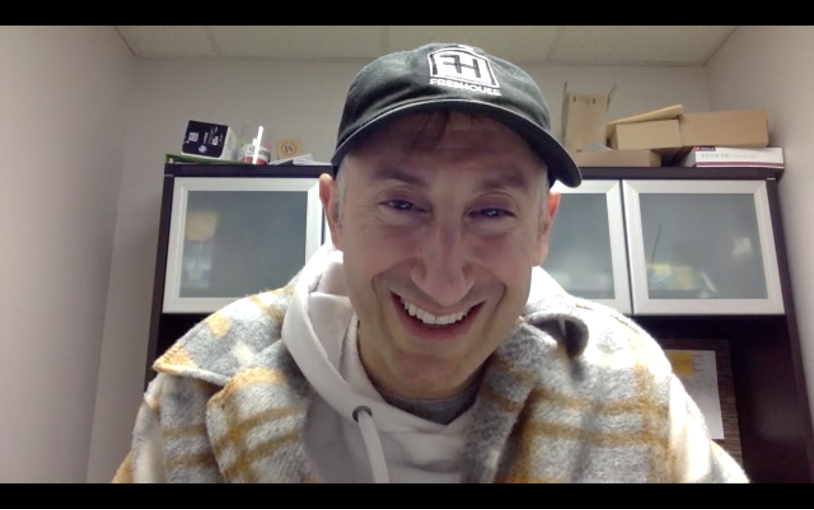 In a neighbouring plaza, a fast food restaurant's drive-through twists and turns like a snake in the sand of a desert. It's difficult to find a bustling clothing store or coffee shop, or any sign of optimism, really. About one in six Canadian small businesses is at risk of closing their doors permanently as a result COVID-19 restrictions, according to the Canadian Federation of Independent Business, which routinely surveys small and medium-sized businesses across the country. For food service and drinks businesses, it's even worse. Even large chains such as Booster Juice and Starbucks have closed stores across Canada in recent months.
Perhaps it is because of all this that a leafy juice bar hidden behind an average-looking storefront, far from the city of Los Angeles it evokes, feels like a unique find. It is on the edge of the quiet plaza, just steps from restaurants that are unable to host diners.
Part of the reason Freshouse Food and Juice Bar feels like an oasis might also be the owner, Mike Appugliese, He is as animated as his social media feed, which features videos sprinkled with cartoons of body systems like human guts that lighten up topics including gout, arthritis and anemia. In Instagram videos, Mike clasps and unclasps his hands and waves his arms in exaggerated circular movements that make it obvious he's excited even with the sound turned off.
He has owned the juice bar since 2016 and his energy these days is being poured into a focus on health and optimism as the pandemic drags on.
"Although this has not yet ended, I'm feeling optimistic that it will and I wish everyone felt the same", he said, his eyes wide and focused.
Julia Koutrouliotis is a regular. She comes for the juices as part of her routine. But these days, she says, it feels like she's also coming in to see a friend.
"I think that trying to maintain a healthy lifestyle during the pandemic has been very good for my own mental health and it has been a source of happiness for me," she said. "Mike is super outgoing and friendly, and you can tell that he loves what he does which always makes going to Freshouse a good experience and makes me want to return."
Before starting the juice bar, he worked for almost a decade as a personal trainer and bootcamp instructor, where he led individual and group workouts. He says the foundation of teaching, coaching, and motivating was helpful once he started his business.
Maria Caldarone, a 56-year-old customer who lives in Woodbridge, says Mike encouraged her to try a juice cleanse, something she had never done before.
"I wouldn't have taken that extra step in doing a cleanse myself," she explained during a recent visit to the store. "I just came in one day to get my daughter a juice and Mike encouraged me to give it a try."
The regimen involves consuming only liquids over a period of days, and Mike compares its effects on the body to a rigorous workout. Caldarone said it was worth taking the plunge.
"I have never felt lighter, more positive and well rested than ever before and it's honestly all thanks to Mike," she said.
Leaving the chill of the sidewalk on a Thursday afternoon in February and walking through the frosted door of Freshouse, a light chime sounds, alerting Mike to an incoming customer. It is nearly drowned out by a row of blenders grinding and swirling the fruit for that day's drinks. A pungent spicy aroma of freshly blended ginger hangs in the air. Juices already lined up in the fridge match the vibrant hues of the tips of a row of fresh magic markers.
The large double-door fridge is surrounded by a group of teenage girls, all wearing masks of course, and chatting with Mike as they photograph their favourite juices for their Instagram feeds. The brightly coloured juices are named after positive affirmations such as 'I am fresh' or 'I am lucky'.
One of the teens asks Mike which juice is his favourite. Before answering, he takes a second to reflect as if asked to pick a favourite child and says: "Right now, I would say our flu shot because it boosts your immune system and is antiviral. However, if you want a good tasting juice, 'I am healthy' is our best-seller and is made with spinach, pear, lemon, mint and turmeric."
Despite his optimism and loyal customers, business is down this year, with less foot traffic at the plaza and rolling restrictions including stay-at-home orders in effect.
"Although this year has been slower compared to years past, I've been fortunate from both a business and personal perspective to be able to stay open during the pandemic," Mike said.
"For me to stay open even in a time when business has slowed down, I've tried to be available at the juice bar as much as possible so that I can talk to people to stay relevant!"
Food service and beverage businesses in Canada are facing an uncertain future, and are in a worse position than the business community as a whole, according to a survey conducted by Statistics Canada earlier this year. More than one in four expect they will be able to operate for fewer than 12 months before having to consider closure or bankruptcy, based on current sales and expenses. This situation is faced by only 10 per cent of businesses of all types. Many food and drink businesses also reported dwindling profits, with nearly 57% expecting their profitability to decrease over the next three months.
The pandemic isn't far from Mike's mind as he goes about his work in the quiet plaza. And with extra time on his hands, he is trying to be creative to help keep his business afloat.
"I'm creating a new product with a syringe filled with juice," he said, his eyes crinkled at the edges and the corners of his mouth curled into a grin. "Because everyone's talking about vaccines, hey, why don't we try to make a natural one?"