How Mississauga-based artists got together during the pandemic and made a difference in their community
By Aru Kaul
Like many other local artists, pandemic life was an adjustment for Carla Gonzalez-Casanova. In her home studio, she works online as an artist, graphic designer and teacher. Realizing early on how the pandemic would affect her way of life, Carla started creating paintings regularly. One a day, then two, three, until she started painting several of them every day and selling them on Etsy. This was her initial reaction to the pandemic, but it eventually helped her understand the importance of collaboration.
"At the beginning of the pandemic, I went blank and wondered how we are going to survive. I started painting like crazy," she said.
Whenever Carla talks about art, you can feel the emotions in her words. She's energetic with a big smile and big brown eyes and dark brown hair, barely touching her shoulders. Art is more than just self-expression to her, it's also her work and a form of therapy.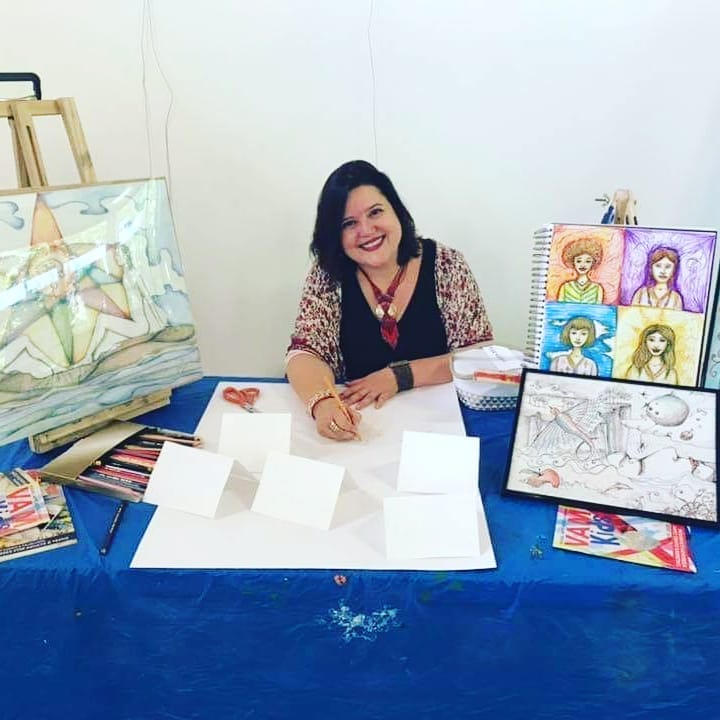 COVID-19 changed the arts experience from a live and in-person one to an online format. In a world where everyone has had to readjust, local artists felt the impact of the pandemic and continue to be affected by it financially.
Carla recalled her own experience dealing with this as an artist. "For art, we've been left on the side. You kind of have to fend for yourself," she said.
Heather Christine is a performer and online vocal instructor who tapped into her artistry very young and has collaborated with Carla many times. She lost about half of her income from being a professional entertainer. "Before I was performing on average about 50 shows a year so having lost that income was definitely a struggle," said Heather.
Just before the pandemic happened Heather started to teach voice lessons. Many people came to her during the pandemic asking for lessons and the transition to online classes was smooth.
"Vocal lessons work really beautifully online. I host little bi-monthly performances for my students so they can perform and share music with each other," said Heather. "More people have come to me through covid so I actually wonder if I would have been teaching vocal lessons in this capacity if covid didn't happen," she added.
Carla also started teaching online and doing one-on-one lessons. She currently teaches at Visual Arts Mississauga, an art school for all age levels, that has resumed its classes online. She also does workshops at the Art Gallery of Mississauga and teaches classes at the Hispanic Canadian Arts Society every 15 days for members of the Spanish community.
Carla's class of young artists changed their regular routines for art lessons to learn from home. One of her students, 10-year-old Lanna sits in front of the computer, ready for her online art classes. She places her acrylic paint bottles and round white palette close to her on the table, while the other supplies that won't be used as much go on the side. There is just enough space on the table for her to work comfortably. With each stroke of the brush, the strong scent of paint fills the air. As the video plays in the background, Lanna follows the instructions and brings them to life onto the canvas.
This would look different during in-person classes. Lanna would be surrounded by other kids and teachers around the room to help her. She would spread her supplies across the table and take up the space she needed. The table would be much larger and there would be more than one. The posters lined up on the wall gave the room an extra artsy feel. The vibe would be just very different from her bedroom.
After getting back into a routine, Carla started to share her knowledge in art with others. Arts and community often go hand in hand. Art can create innovation by bringing people together to solve problems. A sense of community is also reflected in Carla's work, as a lot of her paintings and projects are inspired by real people.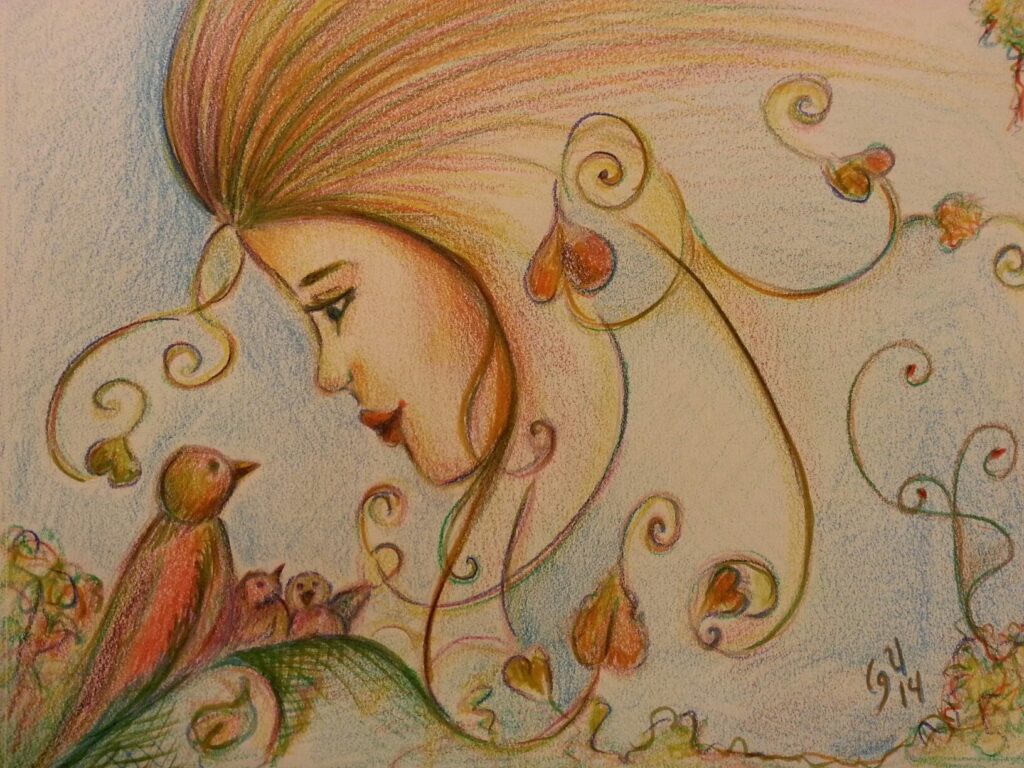 Collaboration goes a long way in the art world. "A lot of artists like myself understand that you have to 'flip the pancake' by working together and reminding people about the existence of artists," said Carla. One of these collaborations is a project called Glimpse Team that Carla is working on with a musician named Shalini Maria.
"I am a singer/songwriter, but I think of myself as a singer/storyteller. Every song tells a story and speaks to something larger," said Shalini.
Glimpse Team is one of the many ideas born from quarantine. Also known interchangeably as Glimpse Kids and Glimpse Into The Life of a Child, this team is run by Rob Aguiar and works to change the world for the better, one idea at a time. Shalini wrote a song called "As all Things Grow" which is about keeping a positive attitude during covid and seeing the world through a child's eyes. This song quickly turned into a book with the same title written by both Rob and Shalini and illustrated by Carla. The book will be released by the end of April 2021 and is available for preorder.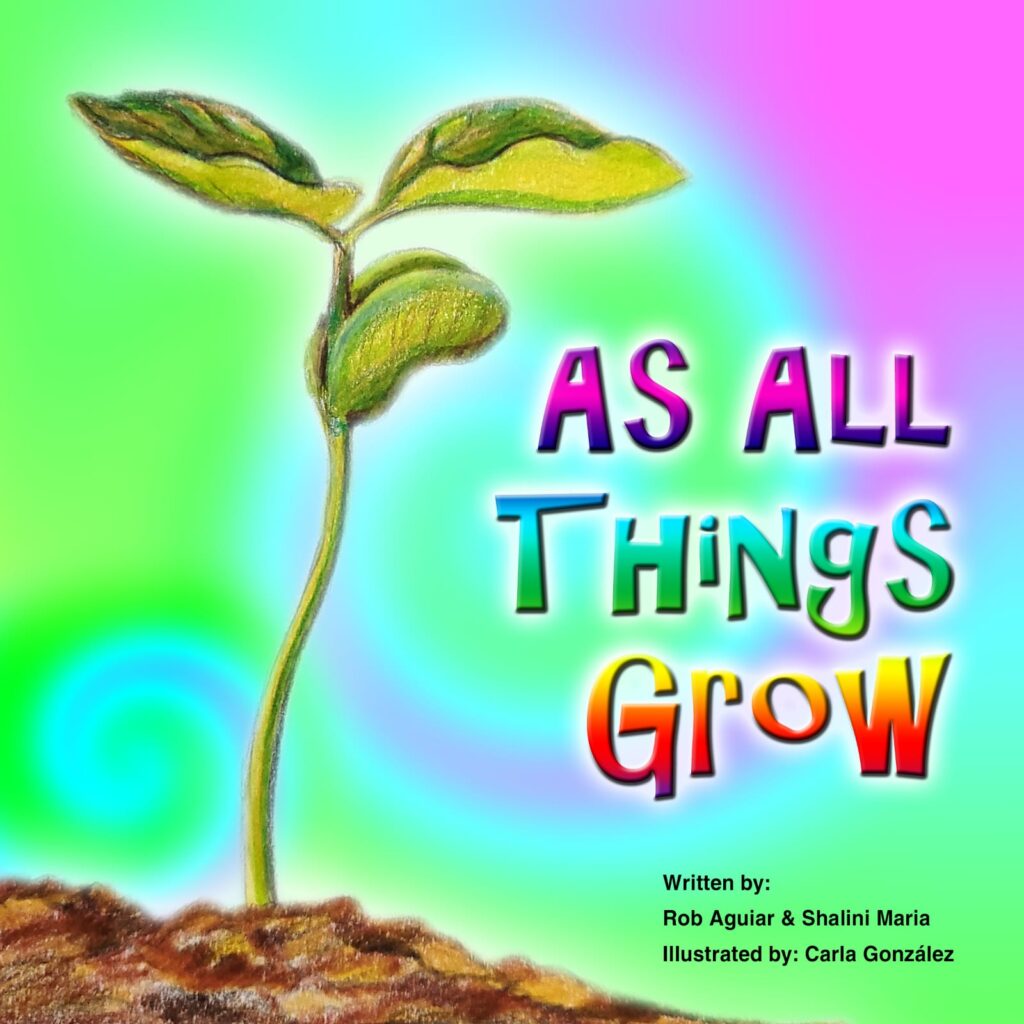 The Glimpse Team was formed in 2019 and has since then been raising money for kids affected by cleft palate. Cleft palate is a slit on the mouth that happens because of improper development in the womb. Since their formation, Glimpse Team has strived to promote love, acceptance, unity and ideas that stretch the mind. The money made by Glimpse Team goes towards Operation Smile Canada, a movement that provides surgical care for cleft palate.
"Working with Shalini and Carla has been amazing. Shalini trusted us with her song and we developed a nice storyline with a message of hope and growth. Carla's amazing art added life to our story," said Rob.
This year, Glimpse Team continued with their initiative of raising money with Project Action. The goal of this project is to help even more children affected by cleft palate than last year. The team has currently raised $8110.00.
This collaboration is one of many examples of how art can be used for the betterment of the community. "Being an artist has always been challenging because people don't understand how much work it takes to create the artwork and how much thought goes into them," Carla said.
Shalini called this project the "most meaningful thing she's ever worked on."